Operating out of a boldly imagined space in the belly of Jardine House (formerly home to Grappa's Cellar), this newly opened multi-concept food hall assembles a handful of Hong Kong's most exciting dining concepts — some fresh, some renowned, all calculated to blow the lid off of boring desk lunches. Put down the salad kit Jerry, we're going to Basehall!
Last year, if you'd told us the most exciting restaurant opening of the summer was going to be — for lack of a better catch-all — a food court, we'd have laughed ourselves all the way up to SoHo. Then again, a lot has befallen the Hong Kong hospitality industry these past six months; and new projects demand thoughtfulness, sufficient scope and a genuine demand in order to succeed. On the face of things, Basehall ticks all these boxes: the expansive F&B concept has been in the pipeline for over two years now, greenlit by Hongkong Land following the realisation that Central denizens — notably office workers — had access to too few serious culinary destinations (that in turn, didn't cost an arm and a leg).
"Our aim was to incubate new F&B concepts in Hong Kong by providing a unique platform for creative chefs," says Tom Andrews, the senior asset manager on the project. "We hope Basehall will become an exciting dining destination for the Central office community … the diverse mix of food and drinks as well as music and content will definitely create a fun space for our younger clientele."
Within earshot of the concourse connecting Jardine House to the remainder of the Landmark commercial complex, Basehall's split-level space has been designed with an eye toward sustainability: composting is done on-site (disposable cutlery is provided by Hong Kong-based eco-packaging brand Vegware); filtered water dispensers are plentiful and many aesthetic elements have even been up-cycled from other famed Hongkong Land projects (it seems an odd suggestion, but when using the loo, spare a moment for the brass wall fittings which once adorned the ceiling of Richard Ekkebus's Amber restaurant).
To help transition the space from day to night, the high ceiling over the airy lower mezzanine has been equipped with a state-of-the-art lighting system that can mimic the natural light conditions outdoors, as well as create atmospheric rainbow hues that respond to music and people dancing below. Appropriately, Basehall has tapped Arthur Bray's DJ collective Yeti Out to curate the music programme. There's also space for DJ events and bands to perform live here, with the hopes that Basehall's late opening hours will attract the post-work crowd long after happy hour ends.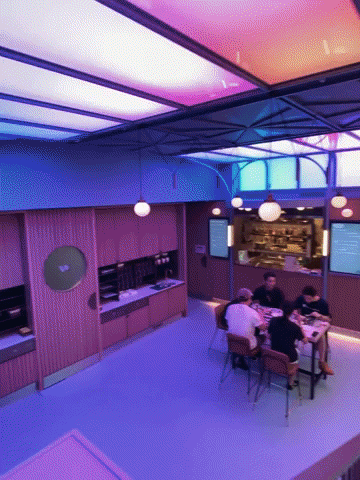 Obviously, these undeniably grandiloquent efforts would be somewhat undermined if the grub was anything less than delicious, but even at these early stages (it's still in the midst of a two-week long soft open before the official launch date on 15 June), Basehall's main vendors are slinging a diverse variety of Mexican, Malaysian as well as Hong Kong- and Japanese-inspired flavours.
Currently holding fort at Basehall you'll find Co Thanh, Moyo Sik, Roti Tori, Honbo, Return of Lemak, Treehouse and Westside Taqueria, Cookie DPT as well as Basehall Bar, bringing in some of Mandarin Oriental Hong Kong's old hands from M Bar and Chinnery to shake up a menu of specialty cocktails.
From juicy rotisserie-style chicken (from the crew behind Yardbird) to Chef Barry Quek's nostalgia-inducing rendition of Nasi Lemak, these are all the best dishes that you'll definitely want to try.
Basehall
Address
LG9, Jardine House, 1 Connaught Place, Central, Hong Kong