When you think about gourmet dishes, sandwiches are probably the last thing that come to mind. And yet, is there anything more satisfying than a perfectly made sandwich? Due to its inherent versatility and ability to satisfy any craving you may have, the sandwich my indeed be one of the world's most perfect foods.
Unfortunately, a great sandwich can be hard to find in Hong Kong, due in no small part to the challenges of baking quality bread in such a humid environment. Still, some spots manage to succeed in turning out good ones, and now, this September, eight restaurants and delis will compete for the title of 'Ultimate Sandwich'. The challenge is to produce a combination of breads, fillings, sauces and sandwich-building techniques that elevate this humble food to gourmet status, and force diners to stop thinking of it as something simple to be eaten quickly or on the go.
The sandwiches in the competition are extremely diverse, providing diners with both local and international flavours, drawing inspiration from New York City and Vietnam, among other locales. Each sandwich will be available at its own restaurant and via Deliveroo from 12 September to 10 October, giving Hong Kongers the chance to taste the limited-edition sandwiches. Unlike many food competitions, this one is completely democratic: the sandwich with the most sales will be crowned Hong Kong's Ultimate Sandwich, so you get to play a major part with your taste buds. Read on to learn all about the tasty offerings available at each restaurant and start picking your early favourites.
1
Beef & Liberty: The Gentleman's Sandwich (HK$118)
Beef & Liberty's Marcus Chant chooses to stay close to the restaurant's beef roots: "Inspired by a traditional steak sandwich, we wanted to create a sandwich both simple and delicious. We created our own rendition that pays tribute to this classic with compound butter and Cape Grim sirloin wrapped in smoked cheddar, pressed between fresh sourdough."
Beef & Liberty, 3/F California Tower, 30-32 D'Aguilar Street, Central, Hong Kong, +852 2450 5778
2
Bread & Beast: HA-HA Piss Off! (HK$128)
Bread & Beast gains inspiration from wandering around Hong Kong's favourite food destinations, like Sai Kung. "What better way to have Kong-style seafood than with an icy cold Tsingtao? The name 'Ha-Ha' is a play on the Cantonese name for the Mantis shrimp, and the sweet shrimp paste."
Bread & Beast, G/F, 3 Swatow Street, Wanchai, Hong Kong, +852 2237 1868
3
Jinjuu: Roast Beef Sandwich (HK$190)
Jinjuu's head chef, Sang Hyun Ko, sticks with contemporary Korean flavours (bulgogi-glazed roast beef, crispy shallots, pickled jalapeños) for a unique sandwich that has never before been offered in Hong Kong.
Jinjuu, U/G, California Tower, 32 D'Aguilar Street, Central, Hong Kong, +852 3755 4868
4
KNEAD: Steak in Knead (HK$78)
KNEAD's chef takes inspiration from the classic steak sandwich, "but we add hearty and homemade flavours that include a hot and crunchy ciabatta that drips with oozy goodness as you bite into the perfectly cooked Australian minute steak."
KNEAD, G/F, 28 Jervois Street, Sheung Wan, Hong Kong, +852 2851 7778
5
Morty's: Ultimate Smoked Pastrami & Cheese (HK$118)
Morty's sandwich takes another tasty spin, where everything is done in-house. "We take the best selection of smoked meats to make the ultimate pastrami and cheese sandwich paired with our homemade rye bread with Morty's favourite house-made Thousand Island dressing, which will have customers coming back wanting more."
Morty's Delicatessen. Shop 2-14, Lower Ground Floor, Jardine House, Central, Hong Kong, +852 3665 0900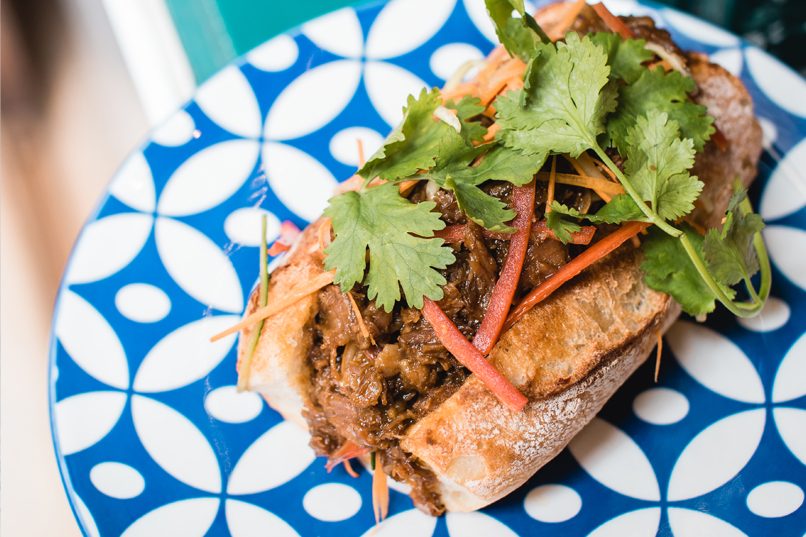 6
Mrs. Pound: Beef Bourguignon (HK$120)
Mrs. Pound's banh mi combines a classic French staple with a Vietnamese street favourite, putting a new spin on Vietnam's colonial past. "The rich stew harmonises fantastically with the light, airy Vietnamese-style baguette, and is balanced out with the pickled vegetables on top."
Mrs. Pound, 6 Pound Lane, Sheung Wan, Hong Kong, +852 3426 3949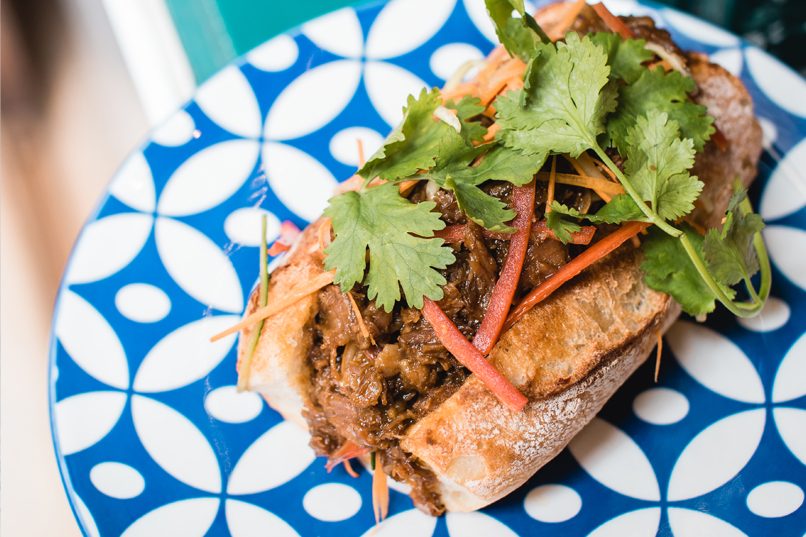 7
Posto Pubblico: Straccetti di Manzo (HK$119)
Going back to its American origins, Vinny Lauria's sandwich is inspired by New York Italian delis, "using a generous amount of filling in a light and chewy, crusty bun. Made with Italian ingredients, this sandwich has the taste of Italy with the soul of New York City."
Posto Pubblico, G/F, 28 Elgin Street, Central, Hong Kong, +852 2577 7160
8
Second Draft: Shanghai Dip (HK$98)
Second Draft's Shanghai dip takes inspiration from the traditional French dip. "This is our version with inspiration from the classic Shanghai red-braised pork leg, with a Stonecutter scotch ale which creates a delicious, original sandwich," says chef May Chow.
Second Draft, G/F Little Tai Hang, 98 Tung Lo Wan Road, Tai Hang, Hong Kong, +852 2656 0232