Whether it's a beautifully juicy ribeye, tender filet mignon, or flavourful tenderloin, very few people can resist steak in all its iterations. Diners in Hong Kong queue for hours to sample highly-coveted Kobe beef, and wait for weeks (sometimes months) to secure a reservation for Sunday roasts.
But some diners eschew steakhouses for the formal atmosphere, opting instead for a more casual way to enjoy a delicious steak. Luckily, Hong Kong has its fair share of steak frites establishments, inspired by the quintessential Parisian bistro dish — featuring steak as the main event, and perfectly cooked (usually shoestring, usually unlimited) fries as the ever-reliable sidekick.
For a convivial, casual beefy dinner, we've rounded up some of the best places to enjoy steak frites in Hong Kong.
La Vache!
Of course, our list would be amiss without La Vache! With locations on both sides of Victoria Harbour, it's clear that Hongkongers can't get enough of the juicy steaks and golden-brown frites. La Vache! Stays loyal to the classics, only offering only the eponymous set. For HK$318 per person, diners can enjoy the classic entrecôte steak with the house bearnaise-esque sauce, unlimited frites, and an organic green salad. Expect nothing less than a delicious mélange of flavours — be sure to partake in the dessert trolley for a sweet end to your meal.
La Vache, 48 Peel Street, Central, Hong Kong, +852 2880 0248
La Moo Moo's Steak and Fries
Popular with Hongkongers for the competitively priced set menu, La Moo Moo's prides itself on their 'unique modern twist' on traditional Steak Frites. For HK$298 per person, La Moo Moo's provides green salad, home-made bread, 8oz USDA ribeye, and free flow fries. Toasty and sweet, the home-made dinner roll is best accompanied with a spiced cinnamon spread. The hefty ribeye is grilled to perfection, with a delightfully seared crust. Douse the crispy, golden fries into a range of different sauces — the black pepper sauce can be extremely addictive. Dining with friends who aren't in the mood for steak? The barbecue ribs at La Moo Moo's are worth an honourable mention.
La Moo Moo's Steak and Fries, 18/F 239 Hennessy Road, Wan Chai, Hong Kong, +852 6133 5835
Frites
With six locations across Hong Kong, we can always count on Belgian beer hall Frites for a midday power lunch or post-work hangout. Tuck into the 'Steak & Frites', which includes a hefty 14oz grilled USDA black Angus ribeye (HK$395). The accompanying salad might ease your conscience just a bit. As per the namesake, we can't go wrong with their signature frites, especially when paired with truffle butter. From 5pm onwards on weekends, diners can enjoy the 'Strip Night' offer at Frites, for all-you-can-eat Black Angus Strip Loin with bottomless frites — yes, you read that right.
Frites, multiple locations including: 1/F, The Wellington, 198 Wellington Street, Central, Hong Kong, +852 2217 6671
District 8
Though located in Elements Mall, the spacious outdoor seating at District 8 transports diners to a lively Parisian café. Perhaps this is the happy place for carnivores and carb-lovers: a large section of the menu ('Simply Steak') is devoted to Steak Frites. Diners choose from a variety of different cuts: From the crowd-pleasing Westholme Station Wagyu Flank (HK$270/280g) to the larger 'District 8' steak, meant for two people (Market price/800g) — with the cut depending on the best available that day. All of the steak frites sets come with buttery Café de Paris sauce, fragrant veal jus, charred onions, and of course, delectable frites.
District 8, Shop R009, Civic Square, Elements, 1 Austin Road, West Kowloon, Hong Kong, +852 2537 7555
Meats
Known for their no-nonsense approach to cooking, Meats is a firm favourite among the carnivores in SoHo. This Pirata Group eatery is a favourite for a delicious, reasonably priced lunch in Central, whilst also a rowdier go-to for the after-work crowd. For a casual midday steak frites fix, the lunch set (HK$158) includes a starter, main and dessert — and luckily, all meats, such as the grass fed Black Angus ribeye (HK$38 additional) are served with piping hot french fries, best paired with the honey mustard sauce to cut through the indulgence.
Meats, G/F, 28-30 Staunton Street, Central, Hong Kong, +852 2711 1812
Scarlett Café and Wine Bar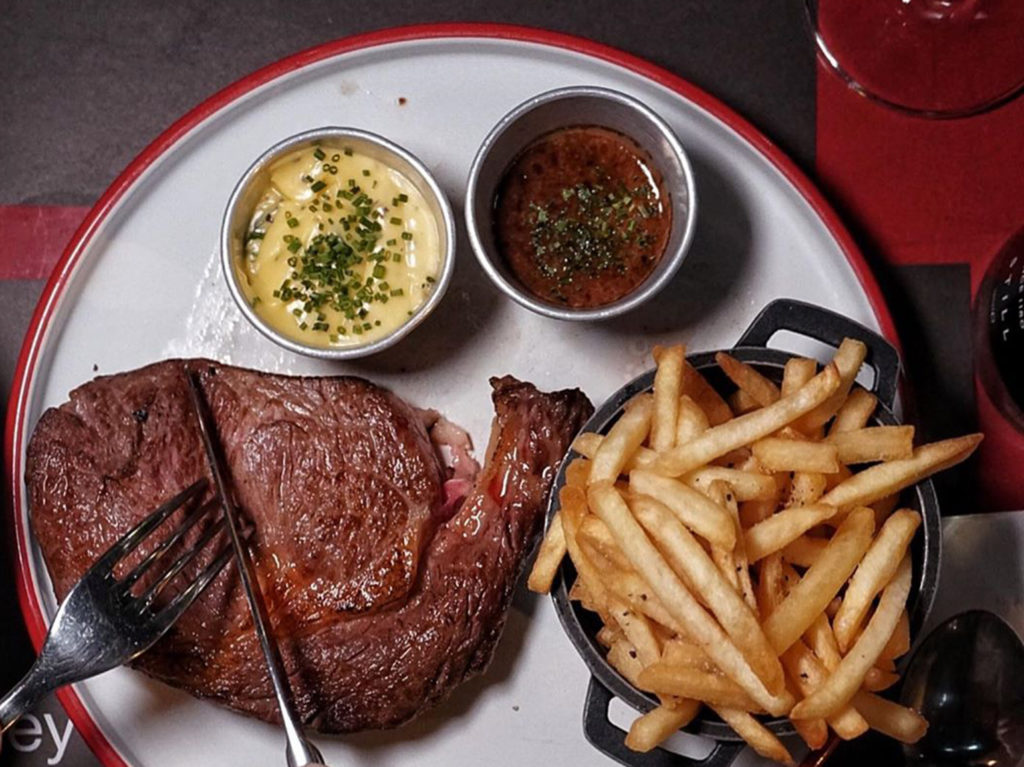 Frequented by trendsetters and foodies, Scarlett is one of Tsim Sha Tsui's most popular wine bars (and worst kept secret). With cosy interiors, an extensive wine cellar, and a well-executed menu, Scarlett is ideal for a post-work catch up, or a casual meal with friends. Dig into in the Wagyu beef ribeye (HK$258) with 300g of decadent Australian Wagyu beef and crispy French fries. Got a larger appetite? For HK$498, enjoy the Insta-famous dish Chateaubriand — 600g of prized tenderloin centre cut that's just the right shade of pink, alongside fries and any choice of sauce.
Scarlett Hong Kong, Residence G Hong Kong, 2 Austin Avenue, Tsim Sha Tsui, Hong Kong, +852 3565 6513
Feather & Bone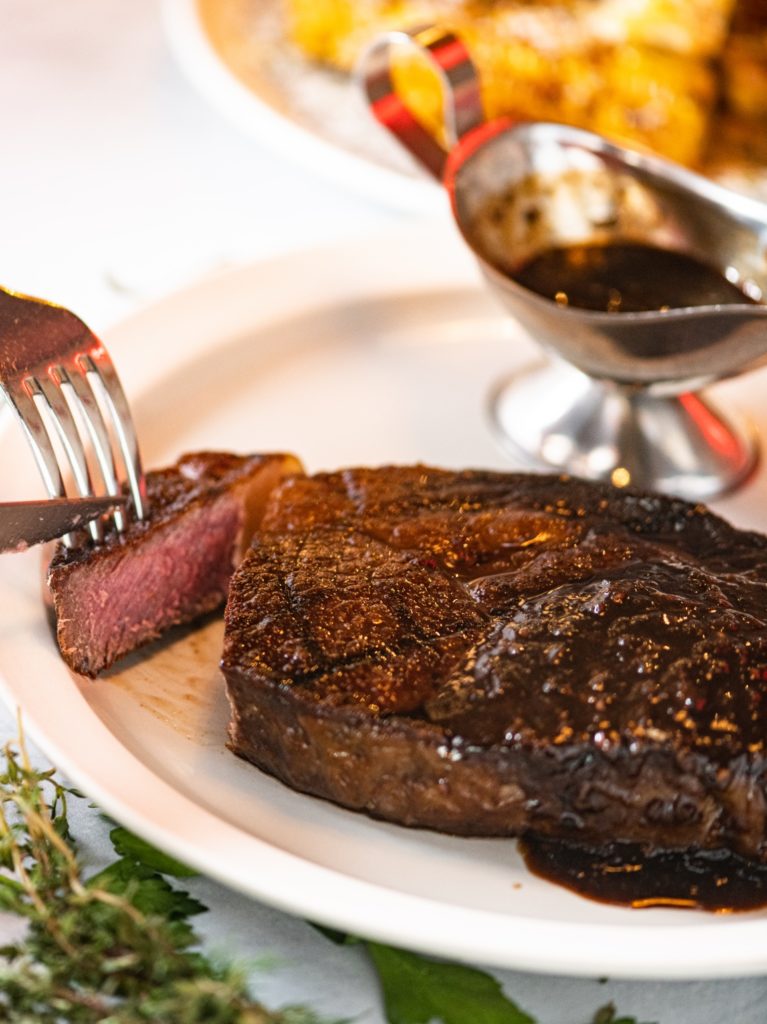 With a team of expertly trained butchers slicing and purveying top quality cuts of meat, Feather & Bone has carved a name for itself (sorry, we just had to) as the go-to for excellent steaks. Craving fuss-free steak frites? Select your choice of beef at the butcher's counter, priced by weight. Lunch-goers can also choose from either the 200g grass-fed ribeye or grain-fed hangar. For dinner, those with larger appetites will want to opt from the 'Butcher's Choice (HK$398) — a daily selection of choice cuts — or the 'Prime Choice' (HK$698) featuring house-made small goods as well as dry-aged steak. Pair your meal with a sauce and a side — spicy peppercorn sauce with lightly salted hand-cut chips sounds like a winning combo to us.
Feather & Bone, multiple locations including: G/F, 38 Shelley Street, Mid-Levels, Hong Kong, +852 2179 6211
(Cover image credit: Frites/Facebook)