From gourmet burgers at glitzy hotel bars to all-American patties at diner-inspired eateries, we've tried and tested our way through the most delicious burgers in Hong Kong — these are the ones that are worth the calories.
Hong Kong hasn't always been big on the burger scene, limited to fast food options and with none of the indulgent choices we have now. While there has been a time and place of course for the quick and easy Big Mac, the patty has been reinvented with satisfying alternatives for everyone (yes, vegans too, thanks to Impossible meat and non-meat options). Try out one of these juicy burgers to fulfil your cravings.
With additional reporting by Constance Lam.
(Due to ongoing dining restrictions, some restaurants may have changed their opening hours. We try to be accurate, but please check before going!)
Honbo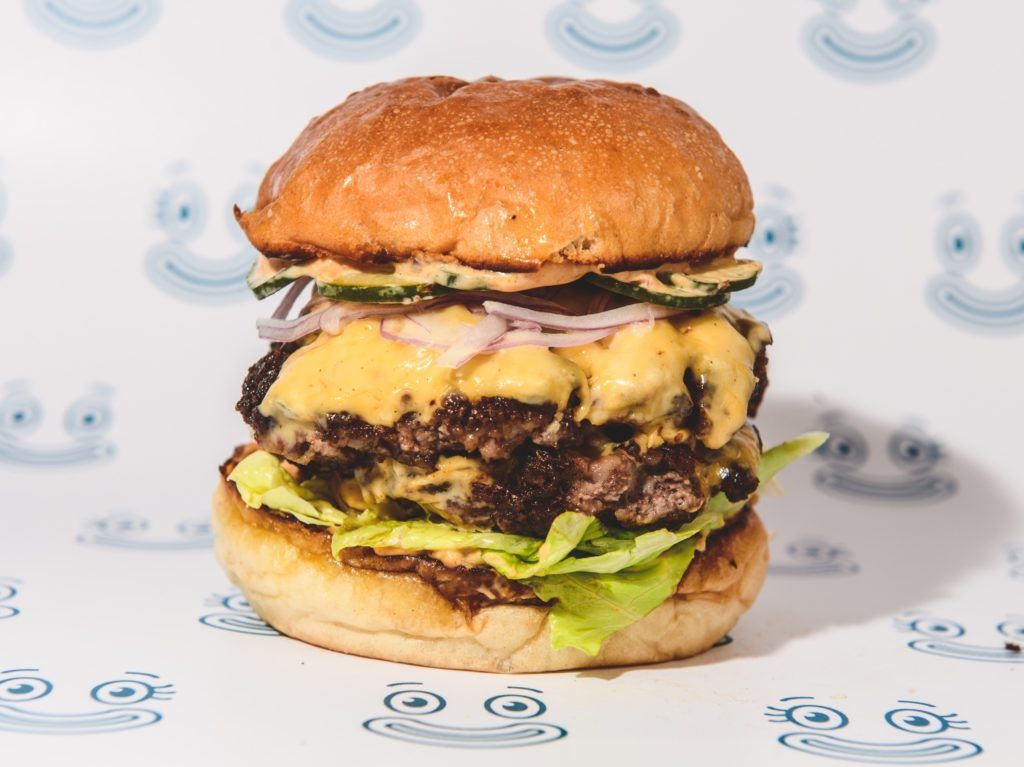 Besides Honbo's picture-worthy interiors — a stylish update on the classic American diner — the restaurant champions honest ingredients wherever it can. The burgers here are made using Double Gold beef chuck and brisket sourced from Wisconsin, which offers a depth of flavour thanks to using more mature cattle. Patties are ground fresh daily, then smashed and seared on order to lend a crispy exterior and juicy texture when combined with melted cheese. Tying each burger altogether is a house-made potato milk bun, sustainably grown iceberg lettuce and pickles — also made in-house using Japanese cucumber. Try the signature Honbo burger (HK$88) or the Impossible Burger (HK$108) with a side of sweet potato fries or mozzarella sticks.
Available for delivery around Wan Chai and Tsuen Wan West.
Honbo, various locations including G/F, Shop B, 6-7 Sun Street, Wan Chai, Hong Kong +852 2567 8970
Grand Hyatt Steakhouse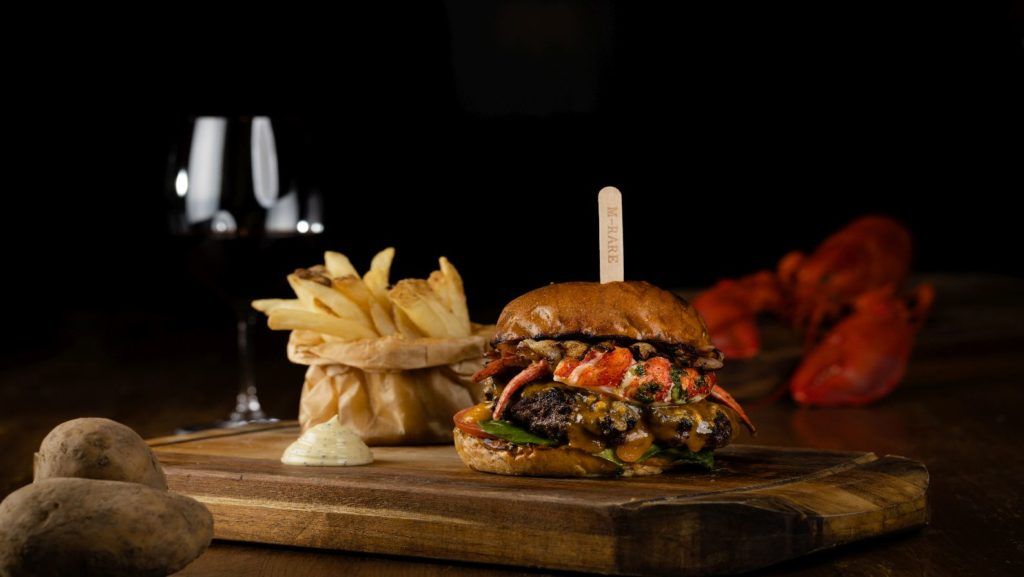 The Grand Hyatt's legendary steakhouse is no doubt recognised for its oyster and seafood offerings, its prestigious cuts and an impressive wine room — but it also offers the ultimate burgers to be devoured in its quiet, speakeasy surrounds.
After a successful pop-up with a specialty burger menu last year, the restaurant, helmed by Argentinian Chef Fernando Gojan, continued to serve the decadent dishes on the a la carte menu—and they don't hold back in choice of ingredients. The Pompous Burger (HK$560) is stacked with a Wagyu beef patty, truffle sauce, foie gras, aged comté, tomato and lettuce for a rich and flavoursome bite; whilst the American Dream (HK$560) is the ultimate surf-and-turf meal in one package: a juicy Wagyu patty is topped with succulent butter-poached lobster, applewood smoked bacon, American cheddar, tomato and lettuce. For a more familiar (or manageable) option, go for a classic Steakhouse Burger (HK$380), featuring Wagyu beef patty, bacon, cheddar, tomato and lettuce. All the burgers come with chunky chips and truffle mayo.
Grand Hyatt Steakhouse, Lobby Level, Grand Hyatt Hong Kong, 1 Harbour Road, Wan Chai, Hong Kong, +852 2584 7722
Henry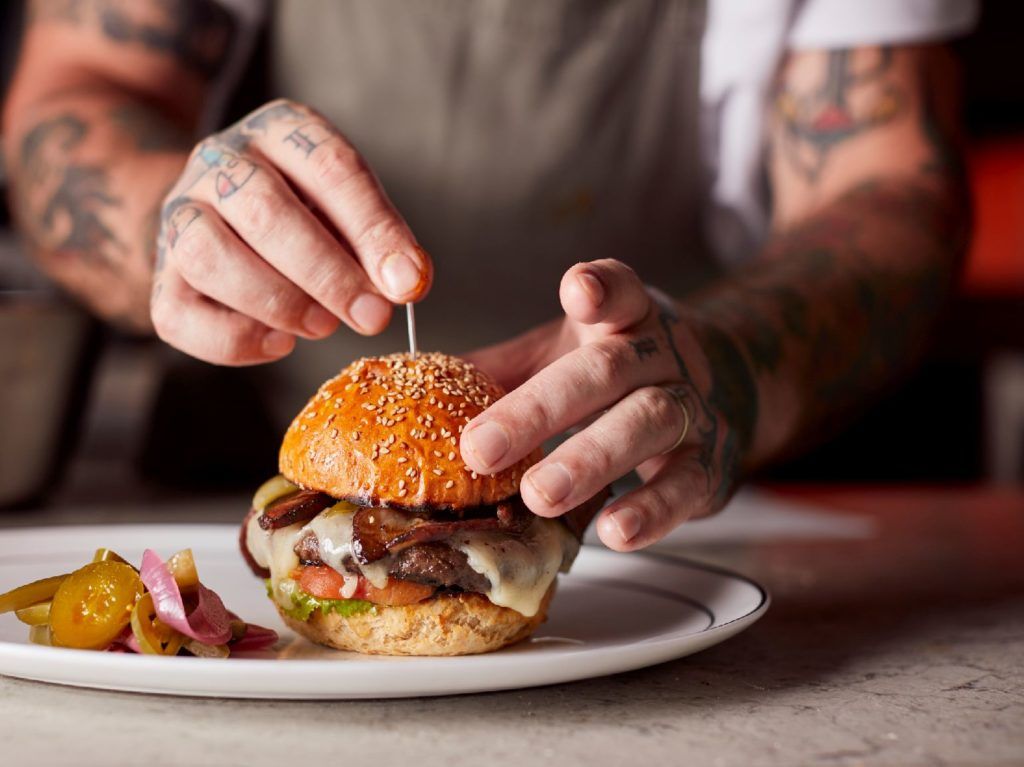 One of the Rosewood Hong Kong's most celebrated features is of course its variety of five-star cuisine, and Henry's Texan barbecue menu is not to be missed. Handsomely furnished in deep wood and leather, the restaurant is helmed by British chef Nathan Green, who first carved out a reputation for his smokehouse favourites during his time at Rhoda. Amongst Henry's signature items from dry-aged steaks to artisanal sausages and fabulous tacos featuring premium cuts, the Henry Burger stands out as one of the lunch menu favourites for when you're craving an all-American meal: It's a wholesome and hefty burger, featuring butcher's shop bacon, American cheddar, served with house pickles and fries.
Available for delivery or takeaway at HK$188.
Henry, 5/F, Rosewood Hong Kong, Victoria Dockside, 18 Salisbury Road, Tsim Sha Tsui, Hong Kong, +852 3891 8888
The Diplomat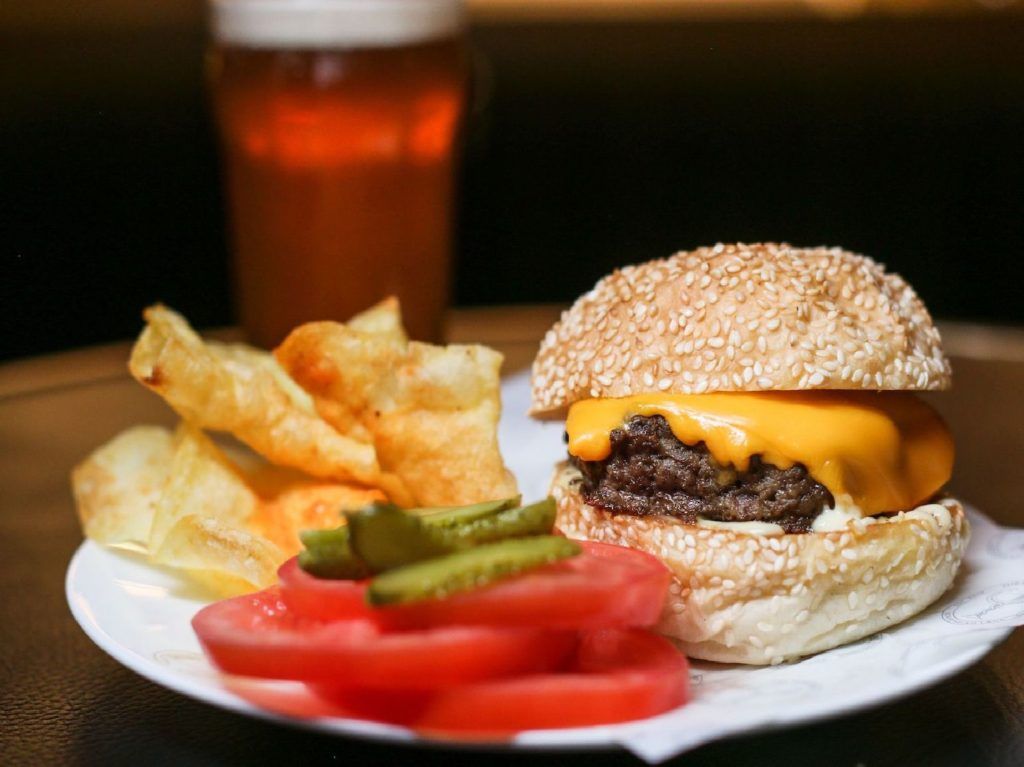 One of Hong Kong's favourite bar hangouts, The Diplomat serves a delightful range of cocktails and delicious bar grub to match. The burger here is a firm Lifestyle Asia favourite, with a toasted sesame bun sandwiching a flavoursome patty and old-school American cheese. That in essence would do it for us already, but it's served with a handful of crisps, fresh sliced tomatoes and pickles on the side for you to ostensibly build your own perfect bite. A must-order to mop off a round of cocktails.
Open for Monday–Saturday, noon–6pm; Menu available for takeaway until 9pm.
The Diplomat, LG/F, H Code, 45 Pottinger Street, Central, Hong Kong, +852 3619 0302
Lobster Bar and Grill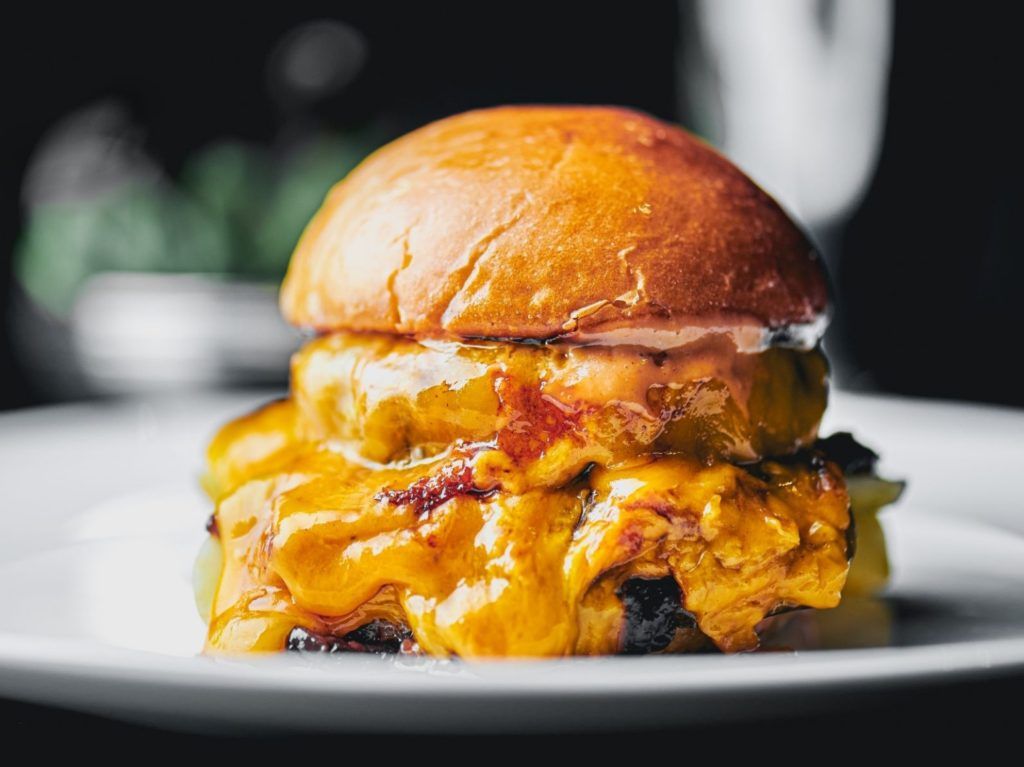 Lobster Bar & Grill's latest bar menu offers a range of cocktails and nibbles that are ideal for post-work indulgence. You'll want to perch at the bar to watch your cocktails shaken up for you — and try the Lobster Burger for a truly decadent reinvention of the classic concept. Using all the flavourful trims of the beef, including flank, neck, clod and chuck, the burger itself boasts a perfect balance of fat and texture. Beef is ground fresh daily and clamped between a house-made potato bun in lieu of the typical overly sweet brioche. Caramelised onions add a touch of sweetness, while slivers of sour gherkins help to balance out the streaky bacon and a well-earned amount of cheddar cheese to finish.
Available for dine-in during the day.
Lobster Bar and Grill, 6/F, Pacific Place, 88 Queensway, Admiralty, Hong Kong, +852 2820 8560
Caprice Bar
Recently joining the Asia's 50 Best Bars ranking at number 34 in 2020, Caprice Bar is a discreet wine and cocktail venue known for its stiff cocktails and resplendent cheese platters. Hoping to toast to a celebration? order the Wagyu Beef Burger (HK$888), which may set you back a pretty penny, but is absolutely stacked with superlative layers of comté, beaufort, and reblochon cheeses, Culatello ham and Tasmanian black truffle — and of course, the juicy Wagyu patty, the star of the show. It's recommended to share this decadent dish with a companion so you can also sample a selection of yet more of the bar's famed fromage — knocked back with a few martinis, of course.
*Image for reference only.
Caprice Bar, 6/F, Four Seasons Hotel Hong Kong, 8 Finance Street, Central, Hong Kong, +852 3196 8882
Electric Ave
Electric Ave is a Sai Ying Pun mainstay dishing up an expansive menu of unique delights beyond the classic American cheeseburger, all spotlighting aged English beef. Fan favourites include the curry lamb burger, the cheesy chicken carbonara burger, the black cheddar burger (where the beef is mixed with black pudding) or the towering truffle and foie gras burger. Treat yourself and make it a feast with the signature five-hour bone marrow fries. Burgers are currently available for takeaway or delivery on FoodPanda and Deliveroo, whilst those residing in Sheung Wan will want to check out its new sibling takeaway concept, Smashed by Electric Ave, which serves up a pared-down takeaway menu of smashed beef sliders, fried chicken burgers and loaded fries (also available on FoodPanda and Deliveroo).
Available for dine-in at Electric Ave only; Both venues open for takeaway or delivery via FoodPanda and Deliveroo.
Electric Ave, 301 Queen's Road West, Sai Ying Pun, Hong Kong, +852 2858 8883; Smashed by Electric Ave, 29-31 Hillier Street, Sheung Wan, Hong Kong
Shady Acres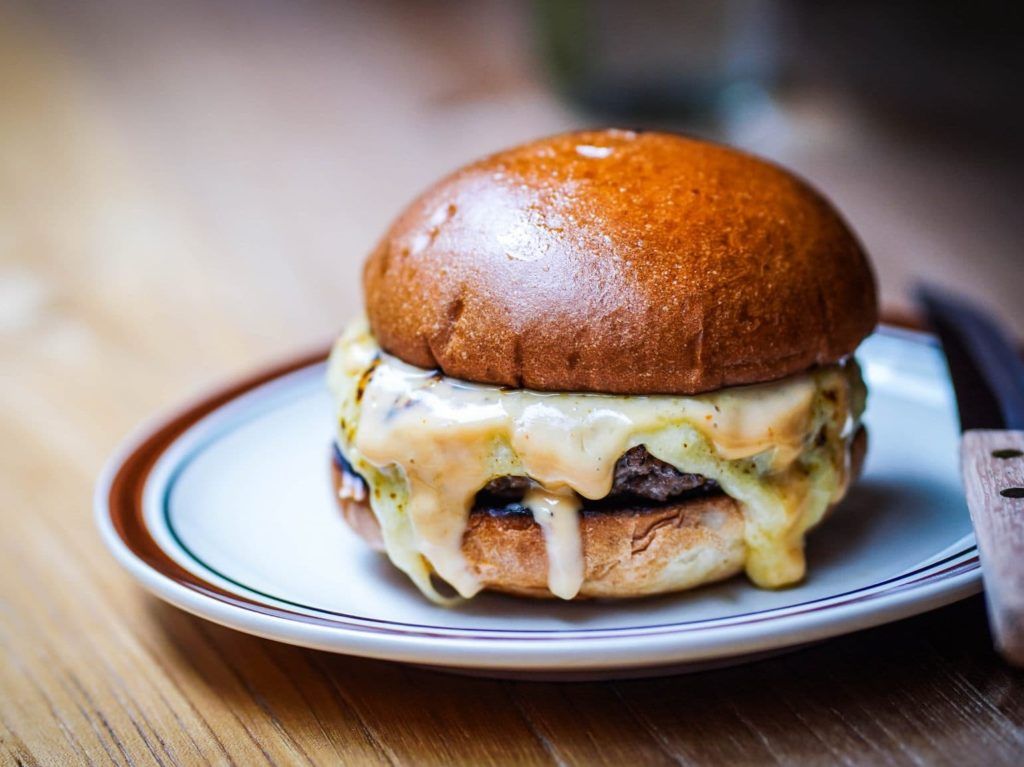 On trendy Peel Street sits Shady Acres, an eclectic wine bar-turned-burger shack. Vegetarians — and non-vegetarians for that matter — will flock here to order the Impossible Burger (HK$100), which features the surprisingly juicy and unctuous Impossible meat patty, a healthy serving of aged cheddar, caramelised onions and the secret Shady sauce. Not interested in plant-based? You might be sorry… However, the Maple Bacon burger (HK$100) is also a sure-win — featuring Wagyu beef, candied maple bacon and homemade bourbon barbecue sauce.
Only available for takeaway or local delivery; order via Whatsapp at +852 9176 7500
Shady Acres, G/F, 46 Peel Street, Central, Hong Kong
Big Dill
One of the city's newest vegan eateries, Big Dill is a diner-within-a-diner, with its menu concept available at an existing bar on Sai Ying Pun's 123–125 Third Street. Expect all your fast-food guilty pleasures available in plant-based form: From burgers to hot dogs, nachos to gyros, to 'chicken' tenders, nuggets and more. Burgers feature dairy-free options as well as conventional cheeses, making it friendly for omnivores and vegans alike.
Available for dine-in, takeaway or delivery via Deliveroo.
Big Dill, 123–125 Third Street, Sai Ying Pun, +852 5270 6777
Beef & Liberty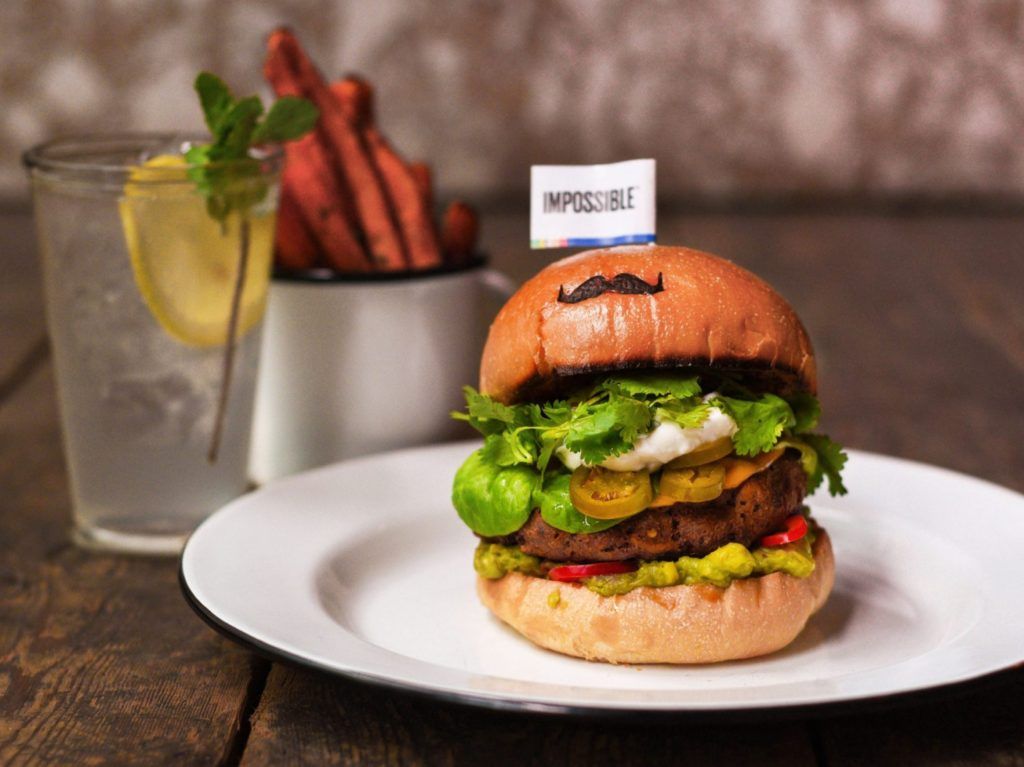 Beef & Liberty have been on the block for some time now, championing its ethos of transforming the humble diner burger with the best quality ingredients — and the best techniques — to make what the house considers to be a superior burger. Now with a vast selection of classic American-style burgers, whether you prefer smashed patties or thick juicy burgers, as well as vegetarian-friendly favourites, this hotspot continues to be celebrated for its innovative menu items and well-priced variety. Try the limited edition 'Liberty' (HK$239) — a hefty burger made with 220g, 29-day dry-aged grass-fed Tasmanian beef, caramelised onions, pickles, mustard and topped with a mound of raclette for an extra punch of pungent, melty indulgence.
Dine-in, takeaway and delivery available; Order here or via Deliveroo.
Beef & Liberty, various locations including 3/F, California Tower, 30-32 D'Aguilar Street, Central, Hong Kong, +852 2450 5778
Beefbar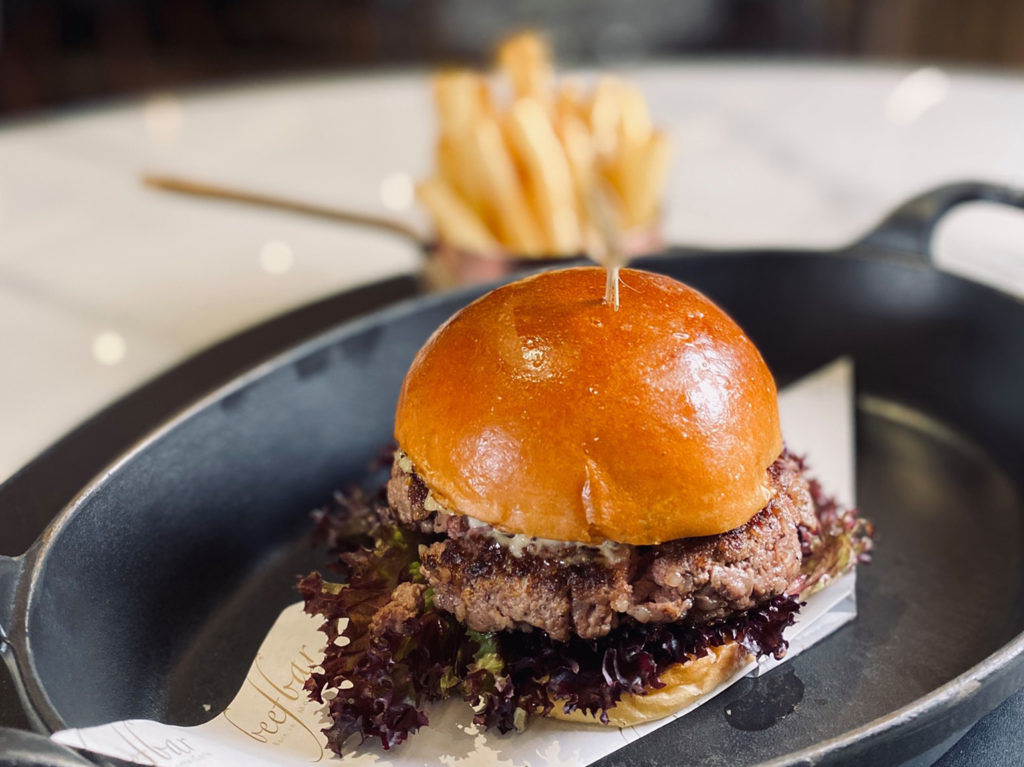 One Michelin-starred Beefbar is known both for its airy rooftop space and its impressive selection of prime beef cuts. For those looking for a more informal meal than its usual roster of steaks, diners rave about the decadent 50/50 Kobe Angus Burger with black truffle sauce, with equal parts Kobe Wagyu and Angus beef. The first bite sets off a delightful explosion of flavours: the succulent, juicy patty perfectly complementing the fragrant black truffle. No good burger is complete without a well-made bun and delicious fries. Beefbar is able to deliver both elements, with crispy fries pair excellently with the tender meat and fluffy bun. For smaller bites, Beefbar also offers a range of Mini Burgers on the lunch and dinner menus, made with black Angus beef.
The 50/50 Kobe Angus Burger is available on the 'Chicago' lunch menu: HK$380 for two courses, HK$450 for three.
Beefbar, 2/F Club Lusitano, 16 Ice House Street, Hong Kong, +852 2110 8853
The Butcher's Club
Longstanding burger chain The Butcher's Club arguably reignited Hong Kong's craze for gourmet burgers when it first launched in 2013. It now boasts three locations in Wan Chai, Tsim Sha Tsui and Tai Koo Place, serving up its popular dry-aged Australian beef burgers and a range of vegetarian-friendly options using Impossible and Beyond meats, not to mention a host of mouth-watering skillet fry-ups on the weekends. For a truly decadent outing, don't miss the outrageous 'Double Happiness' burger (HK$180), a former secret menu item featuring two thick patties, double cheese and "all the fixin's" — sandwiched between two grilled cheese sammies.
Available for dine-in, takeaway or delivery; More info here.
The Butcher's Club, various locations including G/F, Rialto Building, 2 Landale Street, Wan Chai, Hong Kong, +852 2528 2083
Shake Shack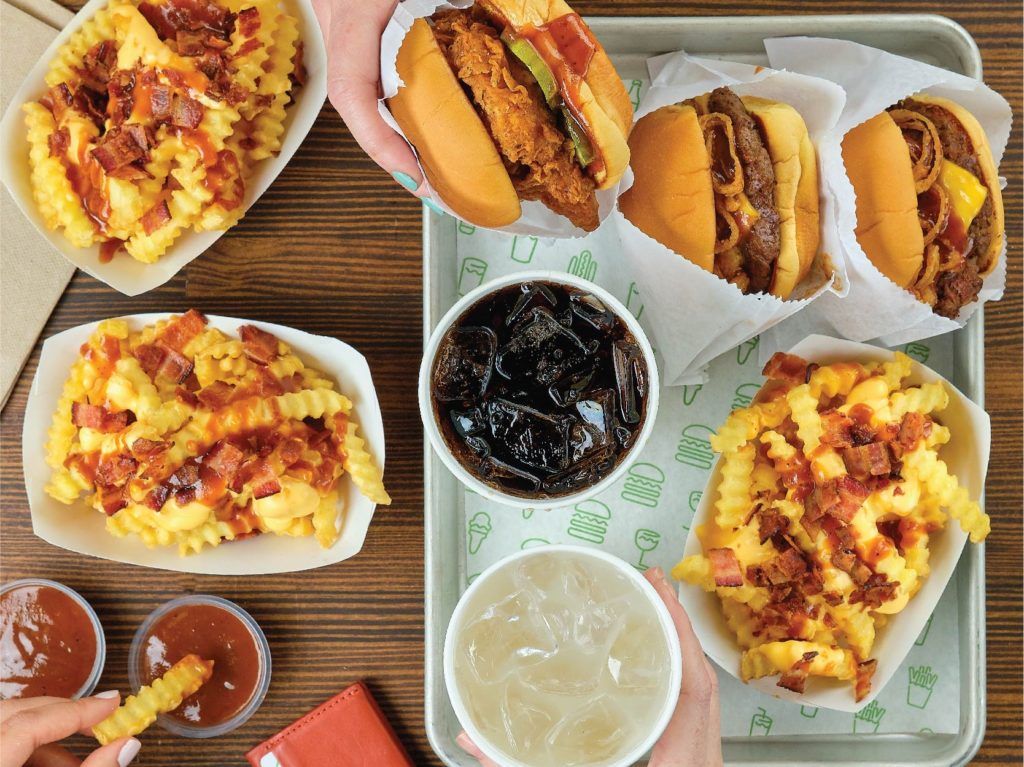 When you're thinking burgers, who can forget about this New York City gem? Since launching in Hong Kong last year, Shake Shack has revolutionised the burger scene with its gourmet, affordable smashed patty burgers. Although the diner is deemed as fast food, the patties are sourced from 100 percent all-natural Angus beef with no hormones or antibiotics. It's also recently launched a slew of limited-edition BBQ-inspired menu items, including the BBQ ShackMeister Burger (HK$60), which features ShackMeister ale-marinated shallots and Shack barbecue sauce. Get your set with a side of cheesy fries and a frozen custard for a weekend treat.
Available for dine-in, takeaway or delivery; Order online here for same-day pickup or delivery via FoodPanda.
Shake Shack, various locations including Shop 4018, 4/F, IFC, 8 Finance Street, Central, Hong Kong, +852 2522 5611