This year, Halloween coincides with a rare 'blue moon' — the second full moon of the month. Whether you're looking to head out for some tricks and treats or you prefer to stay socially distanced this year, soak up the spirited mood this spooky season with these last-minute Halloween plans.
The Daily Tot: Sleepless in Havana
When: 31 October, from 8:30pm
After most of a year spent in pajamas, this spooky affair ensures that you get to party it up without sacrificing comfort. Dress up (or down) in your nicest sleepwear and prepare to get thirsty: The Daily Tot's free-flow package (HK$550 per person) includes prosecco, house wines, beer, two rum cocktails, house spirits and sodas. Limited tables of four (HK$2,500) and six (HK$3,500) are still available. Book here.
The Daily Tot, Shop E G/F, Felicity Building, 58 Hollywood Road, Central, Hong Kong, +852 2366 6836
Lee Lo Mei
When: 31 October, from 7pm
Kicking off the weekend at SoHo Happy Hour mainstay Lee Lo Mei might already sound like a given for many; but come Halloween, it's the perfect spot for a mischievous meal — fuelled by fuss-free beers and cocktails all night. Head to Lee Lo Mei in groups of four for buy one get one free on Yau beers all night and a special set menu (HK$398 per person) featuring the restaurant's show-stopping Lee's Little Lobster: a juicy roasted lobster tail with an addictive black pepper sauce — be sure to mop up the sauce with crispy mantous, served with a lightly sweet condensed milk foam.
Lee Lo Mei, 8 Lyndhurst Terrace, Central, Hong Kong, +852 2896 7688
The Pawn: Buena Vista La Fiesta De Los Muertos
When: 31 October, 7pm
Always a spectacular soiree come Halloween, The Pawn is presenting a haunting twist to its signature Buena Vista Social Club event, which harks back to the colourful heyday of the Cuban high life. Expect live entertainment, body painting and delicious Halloween-only cocktails all night long. Free entry.
The Pawn, Botanicals Bar, 1/F, 62 Johnston Road, Wan Chai, Hong Kong, +852 2866 3444
Taqueria Super Macho: 'Día de los Muertos' brunch and dinner
When: 31 October, brunch from 12pm; dinner from 6pm
HK$48 Margaritas and off-menu beef birria tacos? What's not to get thrilled about? Stop by Taqueria Super Macho to fuel up before a big night of Halloween revelry with menu specials starting from 6pm. Want to start the party earlier? Its Day of the Dead-inspired brunch (from 12pm, HK$498 per person) is billed as a bona fide fiesta with free-flowing Margaritas cold cervezas, as well as Mexican-style brunch dishes such as Huevos Divorciados — USDA rib-eye, hash and eggs with two kinds of tongue-tingling salsa; and Baja-inspired tacos.
Taqueria Super Macho, 33-35 Bridges Street, Sheung Wan, Hong Kong, +852 2333 0111
The Pontiac: Under the Sea
When: 30 October, 7pm
Gearing up for its Pontypalooza 5th anniversary party on 5 November, The Pontiac's mermaids and sirens are taking on an oceanic theme this Halloween: They are collaborating with Applewood Coral Gin, an Australian craft spirit made with proceeds that go towards restoring the Great Barrier Reef. Head there for Ponty (Happy) Hour (Monday–Saturday 5–8pm) and stay for the gin-fuelled debauchery.
The Pontiac, 13 Old Bailey Street, Central, Hong Kong, +852 2521 3855
Dr Fern's Gin Parlour: Dr. Paul's Return
When: 31 October, 9pm
We trust this year has been a hard one: If you're looking for some liquid salve for your ailments this Hallow's eve, Landmark speakeasy Dr. Fern's Gin Parlour's OG 'head of prescriptions' Dr. Paul heads up the doctor's office once again to pour up a few Halloween-only cocktails. Featuring Hong Kong's own Perfume Trees Gin and Perrier, expect re-energising tonics like the Paul's Reviver, The Poisoned Apple Trees and P&P Witches.
Dr. Fern's Gin Parlour, Shop B31A, B1/F, Landmark Atrium, 15 Queen's Road Central, Hong Kong, +852 2111 9449
Fukuro x Mr Black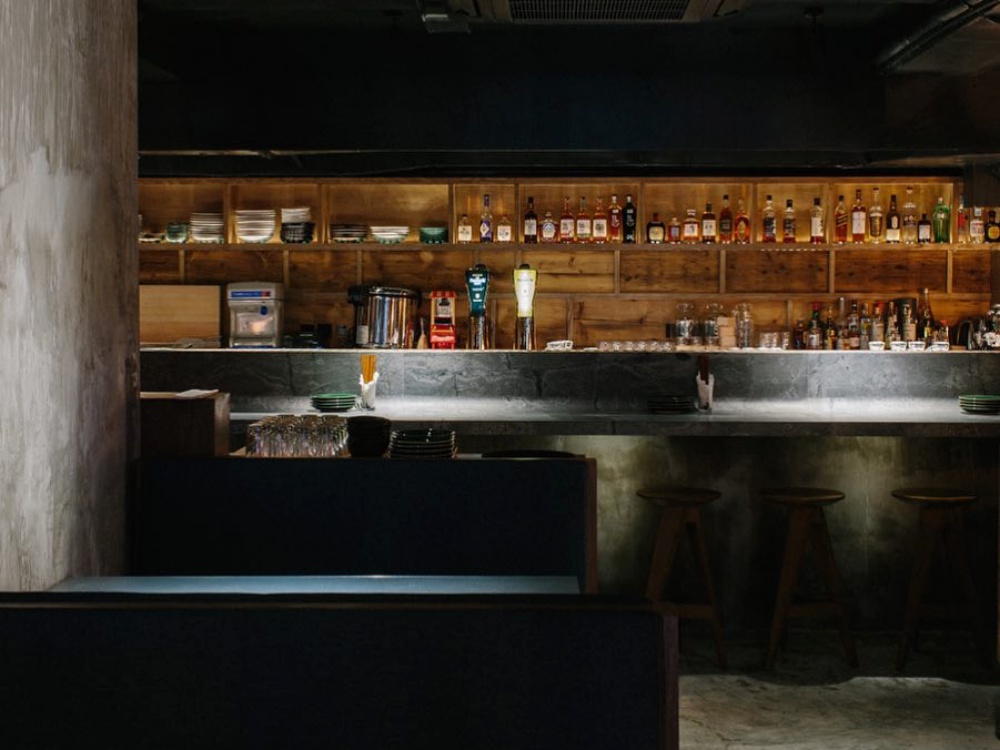 When: 30 October, from 6pm
If its innovative dishes and roaring punk rock soundtrack is anything to go by, SoHo izakaya Fukuro is already a mainstay for a spirited good time on any given night. This Halloween Friday, Fukuro teams up with Mr. Black coffee liqueur for a murdered out affair: Expect four exclusive cocktails featuring the liquor, plus a live DJ from 9pm. Try the Fukuro-tini, adding a twist to the delicious Mr Black coffee martini; or the Dusk & Stormy, a highball combining cold brew liqueur with Campari, ginger beer and Japanese whisky.
Fukuro, Winly Building, 1-5 Elgin Street, Central, +852 2333 8841
Zuma: Yashoku Halloween Edition
When: 31 October; 'Yashoku' from 8pm; Party from 9pm
Known to be one of the most high-spirited Halloween soirees in town with some of the most spectacular costumes on show, Zuma is presenting a Halloween party at the lounge from 9pm with live DJ and performers. Tickets (HK$638 at the door) include a signature welcome cocktail and free-flow Veuve Clicquot, sake and beers until 11:30pm.
Hungry for more? You'll want to check out the Halloween edition of Zuma's popular Yashoku 'night brunch'. For HK$1,388, each guest get to dig into a free flow of signature dishes and drinks until 10pm, inclusive of entry to the party until late. The a la carte menu is also available in the main dining room for those who prefer a more quieter affair.
Zuma, 5-6/F, Landmark Atrium, 15 Queen's Road Central, Hong Kong, +852 3657 6388
Te Quiero Mucho: Día de los Muertos
When: 29 October–5 November
Honouring Mexican tradition, Sheung Wan taqueria TQM Sheung Wan is hosting a week-long celebration of the Day of the Dead, the nation's most colourful ghostly affair. Expect vibrant spreads of tacos, fresh authentic guacamole and comforting quesadillas available a la carte, all to pair with two hours of free-flow Tequila-based tipples at just HK$198. The special Halloween cocktails are also available for HK$100 each, and Olmeca Tequila shots at HK$50 a pop.
Te Quiero Mucho, 286 Queen's Road Central, The Sheung Wan, +852 3423 3290
Aqua Luna Haunted Harbour Cruise
When: 31 October, from 6:30pm
How about spending Halloween on a ghost ship? The historic Aqua Luna — iconic for its blood-red sails — will be cruising across the harbour as a haunted ship of terrors. In Chinese, it's named after Cheung Po Tsai, the Cheung Chau pirate who used to terrorise (or rule, depending on your stance) these very waters, which might give you some costume inspiration. There will be cruises available between 6:30–9:30pm, with tickets (HK$400–680) coming with a welcome Evil Eye cocktail upon boarding as well as free-flow drinks including prosecco, house wine, beer and soft drinks and juices.
(Header and featured image credit: The Daily Tot)