Best Sips is a look-back on the most incredible drinks — alcoholic or otherwise — we had in the past month. Those which renewed our love for established venues; caught our attention at a new opening; or freshly impressed upon us the creativity and skill of Hong Kong's talented bartenders and mixologists alike. From tipples at charming dive bars to award-winning apéritif at five-star establishments, these are the best drinks to try in Hong Kong; the drinks we'd recommend you make a special trip for.
Cassio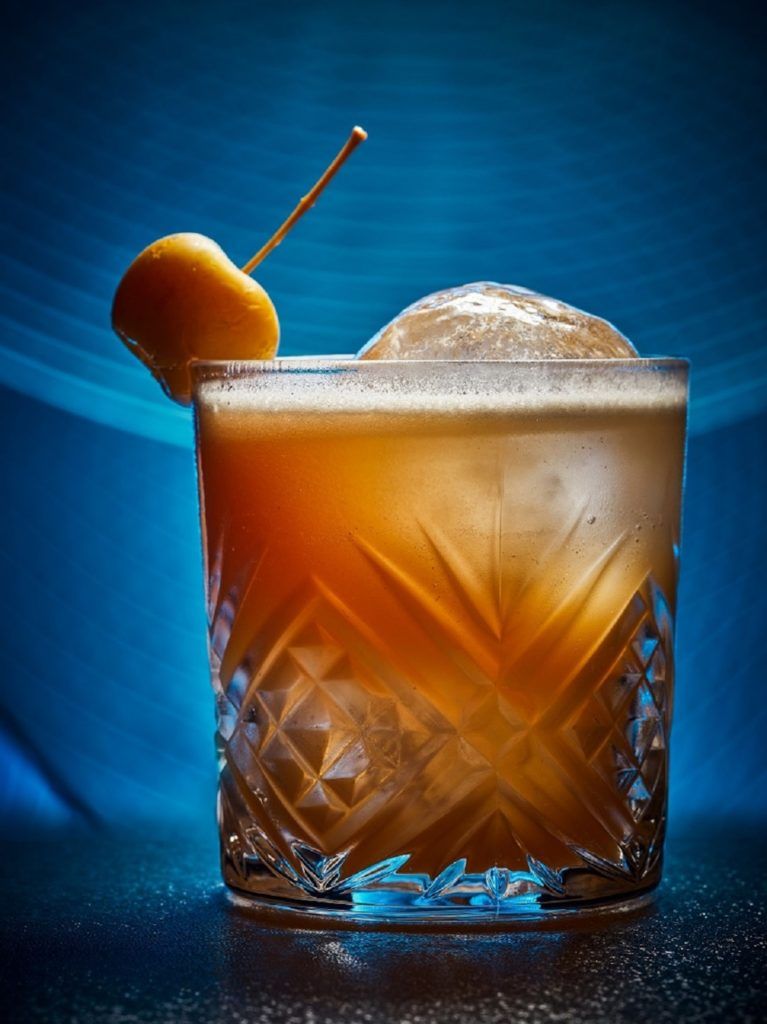 The drink: Scarface (HK$130)
Ah, truffle. Ye olde faithful. The warm, earthy, nutty flavour profile foretelling indulgent meals composed of creamy swirls of pasta. Or, perhaps, heaping spoonfuls of risotto. Or, even, parmesan-topped fries. Which is why its starring role infused adrift Cassio's Scarface cocktail — tempered against American whiskey, honey, fresh lemon juice and black walnut bitters (and garnished adorably with a baby apple) — was so surprising; and so welcomed, too. This is the kind of drink your nose experiences first; and the kind of drink the other guests at your table will plead for a sniff-and-sip. And promptly order their own. — Joey Wong, Editor
Cassio, 2/F LKF Tower, 33 Wyndham Street, Central, Hong Kong, +852 3792 0129
Smoke & Barrel
The drink: Maple Fashion (HK$88)
Bourbon, rum and bitters topped with maple, orange, and a hint of chocolate. Six simple ingredients that make up one of the most delicious cocktails I've tried in quite some time. Served best with a melt-off-the-bone rack of ribs or tender beef brisket, this concoction is bound to have you feeling fresh out of saloon as your pour from an old fashioned hit flask straight over ice. — Lexi Davey, Managing Editor
Smoke & Barrel, 1/F-2/F, Wyndham Mansion, 32 Wyndham Street, Central, Hong Kong, +852 2866 2120
DarkSide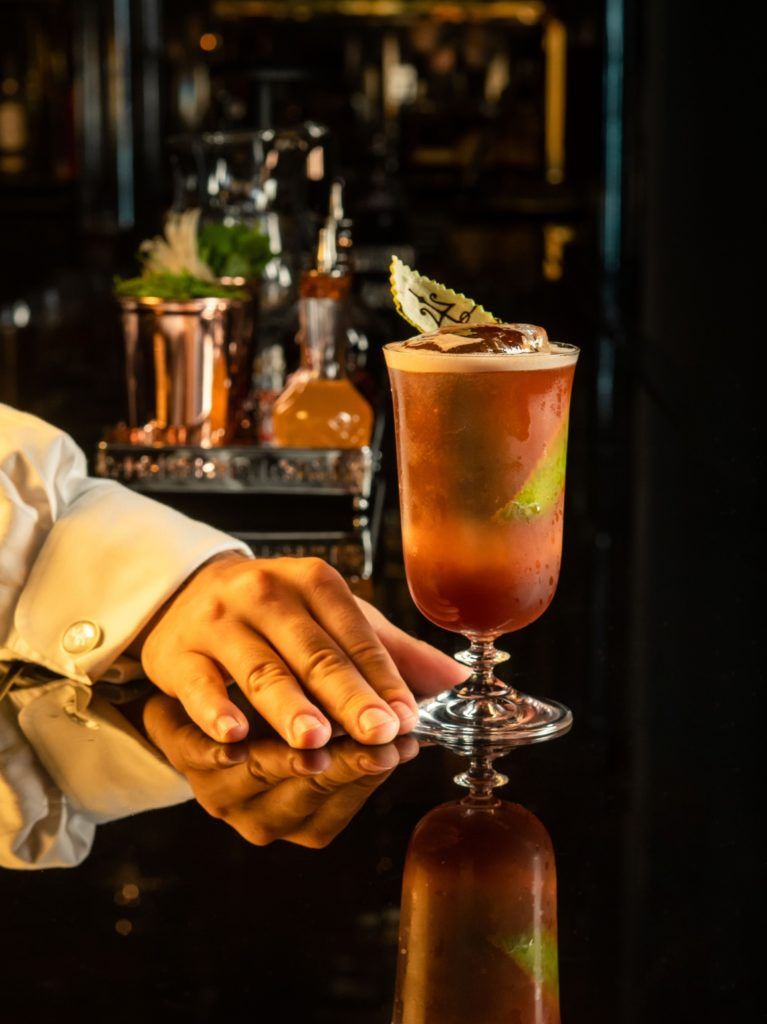 The drink: El Diablo (HK$160)
The new and newer are constant objects of obsession, but there will always be room for perfecting a tried-and-true recipe; one that has lasted the test of time and continues to endure past the frou-frou and frills of modern-day ingenuity. The DarkSide's new 'Forgotten Classic' drinks menu — curated by Arkadiusz Rybak, Director of Bars and Simone Rossi, Beverage Manager — celebrates precisely this.
On the roster, the El Diablo (HK$160) was a devilishly delicious affair; a tempered concoction of Ocho Blanco tequila, crème de cassis, lime and ginger beer as a reverent nod to the alchemy of the first-ever referenced El Diablo cocktail — in Trader Vic's 'Book of Food and Drink' from 1946. And to this three-quarters-of-a-century-old, time-honoured recipe? No notes. Incredibly good. — JW
DarkSide, Rosewood Hong Kong, 18 Salisbury Road, Tsim Sha Tsui, Hong Kong, +852 3891 8732
The Daily Tot
The drink: PB & G (HK$120)
I've spoken at length, embarrassingly, about my affinity for peanut butter. Or, really, anything peanut butter-adjacent. The material composition of The Daily Tot's PB & G has nothing to do with peanut butter beyond its clever name but it caught my eye — and my PB & J-riddled mind — all the same. Like so many other drinks aboard The Daily Tot's 'Rum Journey', the PB & G (Pineapple-Basil-Guava) feels akin to a sunny tropical affair. It's a delicious infusion of Plantation Rum Stiggins' Fancy Pineapple with Petite Verveine, yuzu cordial and fresh guava juice; textured with egg whites and topped off with a single basil leaf for a splash of green. A citrusy, tart sip that's as creamy as it is refreshing. Close your eyes — it's vacation time, baby. — JW
The Daily Tot, Felicity Building, LG/F, 58 Hollywood Road, Central, Hong Kong, +852 2366 6836
Cabana Breeze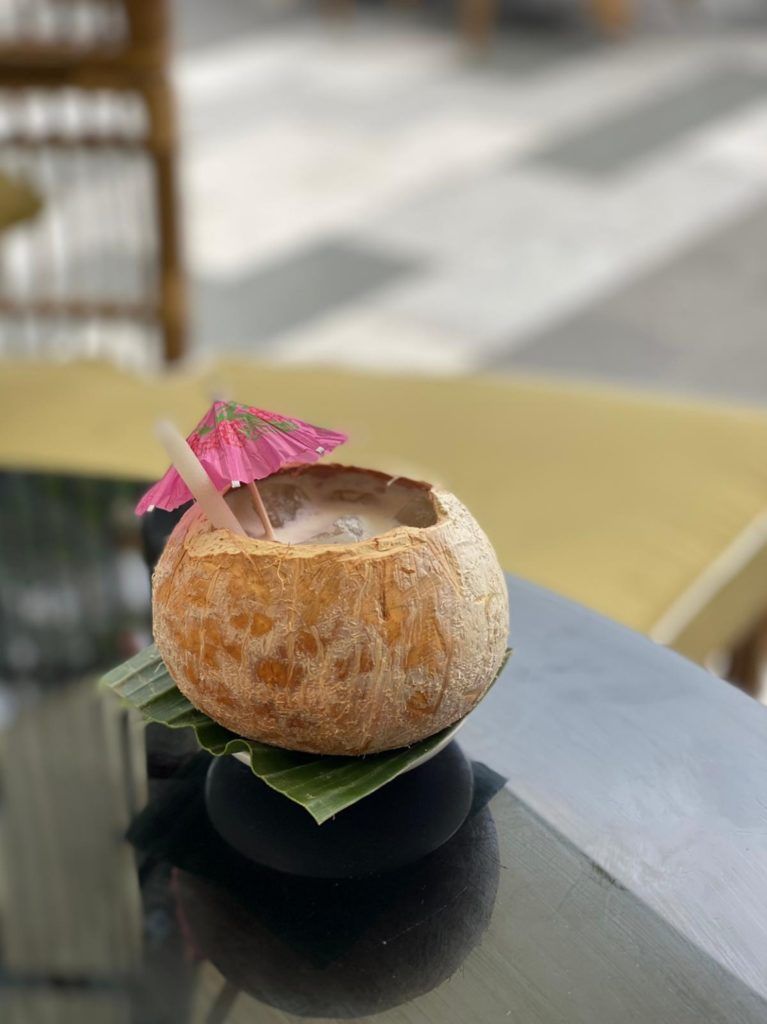 The drink: Cabana Colada (HK$115)
As someone who enjoys a resort vacation as much as the next and considering I'm also someone who is currently stuck in the city with no place to go, I'd take any chance I get to close my eyes and imagine — even if it's just for one afternoon. An opportunity that presented itself in the form of a tiki-inspired dining spot along the newly revamped Tung Chung waterfront, Cabana Breeze is a worthy alternative to salt-laced air and cool sea breezes. The expansive alfresco space is fitted with cushioned lounges and sun-shaded rattan cabanas that's only fit for long afternoons well spent, with a perfectly chilled cocktail in hand.
My drink of choice was the Cabana Colada, a delightful take on the classic piña colada. It's creamy, it's refreshing and is an honest taste of the summertime; a blend of coconut-infused rum with pineapple nectar, fresh coconut and guava, before being finished with a refreshing squeeze of lime. It even arrives in a hollowed out coconut with a pretty pink cocktail umbrella. If this isn't the consummate island holiday tipple, I'm not sure what is. Catch the weekday Tiki Social Hour if you have extra leave days in need of clearing for an excellent taster on the rest of the cocktails selection. — Lorria Sahmet, Style Editor
Cabana Breeze, Shop G12-G15, T Bay, No 9 Yi Tung Road, Tung Chung, Lantau, Hong Kong +852 2777 8982