What does the future of the wine industry look like?
We imagine it'd be a lot like Vivant, the world's first interactive online platform that connects winemakers, consumers and expert wine advisors in streaming live experiences.
Now, this isn't some passive video-watching experience. Each of these live experiences are accompanied by an expert wine advisor who will give you more specific insight into the wines that you'll be tasting. Yes, this includes answering your questions live.
Besides redefining the way consumers learn about wine in the post-pandemic age, the interactive platform also helps to support a more sustainable future for the industry by featuring the world's best tasting wines from responsible winemakers that practise sustainable, organic and biodynamic viticulture.
"Our ambition is to recreate the magic of visiting a wine region without the carbon footprint of stepping on an aeroplane," said Michael Baum, CEO & Founder of Vivant. "We've assembled a team of wine educators, product designers, software engineers and media producers to immerse people in the world of wine like never before."
We managed to be a part of The Art of Blending in Bordeaux, a 45-minute experience that encompassed key concepts like Bordeaux blends, main grape varieties, complementary grape varieties and issues such as climate change.
"One of the big forces of Vivant is the selection of wines, sustainably produced," remarked Thiébault Huber, a former sommelier and Domaine Huber-Verdereau's winemaker. "Another is the experience itself. No matter where you are in the world, you are transported to Burgundy and other amazing wine regions. Vivant is fantastic."
Before the experience, we were sent six vials of wine — each one containing enough wine for a full glass — that we had to have by our side during the event. Make sure you have enough glasses on hand, too.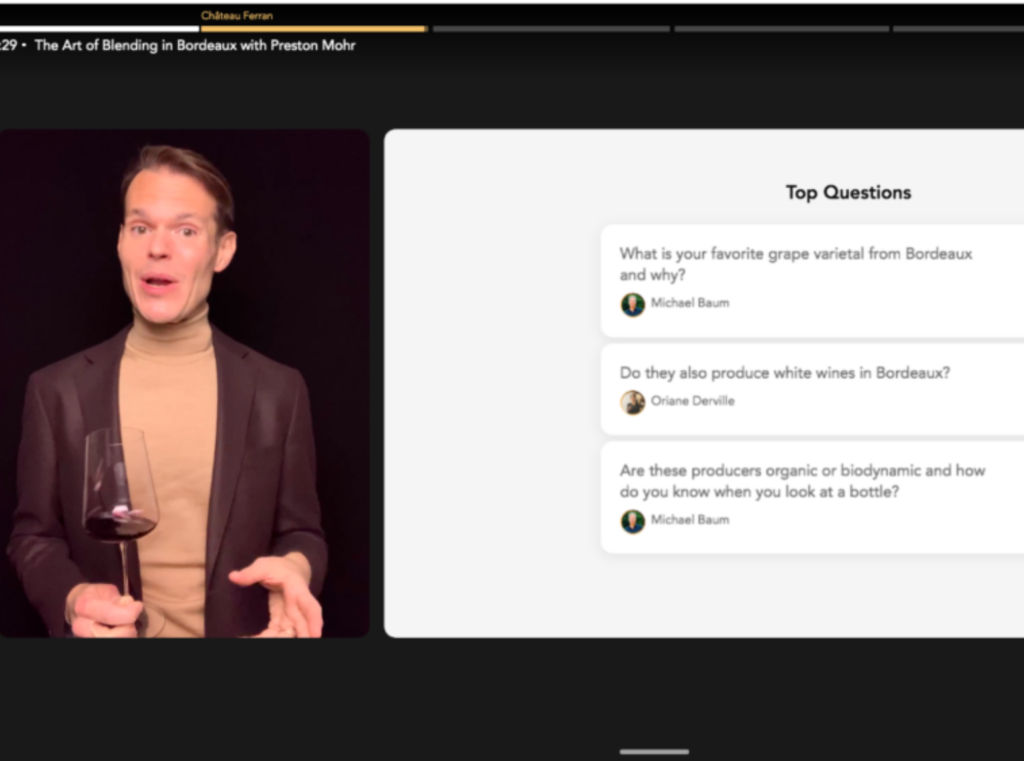 Here, we were transported straight to Bordeaux, France, to meet the winemakers and see the vineyards from which the wine we were learning about came from. After each short clip, participants get to assess wines interactively and compare their results to the expert's wine profiles. This included answering quizzes about the colour of the wine, its tasting profiles and its characteristics.
Besides testing our knowledge and improving our skills in wine appreciation, we were also given Wine IQ and Tasting Points along the way, creating some exciting and engaging competition between friends and other participants. The expert wine advisors are also available throughout the course of the experience to answer questions and share their wine recommendations.
"Nothing compares to experiencing wine through the eyes of passionate winemakers and professional educators," said Vivant Director of Education, Vanessa Guébels, DipWSET. "When I started my career as a wine educator, I dreamt about transmitting wine knowledge in an interactive and immersive format. With Vivant, we are making the world of wine accessible for everyone."
For more information about Vivant, visit their website here.
This story was first published on Lifestyle Asia Singapore.