Toasting with your nearest and dearest when you just got older? Here's where you'll want to go.
Hong Kong has a plethora of lauded drinking establishments to choose from, but when it comes to celebrating your name day, the right bar choice can make or break the entire affair. After all, one prized resource that's forever in short supply in the SAR is of course real estate — and whether you're worried about piling your posse into a subterranean sports hall or seeking a quirky drinking den that will serve proper libations for a memorable night, you'll want to keep these celebration-friendly venues in mind for your next birthday or a variety of other shindigs.
Duddell's
Located on levels three through four of the historic Shanghai Tang mansion, Duddell's is a dynamic hybrid of several very 'Hong Kong' pastimes: eating, carousing and fine art appreciation. The restaurant-slash-gallery-slash-club boasts a large, leafy garden terrace — easily capable of accommodating up to 30 people. If that isn't spacious enough, the entirety of the fourth floor — a delicately hued salon by celebrity designer Ilse Crawford — is also at your disposal.
Duddell's, 3/F, Shanghai Tang Mansion, 1 Duddell Street, Central, Hong Kong, +852 2525 9191
Draftland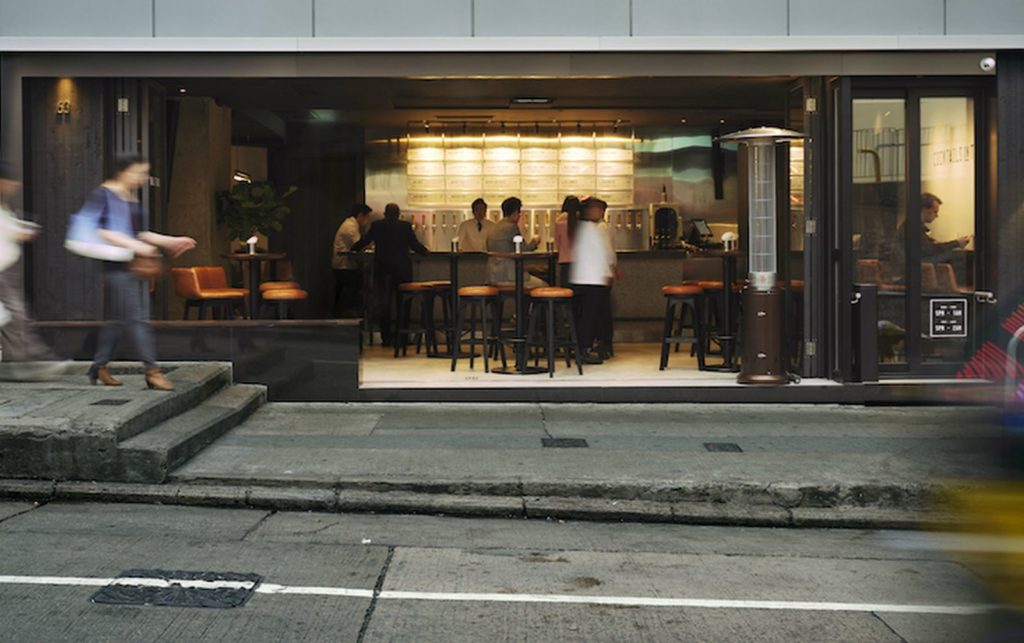 Since 2018, award-winning Taiwanese bartender Angus Zou's 'cocktails on tap' concept has been attracting thirsty regulars to Wyndham Street. An eclectic assortment of pre-batched cocktails, served at fairly uniform prices and poured at breakneck speed, make this a great spot to assemble your party, say, before you head off to dinner or a more regimented, sit-down affair.
Draftland, 63 Wyndham Street, Central, Hong Kong, +852 2711 8809
Honi Honi Tiki cocktail lounge
The dense urban jungle of Central seems, at first blush, to be an inscrutable setting for tiki; yet Polynesian and island themed drinking dens are an implacable part of the district's bar scene. That said, if you're only up for one Tiki joint, make it Honi Honi. Industry veteran Max Traverse's temple to Don the Beachcomber serves up Hong Kong's widest assortment of punch bowls — ideal for those who are big on rum. Plus, the torch-covered interiors are a breath of fresh air in a neighbourhood inundated by cookie cutter offices.
Honi Honi Tiki cocktail lounge, 3/F, Somptueux Central, 52 Wellington Street, Central, Hong Kong, +852 2353 0885
La Rambla by Catalunya
Inspired by the bustling, Barcelona thoroughfare of the same name, La Rambla is equal parts Catalan restaurant and glitzy, downtown terrace. Much of the 5,000 sq. ft. space (located on level 3 of IFC mall) is al fresco: showcasing eye-straining views of Victoria Harbour against a backdrop of sunset cocktails and tapas sharing plates.
La Rambla, Shop 3071-73, 3/F, IFC Mall, 8 Finance Street, Central, Hong Kong, +852 2661 1161
Little Creatures Kennedy Town
Whisky flights and chenin verticals are all well and good for a small mutually inclined group of friends, but when it comes to entertaining more laissez-faire parties — colleagues, plus ones, acquaintances — it pays to bring beer. Few punters will say no to a crisp, freshly drawn pint (especially during Hong Kong's oppressively hot summers); and fewer still, wheresoever pizzas and share plates are involved. At Little Creatures Kennedy Town, there's a large supply of both: the Aussie craft beer brand pours half a dozen drafts straight from the source from a sprawling waterfront location on New Praya, making it the perfect spot for your weekly Sunday session.
Little Creatures Kennedy Town, Shop 1, G/F, New Fortune House, 5A New Praya, Kennedy Town, Hong Kong, +852 2833 5611
Ping Pong 129
Rare is the independent bar in Hong Kong which thrives above street level — a truism Ping Pong 129 seems to have taken literally. Located in a former pingpong hall beneath Second Street — identified by the signature, porthole-festooned red door — the gintonería was one of several to tap Sai Ying Pun's potential as an F&B hotspot early on. Now a neighbourhood stalwart, it's neon-bathed interiors are always packed later in the week: offering that still-elusive combination of vaulted ceilings, a serious gin menu and casual atmosphere.
Ping Pong 129, 129 Second Street, L/G, Nam Cheong House, Sai Ying Pun, Hong Kong, +852 9835 5061
Potato Head
Self-described as a "restaurant, cocktail bar and audiophile listening room," Potato Head's Hong Kong outpost unites a trio of compelling concepts together in a beautiful, resort-inspired space full of Balinese reference points. Both Kaum and Eksotika (Potato Head's restaurant and cocktail bar respectively) can accommodate parties of up to 50, but for the ultimate night out, put your posse through its paces with drinks, followed by dinner and then some late-night boogying in the Music Room. Don't sweat it — there's always something spinning.
Potato Head, G/F, 100 Third Street, Sai Ying Pun, Hong Kong, +852 2858 6066
Terrible Baby
Taking up a majority of Eaton HK's fourth floor, Terrible Baby is a multi-space venue that makes the most of its vibey Kowloon location. The terrace is easily one of Hong Kong's largest — as much a space for retail and cultural showcases as it is prime martini sipping territory — and runs the breadth of Jordan's colourful tenement-clad skyline. Inside, fuzzy wallpaper and terrazzo tiling lends the bar a consummate Leisure Suit Larry sheen; and is complemented by a menu that travels in always delicious, often unexpected directions. Oh, and if you're keen for a little dance, a purpose-built music room is located right next door — the perfect spot to host your next CSR workshop or listening party.
Terrible Baby, 4/F, Eaton HK, 380 Nathan Road, Jordan, Hong Kong, +852 2710 1866