Letterkenny, a fast-talking comedy series about the residents of a rural Canadian town, recently dropped its tenth season on Hulu. If you have already watched it, you know that in the second episode, while Wayne and McMurray do some dickering at the car dealership, the rest of the town participates in a Caesar-building contest. No, they weren't making salads, but more fitting for the setting (Canada and, more specifically, MoDean's): a competition of Caesar cocktails.
Similar to a Bloody Mary, a Canadian Caesar also includes clam broth, and the four versions presented in the episode, developed by creator and star Jared Keeso, got me seriously craving one. Or, as Daryl would say: Hard to see a Caesar and not want a Caesar. In fact, I decided to try them all and rate them from least to most wondrous.
Each Canadian Caesar recipe includes a base, booze, boosters (no more than three, according to the contest rules), garnishes (also no more than three), and a rim. I did my best to gather the ingredients, often highly specific, and although I didn't always match the item exactly, I stayed as close to the spirit of the concoction as possible. Now pitter-patter, let's get at 'er.
4. The Skids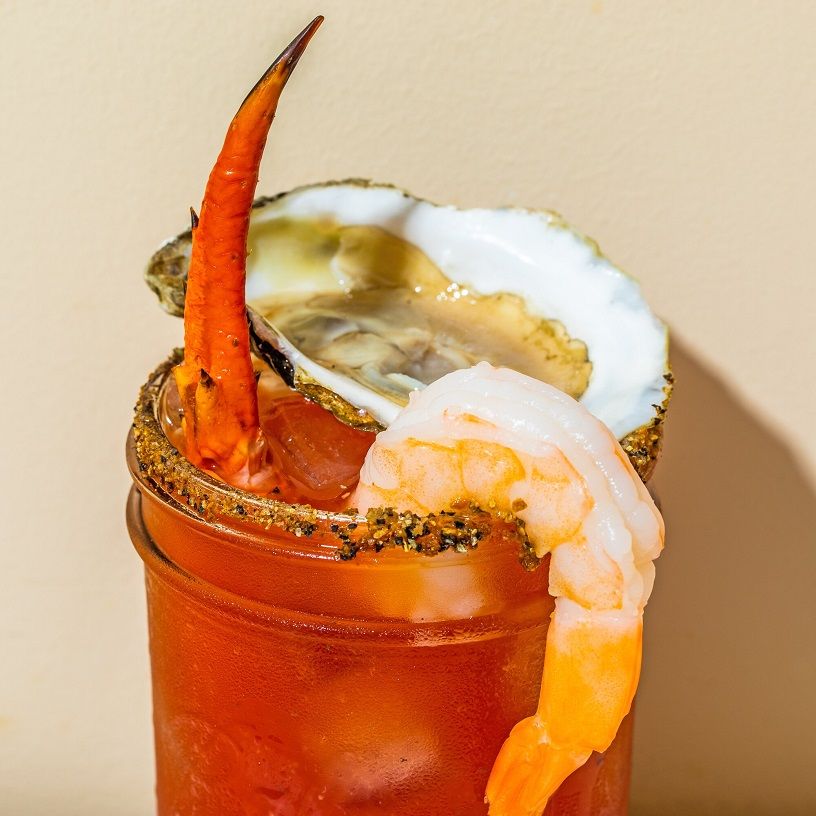 Base: ½ Clamato juice, ½ V8
Booze: 3 ounces (90 ml) gin
Boosters: Horseradish, lemon juice, piri-piri sauce
Garnish: Jumbo cocktail shrimp, Dungeness crab leg, oyster
Rim: Soy sauce, celery salt, lemon pepper
"The skids," represented by Stewart and Roald, put forward an ambitious Canadian Caesar that I was most intrigued by but that was ultimately the least successful for me. There is a lot going on here, between bringing V8 into the base, substituting gin for the vodka, and layering on piri-piri sauce, soy sauce, and lemon pepper. Although this Caesar undoubtedly boasts the best garnishes, the overall effect was too chaotic for my taste. Stewart may be my favourite Letterkenny resident, this just isn't what I appreciate about him.
3. Rosie, Bonnie, Gail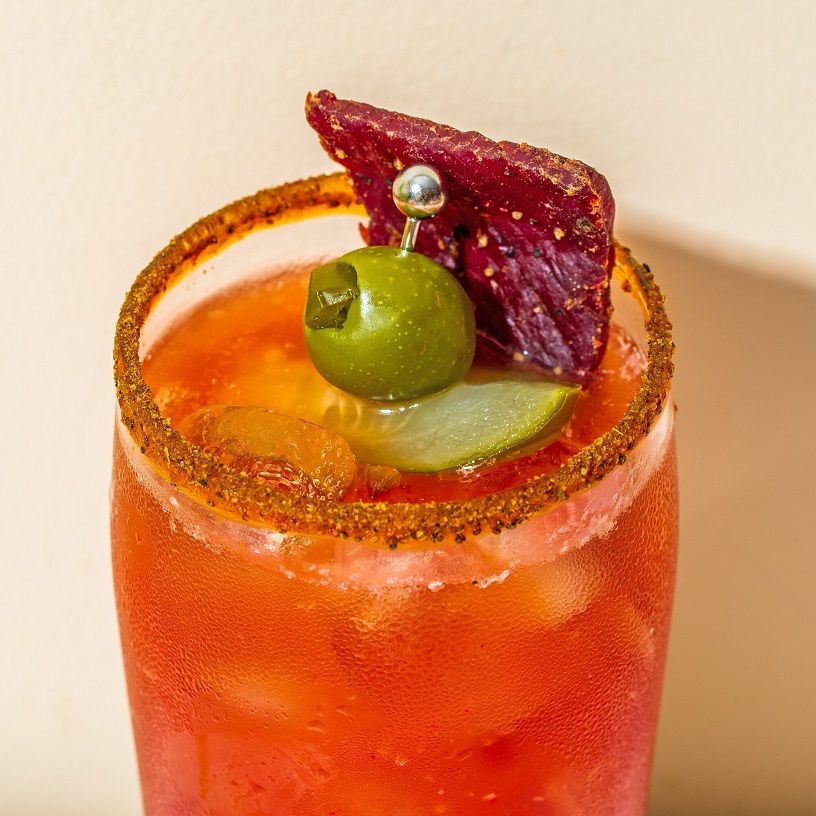 Base: Clamato juice
Booze: 2 ½ ounces (74 ml) vodka, ½ ounce (14.5 ml) moonshine
Boosters: Hot sauce, horseradish, spicy garlic dill pickle juice
Garnish: Jalapeño-stuffed olives, dill pickle, black pepper habanero beef jerky
Rim: Louisiana hot sauce, Old Bay seasoning, cajun spice
Rosie, Bonnie, and Gail put forward the spiciest of the Caesars, with an extra edge courtesy of moonshine. I thoroughly enjoyed this one, but in terms of ranking, I had to put it just behind the top two, mostly because the heat drowned out the flavour of the Clamato.
2. The Hockey Players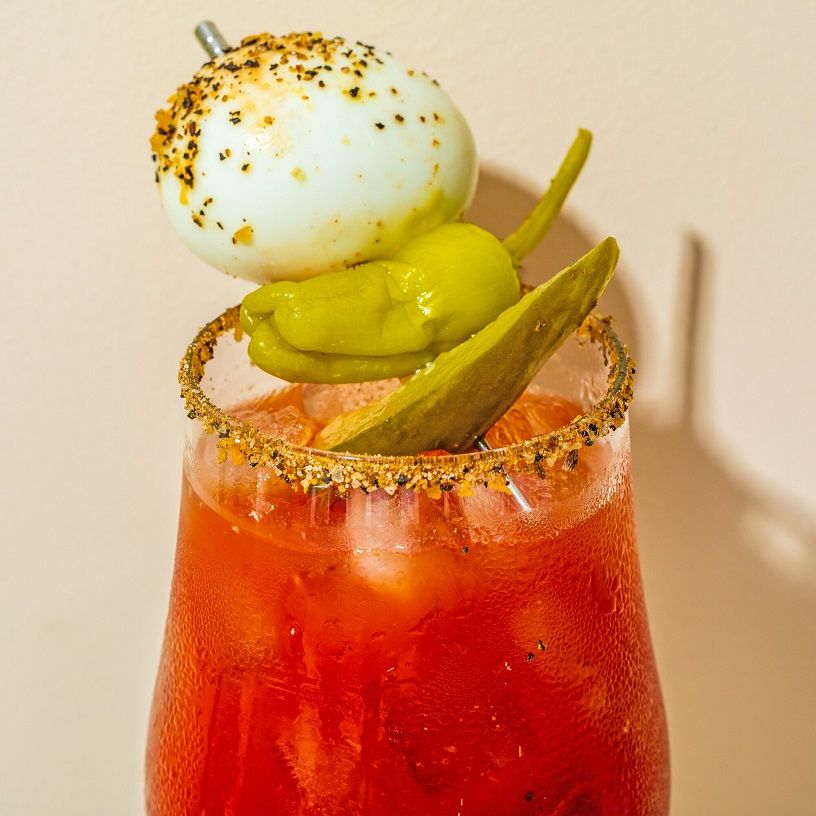 Base: ½ Clamato juice, ½ tomato juice
Booze: 3 ounces (90 ml) vodka
Boosters: Frank's Red Hot sauce, 10 dashes Worcestershire, shot of dill pickle juice
Garnish: Dill pickle, pickled pepper, pickled egg
Rim: Lime juice, celery salt, Montreal chicken seasoning
Reilly and Jonesy entered a "muddy" Caesar, thanks to a generous boost of Worcestershire. Between that savoury addition, some heat from the Frank's, and lots of briny acidity from the pickle juice and pickled garnishes, this one was almost the winner. I'd love to try this with a base of 100 percent Clamato.
1. The Hicks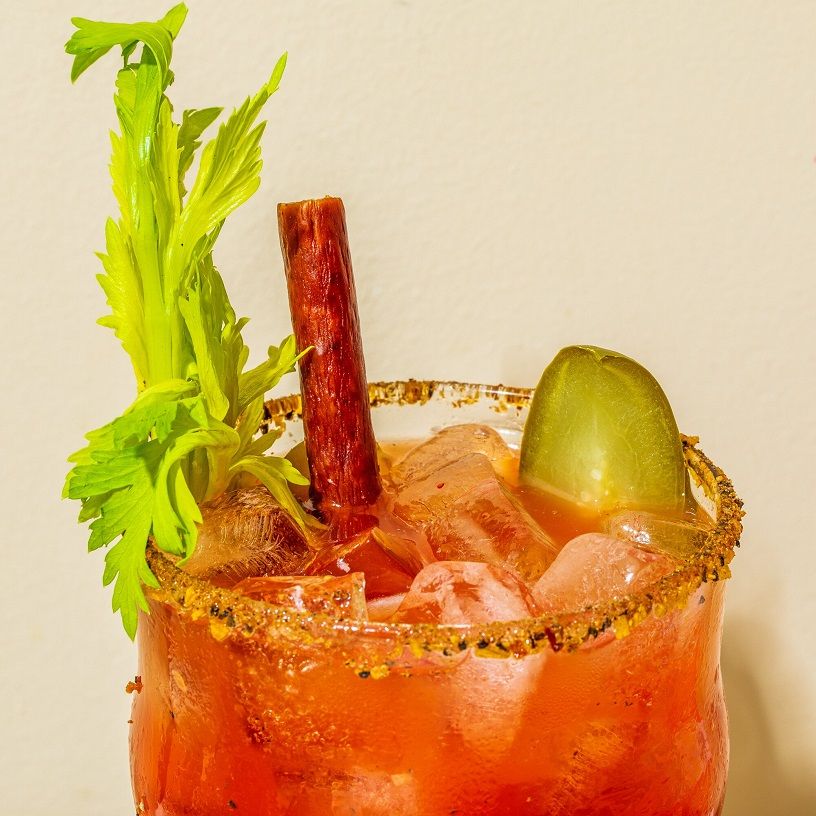 Base: Clamato juice
Booze: 3 ounces (90 ml) vodka
Boosters: Dash of Tabasco, a dash of Worcestershire, shot of pickle juice
Garnish: Stick of celery, dill pickle, Slim Jim
Rim: Lemon juice, celery salt, Montreal steak seasoning
The most wondrous of the Caesars was surprisingly the most basic. In this classic version by Katy, Daryl, and Squirrely Dan, the boosters bring in some dynamism without overpowering the Clamato. It's refreshing, flavorful, and, wow, I forgot how good a Slim Jim is. The best part is I got to drink it while also enjoying all the seafood from the skids' Caesar. Though I've declared a single winner and in the episode everyone wins free drinks (to be fair, they're all great), I think the best approach would be a build-your-own Caesar bar with options to mix-and-match all of the ingredients above.
Alright now back to chorin'.
This story first appeared on www.foodandwine.com
(Main and Feature Image Credit: Sarah Crowder)
© 2021. TI Inc. Affluent Media Group. All rights reserved.  Licensed from FoodandWine.com and published with permission of Affluent Media Group. Reproduction in any manner in any language in whole or in part without prior written permission is prohibited.
Food & Wine and the Food & Wine Logo are registered trademarks of Affluent Media Group. Used under License.