Gotten a sudden craving for sugar and carbs? Don't worry, we've got you covered with our guide to the best doughnuts in town.
Following Krispy Kreme's decision to shutter all its Hong Kong outlets in 2008, we all wondered who could fill the hole-shaped void left by the popular American chain's departure. Then in 2017, J.Co arrived on the scene, filling Hong Kong's collective stomach with an array of fried treats. Luckily, a slew of individual businesses and bakeries have opened up in the meantime. Here's where we've found the best doughnuts in Hong Kong.
Founded by PT Dan Yeung, Doughbydesign is a passion project inspired by his travels across Europe, US and Japan. Using products imported from a range of international countries, Dan and his girlfriend craft dense and fluffy doughnuts using a recipe that's the result of dozens of hours research during the CoVID-19 crisis. Opt for classic flavours like 'original glazed' or sugar-coated; or go all-out in favour of imaginative creations like the cinnamon sprinkle or coffee glaze. Deliveries can be organised via the brand's Instagram shop, which also regularly hosts giveaways.
In addition to its ever-popular line of baked goods with a trademark gooey centre, foodie favourite Cookie DPT has also launched a new line of donuts at Basehall in Central. The brand's founder Wil Fang is initially offering two creations: the Original Glazed Donut, and more irreverently, The Simpsons D'ohnut — an ultra-specific tribute to Homer Simpson's favourite snack, complete with fluorescent pink frosting and many-coloured sprinkles.
BaseHall, Jardine House, LG9 Jardine House, 1 Connaught Place, Central, Hong Kong, +852 3643 0865
From modelling to mastery over the art of pastry making: Amanda Strang is making waves with her latest project — Flakes & Layers. At its heart is the Oonut, a culinary innovation that merges elements of the traditional doughnut with a millefeuille. Made from '1000-layer' pastry, the Oonut is crispy on the outside with a flakey interior that's filled with silky pastry cream. Initially, Strang is offering it in three flavours: vanilla, chocolate, and Yin Yang — a mixture of coffee and condensed milk. You can check out the shop's pop-up (currently in Lane Crawford IFC) or order via phone.
For enquiries, email enquiry@flakesandlayers.com or WhatsApp +852 9191 3301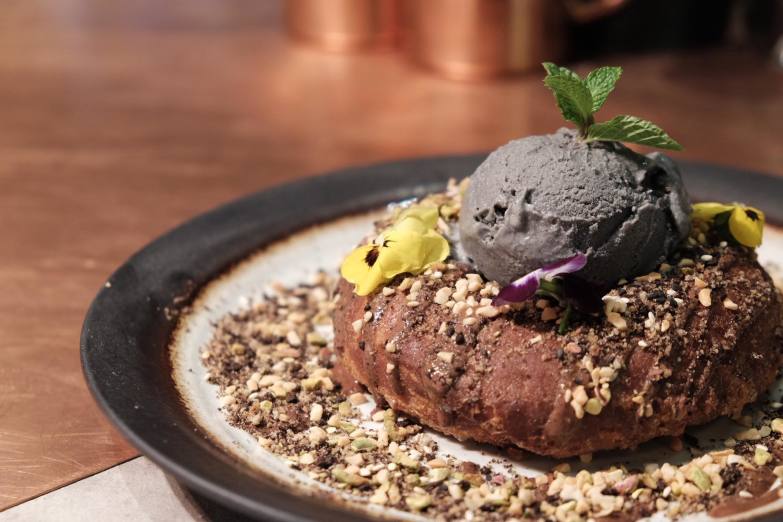 More of a brunch spot than a dedicated slinger of doughnuts, Ninetys nonetheless deserves a space on our 'best of' list with its signature dessert — the doughnut toast. In essence a doughnut cooked in the style of French toast, the dish is topped with sesame ice cream and fresh fruit; accompanied by a generous amount of cookie crumbs. For a slightly more health-conscious option, the café — with locations throughout Hong Kong island — also serves baked instead of fried doughnuts, accompanied by a sauce of Greek yoghurt.
Ninetys, with locations in Wanchai and Central, 222 Queen's Rd E, Wan Chai, Hong Kong, +852 2369 0118
Besides their main specialty of hand-spun pizza, Dough Bros are another addition to Hong Kong's burgeoning scene of doughnut mania. The shop's version are filled to bursting with oozy fillings like Nutella, custard, and jam; made fresh to order and dusted with a veritable helping of icing sugar. Expect speedy turnaround if you're picking up from in-store, or get your hands on these bad boys online (including delivery partners Deliveroo and Foodpanda).
Dough Bros., F, Shop 5, G, 38-42 Yik Yam St, Happy Valley, Hong Kong, +852 2760 4555