"I'm able to create any dish I want. It's more freeing to be here," is chef Agustin Balbi's reply when we ask him about his move from Repulse Bay's seafood mecca The Ocean to small, 34-seater Haku, tucked away in the labyrinth that is Harbour City. The two restaurants couldn't be more different: while The Ocean under chef Balbi was a splendid, azure-washed space that felt as expansive as its moniker, Haku is small and intimate, spotlighting an omakase tasting counter where all boundaries between chef and diner have vanished — inspired by the interactive Kappo style of dining prevalent throughout Japan.
At Haku, the talented chef has found a new playground to experiment in — a kitchen without rules, where no ingredient is off-limits. After cooking strictly with seafood at The Ocean, it's refreshing to see Agustin flex his culinary muscles to their fullest expression at Haku, the results being even more surprising and brilliant than we'd expect.
Ambience
Haku is a collaboration with chef Hideaki Matsuo of 3-Michelin-starred Kashiwaya, which has locations in Osaka and Hong Kong. While the revered Japanese chef's name is on the door, it's Balbi that you come here for, an alum of several Michelin-starred restaurants in Japan including RyuGin, Zurriola and Cuisine[s] Michel Troisgros. If you can, snag a seat at the 12-seat wraparound tasting counter, where Balbi and his sous chefs stand guard over the pass, placing the final delicate touches on dishes within arm's reach of diners. Behind this theatrical set-up, guests have a direct view of the open kitchen, where pots bubble away with richly infused dashi stock, and boulder-sized hunks of tuna wait to be sliced into strips of chutoro and otoro.
With the traditional wooden sushi counter and walls lined with tables against a dark charcoal backdrop, the venue strikes a familiar minimalist zen tone that could very well be found in any high-end Japanese restaurant, in any country, led by any chef. The biggest surprise comes not in the décor but in the food, which steers an exciting course away from the traditional cooking of Japan.
Food & Drink
Those who have previously dined at The Ocean know that chef Balbi is obsessed with putting pretty things on a plate — just as important as the flavours are the way the elements are composed together, how they depict a visual language to entice your eyes before your palate.
We're reminded of this from the onset with the quartet of amuse-bouches, each arriving looking like a shelf decoration in a Japanese horticulturist's quiet abode. Nevertheless, there's bold flavours waiting to be discovered in each bite, from sweet Hokkaido corn kernels nestled in a delicate squid ink tart; to fresh isaki fish rolled with an intensely ocean-flavoured dashi cream in crisp nori; skewered kibinago sticking upright from a pot of pebbles; and a ceramic bowl of stripped bark and ruby red roses, bearing a deep red core of pickled beetroot folded delicately inside.
The menu unfolds from there in a parade of dishes that showcase Balbi's experimental and innovative approach to cooking. Plump oysters caught off the coast of Fukuoka are buried under an icy snow of lime green apple granita, with yuzukoshu lending a citrus tang and kinome leaf adding an herbal brightness. This is followed by a bowl of colourful Kumamoto tomatoes, paired with salt-cured Japanese barracuda and 34-month Bellota ham. The intriguing part of the dish is a sprinkling of crystal salt from Fukuoka (flakes so large they melt like snowflakes on the tongue) and a grainy fermented rice powder which, as described accurately by the chef, infuses a strange but surprisingly welcome cheesy flavour to the dish. Salty and crunchy, the taste is almost reminiscent of a cheeseburger — in a completely molecular, haute-cuisine sort of way — with the interplay of creamy Bellota ham and fermented rice. From there, we're served foie gras terrine in a flower-patterned Chinese porcelain cup, boasting a thin layer of jellied duck consommé studded with fresh fruit and dark red dots of black cherry jam. Rich and satisfying, it's made more sinful with the addition of crispy black lotus root chips for dipping.
The next dish is a welcome gift from the sea: creamy lobes of sea urchin layered atop red miso and eggplant on squares of toasted brioche. While the brioche on its own was lovely, we would have preferred something a bit more delicate and less buttery so as not to overpower the premium, creamy sea urchin, which could simply be enjoyed on its own. We'd also recommend leaving the slightly dry side of brioche that arrives with the next dish in favour of the main event: fried nuggets of prawn-stuffed chicken, paired cleverly with raw white mushroom slices, salty strips of Japanese bottarga, and a few delicately placed kinome leaves.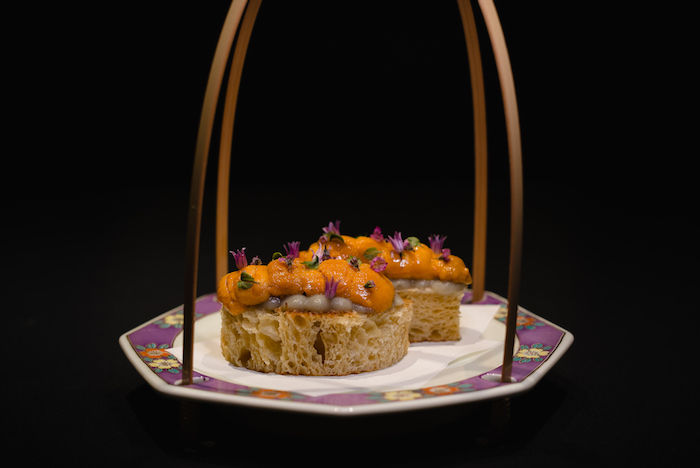 The omakase comes to a peak with the duo of chutoro tuna and Polmard beef (perhaps the most exclusive dry-aged beef in the world), a dish that chef Balbi says embodies Haku in a nutshell: premium ingredients highlighted in simplistic and stunning presentations. The alternating pink-hued chunks of fatty tuna and beef are virtually indistinguishable, bound together with nothing more than a bit of ginger and shiso — both land and sea playing part in equal measure to create a dish that's more than the sum of its parts. A layer of kristal caviar tops off the exquisite composition, while ethereally light (albeit a tad too oily) homemade rice crackers make fun vehicles for scooping up the tartare. To wrap up the savoury potion of the meal, we're presented with textbook perfect slabs of grilled A4 Kagoshima Wagyu beef, streaked with fat and infused with smoke from a traditional Japanese binchotan grill. To realign our palates, dessert is light and refreshing — sweet peach panna cotta layered with peach-juice granita and Hokkaido yogurt foam, presented fittingly in a hollowed-out Japanese peach.
The restaurant is still waiting on its liquor license, but a quick peek at the menu reveals an array of around 60 labels ranging from sparkling to crisp whites and aromatic reds intended to pair well with Balbi's creations. If you opt to go the sake route, 10 varieties makes for a short but sweet menu to choose from.
Verdict
While chef Balbi's style hasn't changed much from his days at The Ocean, the freedom to create more with a wider selection of ingredients and resources at his fingertips is what drives Haku a notch above other progressive Japanese establishments in town. If you've been a fan of Balbi from the start, you're in for a treat at this intimate tasting table which puts the chef's talents on full display. With a menu that changes often according to the seasons and the chef's whims, we'll be back soon to check out what flight of fancy the omakase takes next.
Opening Hours: Daily 12–3pm, 6pm–late.
Recommended Dishes: Oysters with apple granita, sea urchin on toast, chutoro and Polmard beef tartare, Kagoshima Wagyu beef, Kumamoto tomatoes with Bellota ham and fermented rice powder.
Price: HK$1,380 for 8-course dinner omakase menu; à la carte also available.
Noise Level: Quiet, save for interactions between chef and diner.
Service: Professional and well-polished.
Haku, Shop OT G04B, G/F, Ocean Terminal, Harbour City, Tsim Sha Tsui, Hong Kong, +852 2115 9965