We take to The Peninsula's flagship Chinese restaurant — the legendary Spring Moon — for a refresher.
Fine Cantonese fare is a culinary niche that has no shortage of representatives here in Hong Kong. A select number have remained buzzy thanks to their almost annual bevvy of accolades. Inevitably, some are quieter about it — like Spring Moon, which has been pioneering the Cantonese fine-dining tradition since it first opened its doors in 1986. Yet, I often wonder why Spring Moon isn't a more obvious destination for top-flight Cantonese.
The Peninsula's signature Chinese restaurant — located on the same floor as Chesa, Imasa, and The Verandah — boasts a number of oft-repeated claims to fame (the most notorious being its alleged invention of XO sauce in the mid-80s). In 2016, it garnered one Michelin star — The Peninsula's first — and has maintained that status for four consecutive years. And at Mid-Autumn, the restaurant's famously addictive miniature custard mooncakes are a citywide hit.
Spring Moon is revered among locals, yet it's seldom mentioned with the same woozy, doe-eyed reverence that's customary when heaping praise upon Seventh Son, Lung King Heen and so on. Despite the fact that all of those restaurants are (nominally speaking) 'competitors,' I like to think that Spring Moon has managed to carve out its own piece of the fancy hotel restaurant pie precisely because it's so low-key: spurred to uniformly good cooking by the demands of regulars, rather than any overriding desire for critical praise.

With dine-in restrictions having ebbed steadily over the past few weeks, September seemed as good a time as any to revisit The Peninsula's Cantonese flagship. Seasoned diners are well aware of executive chef Lam Yuk-ming's propensity for constantly tweaking his prix fixe menus with new dishes: just another reason why Spring Moon appears to have such a longstanding docket of repeat customers.
Ambience In the tradition of good restaurant design, the decor and layout at Spring Moon does a solid job of visually mirroring the style of chef Lam's food. Set across two floors (and decorated in the style of a particularly swanky teahouse circa 1920) there's a vaguely clandestine air at all times — enhanced by the restaurant's warm lighting, lack of windows and sequestered location. Teak furnishings and well-trod floorboards (polished to a high glimmer) add to the already palpable sense of historicity; and while its clear that the main dining areas have been enthusiastically attended over the past 34 years, one never gets the inkling that they are staid or tired. Like The Grande Old Dame within which it's housed, there's a certain dignity to the space — only possible with the inexorable passage of time.

Luckily, all that patina doesn't lend itself to an atmosphere of monk-like silence. Far from it. Quite apart from look and feel, the Spring Moon clientele is a welcome hodgepodge of personalities. Over the years, travel writers have banged on about the restaurant's popularity with "well-heeled" Hongkongers, but insofar as I could tell (on a bustling Saturday evening) the crowd in attendance was about as diverse as the city itself — a testament to Cantonese cookery's universal appeal, and its uncanny ability to connect individuals and communities from across the spectrum.
Food & Drink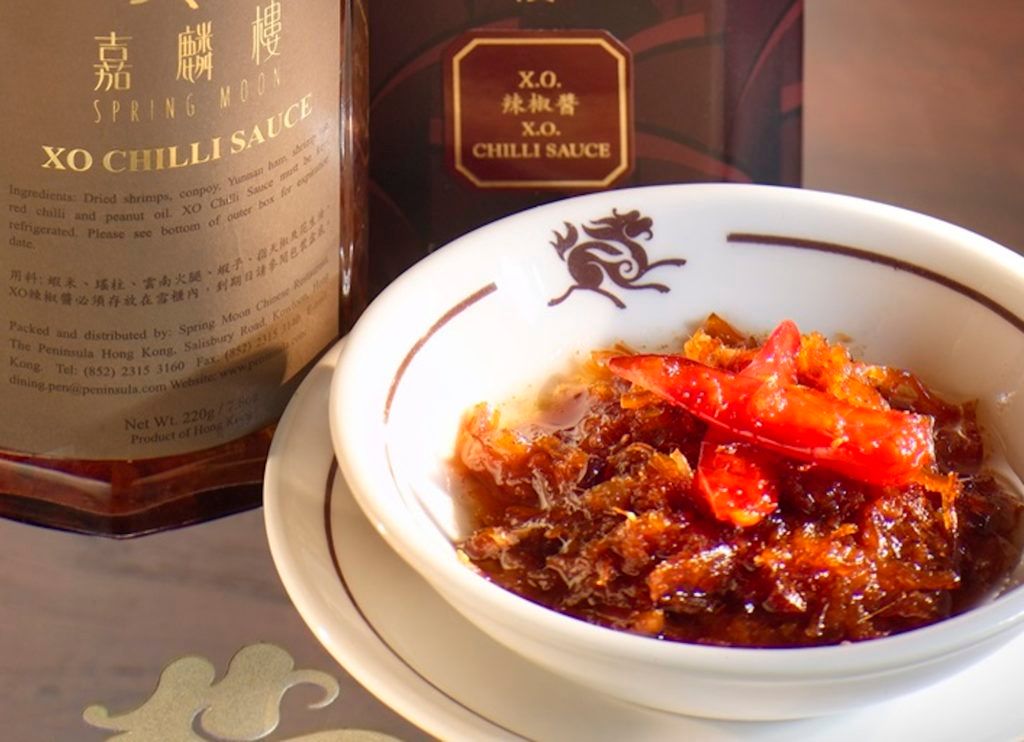 It was a happy accident that my inaugural visit to Spring Moon coincided with a slight reworking of the restaurant's signature tasting menus. As with other high-end Cantonese, chef Lam makes a concerted effort to tweak his set dinners regularly; with all except the Spring Moon Classic Menu (HK$2,188) consisting of six courses, fashioned from the best seasonal produce The Peninsula's vast supply chain will allow. Just as well: sumptuous as it may be, the "Classic" menu is filled with the sort of occasional luxury food that's relatively unusual in historic yue cooking. Instead, I tucked into a tasting menu (approx. HK$988) that focused on more recognisable dishes — many of which I'd wager, when ordered à la carte, are a dependable source of pleasure for regulars. As is so often the case with this kind of restaurant, the meal opens on a platter of siu mei (traditional Cantonese barbecue). The roasted goose and suckling pig (HK$380 for an à la carte portion) — expertly carved so only the crispy skin and unctuous, fatty flesh remain — are of a calibre you'd expect from such a fine, single star institution; but chef Lam doesn't settle fully into familiarity by pairing them with a common refresher like jellyfish. Instead, he introduces the novel element of Israeli cherry tomatoes: brined in plum wine and chilled, they're a haltingly sweet then refreshing morsel to finish on after the preceding richness of suckling pig and goose.

To follow, the double-boiled soup, a staple of therapeutic Cantonese foods: served on this occasion with sliced conch, matsutake and the distinctive skirt-like pith of bamboo. Warm, layered in flavour and instantaneously invigorating, it consisted of ingredients you could conceivably buy at home; though little glimmers of sweetness and a wonderful, silken mouthfeel are the telltale signs of a chef who's hip to the subtler nuances of double-boiling. As with all good Chinese menus, there are various modes by which to express the dynamic that exists between dishes. Earlier on, chef Lam opts for the strongest contrast possible: tempering a face full of elaborate barbecued flavours with the gentle, almost distilled follow-up of soup. For the third and (in my view) best course of the evening, the strategy pivots toward escalation: hence, a whole crab claw steamed with egg white and aged yellow rice wine. More than any other, the dish (available for HK$300 à la carte) embodies the hypothesis of chef Lam's cooking. It is not extravagant for extravagance's sake, but rather, made with deftness, precision, and a featherlight touch that aims only to coax out each ingredient's 'essence'. Overwhelmingly, that's the one word I keep coming back to whenever I think of this dish: "essential".

Though the remaining dishes — a plate of smoky Hungarian Mangalica char siu (HK$398); some seasonal veggies coddled in fish stock (HK$250) et al — don't loom quite as large as the aforementioned crab course, they're all perfectly pleasurable bit players in the menu's broader arc. Instead of focusing idly on those, I think it's helpful to bookend this section with a quick side-by-side of Spring Moon's tea and wine programs — an exercise which, for better and worse, exposes the restaurant's shortcomings in the latter category.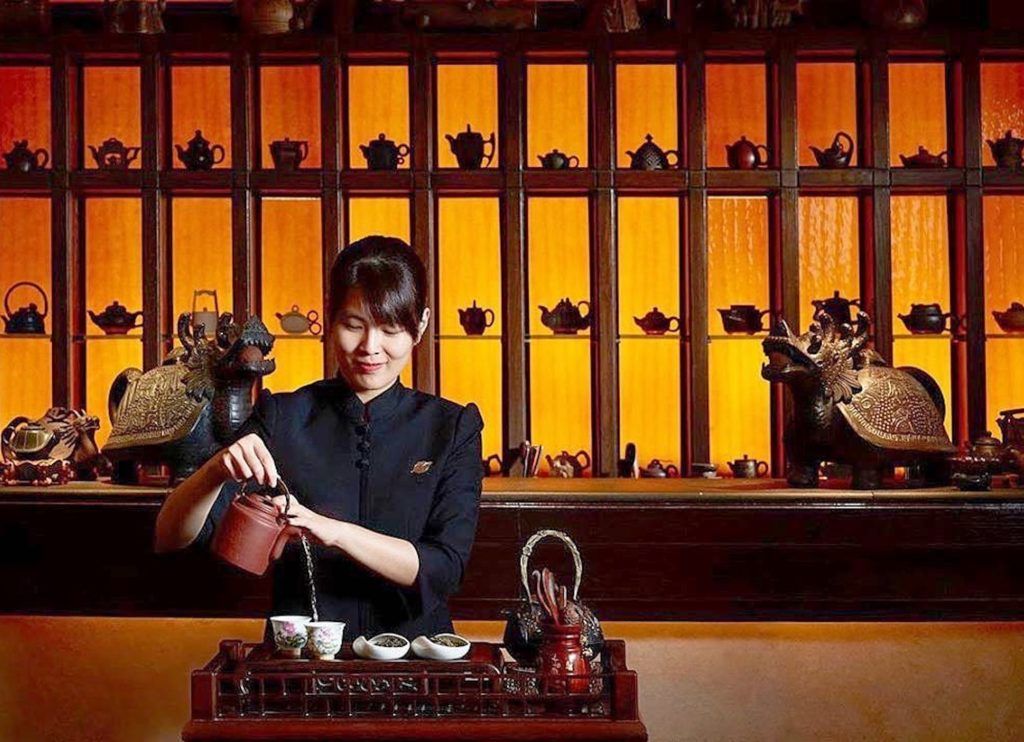 Among numerous innovations, Spring Moon was one of the first Chinese restaurants in Hong Kong to explore the concept of dedicated tea 'sommeliers'. The depth and quality of the tea menu (sourced from up and down the breadth of Mainland China) is a subject that, frankly, I'm incapable of doing justice. Still, despite a lifelong addiction to espresso, it was clear to me that all things camellia-related here are taken extremely seriously. From the sweet and floral oolong that grows atop Chaoan's Wudong mountain to the legendary baby chrysanthemum that is the pride of Zhejiang, the genuine thoughtfulness of the restaurant's teas (and indeed, the manner in which each is prepared and served) only served to make light of all the ways in which the wine program is lacking.

That's a crying shame too, because (as you'd expect) the wine list at Spring Moon — courtesy of the wider Peninsula cellar — is racked to the gills with really compelling, hotel-specific stuff. However, even the most delicious Leflaive Chablis benefits from the addition of informative, polished service and it's in this arena that my first and only real gripe of the night arose. From small hiccups like messy pouring (resulting in half a glass of brut ending up on the table linens) to a fairly marked disinterest in properly introducing certain varietals (a glass of the hotel's signature Peninsula Calon-Ségur was poured then set down without explanation), these are the sorts of lapses in service that are doubly conspicuous at a Michelin-starred restaurant. And make no mistake: in every other aspect, Spring Moon is comfortably at that level.
Verdict
In a dining culture that so often surrenders itself to the shallowness of trends, it's comforting to know that destinations like Spring Moon not only remain extant, but continue to ply a healthy trade.
Fits and starts in the quality of beverage service aside, The Peninsula's flagship Chinese restaurant is still a graceful, under-the-radar ode to fine Canto fare. To its credit, nearly every 'signature' element of the restaurant's heritage continues to play an active role, feeding into Spring Moon's continued repute for extremely refined cooking in an equally plush, under-the-radar setting.
Based on what yours truly saw, the staff are in serious need of a shaking out of the proverbial cobwebs when it comes to handling the wine program, but given the otherwise top-notch experience, there's no reason to suspect this can't be achieved. That said, I'd wager the majority of Spring Moon's clientele — families, couples, old friends — don't come here to tie one on. For these diners, it's all about the comfort of the familiar. Life in 2020 is plenty unpredictable as it is.
Opening Hours: Mon-Sat, 11:30am-2:30pm, 6pm-10pm; Sundays and public holidays, 11am-2:30pm, 6pm-10pm.
Recommended Dishes: Steamed crab claw with egg white and Chinese yellow wine (HK$300); Smoked honey-barbecued Hungarian Mangalica chasiu (HK$398); Sweetened almond cream with off white (HK$78).
Price: Starting from HK$688 per person for six-course tasting menu (to be taken by a minimum of two guests)
Noise Level: Dignified. Extremely dignified.
Service: Warm and expert, notwithstanding matters of grappa.
Spring Moon | The Peninsula Hong Kong
Address
1/F, The Peninsula Hong Kong, Salisbury Road, Tsim Sha Tsui