Recently celebrating its 11th anniversary, The Mira Hong Kong's Michelin-recommended Whisk has seen its own fair share of celebrations throughout the years. On the happy occasion of the launch of two new menus — one signature 'Craft' menu and the seasonally changing 'The Chosen Eight Omakase' — we return to the time-honoured Tsim Sha Tsui bolthole for a taste of its innovative French-Japanese fare.
Opened shortly after The Mira Hong Kong underwent its landmark renovation in 2009, Whisk's 11-year journey has seen waves of transformation under the tenures of three chefs de cuisine, typically oscillating between innovative fine dining and more relaxed European fare.
It began as a European restaurant with an Asian twist with Singaporean celebrity chef Justin Quek at its helm. Whisk showcased increasingly modern French fine-dine leanings until it was taken over in 2013 by Bjoern Alexander — currently at Shangri-La's Petrus under head chef Uwe Oponcensky — who took Whisk to avant garde new heights for three years. In 2016, the restaurant then briefly offered more laid-back, ingredient-driven western cuisine, with a particular focus paid on its dry-aged beef locker (plus a 'secret' dessert room, opened up during brunch service).
Chef Oliver Li stepped up to the plate in 2017: A Hong Kong talent with over 20 years of experience in the kitchen, Li cut his teeth at five-star hotels such as Hyatt group and Mandarin Oriental before joining L'Atelier de Robuchon. In the last three years, Li has been transitioning Whisk into a French-Japanese restaurant, gradually marrying Japanese ingredients with classically trained French cooking techniques. In the midst of pop-ups and collaborations with Michelin-acclaimed chefs over the past two years, chef Li's fastidious approach to ingredient selection also became increasingly apparent.
To mark this new chapter, in 2018 he introduced a seasonal 'Omakase' menu — borrowing from the Japanese term to entrust the menu selection entirely to the chef. The restaurant's latest iteration, 'The Chosen Eight Omakase,' centres around autumnal flavours found in Japanese seas and the French hinterland.
Coinciding with Whisk's 11th birthday, late September also saw the launch of chef Li's new signature 'Craft' menu, which spotlights the technical artistry of Whisk with some of chef Li's greatest hits served all year round. Patrons of the French-Japanese restaurant get to experience the highest pedigree of seasonal ingredients, with new, complex flavours coaxed out through highly technical and traditional preparation methods, from fermentation to curing and ageing.
Ambience Visually, not much has changed since Whisk's opening in 2009 (spiritually, it feels like it never really left), and admittedly it could do with a freshening up. Chocolate browns, sleek platinum details, geometric mirrors and mocha glass tables set a strong, masculine tone at Whisk — the same that is also rendered across the floors of The Mira hotel.
Undeterred by its sheer size (the restaurant has a maximum seating capacity of 110), Whisk is incredibly successful at giving diners a sense of intimacy. The sectioned layout of the restaurant, with three private rooms, the casual dining lounge, and the mezzanine, offers guests varied seating options to make your dining experience cosier and more comfortable.
Food
On this visit, we tried a variety of chef Li's stalwart signatures and seasonal dishes from across both eight-course menus. Put simply: 'The Chosen Eight Omakase' is led by the seasonal ingredient while the 'Craft' menu is curated by technique, with some common ground between the two. Ultimately, we'd argue this made our dining experience more enjoyable; there are courses to compare and courses to share.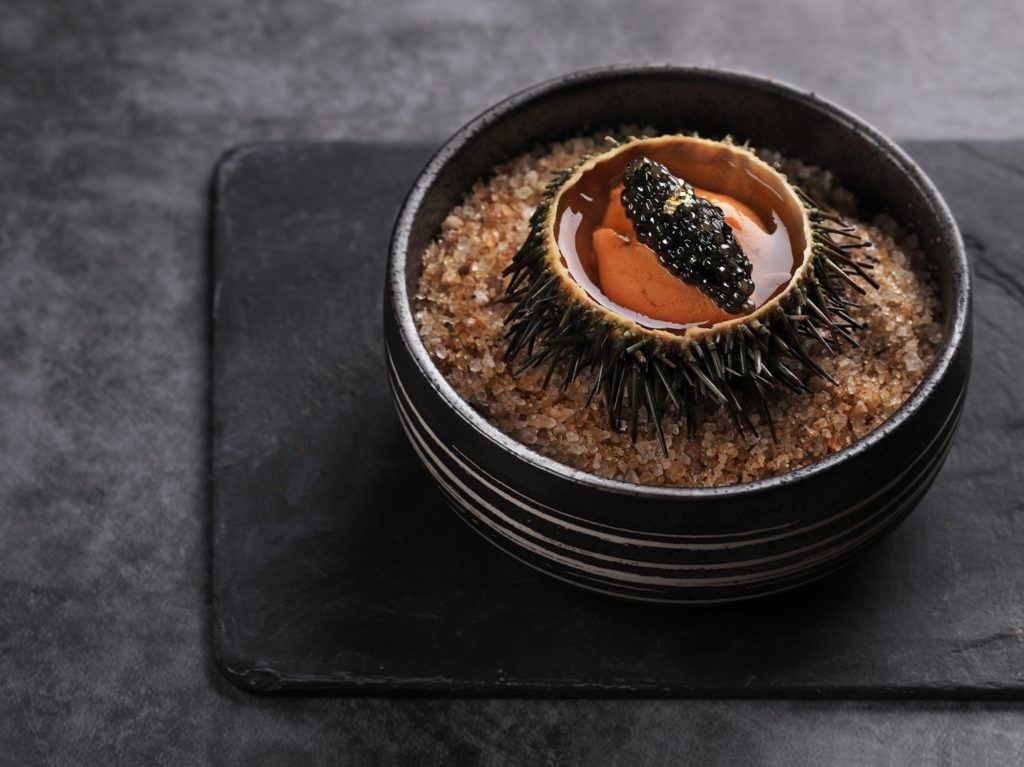 The 'Umami & Pearls' is a Whisk signature that both menus thankfully share. It's a picture-perfect affair: a lobster consommé jelly covers a plushy bed of Enshui Murasaki uni, finished with a generous spoon of French-farmed Kaviari caviar. As you might've guessed, the dish succeeds in inundating you with those concentrated, creamy sea flavours and plays to Hong Kong's epicurean crowd.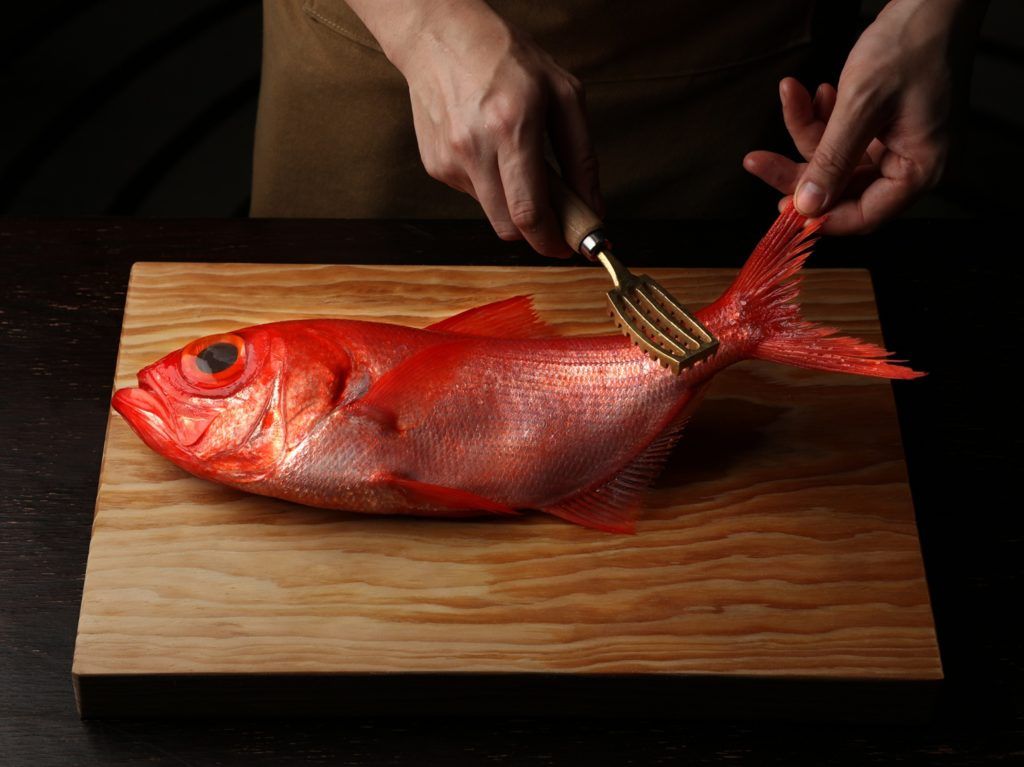 In the 'Craft' menu's delightful fish course, we were also privy to the flaky, featherlight scales of the seasonal amadai fish (sometimes featuring kinmedai), crisped up thanks to a bath of sizzling hot oil. Prepared using the ancient Kobujime technique of curing the fish between layers of salt and kombu to remove excess moisture, the flesh of the amadai was perfectly executed and lightly flavoured.
The same could be said for the 'Ikejime': a melt-in-your-mouth eel kabayaki (butterflied and grilled) with foie gras, burdock root and smoked duck skin. The namesake method of ikejime, where a spike is inserted into the fish's spine to kill it humanely while maintaining the quality of the meat, is apparently why the eel boasts such freshness. It was also surprisingly complementary with the rich, seared foie gras that lay just under it, both being such unctuous ingredients. But I found the abalone dish, 'Simmering,' in the 'Craft' menu, hit the highest note amidst the seafood courses, particularly because of the shellfish's texture. The abalone is simmered for 18 hours at a precise 80 degrees, which is evidently the sweet spot for its inimitable tenderness. At the table, it lounges coyly in its humble dashi broth, and is paired with the fresh crunch of a bamboo shoot and the umami of seasonal mushrooms. What looks like a modest brown bowl is, in fact, a moreish masterclass in deception. A similar revelation with the abalone-and-dashi combination was found in the 'Foie Gras Royale,' a chawanmushi steamed egg dish studded with gems of the duck liver nestled within and topped with sous vide abalone. Served as part of the 'Omakase' menu.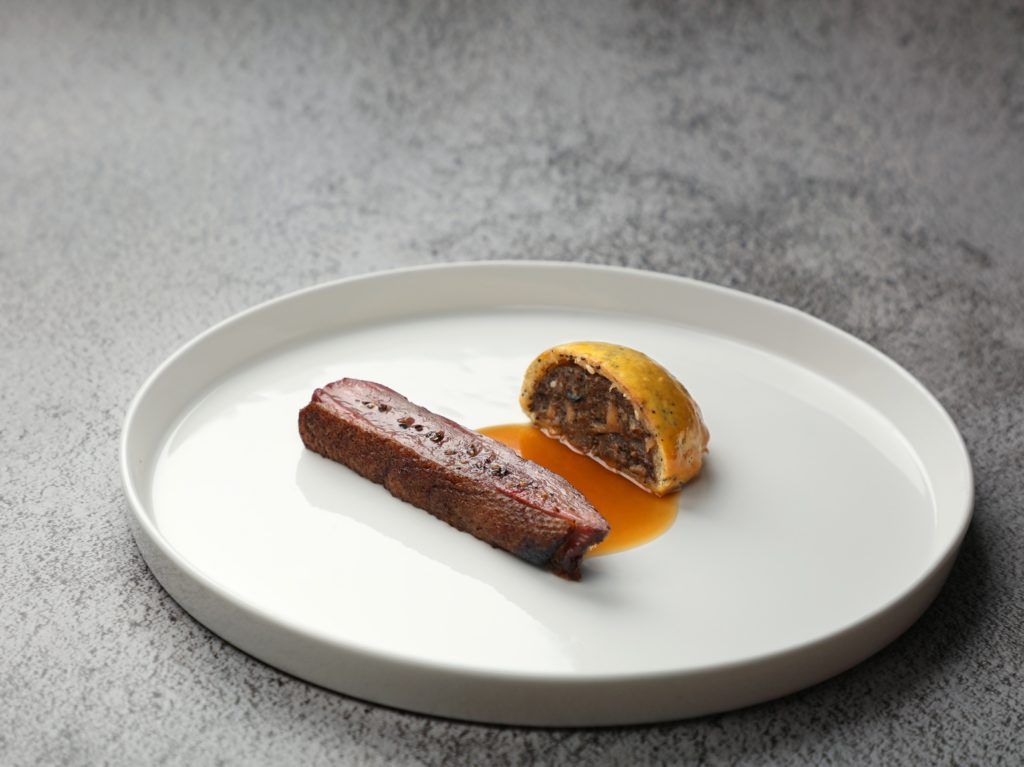 For meat courses, the 'Craft' menu includes the Kagoshima A4 Wagyu, aged for two months. For the 'Omakase,' an aged French breed is offered ('Boeuf'), grilled and finished off by smoking in dried hay right in front of the guests. Sourced from local breeders in Lorraine, the Heritage Steak is also featured in the a la carte menu as a Côte de Boeuf. (If you prefer a Japanese wagyu for your Omakase, however, there is the possibility of upgrading to the Ozaki beef from Miyazaki prefecture.) Surprisingly, we found that the French steak in the Omakase was the winner in terms of flavour and tenderness when compared with the Craft's wagyu.
Verdict
The uni, the truffle-infused sauces and the dry-aged wagyu beef were successful executions, albeit elements that played to the gallery. This was interspersed with feats of technical wizardry, such as the loaf of Soja bread made from Junmai Ginjo sake, and ice cream made of just koji, rice and water. The pre-dessert housemade kombucha would've made any millennial weak at the knees.
What makes Whisk a spot worth returning to are the dishes that feature purposeful yet unexpected pairings, that taste familiar yet exciting, and are executed to absolute perfection.
We felt this held truer for the new Craft menu than the Omakase (and thus, probably worth the extra splurge), but we are eager to see what Chef Li brings to the table next.
Opening Hours: Monday–Saturday, noon–2:30pm (until 3pm on Sunday) for lunch; 6:30–10pm for dinner.
Price: 'The Chosen 8 Omakase' — Eight courses for HK$890; 'Craft' Signature Menu — Eight courses for HK$1,288; additional HK$380 for wine pairing (3 glasses) and a glass of kombucha.
Recommended dishes: 'Craft' menu: 'Simmering', 'Kobujime', 'Ikejime'. 'The Chosen 8 Omakase' menu: 'Foie Gras Royale', 'Boeuf', 'Canard Sologne'.
Noise Level: Quiet.
Service: Friendly and knowledgeable.
Whisk
Address
5/F, The Mira Hong Kong, Mira Place, 118–130 Nathan Road, Tsim Sha Tsui, Hong Kong