As Hong Kong's diners gingerly leap back into a universe of communal dining rooms, it's comforting to know that at Ying Jee Club — ZS Hospitality's temple to refined, dissection-worthy Cantonese cuisine — things are pretty much 'business as usual'.
Under normal circumstances, the din of new restaurant openings in Hong Kong is loud to the point that it's deafening. Perhaps then, a glimmer of hope which can be gleaned from the city's Coronavirus outbreak has been how it has encouraged diners to slow their roll — to focus on the rediscovery of old favourites, and more importantly, contribute to their survival during these difficult times. With that sentiment in mind, I recently revisited Ying Jee Club: ZS Hospitality's ode to refined Cantonese cuisine in the heart of Central. (Editor's Note: we reviewed this restaurant in 2017, not long after it initially opened.)
I arrived to taste-test Chef Siu Hin-chi's new seasonal tasting menu: available in a variation of eight (HK$1,480) or six (HK$1,080) courses per head. Without wanting to keep everyone on tenterhooks, his latest effort strengthens Ying Jee Club's existent reputation, by dint of essential Cantonese dishes (except for one or two cheeky deviations) which rely on proven technique in order to impress.
Ambience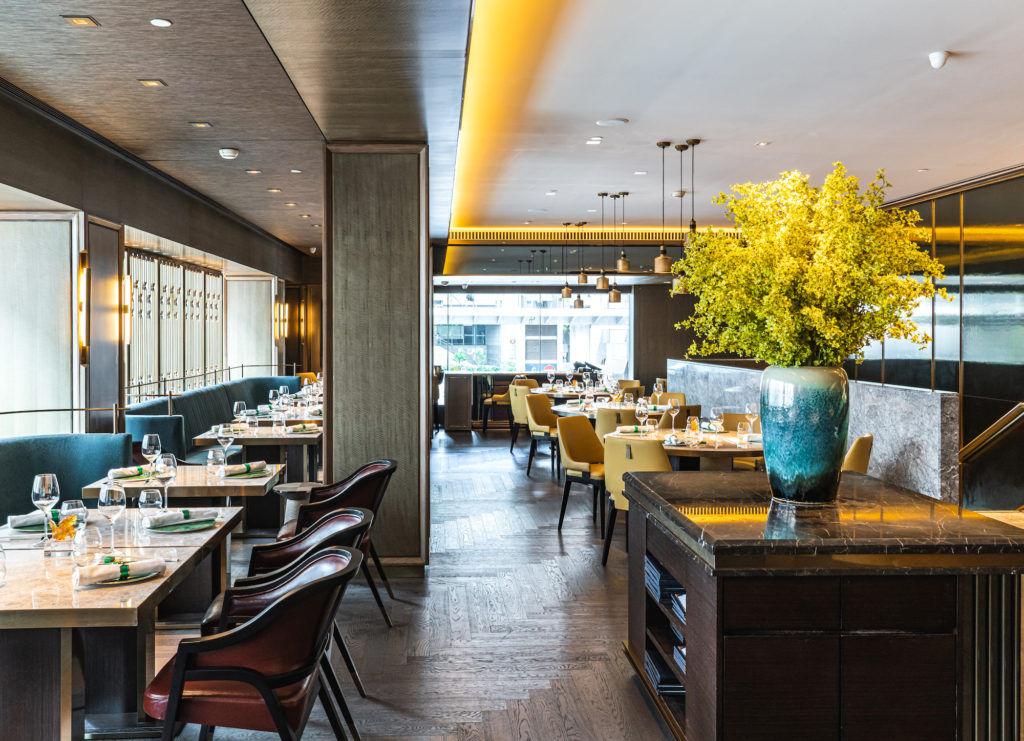 Though I myself missed Ying Jee Club's original launch back in 2017 — one has to imagine at the time I was hunched over some sort of complicated watch, glass of Merlot in hand, probably swearing — the consensus among frequent visitors seems to be that the decor hasn't changed much. That's perfectly fine if I'm honest: despite overlooking a busy Connaught Road Central intersection, the restaurant's setting is positively sanctum-like. An imperious marble staircase flanked by metal bannisters takes you from street level up into the main dining area; and presents as a handy metaphor for Ying Jee Club's core aesthetic. To all intents and purposes, you might as well be in somebody's living space — albeit one conceived with a blank cheque and an eye toward Hong Kong's private restaurants of yesteryear.
Food & Drink Usually, it's around this point in the review that writers will begin sermonising upon the illustrious heritage of Cantonese cookery ("it's all about balance";"one of the eight 'essential' Chinese cuisines"; et cetera). And while all of that praise is completely justified, I'm going to spare you a fumbled history lesson by diving straight into Ying Jee Club's new tasting menu. As is so often the case with banqueting-inspired Cantonese, the meal opens on a platter of sea whelk (HK$360 à la carte) — served alongside jellyfish, caviar, and wok-seared A4 Wagyu. The moment a train of liveried waiters delivers this course to table, I'm struck by Chef Siu's well-documented flair for plating. Each element occupies its own discrete space, suggesting a roadmap for diners to follow. First: dots of briny Mainland-grown caviar suffuse their bold (yet hyper-controlled) salinity into the whelk, which glides between textures with a firm but pleasant chew. Second: flakes of chilled jelly fish, which hit the palette in ripples with their cool, salty-sweet freshness. And finally, the Wagyu: cooked quickly, simply, and at ripping hot temperatures in order to seal in the characteristic marbling and butter-soft texture for which Kagoshima herds are prized. A variety of other dishes that are longstanding Ying Jee Club staples hit the table in rapid succession, such as the wok-fried lobster (HK$380 à la carte) and the steamed king prawn with egg whites and crab coral (HK$390), both of which we sang praises about in our 2017 review.
These are all perfectly solid, but it's not until the poached fish maw (HK$560 per person à la carte) arrives that I once again get a front-row seat to what Chef Siu's devotees are raving about. The classic hoi mei staple — an essential ingredient for various double-boiled formulations — is gently simmered in a poultry-based master stock which takes 72 hours to make and is the subject of much intrigue. (In the tradition of beloved Chinese culinary inventions, the secret recipe is passed between one master and student.) The dried maw's pronounced sweetness and high gelatin content add a good grip of structure to Chef Siu's soup, which is itself dense in the invigorating chicken flavour that's so satisfying to inhale at any time of day. Forget Red Bull: this right here is the true contender for 'energy drink of the year'. By the time the rice course arrives — considered a bookend in most fine Cantonese meals — I'm already stupefyingly full, but attempt to summon my wits in the name of posterity. For gourmands of Chinese cuisine, it's no secret Chef Siu was already perfecting his take on the ubiquitous braised chicken and abalone fried rice at another stylish Central bolthole for some years; so if you liked that iteration, you're bound to enjoy his rendition here at Ying Jee Club. To my mind, you can infer a lot about such restaurants from their rice course: a staple that is often neglected in lieu of loftier pursuits like seafood. Blissfully, that's not the case here.

On the subject of Ying Jee Club's wine list, I have rather less to say. The restaurant maintains a cellar of some 300-plus bottles, none of which are conducive to being reviewed over the course of a 90-minute luncheon. Upon a cursory examination, names like Solaia and David Duband jump out at you — available at a markup that shall prove tolerable for Central's requisite glut of i-bankers, QCs and ladies who lunch. By-the-glass options average around HK$200 a pop — all very solid, all rather familiar.
Verdict
In the three years since it first crept onto the scene, Ying Jee Club has remained more or less unchanged. What I mean by this is that the restaurant has demonstrated commendable consistency; and, under Chef Siu's attentive hand, continues to deliver on its mission statement of "the best ingredients, most meticulous preparation and caring service". The food very gently nudges at the idea of reinvention, but stops short for reasons that will be self-evident to all but the thickest of diners. "We are, primarily, a community for Cantonese food lovers," says Chef Siu. "That's why we called our restaurant a 'club'". Like all great clubs — particularly in Hong Kong — food isn't a destination unto itself, it's a prelude to forming connections: to be savoured, shared, and discussed over a good while. That can be difficult to do if you're always chasing trends.
Opening Hours: Mon–Sun, 11:30am–3pm for lunch, 6–11pm for dinner
Recommended Dishes: Poached fish maw with wolfberry in chicken broth; chilled whelk, jelly fish and caviar, paired alongside Kagoshima Wagyu (A4); steamed king prawn with egg whites and crab coral
Price: HK$1,480 for eight-course set menu; HK$1,080 for six-course set menu.
Noise Level: Muted
Service: Rehearsed and attentive
Ying Jee Club
Address
41 Connaught Road Central, Central, Hong Kong