When it comes to fine Japanese food in Hong Kong, you don't have to look far to find a restaurant.
Japanese cuisine is one that never lacks in popularity amongst Hongkongers, making it easier than ever for true gems to slip by with little fanfare — even if their praise is well deserved. Sushiyoshi Hong Kong is just that. A titan in Osaka's dining scene with its consistent two Michelin starred rating, it made its debut in Hong Kong in 2018 as the first overseas branch of chef-owner Nakanoue Hiroki's revered institution. The restaurant, however, does not just share a name with its Osaka counterpart. It dutifully carries forward chef Nakanoue's signature style of blending western techniques to complement the best tastes found in Japanese tradition. The resulting dishes are a marvellous sight to see, what with its delicate fusion of detailed plating and elevated flavours that reveal the quality of ingredients personally chosen by Sushiyoshi's chefs daily.
This balance is surely exhibited in the intriguing 20-course Hairy Crab limited edition omakase menu. Back by popular demand until hairy crab season ends in mid-December, this seasonal menu highlights the revered seasonal delicacy of hairy crab as a vehicle to channel their creative worldview on what the highly personal omakase experience should be like.
Ambience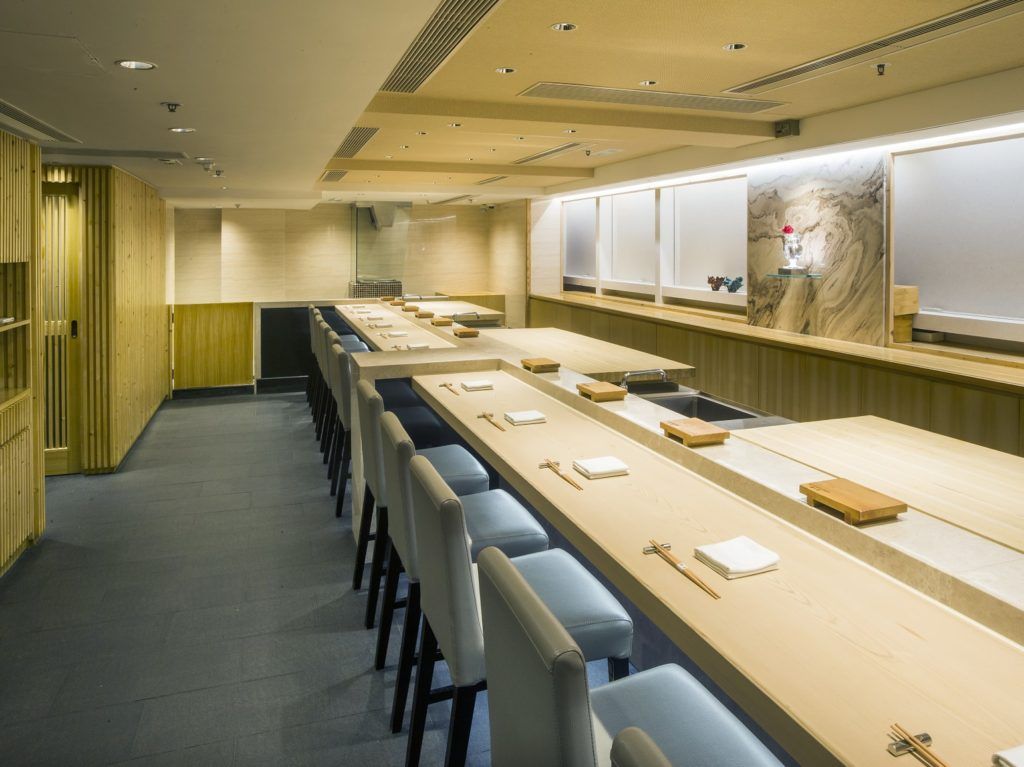 The restaurant itself can be easily found right next to the Tsim Sha Tsui MTR in the first floor of boutique hotel The Otto. Whereas the bustle of the street continues on outside, the wooden sliding doors of the entrance instantly silence the cacophony of the streets, transporting you immediately into a temple-like setting.
As with other Japanese restaurants that serve omakase dining, Sushiyoshi offers a very clean, serene aesthetic with almost bare bones décor so as to not distract from the dishes. The pristine counter is made from a historic 200-year-old Japanese cyprus, spreading across a precious 12 seats in this intimate one-room set up. This ensures a highly personal occasion, whilst keeping the overall room volume at a quiet low. There is also a separate private room that can seat six. The lighting is not too bright or dark, offering spotlights on the gorgeous ceramic plates set in front of you — all the better for the snap-happy set to capture their favourite dishes for the 'gram.
Food Head chef Sugawara Ryohei is at the helm of the Hong Kong branch of Sushiyoshi, with a polite demeanour that belies his sharp precision and immaculate artistry. As we arrived to try the seasonal hairy crab menu, he explained that the headlining crustacean itself comes from Jiangsu province in China, personally selected by chef Nakanoue for its creamy and rich flavour.
While most who love hairy crab love to devour it freshly steamed on its own, here the crab meat and all-important roe have been impactfully delivered in each dish regardless of if it was reimagined into a wildly indulgent hairy crab ravioli with white truffle, or was simply seasoned with a bit of traditional crab vinegar sauce in a crab roe hand roll. The hairy crab's curious ability to trigger the olfactory senses first, before showing up more gently when on the tongue, demonstrates the chef's ingenious way of plating a meal that works to activate all your senses.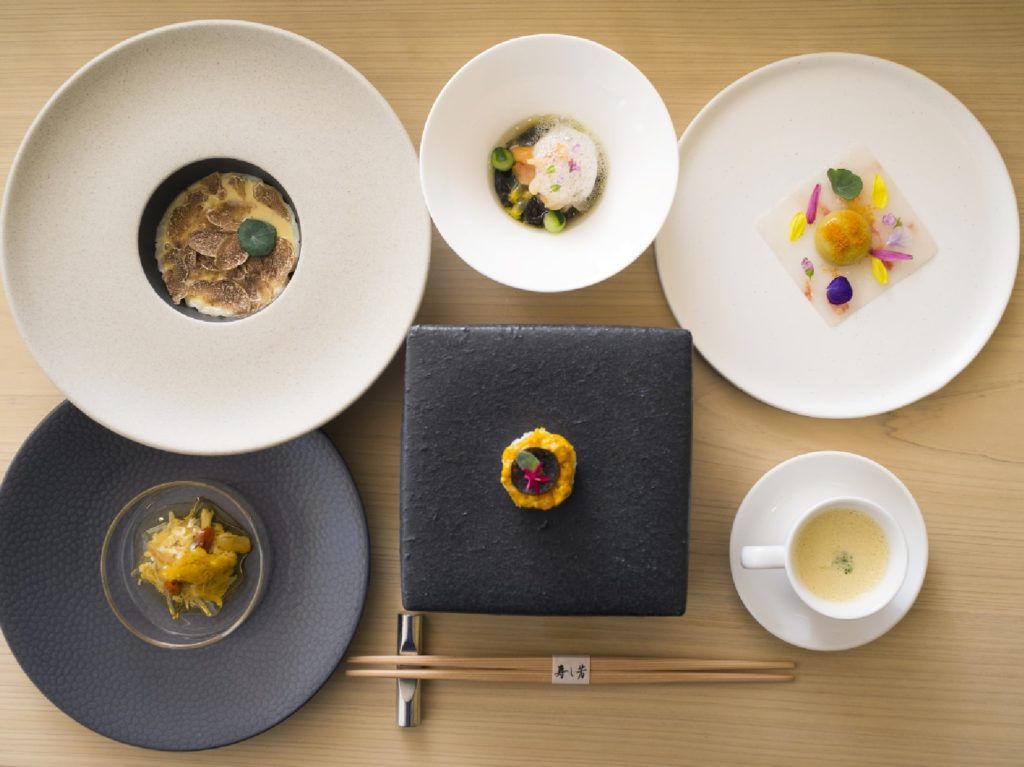 Known for its adoption of western culinary techniques into rather classic Japanese fare, the artistic plating of each dish is also rather poetic: reflecting the change of seasons as a vibrant, orange fall fades into a more morose winter.
The 20 courses oscillated between dishes that gave the spotlight to the purity of hairy crab, and dishes featuring other seafoods such as a beautiful slow-cooked lobster with hairy crab roe and pressed caviar. The juicy, bouncy flesh of the lobster was the ideal blank canvas to the more aromatic crab roe, and the unique pressed caviar prompted a slight briny taste to draw the different components towards one another.
My personal favourite was the hairy crab miso cappuccino – a perfectly seasoned hairy crab bisque charmingly housed in a cappuccino cup that was fragile and even unassuming in look but extremely bold in flavour. This dish in particular drew out all the complexity hairy crab has to offer, forgoing its usual creamy texture for a thicker soup base that offered both depth and almost a smoky aftertaste due to the intricacy of the added miso. Other intriguing creations that showcased the complexity of the hairy crab flavour included the 'Crystal Ball' — a Botan shrimp carpaccio with creamy hairy crab and sea urchin. Breaking into the shiny orb of creamy crab roe to mix with the delicate edible flowers and underlying bed of smooth shrimp made it a fun dish to eat, whilst layering differing textures and sweet yet savoury tastes within the mouth in a single bite. The uni component was just a powder on top, however, and was sorely missed as the dish could have used a heavier component to anchor it down. Other non-hairy crab dishes were thoughtfully injected into the menu as well, such as a shiro ika sushi of chewy squid topped with a light tanginess from a yuzu zest that operated somewhat like a palate cleanser in between the heavier hairy crab selections.
Heavier sushis like the salt-and-vinegar mackerel sanma sushi and Sushiyoshi-signature toro maki roll also helped to give your palate a break from the non-stop decadence of crab roe, with their deeper, more prominently seasoned tastes. The multiplicity in treatment of the tuna cuts found in the toro maki roll – grilled, dry-aged and untreated, proved a bit of a sensory overload in face of the lighter dishes that came beforehand, and although it is one of the restaurant's signatures, I felt the menu could have done without it. Chef Sugawara paid special note to the origins of a stunning piece of Dry Aged Blue Fin Toro, before fashioning it into a luxurious bite that melted immediately in your mouth with a succulent, full-bodied flavour that defied its raw steak-like look. The meal ended with a lovely hairy crab roe mochi with ginger sorbet – an iteration that added a softness to the crab that I have yet to see elsewhere. The sorbet cleaned up any residual feelings of heaviness with its sharp taste, and was a welcome dish to cap the meal.
Verdict
A beautiful fusion of Japanese tradition with a local favourite ingredient, this highly unique omakase offers an exquisite look at how the beloved hairy crab can be transformed and elevated into new culinary heights. Its different executions offer both comfort and surprise, with each dish being an exciting foray into the finest of seafoods — not to mention Japan's most sought-after autumnal ingredients aside from the brilliantly fresh hairy crab.
I highly enjoyed the journey between light and heavy, savoury against elements of creamy and sweet. Yet, the order of courses at times felt distracting or confusing — such as a sea urchin hand roll that took us by surprise, which we visually mistook for hairy crab at first.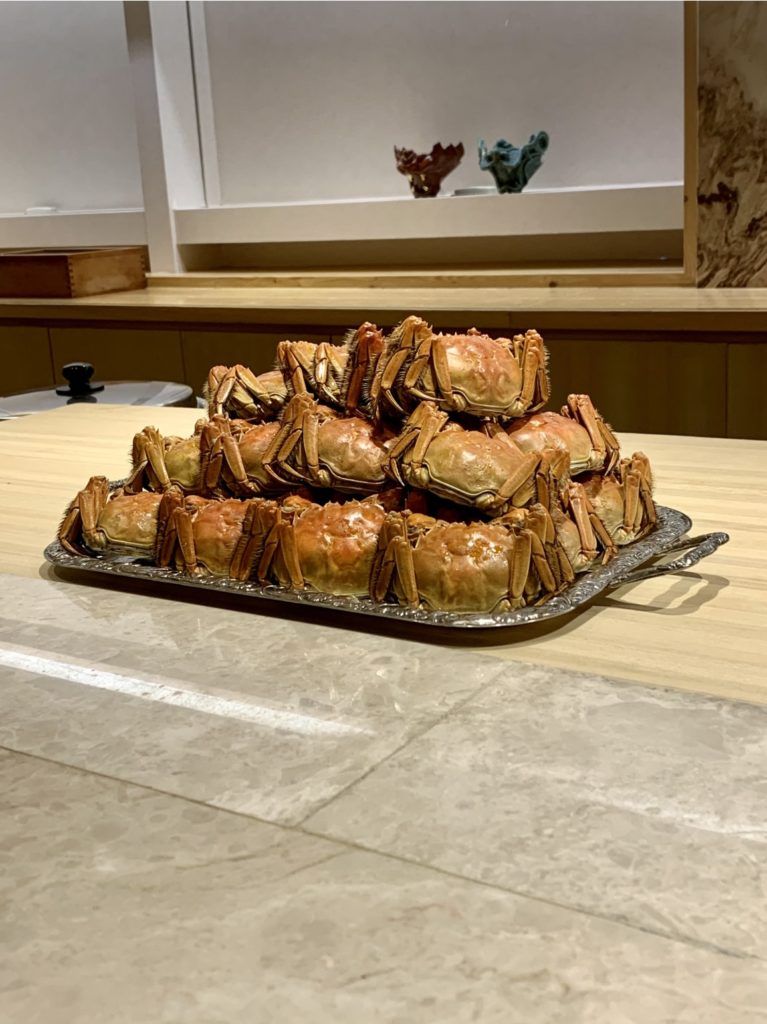 Nevertheless, at this price point (HK$2,980 per person) you are getting essentially the best ingredients on offer during the season. The ebb and flow between sushis, rolls and creative dishes created a flurry of activity that was carefully paced by the friendly chefs. This being hairy crab season now, this omakase menu is one that I would recommend to lovers of fine, quality seafood – if not just for a closer look at the ingenious minds that choose to merge creative techniques with age-old tradition.
Opening Hours: Monday–Sunday, 12:30–3pm, 6:30–10:30pm.
Recommended Dishes: Hairy crab miso cappuccino; slow-cooked lobster with hairy crab roe and pressed dried caviar; dry-aged Bluefin tuna toro sushi.
Price: HK$2,980 per person (excluding drinks). Advanced reservations are required.
Noise Level: Intimate and quiet.
Service: Expert, attentive and well-mannered.
Sushiyoshi Hong Kong
Address
1/F, The Otto Hotel, 8 Cameron Road, Tsim Sha Tsui, Hong Kong