Housed on the second floor of The Hari Hong Kong, Zoku Restaurant & Terrace is a delectable haven of familiar Japanese fare cooked up in a contemporary twist.
It's a classic romance: Hong Kong and Japanese cuisine is a longtime love not faltered. And hopefully will never. The city is tuned into any news: the first overseas opening of a prized ramen joint; the arrival of an acclaimed omakase chef in town; or the launch of sashimi bento box priced at a controversial HK$900.
The news of the opening of new Japanese concept, then, is news certainly celebrated. Wide-eyed and excitedly: A new place to visit! Commendable, too, considering a launch date in the midst of a pandemic — the dark days of limited two-per-table seating and restrictive dinner curfews, no less.
The Ambience
Short answer: Homey. There no wabi-sabi zen, no stringently arranged tables with space-saving purposes. Instead, Zoku feels inviting. Alluring. Tinkered with intrigue. Tones of deep mauves, russet pinks and jewel-toned burgundies set against gleaming brass and luxurious velvets that fill a den-like space. It's a seamless extension from the rest of the hotel. A special invite upstairs of a grand establishment, if you will.
'Zoku' translates to 'clan' in Japanese. A concept fully ingrained into each nook and cranny of the design. The moody (read: cosy) ambiance directs a convivial dining experience spurred on by the sheer pleasure of a sharing food with dear friends. Expansive booths snake around the restaurant floor, hung over by opulent tassel-tiered chandeliers, with plush armchairs huddled-up in intimate corners. Open-faced bookcases serve as space partitioners, furnished with conversational objet d'arts: collectable coffee-table reads, fascinating trinkets and sculptural wares.
Natural tones of dark oak, marble slabs, slatted glass embellish the lavish setting, not forgetting Zoku's roots. Including an asymmetrical ceiling formed with thin wooden beams that peak up and down to replicate the sharp corners of Japanese origami. Beyond such atmospheric interiors, a leafy garden terrace shaded in luscious palms and verdant greens; an oasis tucked amidst the city abuzz.
The Food
At the heart of it is chef de cuisine Phillip Pak, a name that may ring familiar from a previous post at the now-missed, rooftop favourite, Cé La Vi. It's not the only notable mention in chef Pak's colourful resume, who also counts various spells around America, including a mentorship with renowned chef, Nobu Matsuhisa, and a three-year stint at Matsuhisa in Aspen.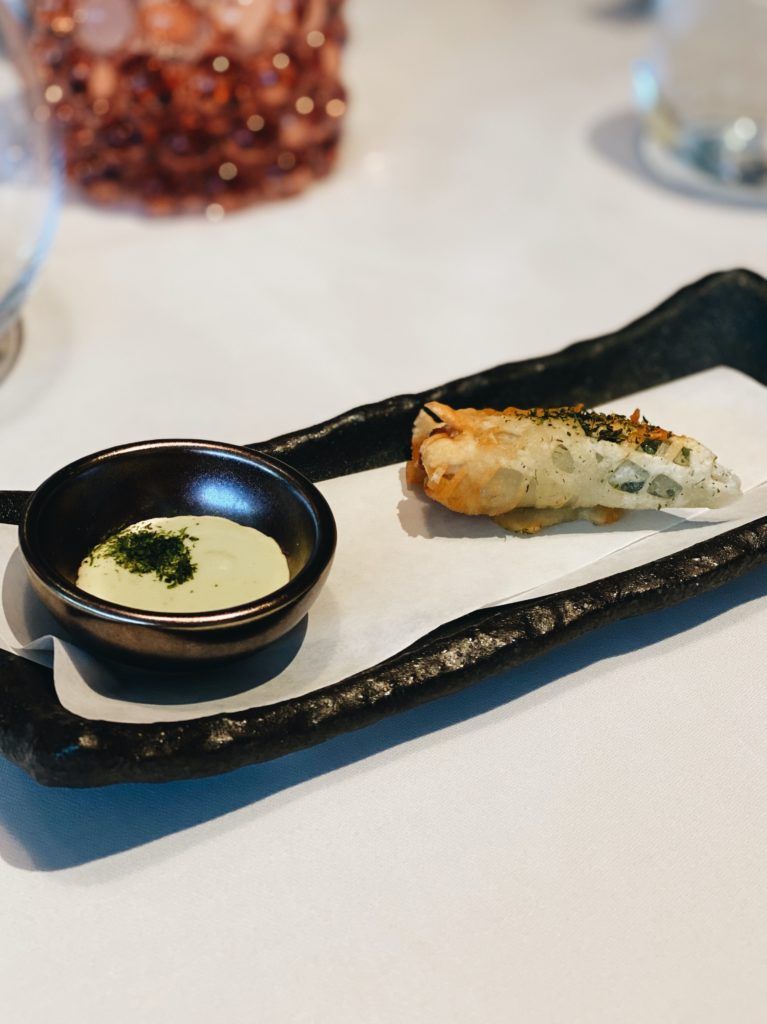 From an extensive list of sharing starters, the crispy spring roll (HK$148) and yellowtail sashimi (HK$288) were strong palate openers. The latter, a classic Japanese serve, hit expectations and more: freshly chilled in paper-thin slices — but not simply so. Chef Pak departs from familiarity and serves the raw fish neatly folded over wedges of pickled radish, finished with a dash of zingy yuzu soy and sprinkling of serrano pepper.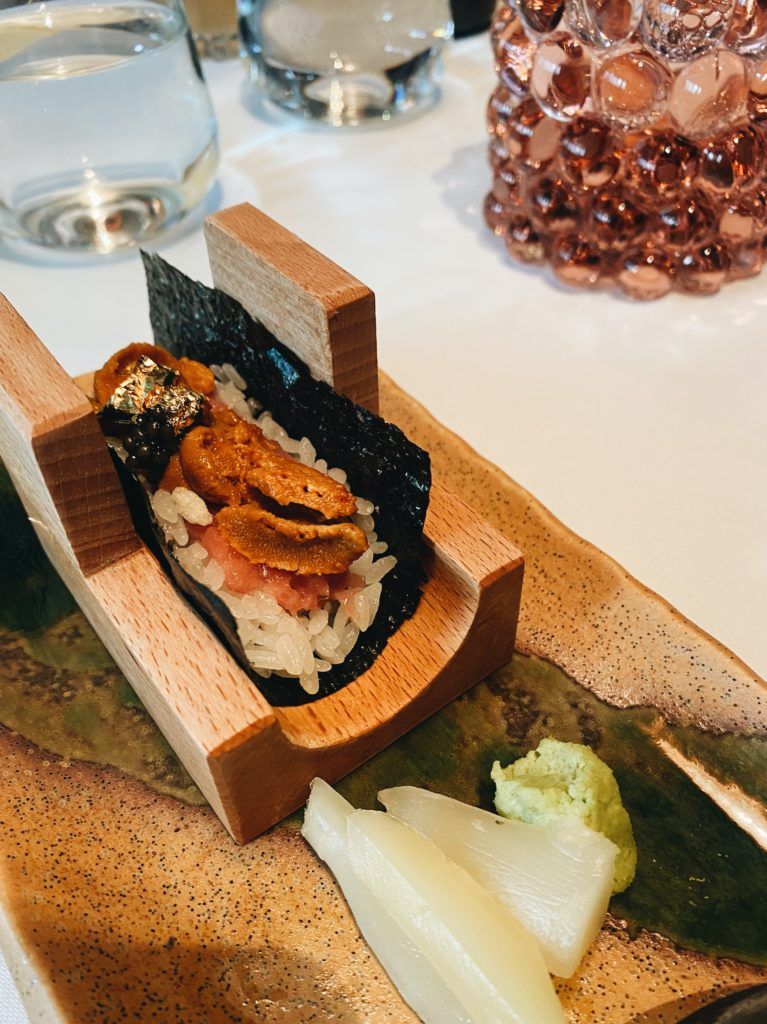 Finger-foods follow. The temaki is a straightforward story. Toro, uni and caviar is blanketed over seasoned short-grain rice with gold leaf as garnish (HK$188). It's a wonderful combination of umami; a symphony of light, sea-fresh flavours. What's fascinating is the custom wooden placeholder that the temaki — not completely wrapped over — arrives resting upon, bearing much semblance to an open-faced taco. Meanwhile, the kushiyaki, grilled on traditional binchotan, was saucy and smoky — all that a charcoal-grilled skewer needs to be. A moment here to highlight the buttery soft scallops (HK$118), which were coated in a tare marinade and was wonderfully charred and finished within seconds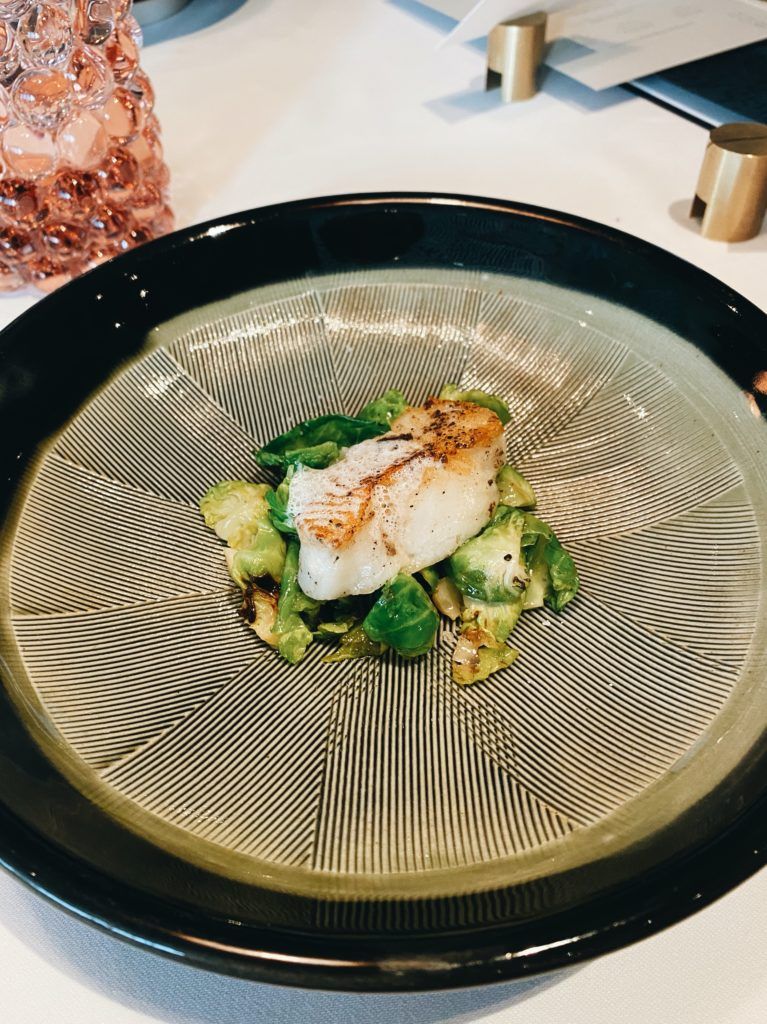 The mains — wagyu steak (HK$428) and a flaky Chilean seabass basted in yuzu butter (HK$288) — were truly an unadulterated showcase of chef Pak's culinary finesse. Both impressively executed; both deserving of the zealous praises shared mid-mouthfuls. The fine A5 Miyazaki steak arrives perfect, pink-in-the-centre, it's fragrant and flavourful — the result of a generous spicy miso drizzle. While the meat is tender and delicious in itself, it's made even more decadent with forkfuls of the unctuous slab of seared foie gras seated on top. A successful serving of "more is more" plates.
Rounding out chef Pak's menu are desserts of the same calibre — executed in new, innovative techniques. There's a cheesecake made with tofu served with matcha ice cream (HK$118), and mochi cake (HK$118). A chewy Japanese confection remade with infused coconut and dredged in a miso-flavoured caramel, it's commendable for its well balanced in both flavours and textures.
The Drinks
It's pleasing to know that beverages here at Zoku are not relegated to second fiddle, but rather a first-chair companion to the innovative menu. Bar manager Sabrina Cantini Budden's roster of well-shaken tipples are exciting creations with just as exciting narratives, inspired by one, Japanese ingredients, and, two, a world of bibliophilic greats. There's cocktails like the Tsundoku, named after ironic book collectors who don't end up reading their purchases. Or the Suzie Wong (HK$108) inspired by the titular novel 'The World of Suzie Wong', a refreshing libration of Japanese whisky and yuzu soda, brightened up with rose syrup and cucumber, and finished off with a spray of rose water, spritzed table-side.
The Verdict
An impressive showcase of traditional Japanese staples in modern approaches from chef Pak, along with a narrative that places twice as much focus on its ingredients and dining experience gives Zoku much to talk — and taste — about. Make no mistake, this is not a place for hastened meals; but rather one for enjoyment; for like-minded gastronomes who delight in the presence of well-executed food. It will tempt you to remain, all through into the evening, revelling in one cocktail and one temaki roll after the next — hours on end of pure fun. Here is a hangout spot of comfort and familiarity. A spot like home.
Opening Hours: Monday to Sunday. Lunch: 12:00pm–2:30pm; Dinner 6:00pm–10:30pm. Walk-ins welcome, reservations can be made here.
Recommended Dishes: Toro and uni temaki, Wagyu steak, Kushiyaki — especially the scallop.
Price: HK$250 for lunch, HK$350 for dinner. Not inclusive of drinks.
Noise Level: Comfortable.
Service: Quick, spirited and knowledgable
Zoku Restaurant & Terrace, 2/F, The Hari Hong Kong, 330 Lockhart Road, Wan Chai, Hong Kong, +852 2129 0338
Zoku Restaurant and Terrace
Address
2/F, The Hari Hong Kong, 330 Lockhart Road, Wan Chai, Hong Kong