The Apple Watch made quite the splash when it first launched in 2015, and set the bar when it came to fitness tracking as well as fielding calls and messages away from your phone. To add to that, the latest third generation sought to solve a few upsets (like Series 1's frequent complaint, its turtle processing speed) and add a number of innovations — including of course, built-in cellular connectivity, which means we can now officially stay connected without committing the social faux pas of having our noses glued to our screens wherever we go (supposedly). By helping people shed their attachments to their phone, it also breaks ground in terms of improving our fitness habits. Does it stack up to its reputation of being the ultimate sports smartwatch though? We took the Series 3 for a test drive to find out.
The Look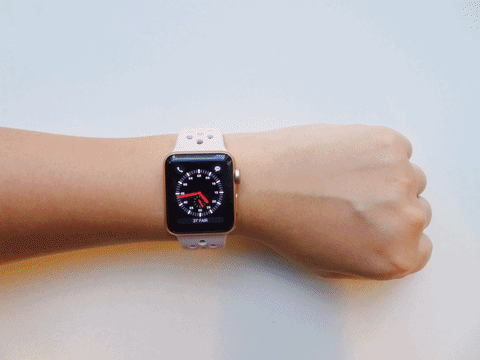 We got to try out an aluminium gold 38mm model with GPS and LTE (recently made available for 1010, 3, CSL and Smartone carriers only). With the millennial pink fluoroelastomer sport band, it's a gorgeous pick for any rose gold aficionado, but the gold finish also matches equally well with the Nike+ sport bands (particularly khaki/army green), and the new sport loops in a slightly iridescent black and pastel pink, all of which offer a bit more breathability during your sweatiest workouts. For summer beach days, the woven nylon striped bands from the new spring collection are an equally sunny choice.
Changing straps is a simple matter of sliding them in and out of the device, and there's an abundant range to choose from at the Apple store, from Nike+ official straps to sumptuous special edition leather bands by Hermès (though sadly, the silver buckle and loop doesn't quite match my watch in gold aluminium finish).
As with the Series 1, the screen melds seamlessly into the black bezel of the watch — it's virtually invisible — making the Apple Watch one of the cleanest looking devices on the market. My only minor critique is the large red dot on the digital crown — a cartoonish blip on the side of the watch which indicates its cellular capability — which might be a concern amongst more fashion-forward users.
Day-to-day
The setup process to pair bluetooth, wifi and cellular connections is a breeze, particularly if you're already used to Apple interfaces. Boasting the new S3 processing chip, the Series 3 is the fastest the Apple Watch has ever been, no doubt to the delight of previous users who grumbled about the lag when opening and switching between apps. For someone new to the Apple Watch like me, it's operating as smoothly as I imagine a top-of-the-line Apple device should.
Battery life, however, will take some getting used to, especially if you're accustomed to fitness trackers that typically last for a week on average. The Apple Watch only lasts up to 18 hours after an overnight charge — factoring in heavy use as in the official Apple usage metric with activities including checking the time, receiving notifications, using apps, and doing a 30-minute workout while streaming music. Personally, after a day's worth of use, my battery usually goes down about 50% with an hour's worth of workout tracking; but no calling or streaming music. Hence, the watch typically lasts me a solid two days without a charge.
With the Series 3, Siri speaks straight from the watch itself, and despite experiencing a minor lag in receiving answers, he (mine's a British male voice) is particularly useful to have around to verbally set a timer for cooking, set alarms and reminders, as well as for converting and crunching numbers. It's still very odd to be talking to Siri in public though, requiring you to talk into your watch, secret agent-style.
Staying Connected
The main draw for the new Series 3 is of course, LTE connectivity. I never imagined myself to be someone who could function without my phone (particularly for calls and texts), but I was shown the light when I was left with no battery left on my iPhone 6S late one evening. I popped on my AirPods and was able to have a full crystal-clear phone conversation just via the watch — the other end of the line couldn't even tell I was on anything other than my mobile. That said, the convenience of the watch in this respect only seems to come in rare occurrences, at least for me. You can also easily text back on Whatsapp and Messages using a full range of emojis, stock phrases and effects, though your friends are then probably wondering why you're so reticent with your words. It could never replace the tactile, visual component of conversing on your phone, but it's a quick fix and handy saviour when you've been left indisposed without your phone — whether intentionally or not.
Another draw that users will be excited about with cellular is the ability to stream tunes straight from the watch, even as you're using other apps like exercise tracking. While you're going to need an Apple Music subscription to access the massive 45-million song library, non-subscribers can also access the new Radio which gives you Beats 1 Radio, Bloomberg or BBC, though I had quite a struggle with spotty cellular signal when trying to tune in as I went for a walk around the office neighbourhood. You also can't do this for long, either, as streaming music tends to drain battery life rather quickly.
I'm still waiting for Spotify to become available for Apple Watch, which is rumoured in its upcoming watchOS 5 launch, an update that allegedly also means that third party developers can begin to finally take advantage of the watch's cellular capabilities — a feature currently reserved for Apple-developed apps.
I'm a staunch music streamist, so I didn't have an offline music library to test, but with streaming capability, you can also sync and stream playlists or albums straight from iCloud — no iPhone piggybacking required. For offline listening, the watch comes with 16GB of storage capacity for you to keep your favourites.
Workout Tracking
When it comes to tracking workout data, the watch is perhaps one of the most sophisticated and visually appealing. Beyond looking just at steps, you also get the distance you've walked, your total active time, and importantly, how long you stood up out of your waking hours (as they say, sitting is the new smoking for your health), rounding out your day with diverse movement. The Series 3 is also the first Apple Watch that measures elevation, thanks to a built-in barometric altimeter, which gives you a reading of the number of flights of stairs you climbed — and with this tech, we are currently also able to track ski and snowboarding activity using the Series 3.
To those new to "closing rings" in the Activity app — referring to those three goals for standing, moving, and exercising each day — it's an excellent way to motivate more visual minds who prefer colours and shapes rather than gazing at numbers and stats. I've burned more calories (or at least, been more pushed to close my rings) through day-do-day movement than ever before. Compared to other fitness trackers out there, such as the Fitbit, where I quickly grew tired of the numbers game and competition between friends during step challenges, the Activity rings gives me a more visual and instantaneous idea of how I'm stacking up against my own previous habits and goals — the daily reminders and motivational messages seem to be very well personalised as well. Perhaps, it's a better method of motivation for those who are more introverted or private about their health.
With the Activity app's ability to track all workouts logged on the watch (for me, whether through partner apps such as Nike+ Run Club or the Workout app itself), and full integration of stats into the iPhone Health app, finally I'm not scrambling between OSes and apps to keep track of my data, and it finally feels intuitive and tidy.
That said, I've found that the accuracy of tracking exercise and movement can be dubious. For instance, somehow my watch is celebrating that I reached my daily 30-minute exercise goal after typing furiously during work, or when I'm vigorously carving through a piece of steak at dinner. Apple apparently measures 'exercise' depending on your heart rate and movement, so it seems the heart-pumping passion that both said activities instill in me are equivalent to a brisk, heart-healthy walk? They're not wrong, I suppose.
When actually recording workouts via the Workout watch app, I also can't complain: Quick to launch without needing to fiddle with too many buttons and scrolling, the Series 3 can track indoor and outdoor activities, as well as pool and open water swims. There are only a handful of workout categories available, and I have realised that you tend to burn drastically more calories when tracking with the HIIT mode rather than doing the same hard work on cycling or jogging modes. A glitch or reality of the sport?
If you're a member of Pure Fitness or you have the latest Life Fitness equipment at home, you can also instantly sync up your stats with the new Apple GymKit. Just by tapping your watch to the NFC sensor on your chosen machine, you can instantly record your gym session into your Health app data, with no hassle at all. Currently available at Pure IFC, there's the choice of elliptical, treadmill and stationary bike.
The Conclusion
Having tested a few fitness trackers out there, no other smartwatch interface is as sophisticated or intuitive (particularly for a longtime Apple user) as the latest Apple Watch. What deserves plaudits is definitely the faster processing, amazing customisability, and plenty of open potential for fitness tracking thanks to having virtually any third-party app that will suit your goals — from staying hydrated to eating right to making sure you're working out hard enough. There's infinite ways to shape your watch to fit your goals, thanks to the App Store.
With the new addition of cellular, we're now one step towards ridding ourselves of screen FOMO. Particularly for those looking to rejig their lifestyle on a healthy (and stylish) note, even without downloading fancy new apps, the provisions that come with Series 3 will definitely put you on the right foot forward.
But to get the full experience of cellular — plus getting total uninhibited freedom from our phone screens, you might want to wait a few months for the next watchOS before buying in. Hopefully when third-party developers get to tinker with cellular connectivity on the Series 3 watch, we'll begin to see the handset-free future that movies are only just dreaming of, further changing the way we use (or don't use) our phones.
The Apple Watch Series 3 (GPS + Cellular) is available from HK$3,188 at Apple stores and retailers city-wide.