Hong Kong is a place brimming with talented and intriguing people. Each week in 27 Questions, we get up close and personal with the city's notable personalities, learning about their whims, aversions, pivotal life moments, and hopes and dreams — all in roughly the same duration it takes to sit through a two-minute speed date. This week, we speak to Samsen co-founder and chef-owner Adam Cliff.
If you're a Thai food stan in Hong Kong, chances are you are likely also a devotee of chef Adam Cliff's cooking.
Wan Chai's popular 35-seat Thai joint Samsen has perhaps become as synonymous with its rich and savoury Wagyu beef boat noodles as its daily snaking queues of loyal followers, even four years on since its opening. Venturing out west early this year, Samsen opened its Sheung Wan branch with a larger space and expanded menu, featuring the addition of khao soi, or a curry soup noodle dish, as well as freshly made roti.
Chef-proprietor Adam Cliff, who opened Samsen with his partner Bella Kong in 2016, has always been fascinated by the punchy and layered tastes of Thai street food. The Australian native dropped out of school at 17 and soon found a position working at Bangkok's Nahm — under legendary chef David Thompson — where for five years he learned the intricate craft of cooking Thai cuisine under the respected chef and restaurateur, who is credited for introducing Thai food to the western mainstream.
Then, at age 26 — with 10 years of kitchen experience under his belt — Cliff met Yenn Wong, and the two began to develop Jia Group's Chachawan. Cliff flew into Hong Kong to open the restaurant as executive chef in 2013, and he's stayed ever since.
What's special about Cliff's cooking is in a refusal to compromise on taste, no matter how seemingly simple it is — whether in sourcing authentic noodles straight from Bangkok's markets, or in making the wagyu broth for his addictive boat noodle bowls from scratch each day. From its seemingly approachable dishes to its rustic interiors mimicking a traditional shophouse, everything about Samsen in fact reveals laborious deep study and prep work, prizing authentic colours, flavours, cooking methods and recipes at its core.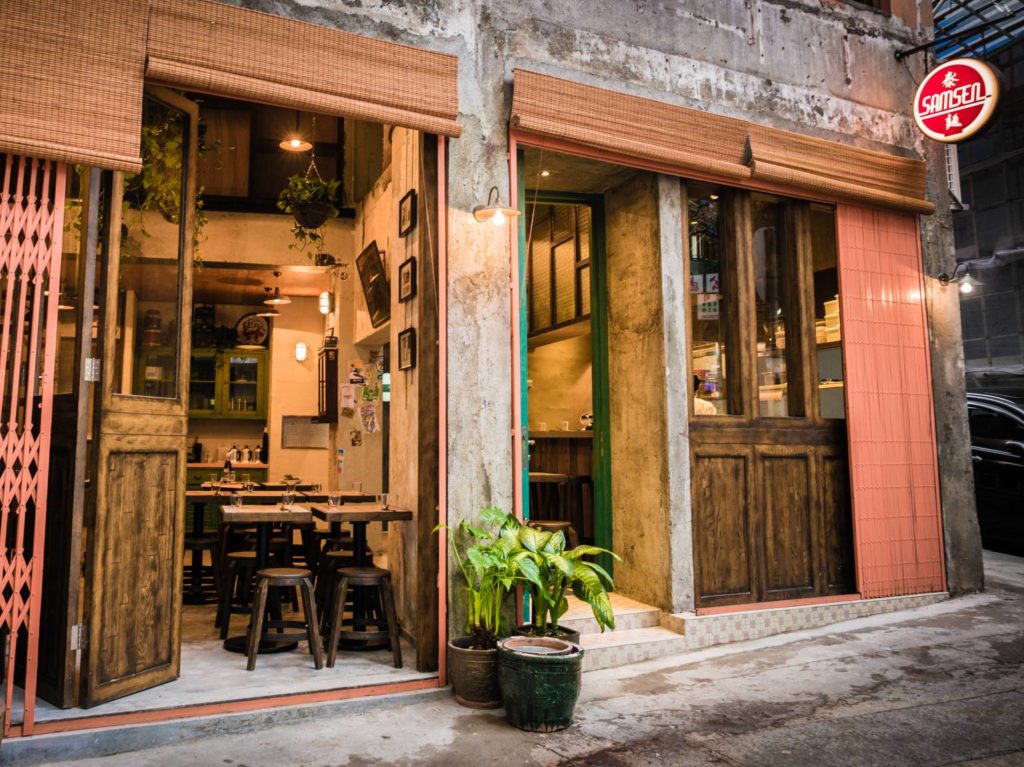 It's no wonder the restaurant has easily earned and warranted its legions of fans in Hong Kong and abroad ("Even though I live in Bangkok I still miss Samsen from time to time," says one follower on the restaurant's Instagram), not to mention a Michelin Guide Bib Gourmand. For a taste of Bangkok without needing to buy a ticket to fly over — an all-important trait these days in the time of coronavirus travel restrictions — Samsen just might be your best bet in town.
In March, during the initial waves of the pandemic in Hong Kong, Samsen had closed up shop for two weeks "to allow the team time to assess and adjust to the situation at hand," Cliff tells us. With the most recent government social distancing measures, where restaurants will only be allowed to offer takeaway service between the hours of 6pm–5am, Samsen has continued its popular lunch offerings while offering a takeout option until 9pm at night.
"Spirits had definitely picked up late June with the feeling like the worst was behind us, but I know even for me personally it is a blow seeing 'the third wave,' not just as a restaurateur but personally too." He adds, "Everybody is a lot more cautious when making moves and constantly reassessing."
Despite the present difficulties that the dining industry faces, Cliff has made sure the beloved restaurant continues to weather the storm with consistency, humility and care for the community. In time for some lighter chat, we catch up with the reticent, self-styled "cook" and get to know him a bit more through our signature, rapid-fire interview series.
Name: Adam Cliff
Age: 33
Neighbourhood: Sheung Wan
Occupation: Cook
1. What was your first job?
Dishwasher.
2. What is your drink of choice?
Coffee.
3. If you could only eat one thing for the rest of your life, what would it be?
Salmon for the body, burgers for the soul, can't decide.
4. How often do you prepare your own meals?
Rarely.
5. What is the best meal you've ever eaten in Hong Kong?
Father's Day lunch this year was fantastic, my wife cooked me up an amazing lunch, we went to Cheung Chau and I got to enjoy it with the people I love.
6. What is your life motto?
"Calm down." Running two restaurants there's a lot to deal with on a daily basis and always problems to solve. There's normally a way to deal with or get around the problem, the calmer you remain the quicker and easier it all becomes.
7. Who is your role model?
Never really had one, but I keep a close circle of friends and family who I respect all in their own ways.
8. Who is the best teacher you've ever had, what is one important lesson that they taught you?
My wife — [she taught me to] not underestimate the effectiveness of bribery on children.
9. What is one thing you've never revealed to your parents?
Nothing really, my parents and I are very close, more and more like friends as years go on.
10. When was the last time you drove a car?
Yesterday and I lost the keys… and I'm in trouble now.
11. What is the best thing in or about your apartment?
The people.
12. Are you a morning person or a night owl?
Night owl.
13. What do you hate most about living in Hong Kong?
Nothing I hate, but most taxi drivers here always seem pissed.
14. What is the top destination on your bucket list?
Probably India.
15. What is your greatest fear?
Heights!
16. What is your biggest guilty pleasure?
Junk foods — I love a good McDonald's $10 chocolate sundae
17. What is your typical Sunday like?
Don't have a typical Sunday, always up in the air.
18. Which moment in your life would you most like to relive?
Always living for the future!
19. Where do you go when you want to be alone?
Walk, run, gym.
20. What's your favourite childhood memory?
Fishing.
21. What is your favourite scent in the whole world?
The ocean.
22. Are you a good cook? What is your best dish?
I'm alright, I think.
23. Have you ever experienced love at first sight?
Tell us about it. No, I think love grows with time.
24. Do you have any favourite tattoos or special birthmarks? What is it?
Nope.
25. How many pairs of shoes do you currently own? which do you wear the most often?
Not many. I'd wear my work boots the most.
26. Would you rather never be alone for a single moment, or be alone for the rest of your life?
Why? I'd rather never be alone, what's the point of living if you've got nobody to share it with?
27. What is the last dream you remember waking up to?
So long ago I can't remember, but I woke up to a constant humming in my ears three days ago that hasn't gone away…