Hong Kong is a place brimming with talented and intriguing people. Each week in 27 Questions, we get up close and personal with the city's notable personalities, learning about their whims, aversions, pivotal life moments, and hopes and dreams — all in roughly the same duration it takes to sit through a two-minute speed date.
The gravitational pull towards the artist — be it performer, singer, creator — manifests through the indelible power of stardom. The power of the 'face'. The power of recognisable talent. It's the same kind of rationale that caused the slight kerfuffle in 2019, when the Academy Awards made the since-reversed decision to broadcast categories like cinematography and film editing — or; the categories without the possibility of a Meryl Streep acceptance speech — during commercial breaks.
The curator occupies a similar realm.
Oscillating alongside makers and their works of art, the curator is the puzzle piece that brings art to audience. That brings art to discourse, discussion and reflection. A process Ying Kwok — independent curator, founder of Art Appraisal Club and subject of this particular 27 Questions edition — is, now, intimately familiar with.
Despite Kwok's immense curatorial success the world over, her path began initially, instead, as an artist. A graduate of the fine arts program from the Chinese University of Hong Kong; then, the University of Arts London. An opportunity arose soon after at the Centre for Chinese Contemporary Arts in Manchester, where Kwok started her career as a curator and nurtured her curatorial approach 'to centre on "the boundaries of collaboration" between curators, artists, and the community'. Her exhibitions and explorations spanned the globe, from Manchester to Poland to New York and, then, back home to Hong Kong, where she's worked with the likes of the M+ Museum, the Venice Biennale, Art Central and, more recently, with artist Phoebe Hui for her Audemars Piguet debut and for Wu Chi-Tsung's solo show at Galerie du Monde.
Art Appraisal Club, founded in 2014 by Kwok, acts as an extension to her curatorial persona; an organisation helmed by local art professionals to fill an implied void, which is the seeming lack of critical writing and discussion surrounding the local art ecosystem. A true Renaissance woman, Kwok leverages her industry know-how and takes on the role of publisher, editor and critic for Art Appraisal Club.
In our signature rapid-fire-style interview, Ying divulged bite-sized insights into her life beyond the arts, including her love of Hakka-style cuisine, her reflections on the nature of regret (and why she doesn't have any!) and Chorlton, her adorable ginger rescue.
Name: Ying Kwok
Age: 40s
Neighbourhood: Central and Kwai Tsing
Occupation: Curator
1. What is the best meal you've ever eaten in Hong Kong?
Hong Kong is a food paradise and I have many good meals in a range of restaurants from local to fancy. But one of my favourites is a small local eatery called 雞工房 where they serve good Hakka-style dishes such as steamed giant grouper cheeks, whole crab rice soup and soy sauce chicken. I always take my friends there when they visit Hong Kong.
2. What was your first job?
My first job was a project coordinator in a NGO called Art in Hospital. It gave me a solid foundation to work in art and art management. It also showed me that art can bring people together, have fun and have a positive contribution to our life and the society.
3. What is your drink of choice?
Champagne and red wine. I might have gone a bit crazy last year during the lock down — I have grown a wine belly.
4. What is the best thing in or about your apartment?
My cat, Chorlton, a ginger that I adopted from a shelter three years ago. He is grumpy and verbal; only comes to me when he wants food and, in winter, when he needs a human radiator. But it melts my heart when he sleeps on my lap.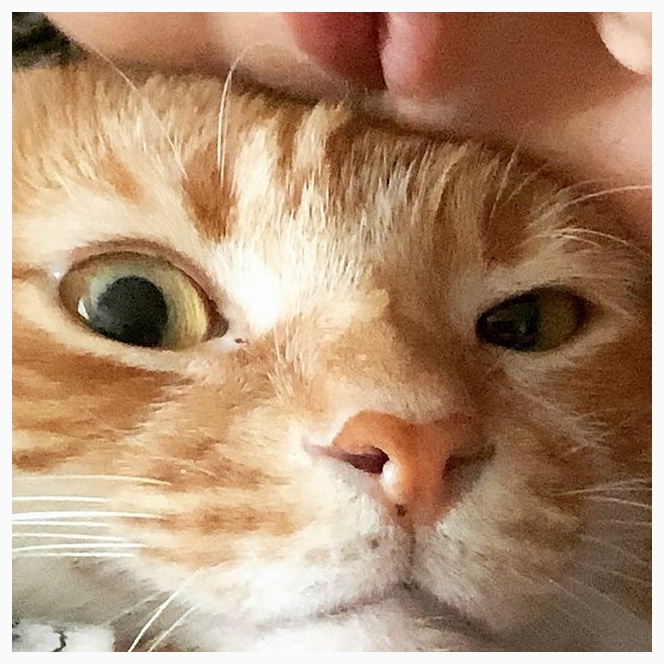 5. Are you a morning person or a night owl?
Night owl. Most of my projects involve working with people based in Europe and the UK. They usually send me communications at the end of the day, which is around midnight in Hong Kong. If I check my email, I can't help but respond. I also find it easier to write at night, specifically after midnight.
6. If you could only eat one thing for the rest of your life, what would it be?
Egg. It's comforting and easy to make in a different style without other ingredients.
7. What is your biggest regret in life?
I am not going to have regrets. If I have a hunch to do something, I will follow my heart and make it happen. Sometimes I put myself in difficult situations and it could stress me out, but I feel really alive! And the satisfaction and confidence I gain from it is remarkable.
8. What is the top destination on your bucket list?
Taking the Trans-Siberian railway from Beijing to Russia.
9. What is your greatest fear?
Haunted hotels.
10. What is your biggest guilty pleasure?
Having an expresso martini instead of coffee after lunch.
11. What is your typical Sunday like?
Sunday is family day. It usually starts with dim sum lunch with my in-laws, then I will check out some exhibitions in town with my husband. The day will end with dinner at my parents' with a doggy-bag takeaway for next day's lunch.
12. Which moment in your life would you most like to relive?
I feel very lucky, as I have so many cherished moments in my life: My university days studying Fine Arts in the Chinese University of Hong Kong; I was so focused and determined in creating and exploring myself. The first two years living in London, indulging myself in the foreign but sort of familiar British culture. The music, art and fashion in the UK played a big part of my growing up.
Last but not least, backpacking with my parents through Europe. It was intense and I complained a lot during the trip, but I also have many fond memories. My dad was travelling all the time since I was eight and I left Hong Kong for twelve years before moving back in 2014. I didn't get to spend enough time with my parents so the trip was significant for us.
13. What is one thing you've never revealed to your parents?
I broke my femur with three fractures while skiing in Slovakia and there's a piece of metal all the way along my left thigh.
14. What is your favourite scent in the whole world?
Sandalwood.
15. Are you a good cook? What is your best dish?
I can't follow a recipe and don't like spending hours in preparation. I have a special creamy whiskey sauce for steak and I can master the doneness pretty well.
16. Do you have any favourite tattoos or special birthmarks? What is it?
I have a birthmark on my left arm and my great uncle has one on the same spot. He lives in Myanmar and I've only met him a few times. He is one of my mum's closest sibling. Being 1/8th Myanmarese myself, it makes me feel connected to the place.
17. Which phone app do you think more people should know about?
MeowTalk. It translates your cat's meow into English.
18. How many pairs of shoes do you currently own? which do you wear the most often?
Don't ask. My husband has tried to introduce a one-in-one-out policy on my shoe collection. If he never finds out the total, he can't really apply it to me.
19. What would you do if you won the lottery?
I love what I am doing. I will keep doing the same thing but allow myself a big budget on artworks acquisition.
20. What was the best gift you ever received?
The engagement ring from my husband.
21. What's the best or worst career advice you've ever received?
The best advice I received recently: Leadership is nothing but being authentic and being yourself.
22. What energises you about your work?
The unknown, the opportunity of being fascinated by learning something new.
23. If you could do it all over again, what is one thing you would do differently?
I was an active practicing artist for a few years until I found a full-time curator job. Sometime I wonder what would happen if I did not take the job at Centre for Chinese Contemporary Art in the UK.
24. Start your life again at age 15 with all the knowledge you have now, or fast forward 10 years?
May I start at age 19? I'd like to skip high school.
25. What's your favourite tradition?
Red pocket in any good or important occasions. I love receiving and giving out red pockets. I just asked my husband to give me one when I started my new job as Senior Curator at Digital and Heritage in Tai Kwun. Really, it could apply to any important days or occasions.
26. If you could snap your fingers and fix one thing about the world, what would it be?
Answer 1: Freedom of expression.
27. What's the scariest thing you've ever done and why?
It's when I had to stay in a foreign hotel, alone, listening to haunted stories. But wanting to keep listening.