In this edition of 'How to Succeed', we speak to chef Mingoo Kang — founder of Seoul's Mingles and, more recently, Hong Kong's Hansik Goo — about debuting a restaurant remotely in the midst of a pandemic and all things jang.
Cultural nuances are often identifiers of difference, whether it be ways of existing or codes of conduct. But the act of breaking fast, giving thanks and gathering — whether as a bi-annual solstice event or a casual Sunday evening — across shared meals amongst family and friends? It's universal; something Hansik Goo has written, literally, in its name. In chef Kang's native Korean, 'han' translates to 'one'; 'shikgoo' to 'family'; and 'hansik' to 'Korean cuisine'.
From Kyong-gi University graduate to two Michelin stars, Kang's curriculum vitae reads like a dreamer's pipe-dream checklist. Chef de partie at the Ritz-Carlton. Internships at fine-dining institutions like Martin Berasategui, Zuberoa and El Bohio. Promotions from junior sous chef to executive chef — the youngest, ever — within the Nobu universe. Head of Research & Development at K-pop giant SM Entertainment's flagship restaurant, SM Kraze. Founder and owner of two-Michelin-starred Mingles in Seoul. And now, Hansik Goo in Hong Kong — Kang's latest culinary pitstop.
Five years abroad served Kang well. A globe-trotting experience as much as it was culinary, the chef's work took him from the United States across the Atlantic to Spain, to France and then the Bahamas. Upon his homecoming to South Korea, he unpacked souvenirs of his travels — ideas and techniques foraged, adopted and absorbed — which crystallised into the beginnings of Mingles in 2014, voted the Best Restaurant in Korea the following year.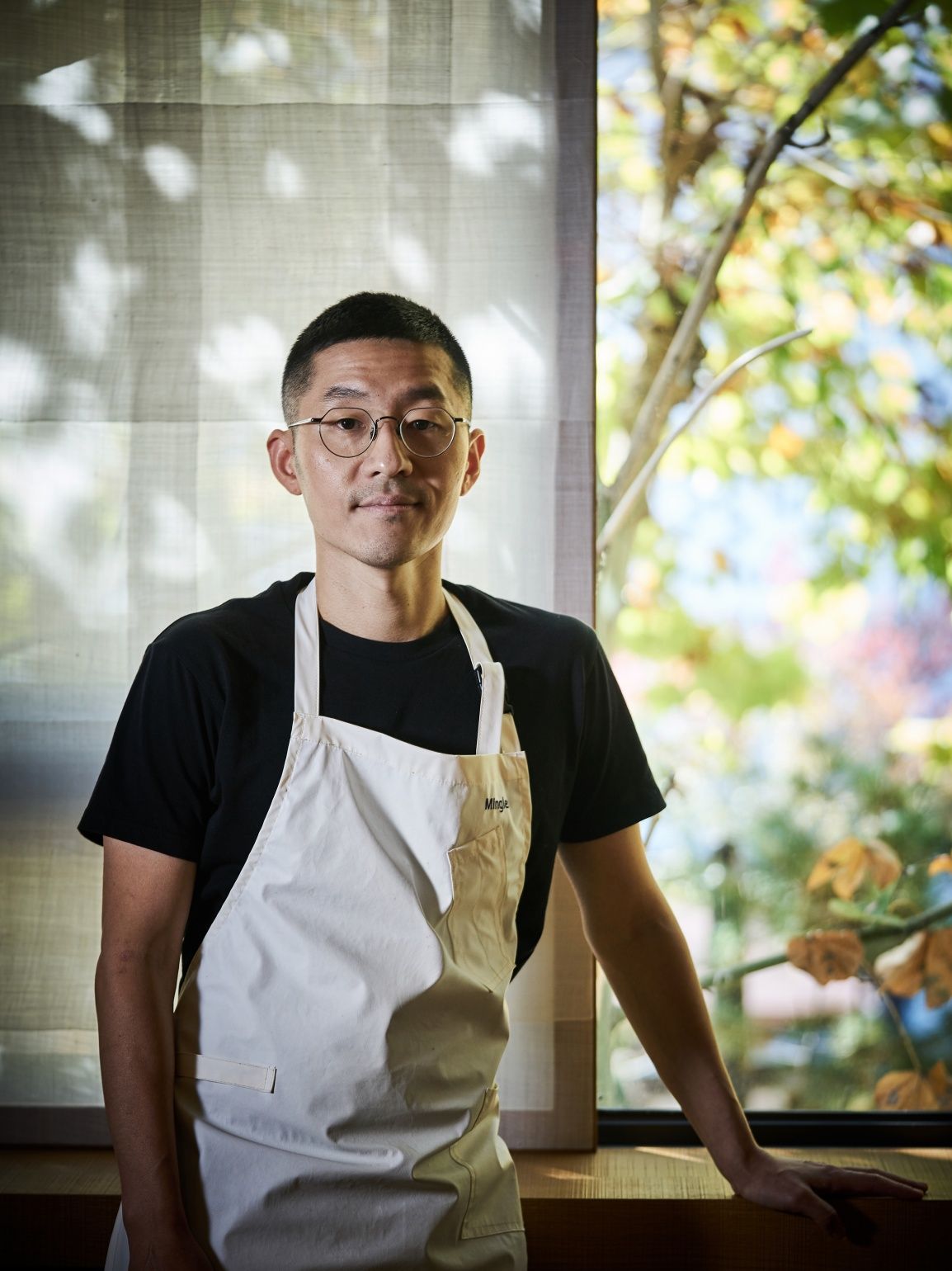 A project in collaboration with ZS Hospitality Group, Hansik Goo — much like Mingles in principle — serves up a reinterpretation of Korean cuisine, family-style. Heavy lies the crown for purveyors of 'authenticity,' but the chef, in efforts to introduce hansik perhaps unfamiliar to non-native palettes, believes in the mission; one that draws from royal cuisine, temple cuisine, home-cooking and everyday fare, composing a menu of high-low contrasts with dishes like bulgogi (grilled beef), tteokbokki (rice cake) and yukhoe (steak tartare). In celebration of Hansik Goo's debut earlier this year, Kang spoke to us about his motivations, his experience opening his first global outpost remotely and the importance of tradition in experimentation.
You managed to open Hansik Goo during quarantine while borders were closed. Can you share the challenges (i.e. menu design, training chefs) and how you got around it?
Having to make decisions without being physically present was a foreign experience for me. That said, the process of communicating with the team remotely was not as difficult as I would have otherwise expected. From our partner ZS Hospitality and the team of chefs from Korea to the Hansik Goo team we met in Hong Kong, everyone showed great teamwork. As the chef of Hansik Goo, I learned how to trust the team and learned how to divide labour without meeting physically in person. It was a new experience, working through remote communication.
Tell us a little bit about your background and how you got interested in cooking? Did you know from a young age you wanted to cook professionally?
Since my elementary school days, I have always liked creating with my hands. I was fond of physical activities. I learned everything from painting, music and calligraphy to taekwondo and judo, but I wasn't particularly talented enough for me to consider any as future occupations. I found fun and joy, however, in cooking for my younger brother whenever we were left alone at home.
Who is one person who has been instrumental in your success?
Chef Cho Hee-sook, the best chef in Korea who dedicated her life to studying Korean cuisine. She taught me to stay humble and to keep exploring as a chef. Also, while I [never] met him in person, Alain Ducasse is a great inspiration. I've watched his documentary film again and again.
To you, what's the most important aspect, trait or criteria for someone to succeed in the restaurant world?
There are so many factors. Delicious food needs to be important in your life, but you should also enjoy serving people, value people, always be on the lookout for new things and be thirsty for knowledge. If you're not afraid of change and of challenges, you'll meet the basic requirements!
To you, has opening a restaurant in the midst of COVID-19 been the greatest challenge you've faced so far during your career? What was the most important thing you learned?
Like everyone, I learned the importance of everyday life. As the owner-chef of Mingles [in Seoul], I realised that local customers and ensuring the restaurant is beloved domestically is crucial to success in the long run. Through this time, I realised my idea was right, so I want Mingles to be a special and precious space for Koreans.
What did you wish you knew at the start of your career that you know now? What words of advice would you want to give your younger self?
Live your life boldly! It is good to move with confidence.
What do you do or where do you go to make sure you stay productive and creative?
Read cookbooks by other chefs and travel constantly. But these days we cannot travel, so I am trying to visit other restaurants in Korea.
What does an 'average' work day look like for you?
It is the same as other chefs. Wake up, go to the kitchen, do service, come home, read a lot and spend time with family.
What do you like to do when you're not working and how does it help you in your routine?
I try to spend time with my family. My family is the centre of my life.
You have a heavy focus on jang, these crucial sauces considered 'the backbone of Korean cooking.' What is your take on keeping with tradition in cooking, and, on the flip side, what are the challenges with innovating or deviating from tradition in Korean cuisine?
Jang is the foundation of Korean food, so understanding it thoroughly and using it well is essential. My aim is to understand and respect tradition, but to also express it anew, in our own way. Sometimes I worry about my approach: Am I not good at expressing through Korean cuisine? Am I still cooking within the limits of tradition? There is no correct answer and I always work with the feeling that we are making our own history every day.
Hansik Goo is currently by reservation only. 2/F, 8 Lyndhurst Terrace, Central, Hong Kong, +852 2798 8768