It goes without saying that Hongkongers are among the most discerning, well-travelled and quality-focused people on the face of this Earth. In 'The Hit List,' we ask the city's tastemakers and cultural arbiters to reveal their various 'best-of' lists: from where to reserve a table, to where they book a spa day, bask in local culture and more. In this installment, we speak to 19-year-old model and student, Sham Yuet, eldest daughter of one of Hong Kong's most well-known and powerful couples – Chingmy Yau, and fashion mogul, Sham Kar-Wai.
As the eldest daughter of leading Hong Kong actress, Chingmy Yau and fashion mogul, Sham Kar-Wai, Sham Yuet is no stranger to growing up in the public eye. A splitting image of her mother, this 19-year-old Japanese and psychology student is making a name for herself and paving her own path. First stepping in to the limelight at the 2019 Le Bal Les Débutantes, an annual, by-invitation-only event in Paris that launches 20 of the world's most promising and prestigious young women into high society, Sham Yuet also debuted her first runway show in London for I.T. Group earlier that year. Sweet, good-natured and highly involved in advocating for underprivileged children, Yuet's earnest reputation proceeds her.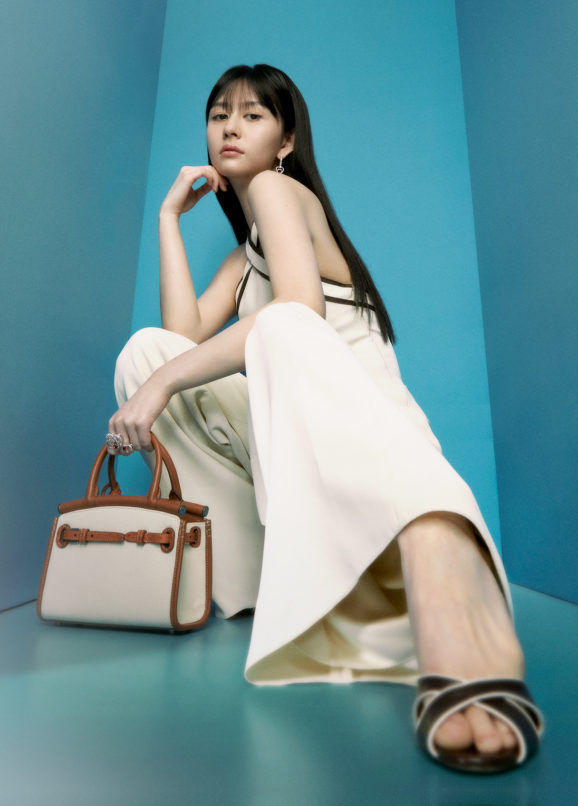 No stranger to fashion and a life of glamour however, we spoke to Sham Yuet about her favourite places in Hong Kong. From unwinding amongst stunning Peak views, to humble family dinners, splurge-worthy items and her favourite restaurants abroad, add these picks to the top of your 'hit list'.
Name: Yuet Sham
Age: 19
Occupation: Student and model
Neighbourhood: Mid-Levels
When I'm feeling peckish…
My favourite restaurant for breakfast is 'The Continental' in Admiralty, but to be very honest, I don't wake up early enough for breakfast nowadays!
My favourite place for a power lunch is J.S. Foodies in Festival Walk, I love the Avocado Burger and also the Mentaiko Spaghetti. The green tea latte frappuccino is also amazing. Love, love, love!
My favourite splurge-worthy restaurant is Restaurant Petrus in Island Shangri-la, Hong Kong. We celebrated Thanksgiving and Christmas there two years ago!
My favourite restaurant to take out-of-towners is Afuri at The One in Tsim Sha Tsui. I really enjoy eating Japanese food so Afuri is a must go! They are most famous for their Yuzu Ramen and all my friends love it. I personally prefer the 'kara-tsuyu tsukemen' though.
Most recently, I celebrated a birthday at my grandma's house! She lives right next door to me so the walk takes less than 10 seconds. My grandma makes this rich Chinese style soup with abalone, fish maw (花膠) and chicken. Not only does it taste good, it is also good for your skin because of the collagen.
Out and about…
I've racked up the most miles on Cathay Pacific.
My pre-boarding ritual consists of going to the lounge before our flight. I also like making sure all my music is downloaded onto my phone for the flight — I cannot live without music!
When I need a breath of fresh air, I like to go to The Peak, because it is close to where I live and I like looking at Hong Kong's night skyline. 10/10 would recommend.
To stay active, my favourite thing to do is dance. I love to dance. I also like playing basketball (I was on the team with my three best friends in high school, shoutout to Aly, Chelsea, Kenne and Rachel!).
For me, a spot that always brings back fond childhood memories is definitely Disneyland. I used to have the annual pass and went all the time.
If I had to pick my favourite overseas restaurant, it would be Nobu Downtown in New York, or Park's BBQ in Los Angeles because the food is so, so, so delicious. I can't wait to travel again.
For pampering and maintenance…
My go-to spot to get my hair done is ii hair & nail in Landmark Atrium.
What I do for some self-care is light up candles and listen to music. Recently, I like the scent of the Cherry Blossom candle from Soohyang.
My skincare routine consists of sunscreen every morning and moisturiser every night. If I put on makeup that day, I have to remember to cleanse well.
My sleep routine looks like listening to my favourite songs to help me unwind, it always helps me to relax before going to sleep.
I've decked out my bedroom with books. I used to read a lot of Classic Literature and Plays such as 'One Thousand and One Nights' and 'A Streetcar Named Desire'. I also love poem books like 'The Sun and Her Flowers' by Rupi Kaur and 'Poems, New and Collected' by Wisława Szymborska. Recently, I received a 'Detective Conan Limited Edition Manga' as a present and it has become one of my most prized possessions. I am and always will be obsessed with Detective Conan.
One thing I can't leave the house without is my phone. Just like most teenagers I cannot live without my phone.
To decompress, I always book myself in for a dance lesson or a salon appointment, I feel great when my hair looks great.
I buy my favourite vanity necessities from Laneige and CHANEL. I really enjoy trying out and buying new items and brands but my current favourites are Laneige's Water Bank line & CHANEL's Hydra Beauty line.
Speaking of shopping…
If my personal style could be summed up in a single store, it would be I.T. I don't think I have a specific personal style as I love to try different styles and since I.T carries a lot of different brands, I would say it would be my style summed up.
My favourite piece of jewellery or watch is from Cartier. I received the Cartier Love Bracelet in 2014 (when I was 13) for Christmas when we celebrated in our house in Tokyo. I also love my white gold and diamond Empreinte Bangle from Louis Vuitton, as that was my birthday present for when I turned 18.
For my hard-earned money, the best thing to splurge on is food! After photoshoots, I like to reward myself with a big meal. Last time I went to have teppanyaki at K11 with my family. Besides food, I like to give back to society and help children who are more vulnerable. I think it is very important that every child has an opportunity for education and basic human rights. I support charities that go to this cause such as UNICEF, Association Enfants d'Asie and Children International. I strongly believe that we should give back to the world if we have the ability to.
The best-looking spot in my house is by the window because we live high up and you can see the whole Hong Kong skyline.
And for a bonus round…
Can I recommend some music? Lately, my songs on repeat are:
'Blueberry Eyes' by MAX, SUGA, Lil Mosey, and Olivia O'Brien.
'17' by Pink Sweat$ ft. Joshua and DK of Seventeen.
'Mmmh' by Kai.
'Falling For You' by Jaden Smith with Justin Bieber.
'Drivers License' by Olivia Rodrigo.
Hero and featured image courtesy of Ralph Lauren