Spotted: Lounging, cocktail in hand at one of Hong Kong's most elite club on Wednesday afternoon.
In the specific context of Hong Kong, there's most likely nothing more luxurious than a coveted membership at the city's most elite establishments. After all, this is a city that revels at the mention of anything exclusive, limited, reserved for only those in the know — the enviable inner circle. It might a socialised space for like-minded connects and industry experts, a belonging to a particular team or sport, or even one dedicated to rejuvenating retreats — a destination to heal.
Carlyle & Co.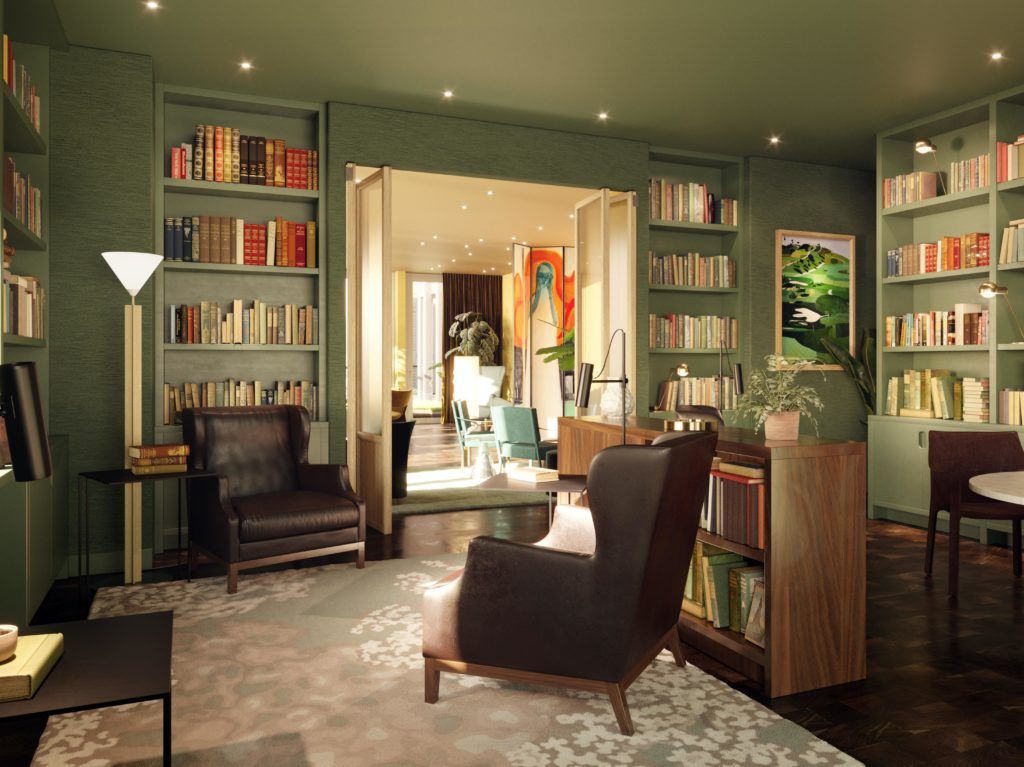 There's glitz. There's glamour. There's opulence. The city's latest private members' club, Carlyle & Co., sits above Rosewood Hong Kong, takes inspiration from The Carlyle, a hotel under the Rosewood Hotel Group portfolio located in New York City. Here at the Victoria Dockside post, the vivacious energy of the East Coast establishment is infused into a sprawling 25,000 square-foot space that span across 3 floors, 50 storys above ground. Talk about that ocean view. Especially from the Mediterranean-inspired outdoor terrace — one of the largest in the city.
A vibrant space designed for discovery and connection, each of the beautifully mid-century furnished rooms is a spot of inspiration. Spend afternoons in the library, stacked with over 2000 books or the music room fitted with 1000 vinyl records. Take a gander around the gallery of contemporary artwork hung across the expansive space or a stroll those the eight private suites, each designed to the style of a notable figure from The Carlyle's past, including interior designer Dorothy Draper. It's the home to the second chapter of Café Caryle too, which is looking to be an exciting venue for live performances, including musical showcases and lively cabarets.It's the next-new place to be. 
More information on joining Carlyle and Co. here.
Soho House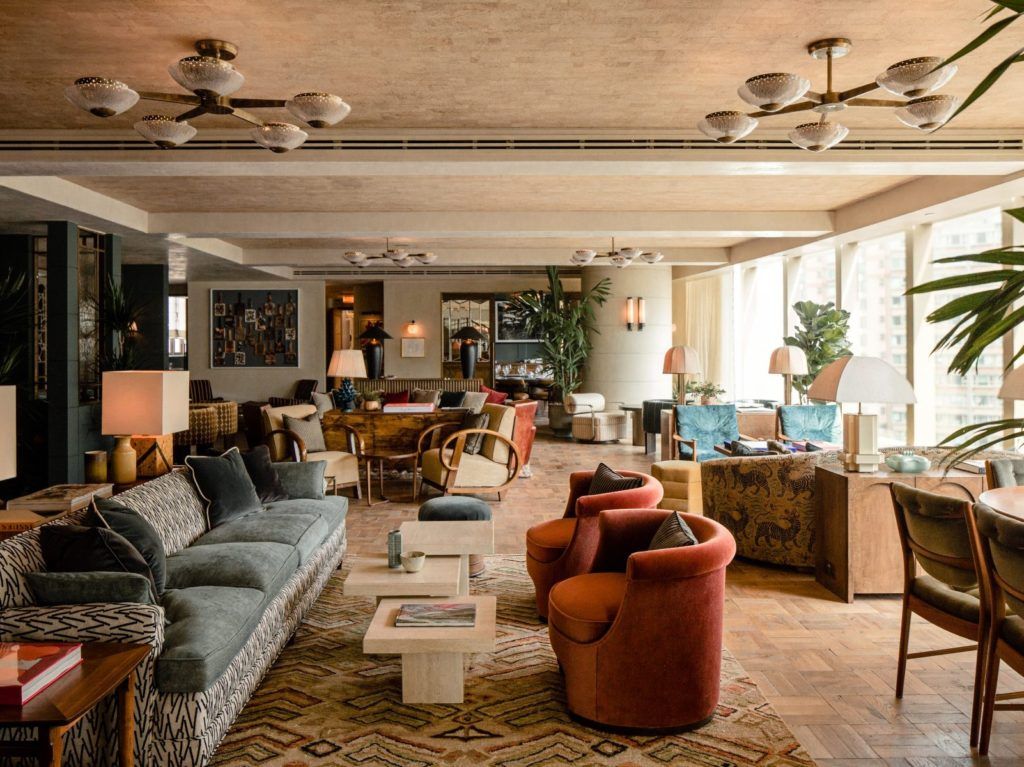 A place for the who's who in town, particularly those in creative spaces, Soho House, and its impressive 24 locations on the international roster, is the ultimate members club to be spotted in. The 28-storey tower sits on an unglamourous stretch on Des Voeux Road West and is responsible for many of city's exclusive events, not to mention renowned for its dazzling décor that matches the young, effervescent energy of which the club recruits.
Among rich jewel tones and old-world allure are contemporary touches that centric to a classic Soho House design. Hidden amongst the decorative cracks are details that also reference the chapter's Hong Kong home; including films and works of notable director Wong Kar-wai and over curated art pieces home-grown names both established and emerging. One of the largest Soho House yet, and marks a first foray into Asia, the 120,000 square-feet of space comes with a stunning wraparound view of Hong Kong Island, Victoria Harbour and Victoria Peak. Lots to see and much to do; hit your fitness goals at the Soho Active, three floors of gym space including a sauna and steam room before making your way down to Soho Works, nine-floors worth of co-working spaces. An afternoon at the 1970s-inspired Pool Room fitted with rattan furniture, day beds and towering palm leaves.
More information on joining Soho House here.
The Hong Kong Club
The one that started it all, what a luxury it would be to even be associated with The Hong Kong Club, or as frequenters endearingly refer to as "The Club". An exclusive luxury in itself, really. The 1846-founded private members' club is the place where the city's most influential rub shoulders and the elite discuss business over perfectly chilled flutes of notable vintages. A towering 25-storey colonial-style building — think deep oaks, red-carpeted spiral staircases, Chesterfield sofas and luxurious leather-backed armchairs — houses an extensive range of sports and leisure facilities from a library with over 5,000 books, a ladies lounge, a card room for light daytime games with a cup of tea? Along with squash courts and a billiards room. Prim, proper and all kinds of fancy. Leave your top hat and tulle-lined millinery at the door before entering, please.
More information on The Hong Kong club here.
Asaya
It's all about wellness and rejuvenation at the Asaya, a wellness oasis hidden within the Rosewood Hong Kong. It may not be of the same exclusive calibre as the others featured in this list, but it's a destination centred around the same call for discovery, connection and community. The 40,000 square-foot space is retreat of verdant greenery within the city, lit up with glass lanterns on winding stone paths and backed by the soothing soundtrack of trickling water displays.
It's home to the Asaya Lodges, two standalone villas with customisable programs (in the private treatment room within) from yoga sessions to guided meditation. There's a 25-meter outdoor swimming pool overlooking the iconic Victoria Harbour view; a 24-hour fitness centre; and an extensive range of regenerative programs with skin therapy to genetic assessments and workshops with resident specialists from expressive arts therapy, bodywork and nutritionists.
More information on joining Asaya here.
The Jockey Club Hong Kong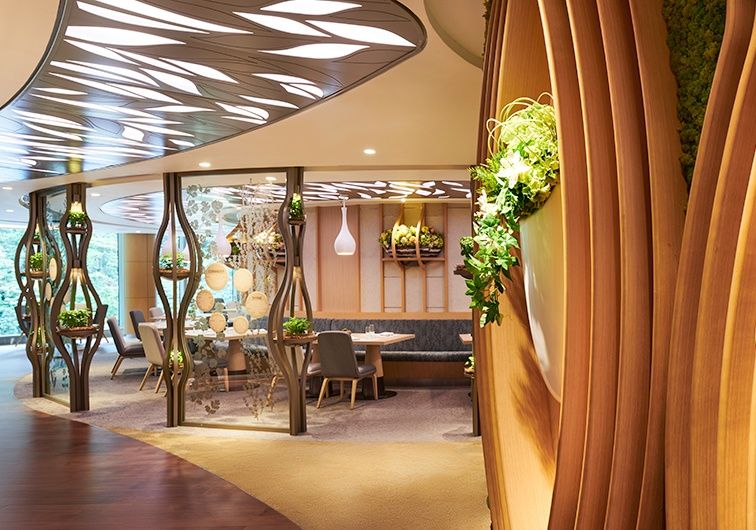 There's no need to chatter on about the Jockey Club. It's known, loved and favourited. A choice club for many of the city's urbanites. It's more than just race bets and good box seats looking over the course here. Between the three different locations and two racecourses across the city, there's lots to be enjoyed and experienced. 
The unveiling of the new extension of Happy Valley chapter, The Hilltop in the Valley, has given much for this long-standing club to talk — and be talked — about. Adding on to the monument structure, the freshly built 12 story building spans across over 500,000 square-feet of space and is home to a brand new rota of restaurants, a range of sport facilities including a rooftop tennis course and six-lane swimming pool, a bowling alley, a performance arena, along with horse stables for guided lessons.
More information of the Jockey Club membership here.
The China Club
There are clubs you talk and hear about often. Ones you see and read about. The China Club is most probably not one of them, their lack of a social presence notwithstanding. Established by its just-as-elusive late founder, David Tang, the intimate space of just three floors is tucked amongst towering skyscrapers at the heart of Central in the Old Bank of China building. It's a photogenic snapshot of a 1930s-inspired old Shanghainese tea house, steeped in historic elegance with an unmistakable air of old-world sophistication.
There's a striking art deco staircase that winds down towards the main foyer, a Bosendorfer grand piano statued in the corner of the dining room, a converted library room and black and white photographs that collage the crown-moulded walls. It may not be a long list of new-and-newer amenities that impress here, but rather honest Cantonese fare and thoughtfully attentive details like original art and heritage antiques that preserve the graceful ambience.
Header image courtesy of Soho House Hong Kong