Working on your laptop in a café is so 2010. These days, Hong Kong's enterprising freelancers and creative entrepreneurs work out of beautifully designed co-working spaces specifically created for those who've opted out of the typical, 9-to-5 office life. Whether you're a veteran freelancer looking for a new working space, or an office worker dreaming of a better place to spend your days, you'll love the city's coolest co-working spaces.
V-Co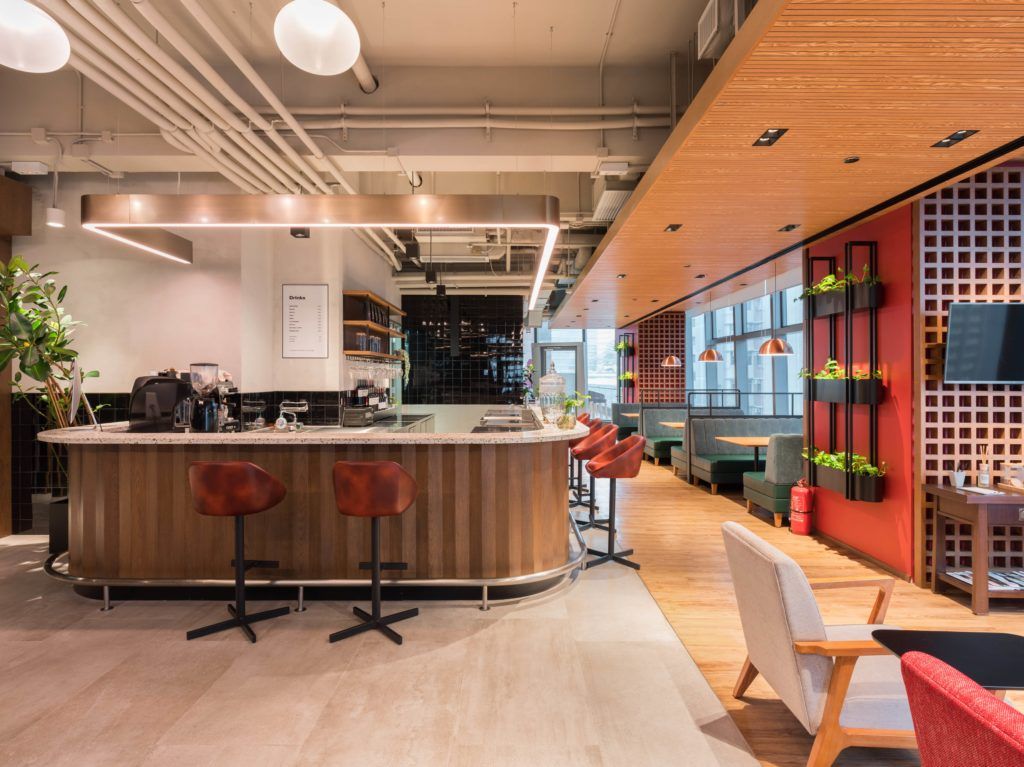 So you've just wrapped up a coffee chat at Times Square and got a couple of hours before your next meeting; you're looking for some quietude amid busy Causeway Bay to catch up on emails and a strong wifi signal you don't have queue up at a café for. Your best option? A roomy, spacious desk at V-Co, topped off with plush seating that'll be an utter dream when you eventually need to lie down for a short 15-minute cat-nap. Ideated by the same owners behind contemporary lifestyle mall V Point, V-Co was created by "business leaders for fellow innovative minds" offering a range of spaces from a simple hot desk to full private offices and full-floor suites. The " holistic workplace experience" is a beautifully decorated sleek, modern space fitted with a complete checklist of amenities including an outdoor terrace and mini garden, barista coffee bar, sleeping pods, bar lounge, meeting rooms and entertainment zones.
V-Co, 9/F, V Point, 18 Tang Lung Street, Causeway Bay, Hong Kong, +852 2468 4041
The Work Project
Minimalistic and sophisticated, The Work Project "is setting new standards in workspace design." On a mission to change how people feel about 'coming into the office', the unique co-working space spans over 30,000 square feet, just minutes from Causeway Bay MTR. Complete with a fully stocked pantry and regular office happy hour, members can reap the benefits from one of their many partnerships that includes: access to over 20 restaurants, four gyms, numerous hotels and lifestyle services.
The Work Project,15/F, Soundwill Plaza ll – Midtown, 1-29 Tang Lung Street, Causeway Bay, Hong Kong, +852 3896 1000
WeWork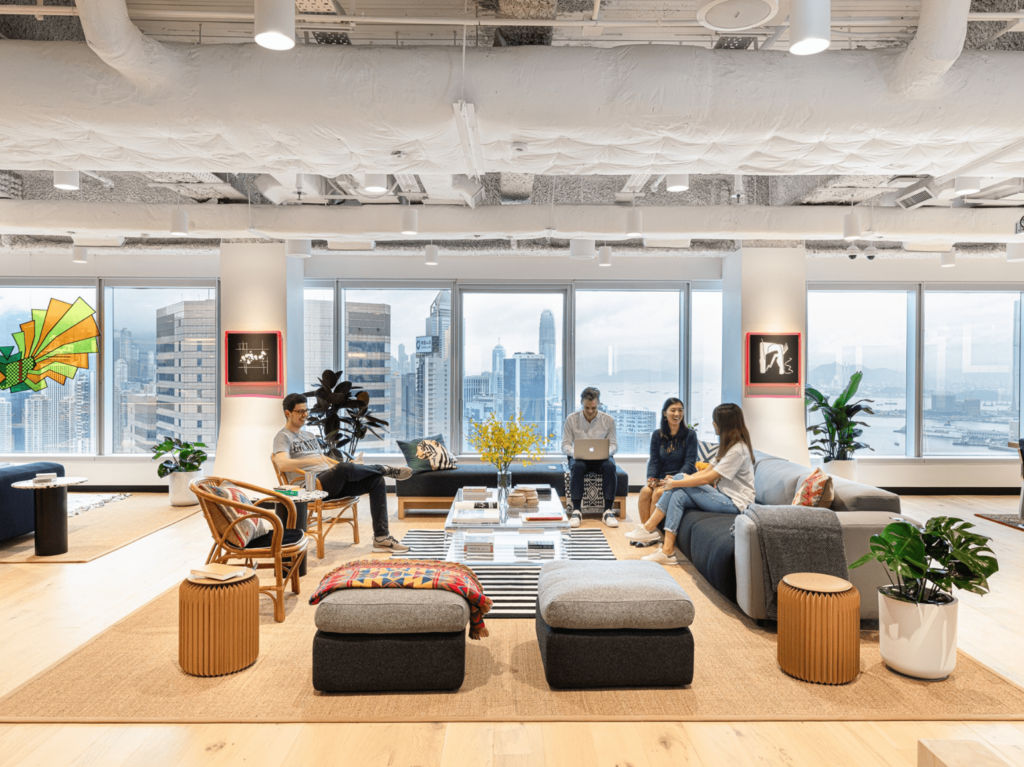 With branches in some of the coolest areas around the world, from New York's meatpacking district to upscale and hip Gangnam in Seoul, WeWork is undoubtedly one of the trendiest working spaces that have cropped up in recent years, and one you'll want to sign up to if you like jet setting around the world meeting like-minded cool kids. In Hong Kong, there are various branches dotted around the city from Wan Chai and Causeway Bay to Sheung Wan, Kwun Tong, and Quarry Bay. With a huge focus on decor, the Wan Chai branch, for example, explores Hong Kong's east and west dichotomy using traditional local materials such as mosaic tiles paired with European oak wood panelling, as well as neon signage in its decor, a nod to old Hong Kong. Sign up for a 'We Membership" that will give you access to hot desks in locations all over the world where they're available.
WeWork, various locations, +852 3150 0000
Metro Workspace
A part of the Metropolitan Lifestyle Group that operates serviced apartments and a range of F&B and hospitality businesses, Metro Workspace plays off the group's industry experience, creating na eco-system for members to enjoy a lavish (but affordable!) lifestyle in Hong Kong. From its beach vibes in Wan Chai to Parisian chic in Admiralty, each co-working location offers a unique look, but fosters the same entrepreneurial spirit.
Metro Workspace, various locations, +852 3955 8550
The Desk
With locations in Sai Wan, Admiralty and Sheung Wan (to name but a few) The Desk's signature style is expansive, clean, and industrial chic — perfect for innovators looking for a distraction-free, but equally beautiful and intellectual space to work. Setting itself apart from other more playful-looking shared offices, The Desk is relatively sparsely decorated with inspirational quotes on its plain walls, exposed brick and concrete accents, and elegant, unfussy furniture throughout.
Enjoy an alfresco setting? A few of the locations boast a communal outdoor terrace area adorned with greenery is a place where barbecues and big discussions take place. With its minimal look, the greatest emphasis here is on its network of mentors and support for businesses as they grow — recently they have hosted the first of an exhibition series titled "COLLABORATION," which brings Hong Kong artists and creative professionals together to incite inspiration.
The Desk, various locations, +852 3892 2320
The Hive
With nine locations in Hong Kong for entrepreneurs to work from, the Hive has curated innovative spaces that encourage creativity for seasoned professionals, freelancers and start-ups alike. Boasting large, beautiful designed spaces (some with sizable outdoor terraces!), the Hive has become a second home to a creative community with plenty of inspiring talks and events taking place from month to month.
The Hive, various locations, +852 35686343
Garage Society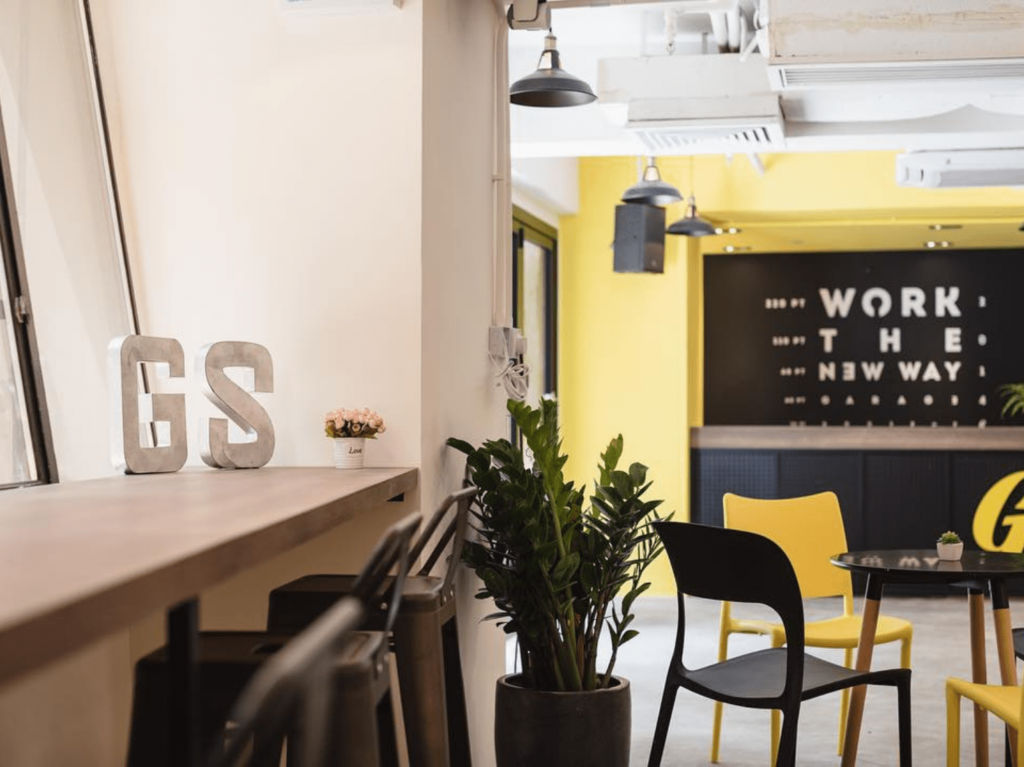 Founded also by Elaine Tsung, Garage Society is something of a veteran in the co-working space scene, and already has five spaces in Hong Kong (as well as India, Singapore, Thailand, the Philippines and Cambodia), with its signature named Garage Collective, located in Sai Ying Pun. An airy, 8,000-sq.-ft. venue converted from an old warehouse strip, the co-working space retains much of its older quirks as decoration, such as an old roller gate and exposed brick wall, while the 6-meter-high ceiling and open facade lets plenty of natural sunlight in.
Catering to green-minded urbanites out there who care as much about their lifestyle as they do about their living, it has an in-house vegetarian restaurant The Herbivores, and a pet-friendly policy. On top of providing secretarial, accounting, HR and digital marketing support for its members, it has also integrated a pop-up space for members to hold public events.
Garage Society, various locations, +852 3952 7200
Atlaspace
Sweeping harbour and city views are but one allure of this Kowloon based co-working space. Luxury meets futuristic theming in over 50,000 square feet; with plenty of office solutions readily available to meet your needs, take a break in its well-stocked tea room, or visit the exclusive lounge bar for a post-work tipple.
Atlaspace, Harbour City, 16/F, Sun Life Tower, The Gateway, Tsim Sha Tsui, Kowloon, Hong Kong, +852 3921 5555
Campfire Collaborative Spaces
The first co-working space in Hong Kong to cater each branch specifically to support different industries, Campfire currently has two locations: The Wong Chuk Hang space is suited towards fashion and design businesses, while the Kennedy Town space focuses on the tech industry, designed to maximise convenience and accessibility for its members — both carrying a camping motif with its tent-shaped work booths. Particularly of note is the edgy Wong Chuk Hang space, a raw space imbued with neon and concrete which boasts of a cafe, foosball table and plenty of desk configurations to choose from. If you're dreaming of a career in design you're in luck: a 2,000-sq.-ft. catwalk and event space was installed just to display members' works, and the location is also fitted out with a photo and video studio for digital artists, and a workshop with a 3D printer, sewing machine, and leather-making tools. Bonus: It's also pet-friendly!
Campfire Collaborative Spaces, 4/F, Cheung Hing Industrial Building, 12P Smithfield, Kennedy Town, Hong Kong; 5/F, Remex Centre, 42 Wong Chuk Hang Road, Hong Kong.
Banyan Workspace
Priding itself on its eco efforts, Banyan Workspace combines a luxurious design concept with sustainable and ethical practices. Designed by Lo Eli of S.Lo Studio, the co-working space offers all the comforts of working from home, yet equipped with everything you need to run a successful, modern business. Inspired by Hong Kong's rich cultural heritage (like the banyan tree), all aspects have made use of locally and regionally sourced natural materials, recycled accessories, and an abundance of natural light.
Banyan Workspace, Suite 1204, Eastern Harbour Centre, 28 Hoi Chak Street, Quarry Bay, +852 2159 5599
The Great Room
Working tirelessly to inspire conversations, connections and new ideas, Quarry Bay's The Great Room was conceived with the hopes of providing a holistic space for businesses to grow from. Providing everything you need to flourish, choose from an array of flexible memberships, and make the most of its vibrant city location.
The Great Room, 23/F, One Taikoo Place, 979 King's Road, Quarry Bay, Hong Kong, 5804 6001
This feature was originally written by Evelyn Lok on 11 January 2017 and updated by the Lifestyle Asia Hong Kong team on 27 May 2021.