Grab a blanket, pack your basket with delicious things and head to these scenic picnic spots with your favourite people.
When the weekend arrives and the weather is right, there's arguably no better way to while away a sunny afternoon than having a picnic. Whether it's with family or friends, planned or impromptu, a picnic offers a literal breath of fresh air and the chance to enjoy your favourite bites in some lovely surroundings. Luckily, Hong Kong is filled with beautiful spots to spread out on a blanket and relax for a few hours. For your next picture-perfect picnic, head to these scenic locations around town.
Victoria Peak Garden
Pet-friendly: Yes
Occupying the grounds of what was formerly the Mountain Lodge — a summer residence for Hong Kong's governors during the colonial period — Victoria Peak Garden is a beautiful and bucolic green space towering high above Hong Kong. Only a 15-minute walk from the Peak Galleria, this lovely retreat exudes an old-school charm with its Victorian-style gazebos and landscaped gardens. A very short hike up to the summit is the perfect way to conclude any picnic day.
Cyberport Waterfront Park
Pet-friendly: Yes
A popular destination for dog owners and their furry friends, Cyberport Waterfront Park is an expansive green lung where picnickers can enjoy flat stretches of grass and views of Lamma Island. Aside from pups running around, kites and drones flying overhead are sure to add some entertainment to any alfresco meal, and the nearby Fusion supermarket makes it easy to restock on food and drinks. Be sure to stick around for the scenic sunset — it's the best part of the day.
Tamar Park
Pet-friendly: Yes
Smack dab in the middle of Admiralty, Tamar Park is the place to picnic for amazing views of Victoria Harbour, Kowloon's waterfront and the dramatic Hong Kong Island skyline. Sitting adjacent to the Legislative Council Complex, the manicured lawns offer plenty of space for leisurely picnics and admiring the surrounding skyscrapers. Given its prime location, this is a popular spot for city dwellers who like to linger until the evening and watch Hong Kong light up at night.
West Kowloon Art Park
Pet-friendly: Yes
Part of the fast-growing West Kowloon Cultural District promenade, Art Park offers fabulous waterfront views of the harbour, Hong Kong Island and dramatic sunsets. When you're not soaking up some sun or admiring the scenery, be sure to check out the rest of the district, including greenery in Nursery Park and new cultural centres under construction like M+. For a post-picnic activity, you can rent a SmartBike and cycle along the waterfront to take in the sights.
Sun Yat Sen Memorial Park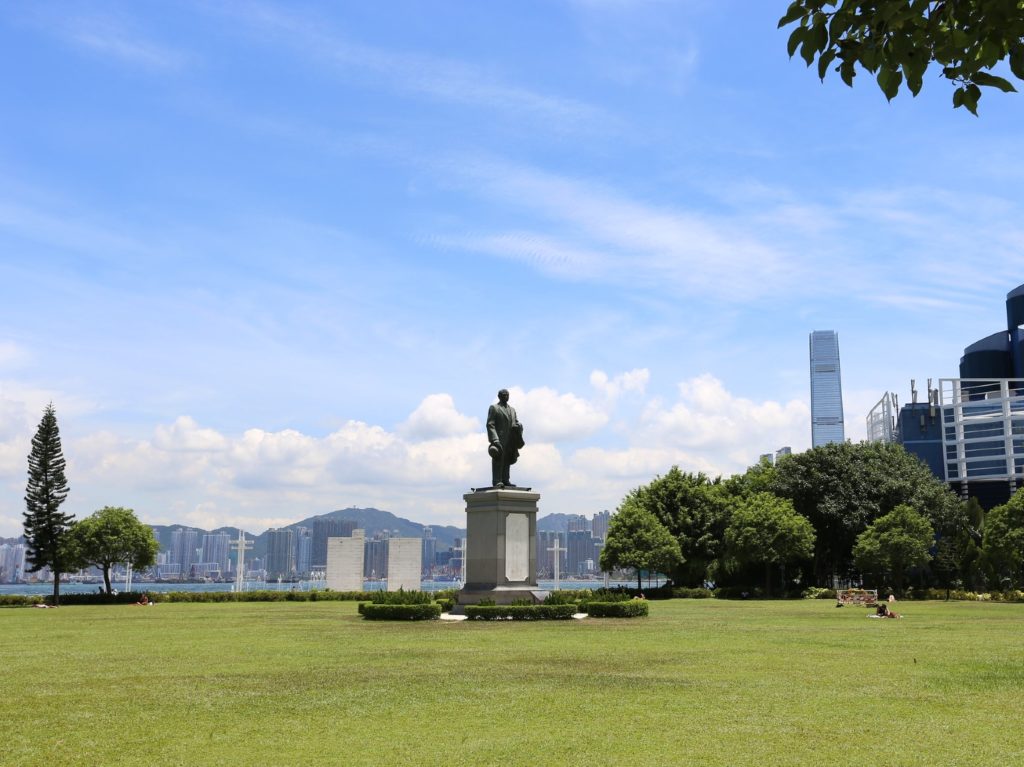 Pet-friendly: No
Offering a similar experience to Tamar Park but with fewer crowds, Sun Yat Sen Memorial Park sits on the waterfront in Sai Ying Pun and is a popular place for yoga, sports, sunbathing and, of course, picnics. While you're there, treat yourself to a history lesson about the life of the Chinese revolutionary who lends his name to this green space — a statue of him stands at the centre of the lawn — and don't miss the sculptures and reflecting pool on the waterfront promenade.
Inspiration Lake Recreation Centre
Pet-friendly: No
Mountainous backdrop, lush greenery and a placid body of water — Lantau Island's Inspiration Lake Recreation Centre has all this and more. Though it's technically part of Hong Kong Disneyland Park, Inspiration Lake is open to the public daily and has no admission fee. Add some activity to your picnic outing by renting a bike or a pedal boat to glide across the surface of the tranquil manmade lake.
Tap Mun (Grass Island)
Pet-friendly: No
To escape the city life and get a real change of scenery, take a 30-minute ferry ride from Wong Shek Pier in Sai Kung to the pastoral grounds of Tap Mun, also known as Grass Island. The best place to picnic is the large grassy field that looks out at the sea and Sharp Peak, but just be mindful of the wild cows that roam the meadow so that your lunch doesn't get eaten by them. Since you've come this far, be sure to visit 400-year-old Tin Hau Temple before you leave the island.
Kwun Tong Promenade
Pet-friendly: Yes
If an evening picnic is what you're after, claim a spot on the kilometre-long Kwun Tong Promenade for panoramic nighttime views of the harbour and the eastern part of Hong Kong Island. The vibe here is definitely more urban than tranquil, but this former cargo handling area has been transformed into a lovely strip with a boardwalk, waterfront tree walk and colourful, industrial-inspired art installations that light up and release mist at night.
Tai Po Waterfront Park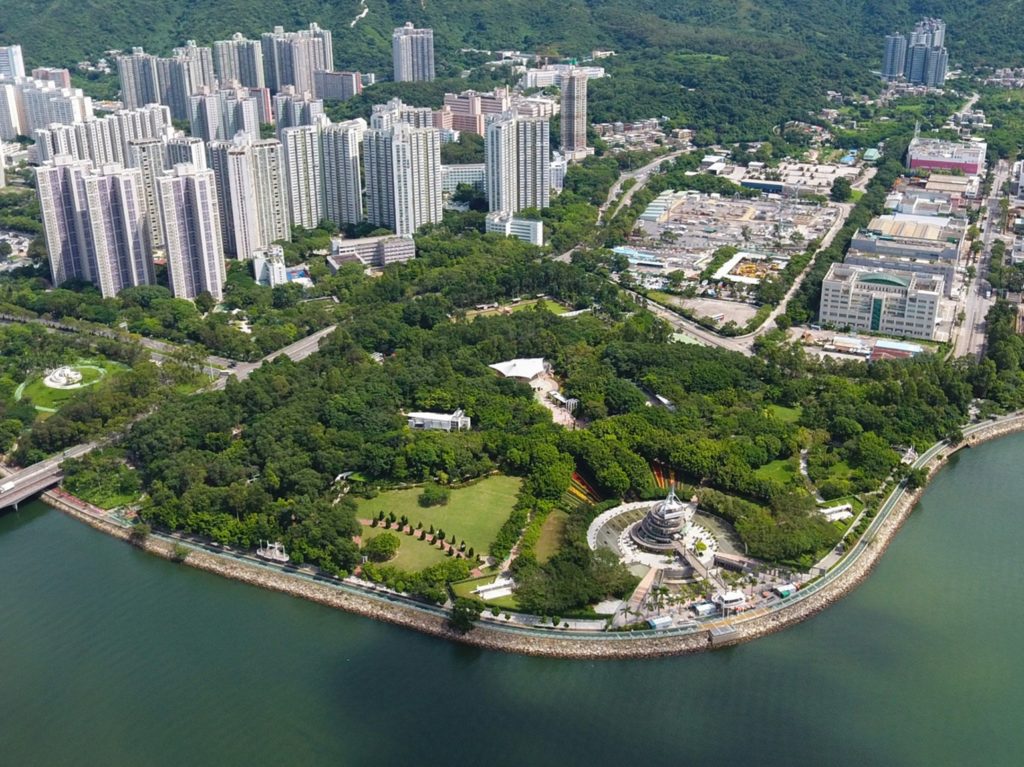 Pet-friendly: No
Sprawling across 22 hectares of green space on Tolo Harbour, Tai Po Waterfront Park is the largest park in Hong Kong managed by the Leisure and Cultural Services Department. That means there's no shortage of grassy areas for having a picnic, not to mention bowling greens, a kite-flying area, colourful flower displays, landscaped gardens and the winding Spiral Tower, which you can ascend for a better view of the surrounding scenery.
Jordan Valley Park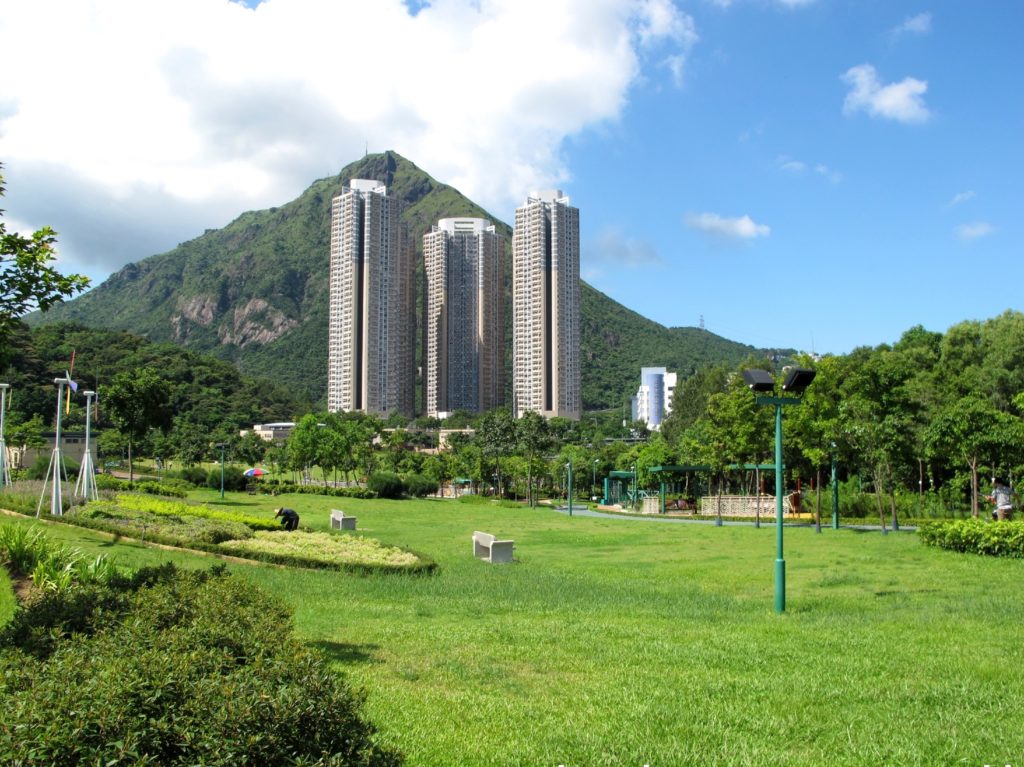 Pet-friendly: No
Don't let the name confuse you — Jordan Valley Park is actually located in Kwun Tong. This former landfill site has really cleaned up over the years, and today it's a popular, family-friendly destination for picnicking and other forms of leisure. The massive central lawn is where you'll want to station yourself, but be sure to explore the park's other features, including a kids' playground, maze, bougainvillea garden and a radio-controlled model car racing circuit.