For some, New Year's resolutions may be long forgotten, but that's not to say that healthy lifestyles can't be redeemed at any time of the year.
For those working from home — or opting to stay at home as a result of the recent dining restrictions — takeaways and food deliveries have been more popular than ever in the past couple of months. Why not make healthy options part of your weekday rotation?
If you're a busy bee who wants healthier meals without needing to shop ahead and cook, you'll want to turn to Hong Kong's plethora of healthy meal plans: Quick, convenient dishes delivered straight to your home or office to help you smash your wellness goals, stress-free. Looking to kickstart your healthy regime? Look no further than these top meal plans in Hong Kong below.
Nosh
Launched in 2015 with the goal of "making food delivery better and healthier," Nosh champions premium ingredients and hearty, predominantly western dishes, such as chia puddings, frittatas, grain bowls and salads, while offering increasingly flexible meal plans. There's also a separate menu Nosh Veggie — that's right, fully plant-based meal plans with a few Asian dishes on offer, such as Tofu Bibimbap and Japanese curry. The brand offers single meals via Deliveroo or with meal plans lasting from three to 20 days, ordered via credits that you can use anytime over a 30-day period.
In light of the changes brought on by CoViD-19, Nosh has also rolled out new features that provide more choices for the diner at home: Users can see an online weekly menu with photos ahead of time to see what's on offer in upcoming weeks, as well as choose the new skip-a-day function should they wish to have a 'cheat day'. Each dish also has simple average macros calculated, which is a plus for those watching their carb, protein and fat intake.
Deliveries are made Monday to Friday, dropped off at your address between 7–9:30am.
Looking for something healthy for an office get-together? You might want to consider ordering from Spoonful — Nosh's parent company — which offers nutritious dishes across different cuisines, such as Rustico (Italian), Sesami (Japanese), Ga (Cantonese), Naam (Thai) as well as Nosh, all for discounted corporate rates. We also recently tried a taste of Sesami's seared tuna and cold ramen salad, which was clean, appetising and didn't plunge us into a post-lunch food coma.
Dishes to try: Steak burrito bowl with cold side slaw from the Balanced Diet menu; Chicken with black beans and brown rice with guac.
Price: HK$216 per day (for the 10 day plan) gets you three meals plus a snack daily.
Not for: While Nosh can accommodate for certain allergies, it may be harder to stick to these recipes for those with dietary restrictions or are trying to follow a specific diet plan such as Keto, Paleo or Whole30.
Nosh, 6 Sun Yip Street, Chai Wan, Hong Kong, +852 2388 1999
Eatology
Every new customer at Eatology starts the process off with a consultation to create a tailored programme that fits your body type and your goals. Customers also get a free nutritionist consultation for every two weeks of meal plan purchased.
There are a number of menus available, from the F45-approved challenge programme to complement your training at the gym, to Ketogenic and Paleo diets; Asian meals to gluten-free low carb programmes; Vegetarian and vegan options to simply a menu geared at lighter eating.
Eatology is also the first meal plan purveyor in town to offer a diabetes-friendly Mediterranean diet, 'Balanced Living' programme, consisting of plenty of fruits and vegetables, rich in omega-6 and omega-3s and come packed with organic superfoods and nutrients.
What's useful in the ordering process is that you're also able to tick your dietary requirements — avoiding certain proteins like beef or pork, for example, are easy — while certain restrictions such as going dairy-free or gluten-free will incur a weekly charge of HK$35.
All meals are delivered fresh daily in compostable Vegware and recyclable plastic, with cooler bags that are returnable to your driver the next day. Enclosed menus sheets state the calories and macros of each dish.
Dishes to try: Smoked salmon and herbs with scrambled organic eggs on whole wheat toast; grass-fed chilli con carne; Italian grass-fed beef meatballs with organic porcini toasted buckwheat and Marinara sauce.
Price: Starting from HK$368 per day gets you three meals and a snack, clocking in at 1,200 calories for the leanest option. Free delivery across Hong Kong Island, and delivery charges for Kowloon, New Territories and the Outlying Islands vary depending on distance.
Not for: For those not used to eating clean — Eatology's dishes are more geared for those committed to a health-first approach with nutrient-dense ingredients, so gourmands jumping straight from Michelin dinners and gut-busting steakhouse meals might feel all the more tempted to reach for their favourite condiments once in a while.
Eatology, Unit 4G, Hong Kong Industrial Building, 444-452 Des Voeux Road West, Hong Kong, +852 2368 6331
Food Folk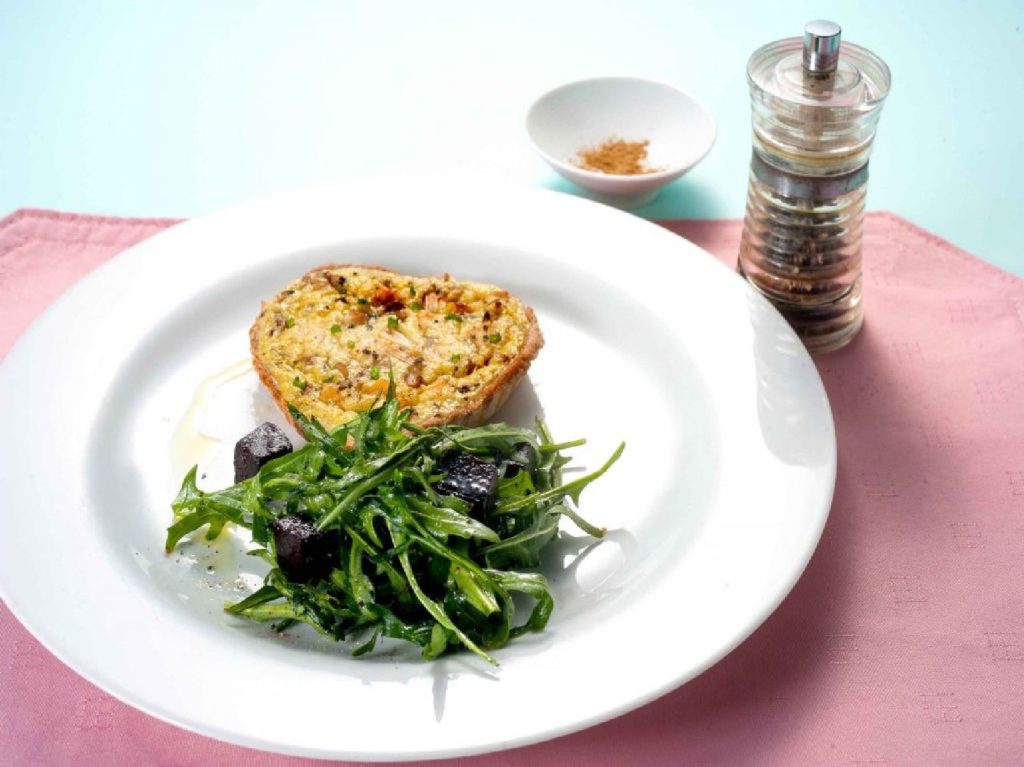 Founded by entrepreneur Marilyn Santiago (who previously set up Superhelper Ltd, to help train homes on basic cooking and cleaning), Food Folk provides nourishing meals based on an initial questionnaire to find out your personal goals.
The brand follows a traditional diet of healthy fats, pastured animal protein and non-GMO vegetables. It's also unique in that, besides the traditional ordering system, there is also an option for the Nourished Meal Programme which offers a one-on-one health coaching session to determine the macros of the food delivered that week and holistic advice on goal setting in health, relationships, career, spirituality and physical activity. Based on these recommendations, the in-house health coach — Mayuri Punjabi, whom we previously consulted with on the Whole30 regimen — then assigns a meal plan which includes breakfast, lunch, dinner and two snacks.
We tried items belonging to a low-carb diet, including a gluten-free almond crust spinach mushroom quiche with chickpea kale salad, and the vegetarian gluten-free lasagna with side vegetables. Both were healthier versions of two well-loved comfort foods — quiche and lasagna — which wasn't what we would have expected from a low carb option. Both came with sauces that didn't add extra calories, and the meal sizes were quaint yet filling and packed with nutritious vegetables. We also tried the Provençal chicken whole wheat wrap which was quite dense in content but tasted fresh and full of nutritious ingredients and greens.
The packaging comes in biodegradable and recyclable cardboard boxes in line with the brand's sustainability philosophy.
Dishes to try: Almond crust spinach mushroom quiche; vegetarian gluten-free lasagna; Provençal chicken whole wheat wrap.
Price: Single dishes from HK$75; Meal plans start from HK$700 for the five-day plan (HK$140 per day for two meals), with free delivery across Hong Kong Island, and a weekly delivery surcharge of HK$50 for addresses in Kowloon and New Territories.
Not for: People who want meals delivered every day — dishes are delivered between 9am–noon, three times a week on Monday, Wednesday and Friday, whilst those on the Lunch- and Dinner-only five-day plan will get meals delivered on Monday and Wednesday only.
Food Folk, Unit A, 14/F Derrick Industrial Building, Wong Chuk Hang, Hong Kong, +852 3594 6111
Bain Marie
Always on the hunt for nutritious lunches? Bain Marie's mission is to deliver convenient and healthy meals whilst ensuring it does its part with sourcing sustainably. It commits to a zero-waste philosophy and doesn't work with plastic — instead, they deliver the meals in reusable glass jars which are picked up by the courier after a few days to ensure customers can continue to use them.
Chef Guillaume Séjourné cooks healthy French food with homemade flair. A three-course meal is very reasonably priced at HK$120, with items currently on the menu including low-carb quiche in a jar, lamb moussaka, mushroom tortellini and more reworked recipes of hearty restaurant favourites. We tried highlights such as a light and refreshing roasted pumpkin salad, a hearty marinated duck breast salad with crunchy vegetables and a surprisingly decadent chocolate cake — which definitely felt more like a treat for cheat day (Customers can opt to cut the dessert if they so wish). There's a definite taste of home-cooked satisfaction as the meals are made fresh daily and delivered warm at your door, at your office or at home.
Bain Marie delivers to most of Hong Kong Island and only select office areas in Kowloon (ICC, Tsim Sha Tsui and Kwun Tong), with meals arriving between 11:30am–1:30pm.
Dishes to try: Roasted pumpkin salad; marinated duck breast salad with crunchy vegetables; chocolate cake.
Price: Set lunches start from HK$105 for two courses, HK$120 for three courses — you can also order à la carte with starters and desserts at HK$35 and mains at HK$95 each.
Not for: Those looking for a comprehensive meal plan. Bain Marie is only offering meals for lunch at the moment.
Bain Marie, Unit 427, Block A, 55 Hoi Yuen Road, Kwun Tong, +852 6465 1069
Nutrition Kitchen
With a keen focus on healthy meal deliveries for gym junkies or general wellbeing, Nutrition Kitchen serves a variety of nutritional menus to cater for different dietary requirements. Customers select their desired goal — either to lose weight or build muscle — and the meal plan is designed according to their existing activity level. To order, first you choose the meal plan, then the number of meals (two to three per day plus any sides), then input your delivery details — super simple.
We tried a few of the meals, with favourites being the parmesan meatballs with spaghetti and zucchini noodles — which used whole wheat spaghetti for a more rustic flavour — and the poached eggs with sliced beef tenderloin. Surprisingly, the beef tenderloin was still very tender even after hours of keeping it in the fridge, whilst the eggs were still runny after being microwaved. We were also excited for the sesame crusted tuna with udon noodles, but were slightly disappointed as the tuna was a bit chewy after being reheated — it is a very difficult dish to keep in its best condition, hours later, after all.
All the nutritional information is printed on the front of each box in case you want to track your daily intake. Generally, the meals weren't too carb-heavy and the generous variety means you won't be bored with the dish options. Delivery arrived early every morning at the doorstep (around 6am) so it was ideal for pre-work carrying. There is also an option to add on snacks and salads to the meals—the Barebells protein bars are a perfect pre-gym boost of natural sugar.
Dishes to try: Parmesan meatballs with spaghetti and zucchini noodles; poached eggs with sliced beef tenderloin.
Price: HK$237 per day (for the 10-day small-sized low-carb plan) includes breakfast, lunch and dinner.
Not for: New Territories residents (except for Tseung Kwan O) — it's not in Nutrition Kitchen's catchment area as of yet, but with deliveries to Hong Kong Island and Kowloon made in the early morning between 6-7:30am, if you work in those districts you could always order straight to your office.
Nutrition Kitchen, 88 Connaught Road, Central, Hong Kong, +852 5192 1292
F45 Challenge Meal Plan
The popular global circuit training gym F45 has also launched its own nutrition programme — the F45 Challenge, an eight-week transformation with healthy dishes that are designed to complement your workout regimen. In Hong Kong, F45 Challenge provides nutritionist-designed menus that are available for pick up directly from the studios. Meals progress through four phases, from properly fuelling the body to improving gut health, with each phase meant to educate members about holistic wellbeing. Customers can choose between five-to seven-day plans, with pescatarian and vegetarian options available.
We tried the Turkish scrambled eggs with olives which was flavourful yet light in calories, then the Mexi Snack Bowl which included beans, corn and chopped tomatoes which we put in a wrap. The cacao Bliss balls as a snack was our favourite, a tasty midday nibble to boost energy at work.
For those looking to amp up their lean protein intake, F45 Challenge also sells pre-packaged sous-vide, hormone-free chicken breasts (HK$150/5 portions), which make meal prepping at home quick and easy — just reheat, slice and top your greens or grain bowls.
Dishes to try: Turkish scrambled eggs with olives; cacao Bliss balls.
Price: From HK$300 per day (for the five-day plan), which includes three meals and two snacks.
Not for: Those who need to have their meals delivered — the F45 Challenge is currently only offering studio pickups.
F45 Challenge, various locations city-wide
Black Garlic
Although Black Garlic isn't necessarily a meal plan, the delivery service instead adopts a focus on nourishing home-cooked meals and brings healthy rice bowls and breakfasts to offices and homes. Serving dishes influenced by Asian cuisine, the menu changes every day and includes four mains to choose from, two vegetable selections, house pickles and condiments — each bowl comes with one main and one veg, with additional toppings available at extra cost. While certainly not the same as following a calorie-restricted diet, this would be more ideal for those looking for a balanced, nutritious lunch option.
The brand is available on Deliveroo Editions and has recently launched a grab and go outlet at Three Pacific Place with further plans to expand its retail locations. Corporate delivery is also available.
Dishes to try: Thai green curry snapper with rice; black garlic consommé beef brisket with brown rice; Mapo cauliflower with Japanese chilled eggplant.
Price: From HK$68 for mains, HK$38 for sides.
Not for: People with strict nutrition goals or looking to follow a certain diet plan.
Black Garlic, B3/F, Shop 6, Three Pacific Place, 1 Queen's Road East, Hong Kong, +852 5707 2036
Pinnacle Eat
Another fitness-focused meal plan, Pinnacle Eat, is from Pinnacle Performance Gym and serves calorie-controlled meals. You can opt for one or two meals delivered daily, from Monday to Friday. The menu changes on a weekly basis, and always features meat, seafood and vegetarian-friendly options. Expect a good mix of Asian and Western recipes and calories counted (and priced accordingly) for male and female portions.
Meals arrive in biodegradable cardboard boxes, with detailed nutritional information — including calories and macros — printed the front of each packaging.
We tried the chicken pesto bowl which was a hefty portion of pure chicken, broccoli, grains and of course, pesto, a healthy mix of complex carbs and protein to keep you full for a few hours.
The vegan goulash was also a large meal for this writer's typical eating habits, serving enough for two portions' worth of food, with a side of light couscous accompanying the main.
Free delivery is available for those who purchase at least two meals a day, but delivery is limited by district, typically on the Island line. Email eat@pinnacleperformance.hk to learn more.
Dishes to try: Chicken pesto bowl; vegan goulash.
Price: From HK$95 per meal for the 100 meal package (HK$9,500) to HK$125 per meal for the 20 meal option (HK$2,500).
Psst… mention Lifestyle Asia for your first order to get a 10-meal trial package for HK$95–105 per meal (depending on your chosen portion).
Not for: Those who live in Kowloon or New Territories.
Pinnacle Eat, 7/F, Morrison Plaza, 9 Morrison Hill Road, Wan Chai, Hong Kong, +852 9736 0136; Order via eat@pinnacleperformance.hk
Paleo Taste
For those who don't know, the Paleo diet — also sometimes referred to as the "caveman diet" — takes you back to our ancestors from the Paleolithic era, where most of the food we have now didn't exist. That means eradicating dairy, grains, flours, refined sugar, processed foods (you get the gist) all items that didn't exist before the agricultural revolution.
It's actually a very simple diet which still includes the necessary nutrients from vegetables and meat. With a menu designed by a certified nutritionist, Paleo Taste targets your personal fitness and dietary goals by following the Paleo guidelines, and typically serves a selection of substitutes to your favourite carbs — think cauliflower rice and zucchini noodles — so you can still enjoy your favourite recipes without compromising (too much).
You can order either single meals for lunch and dinner or opt for the Paleo 30-day diet, with single meal-per day options (if you're just looking to ensure a healthy lunch or dinner) as well as full-day meal plans.
Dishes to try: Shrimp with cauliflower mash; Mexican chili con carne with broccoli rice; chicken lasagna.
Price: From HK$75 per day for one meal a day plans (HK$1,575 for 21 days), to HK$355 per day for three meals a day totaling 2,000 calories.
Not for: Those looking for more targeted nutritional advice beyond calorie count.
Paleo Taste, +852 5441 3000
Youni
Pancakes for breakfast? Why not? From Goji Studios comes Youni, the gym's healthy food brand, which not only offers grab and go, but also a dedicated meal plan for clients who want a fuss-free solution to hit their fitness goals. Customers can choose meal plans ranging from one week to 24 weeks, with each meal customisable based on half-day or full-day ordering.
Set your goal from getting lean, a balanced diet, or to build muscle. Each meal box is targeted to provide 410–500 calories, with 20–30 percent carbs, 30–40 percent protein and 30–40 percent fats, with recipes that are more akin to what you'd find dining out — think duck breast with red wine and orange jus, scrambled eggs with sausage, guac and roast potatoes, and more.
Delivery is optional at an additional charge or clients can pick up the meals from one of the eight locations across the city.
Dishes to try: Healthy three-cup chicken with seasonal vegetables and quinoa rice; Duck breast with red wine and orange jus, seasonal vegetables and pasta.
Price: Starting from HK$185 per day for two meals, two snacks and a soup for the 24-week plan.
Not for: People who have specific diet plans such as Keto or Paleo, or want to keep track of their exact nutritional intake.
Youni, various locations city-wide.
Easy Food
Easy Food is a meal planning service in Hong Kong and offers a selection of menus from two days to one month depending on your commitment. Choose between five diet plans: Low carb, balanced diet, Paleo, Keto or vegetarian. The brand also offers 90-minute express delivery across 24 districts for those who decide last minute.
With the choice of 1,200-, 1,500-, 2,000- and 2,500-calorie meal plans, featured dishes include items such as a low-carb bacon muffin with broccoli for breakfast, and for mains, there's meatballs with marinara sauce and steamed veggies, grilled coconut lime chicken with broccoli, Vietnamese ginger beef with roasted egg plant and beans, as well as an array of salad bowls, fruit, nuts for snacks — there are even 'cheekier' dishes such as pizza slices and glazed wings offered to keep things interesting.
Dishes to try: Chorizo and spinach omelette, grilled coconut lime chicken with broccoli, Mexican Benedict.
Price: Single meals from about HK$80, full day meal plans range from HK$188 including three meals to HK$440 including three meals and snacks (in the Ketogenic Light meal plan)
Not for: Those who prefer more guidance in their nutritional selection.
Easy Food, +852 5600 0421
Mealthy
Self-proclaimed 'gym out of a gym' food delivery service Mealthy cooks up healthy meal plans for those really keen on for a physical transformation. The results-oriented meal preps are ordered online and delivered frozen so that it can last longer. Each dish is made with fresh ingredients and made in Hong Kong with no MSG, artificial flavourings, colours or preservatives.
Developed by a team of avid gym-goers themselves, Mealthy's plans are laser-targeted at helping you achieve fat loss or muscle gain goals, with precisely portioned dishes that are prepared as clean as possible — meaning no unnecessary seasonings or flavourings used. Think simple dishes such as lemon-baked salmon fillet with cauliflower and corn, or pan-fried pesto chicken breast. Soups and stews, as well as vacuum-packed sous vide proteins, are also available as add-ons. Vegan meal plan options are also available.
Meal plans are delivered twice a week on Monday and Thursday across all of Hong Kong, with minimum orders of 20 meals over two weeks.
Dishes to try: Pan-fried barramundi with crushed tomato sauce, sautéed zucchini and mixed vegetables, beef meatballs with soybean fettuccine.
Price: The minimum order is HK$1,700 for 20 meals over two weeks — chalking up to HK$170 per day for two meals a day.
Not for: Those looking for a fancy gourmet meal — the simple recipes let the natural flavours of the ingredients do the talking here. Also, with the minimum order of 20 meals per two weeks, you know have to be committed for at least a fortnight.
Mealthy, +852 9565 7765