While Central boasts many great spa options for a quick, post-work relaxation sesh, at the weekend we like to travel farther afield to feel more of those holiday vibes. (After all, as much as we'd like to, we can't go jet-setting around the world every weekend). For a day dedicated to total rest and relaxation, your best bet is to head to one of Hong Kong's luxury hotel spas, many of which offer deals that encompass a premium spa treatment, use of the extended spa facilities, and perhaps even lunch or afternoon tea to complete the experience.
On the Kowloon side, Hotel Icon is one of our favourite destinations for a weekend retreat, harbouring a world-class spa, rooftop swimming pool and excellent dining options all under one roof. Located in a corner of East Tsim Sha Tsui a stone's throw from the harbour, the hotel feels far removed from the city buzz, yet is still easily accessible (take Exit P2 from the East TST station and it's a 5-minute walk along Mody Road).
To trial their new spa plus seaberry afternoon tea experience, we arrived early on a Sunday morning and headed up to Angsana Spa on the 9th floor, ready to soak in a traditional Javanese-style massage. A sister brand to the luxury Banyan Tree Spas, Angsana is known for their focus on all-natural ingredients such as native flowers or fruits, with all therapists receiving training at the Banyan Tree Spa Academies to ensure the same high quality across all locations.
We were welcomed into the foyer with a cup of steaming butterfly pea flower tea, its earthy and floral aroma providing the perfect refreshment after the walk from the station. While smaller than other high-end hotel spas around the city (you take your post-treatment refreshment in the main foyer rather than a separate relaxation area), the main treatment rooms and quality of therapists is right up there with the best in town. Also, we were surprised to find that treatments here are relatively more affordable, with 30-minute massages starting at just HK$500.
Each room feels like its own calm sanctuary, boasting a natural palette of light stone and wood with the signature Banyan Tree touches, from aromatherapy oils and burners to plush bedding and bathrobes. After giving my feet a gentle scrub, the therapist left the room and gave me a few minutes to get ready for the massage treatment. In lieu of a central changing area, the treatment room is fully equipped with a locker, toilet and shower facilities for use before and after the massage.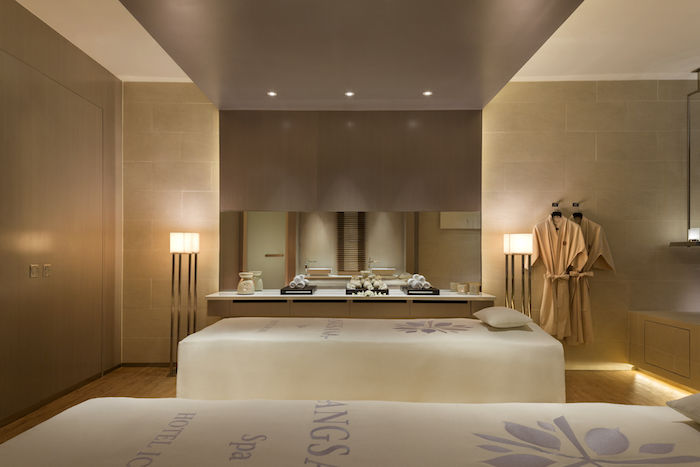 Once ready, I lay face down on the bed as the masseuse got to work relaxing the tension in my body with fluid, firm strokes. Adapted from Balinese techniques, the Javanese massage works to relieve joint and muscle pain through a combination of kneading and rolling techniques, as well as the use of deep thumb pressure. A stronger massage than most Indonesian massage styles, I experienced a bit of discomfort during the moments of deep thumb pressure, especially around my back and shoulders, but the rest of the massage lulled me into a blissful state of relaxation, with the masseuse giving each part of my body its due attention from the top of my head to the soles of my feet.
The use of a variety of herbal oils increased the soothing component of the massage, with key essential oils including lavender, ylang ylang, geranium and jasmine. With the aromatherapy scents in the air and the soft, warm bedding, I gradually fell into a state of slumber as the therapist moved on from my back and shoulders to my arms, legs, head and feet. A sound of three gongs signalled the end of the massage, and I woke up in a complete state of zen, helped along by a cup of soothing hot ginger tea and fresh fruit skewers.
Before heading up to the afternoon tea, I made a point of checking out Hotel Icon's outdoor pool. While not complimentary with the spa and seaberry package, the hotel has just launched a separate "Sunny Greeting Day Package," opening up the pool to non-hotel guests for the first time. Priced at HK$2,200 for one person and HK$4,200 for two, it includes pool and gym use for 2 hours, and a 2.5-hour spa session with a 90-min massage, 60-min facial and 30-min refreshment or relaxation session.
Located on the same level as the spa, the open-air heated swimming pool and sundeck offers up panoramic views of the harbour from a row of plush sun-loungers. The pool is accessible from the locker room and also the recreation lounge, where a fully stocked bar allows you to sip on Mai Tais and mojitos as you relax by the pool. It was easy to spend a few lazy hours of lounging here, soaking up the sun and swimming a few laps to work up an appetite.
Ready for refreshments, I headed up to Above & Beyond on the 28th floor for the seaberry afternoon tea, which comes complimentary with the spa treatment. Unlike the spa and pool, the restaurant was packed with merry afternoon tea-goers, chattering away and snapping pics of the two-tiered golden tea set dotted with an array of sumptuous Chinese-style dim sum and pastries.
The starring ingredient on the menu is seaberry (also known as sea buckthorn), a superfood that's packed full of vitamins and is said to have the health benefits of improving blood circulation, skin hydration, promotion of collagen production, stress relief and anti-aging. The orange-hued berries themselves are sour and tart, sort of like a cross between a mango and pineapple without the sweetness.
For chef Paul Tsui's seasonal afternoon tea, the seaberry is used in everything from lemon roll tarts to tapioca with mango pudding, adding a burst of nutrition and fruit flavour in the sweet and savoury bites. From the savoury side, our favourite items included the smoked egg with oolong tea leaves with its soft-set centre; the steamed seaberry and coconut milk cake in alternating layers of white and yellow; and the fried pumpkin balls, with a cute little cracker stem to resemble miniature pumpkins.
Meanwhile, the tempting sweets featured mango choux puff with seaberry, seaberry tapioca with mango pudding, and a 66% dark chocolate bon bon which cracks open to reveal a soft centre of, you guessed it, more seaberry. Feeling all the more virtuous for the intake of vitamins with our superfood-packed afternoon tea, we decided to skip the Champagne (HK$78 for a glass of Remi-Amelie Brut NV) and opted instead for the freshly brewed loose-leaf tea, settling on lavender-chamomile green tea which lent a lovely floral aroma to the whole experience.
If we thought the views were great from the pool, the panorama from the 28th floor offers an even better birds-eye view of the city, which, combined with Above & Beyond's excellent Cantonese kitchen, explains the packed house on a Sunday afternoon. If you're heading to Hotel Icon just for afternoon tea, make sure you get your bookings in early (HK$438 plus 10% surcharge for two persons with tea and coffee).
Overall, at HK$2,056 for the whole experience for two, Hotel Icon's spa plus seaberry afternoon tea promotion is certainly a value-for-money deal for those looking to spend the day getting pampered in an urban sanctuary that's available right in our own backyard. We'd recommend grabbing your S.O. and making a day of it, with spa, sun and seaberries summing up to the perfect weekend outing.
Spa and Seaberry Afternoon Package at Hotel Icon
Date: Through 30 September 2017
Price: HK$2,056 for two persons with 60-minute massage plus afternoon tea at Above & Beyond; call +852 3400 1318 or email book.restaurant@hotel-icon.com
Hotel Icon, 17 Science Museum Road, Tsim Sha Tsui East, Hong Kong, +852 3400 1318