Inspired by "a kind of golden hour one remembers for a lifetime", La Prairie's Pure Gold Collection seeks to recreate its unique radiance and impart this on the skin, as if lit from within. Brought to life by Hong Kong artist, Carla Chan, art-lovers will be given a special preview in a video installation that is set to exhibit at Art Basel Hong Kong 2021 from 19-23 May.
Slithers of golden light bouncing off snowy peaks and lofty summits, an hour when beauty is elevated to grace — and a fleeting moment that inspired a brand new collection. Famed for its legendary roots in Montreux, Switzerland, coveted Swiss skincare brand, La Prairie was conceived in 1978, ever since mimicking the beauty and properties of the snow-capped Alps and continuously coming up with unique, luxury formulas based on its revolutionary cellular therapy. This collection in particular emits a radiance like no other. Encompassing the unique glow of golden hour in each and every product, it has been created with the notion that beauty reaches even greater heights when the sun begins to sink low in the sky, and rays sweep across the mountain face — promising an unmistakable luminosity, akin to golden hour in the crown of the Alps.
In a tireless pursuit to light up skin from within, the acclaimed house has infused its latest, innovative 'Pure Gold Collection' with one precious and rare ingredient that transmits undeniable beauty: gold. Notoriously a noble and esteemed metal, gold exudes lustre, withstanding the passage of time and most notably, is brimming with unique properties found in no other mineral.
Ever wonder what gives gold that alluring, shimmery hue? In a nut shell: electrons absorb energy-rich blue light and reflect contemporary yellow light as a warm tone, similar to glowing and radiant skin. Not only reflective at a submicron scale, a large fraction of gold atoms are concentrated at the particle's surface, which then allows for the attachment of active ingredients — all of which are then released when interacting with the skin.
Working its magic on skin that is fragile, thin, dry, rough, dull, and deficient in nutrients, La Prairie has developed a new and exclusive 'Pure Gold Diffusion system', that encapsulated this natural process. The Pure Gold Diffusion System works in a three-peak action sequence: firstly, gold particles are deposited onto the skin's surface, instantly radiating the skin, secondly, an intense infusion of replenishing active ingredients in the free form follows. Lastly, upon applying the product, the ingredients immediately penetrate skin cells before a steady release of the replenishing active ingredients attached to submicron gold particles completes the process. Once released, the submicron particles penetrate into the skin in a delayed infusion to ensure that optimal levels are maintained in the skin and further support long-term skin reconstruction.
The collection consists of a Pure Gold Radiance Concentrate (30ml), Cream (50ml) and Eye Cream (20ml), all of which provide a multi-sensory experience upon application. Melting into the skin, the formulas are delicately scented but rich in replenishing and restorative ingredients that over time, improve the structure of the skin.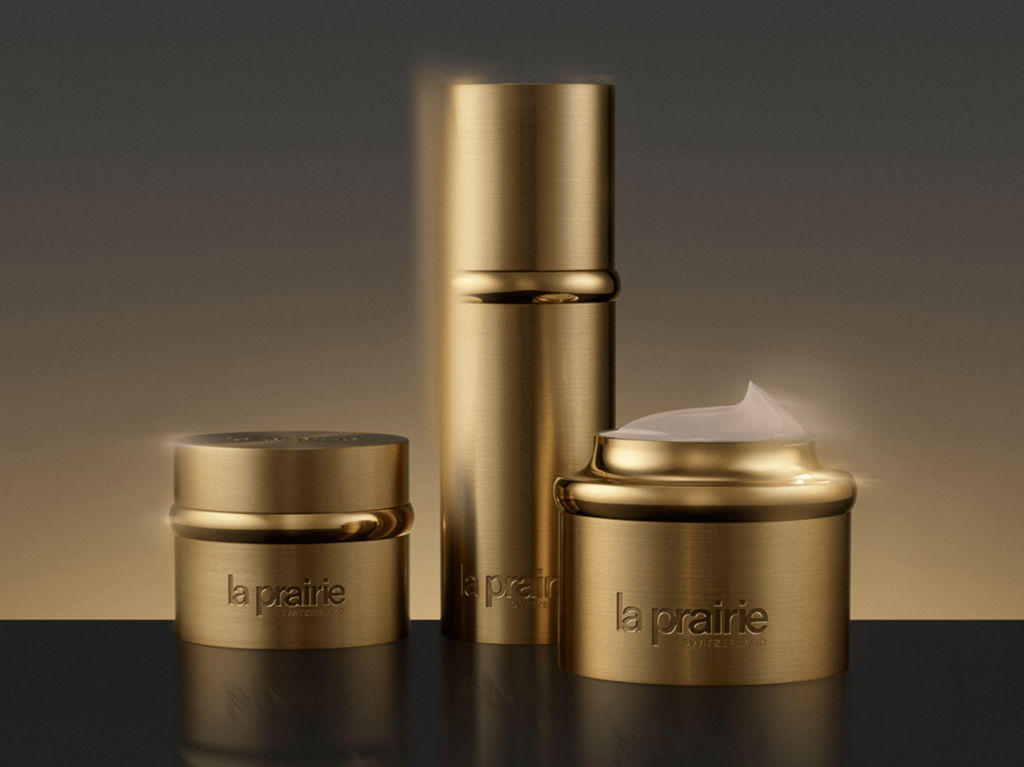 To celebrate the launch of La Prairie's Pure Gold Collection, the house has collaborated with Hong Kong artist, Carla Chan to bring to life a video installation that is set to exhibit at Art Basel Hong Kong 2021 in May. La Prairie has been linked to the world of art from its beginnings, proudly partnering with Art Basel fairs in Switzerland's Basel, Miami Beach and Hong Kong, working with esteemed artists to bring the brand and its values to life. Throughout the years, each artist has created an artwork in keeping with their practice, all offering an original point of view on La Prairie's 'savoir-fare' and expertise, and resonating with the house's pinnacles of time, beauty and science.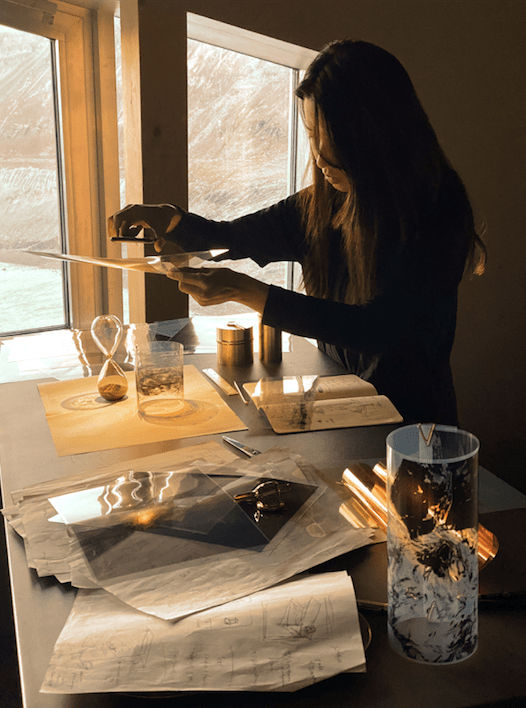 Obtaining a Bachelor of Arts from the School of Creative Media in Hong Kong, Carla Chan works with a variety of media, considering art as "a medium with infinite possibilities for artistic expression." Chan's vision for La Prairie is celebrated in the form of video — a first for La Prairie. In this new artistic venture, Chan depicts the Monte Rosa Hut, an architectural jewel in the heart of the Swiss Alps. The video reflects on the majesty of the environment and the theatre of countless variations of landscapes and the cycles of light. By recreating the 'golden hour', Chan "offers a moment of profound beauty that invites the viewers to reflect on the world that surrounds them. Time and space merge, providing a sense of the evasive and eternal, all in one singular moment."
The video installation will then be available for public viewing at Art Basel Hong Kong from May 19-23, 2021.