Summertime is here: If you're on the lookout for swimwear, you may want to think twice before you buy that new bikini. Even though two-piece swimsuits have reigned for decades, one-piece designs are having their moment right now.
While the traditional thinking is that one-pieces are for ladies who want to hide their bodies, the truth is that they can actually help accentuate various elements of your figure. With that in mind, we've rounded up five flattering one-piece swimsuits that will help you stand out this season, whether you're headed to the pool or beach.
(The products featured on Lifestyleasia.com have been independently selected by our editors. However, we may earn an affiliate commission when you buy through our retail links.)
High neck
By drawing the eye upwards, the high-neck design works wonderfully well at elongating your torso and making you appear taller. This black Rudi Gernreich swimsuit is made from a sculpting stretch fabric, and has a low back framed by contrasting white straps, creating an optical illusion of an even more slender frame.
One-shoulder
For those who want to show a little skin but still feel supported and covered, a one-shoulder design is the ideal choice. This Charlotte one-piece by OYE Swimwear features a nautical-inspired palette of navy, red and white, and a side-stroke style that is extremely body-flattering. To top it off, the hip area has also been cut slightly higher, giving the illusion of longer legs.
Bustier
Much like the fit-and-flare dress, the 50s-style bustier swimsuit will shape and enhance your curves with its moulded cups and supportive underwires, giving your body structure. Try this version by Dolce & Gabbana, which exudes a poetic charm, thanks to the painterly peony prints.
The wrap-around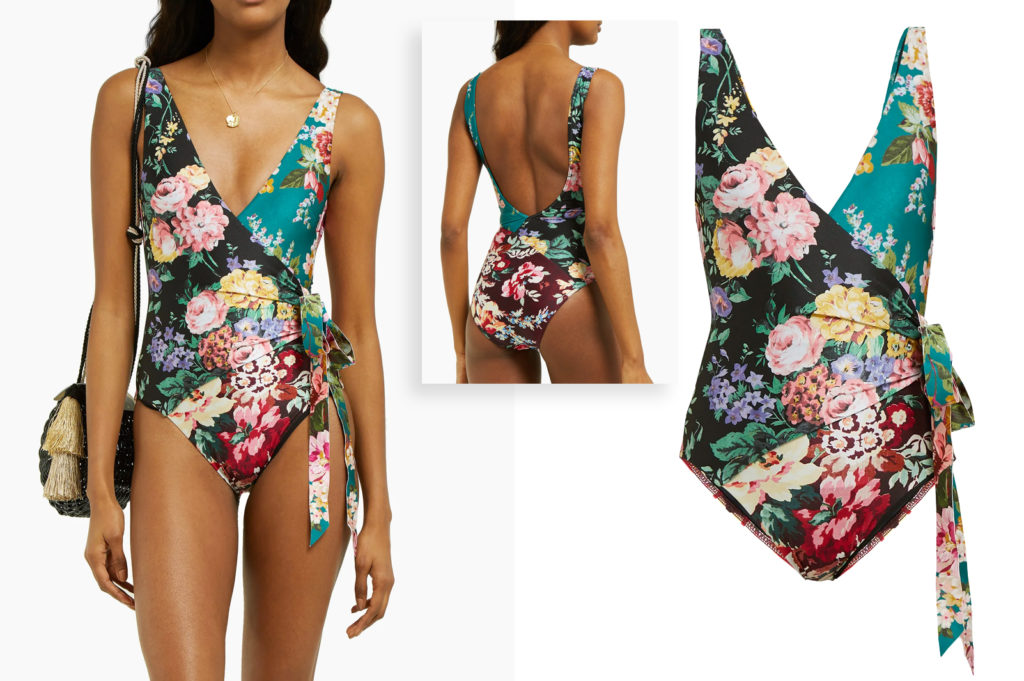 This timeless wrap-around style creates a fail-safe illusion of having a smaller tummy/waist. We adore this Allia swimsuit by Zimmermann, which is made from floral-print stretch fabric, with an additional cross-over front and elegant pattern in black, teal and burgundy.
Halterneck
One of the most flattering designs that complements almost all body types is the halterneck, which gives you a broader shoulder to balance out with your hips. We adore this Hamilton swimsuit by Odyssee for its clean, navy and cream palette and, most importantly, body-contouring design.
Jump To / Table of Contents