Amidst all the sartorial glamour, fashion week attendees in Paris found themselves confronted with an abyss at many of the shows.
That's what guests saw when they arrived at the dark amphitheatre that hosted Balenciaga's Fall/Winter 2020 show, in the midst of Paris Fashion Week. Upon taking their seats, however, they realised that the abyss was really a pool of water, one that flooded the runway and left rows of empty chairs submerged.
Then, the show began: models filed out in formidable, all-black ensembles. They were armoured in oversized coats and blazers with pointed shoulders resembling horns, their leather boots making splashes as they walked on water (it indeed would take a miracle to hold a fashion show in a future doomed by climate change). Above them, a giant screen projected nightmarish dark clouds and a sky on fire.
Welcome to the future, the Balenciaga show seemed to say. The end is nigh.
Of course, Balenciaga isn't the first brand to trade the runway for a waterway. The prescient Alexander McQueen pulled the same stunt in 2000, and more recently Saint Laurent created a similar spectacle beneath the Eiffel Tower. But creative director Demna Gvasalia's rendition was ominously potent, not least because it tapped right into the heart of our collective anxiety: climate change.
And it wasn't just Gvasalia whose mind was was occupied by the apocalypse this season. French designer Marine Serre, a protégé of the Vetements founder, filled her PFW slot with similarly environment-focused musings. For the first time, Serre's signature moon print appeared faded, as though burned away like the Amazon forests.
The print adorned dresses, outerwear and tailored pieces that were patchworked together with upcycled fabrics. (Yet another last-ditch effort by the fashion industry to slow down Earth's destruction.) Hoods and face masks protected the faces of models young and old, because nobody is exempt from the wrath of a mistreated Mother Nature. Serre drove that point home in her show invitation, quoting sci-fi writer Frank Herbert: "There is no escape – we pay for the violence of our ancestors."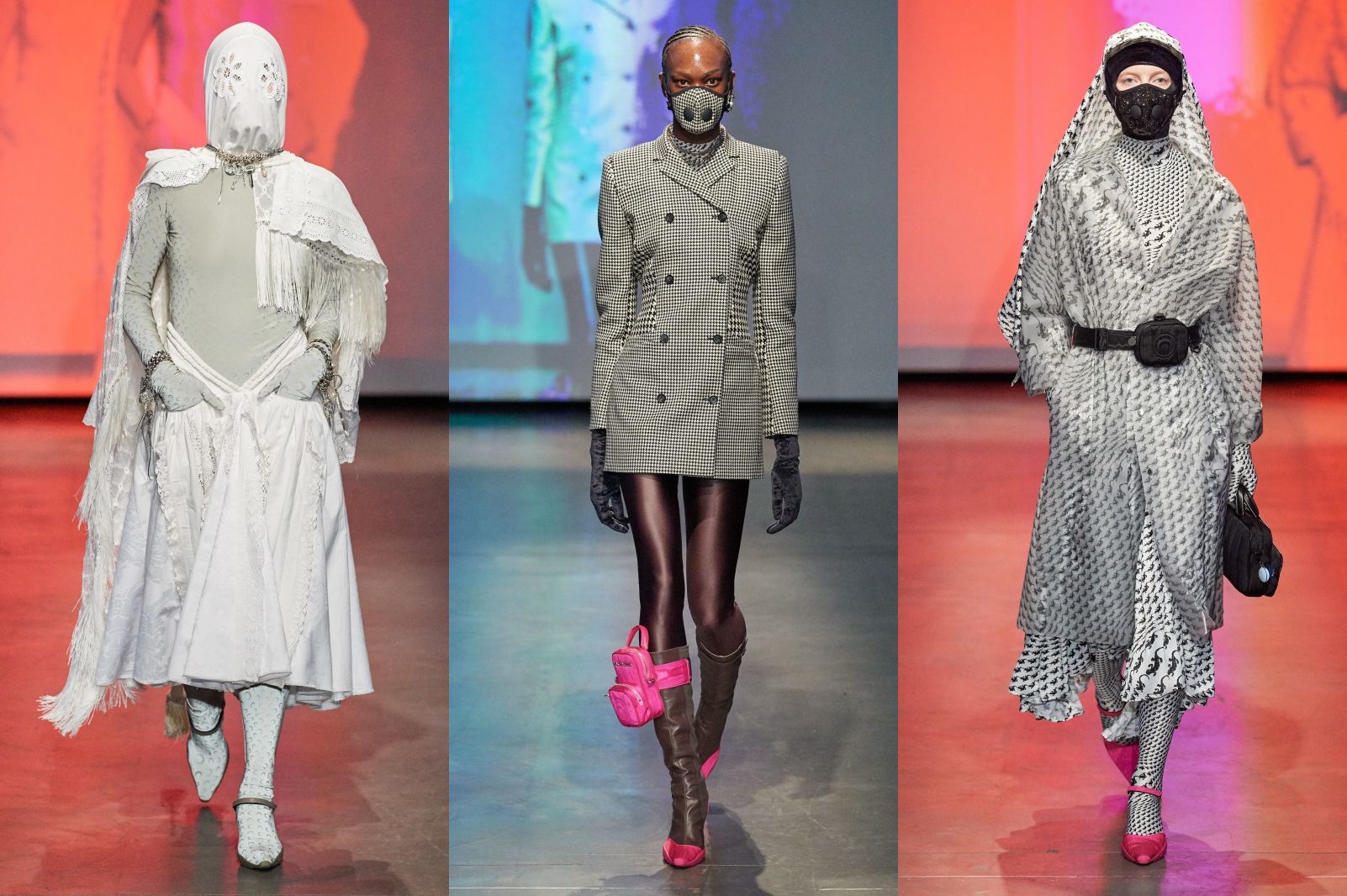 But it wasn't all gloom and doom in the fashion capital of the world. Rick Owens brought a dose of American optimism to Palais de Tokyo, his usual PFW venue, which he filled with white smoke. From it emerged his models, clad in the kind of clothes one would call 'futuristic" if they didn't have a bleak outlook.
There were larger-than-life leather jackets with sharp shoulders to rival the ones at Balenciaga. These were paired with recycled plastic platform boots, which elevated models just as high up as the shoes were zipped along the models' thighs.
Fashion-forward though it was, the collection strongly exuded the glamour of rockstars past. Think David Bowie, Owens' idol, whose iconic jumpsuit was referenced in the graphic lines of the knit dresses and outerwear pieces. These were mostly in neutral hues like black, grey and white, but Owens electrified his collection with several pieces in vibrant blue. The shade felt momentous when it appeared on one of the huge, show-stealing Moncler puffer capes that models were swathed in.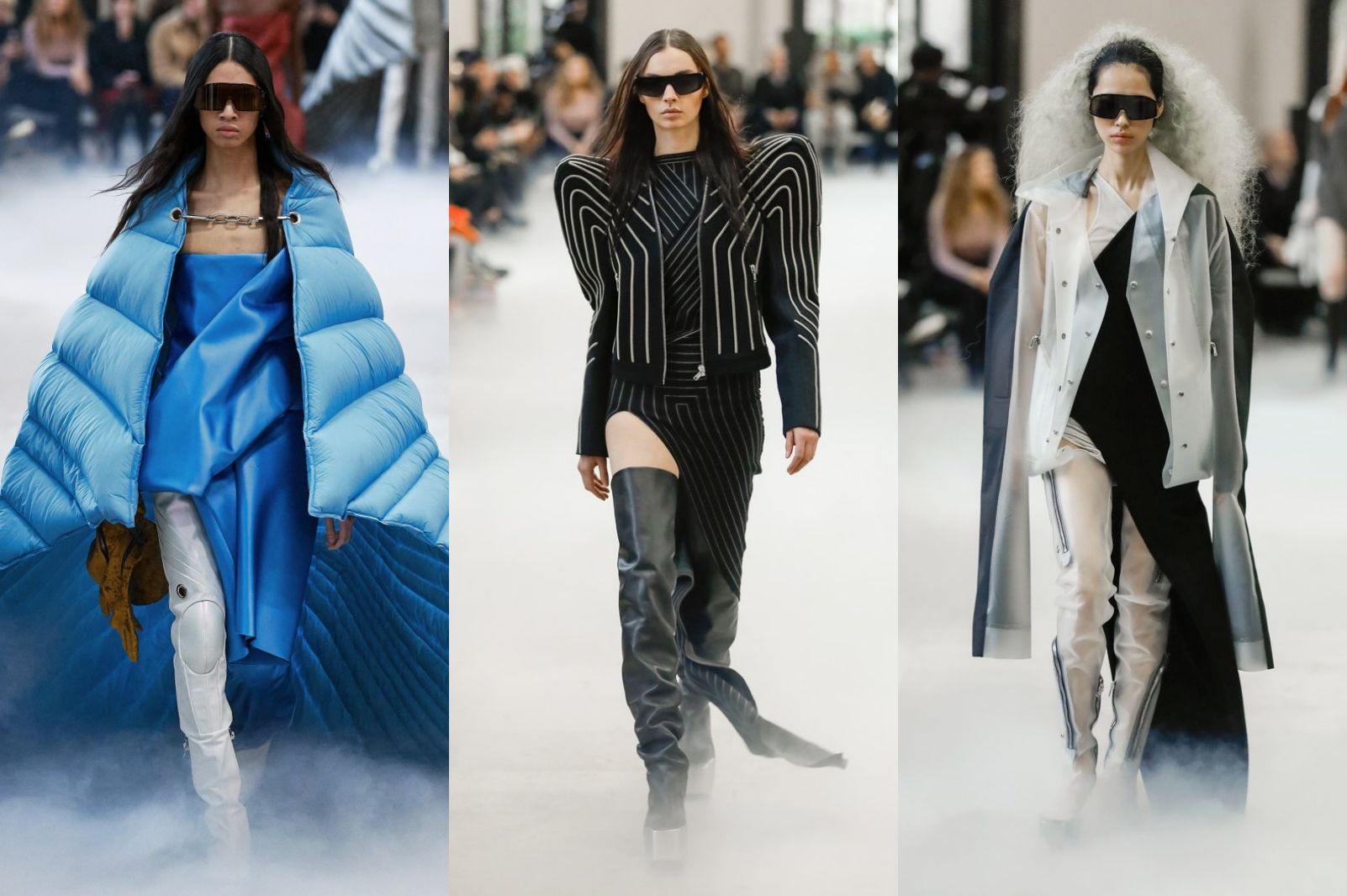 The message behind Owens' collection? "Enough of the doom!" the designer shared to the press backstage. "It was a reaction against doom… The most moral thing to do is to get yourself together and do the best with what you've got for as long as you've got."
Of all people, Kanye West inspired exactly the kind of resolve Owens was talking about with his last-minute Sunday Service at PFW. Ignore the fact that Kim Kardashian showed up in a full latex look almost too profane for a spiritual gathering, and you'd see the gratitude on the faces of guests who were touched by the 90-minute respite from our dystopian times.
And they truly are. The Earth's climate is just as tense as our political one. Wars are being waged while the coronavirus epidemic continues to claim its own share of victims. And the fashion industry, which had long been locked away in its ivory tower, has been brought down to face reality — masks and all.
The Chinese fashion press were absent this season. Brands have had to make do with livestreams to accommodate them. (Perhaps that's what prompted Chanel to hold one for the first time?) Others, like Prada and Gucci, have resorted to postponing or even cancelling their shows altogether. Will more fashion brands follow suit? And how long more until Fashion Week resembles the haunting image that Balenciaga's latest show left us with?
Perhaps, as Rick Owens said, we should do away with the doom and simply make do.
This article first appeared on Lifestyle Asia Singapore.