As Paris concluded its home stretch, the menswear tour through London, Florence, Milan and then Paris, rather confusingly known as Men's Fashion Week Spring 2019 — it actually took a little over a fortnight long — finally had its final bow (sort of, New York's pitstop will only start rolling in July).
Arguably, the season's showcase was one of the most definitive weeks in the history of men's fashion shows. No schedule in recent times was as reflective of the pivotal watershed of streetwear and the shifting of culture as this. In a historic turn of events, new names spearheaded the old guards of the industry (Virgil Abloh at Louis Vuitton, Kim Jones at Dior Homme), while seasoned up-and-comers opted to stage their shows in unfamiliar terrains (Martine Rose in an off-site North London cul-de-sar, Craig Green in Florence). Meanwhile, stoic masculinity was replaced with flexible renderings (Prada, Versace and Fendi skewed more queer eye than straight).
With a lot happening within the span of a short time, keeping up would require the depth of multiple tabs and windows. So below, we've rounded up a cheatsheet to the best of Spring 2019's menswear runways for your one-scroll ease.
(Main image: Adrien Dirand; featured image: Getty)
1
Kim Jones enlisted Kaws, Alyx and a Danish prince in his Dior Homme debut
Jones' inaugural Dior Homme outing was nothing short of phenomenal (watch the whole shebang here). As if roping in Ambush's Yoon Ahn to work on a confection of jewellery — from CD-logo stud earrings to chain necklaces and marble-set carabiners — wasn't enough, the artistic director commissioned New York artist Kaws to create the set and reimagine the house's iconic bee, as well as Alyx's Matthew Williams to imbue tiny John Galliano-era saddlebags, belts and caps with his signature rollercoaster seatbelt buckling. Also in tribute to his late Danish mother, Jones had Prince Nikolai of Denmark open the show, NBD.
2
Alyx held its first runway show in Paris
Collaborating with Dior Homme wasn't the only achievement Matthew Williams unlocked. In the span of four years, his Cali-inspired label has made headway from the streets to the fashion crowd's inner circle, i.e. A$AP Rocky to even Lil Miquela. In an apt progression, Alyx's debut runway show for its very-first dedicated menswear collection — which saw streetwear elevated into its most conceptual, gripping form — joined PFW's schedule and was attended by the who's who of the industry, including Kanye West and Virgil Abloh.
3
Virgil Abloh broke the Internet with a bro-hug (and thigh bags)
Abloh is the man of the hour. His major debut at Louis Vuitton painted a bigger picture that was less about groundbreaking garments, and more of a colossal change in culture. Abloh is the first black person to spearhead Louis Vuitton; he's a relative rookie without formal training; and he's received flak for iterative designs, but he knows full well that his appointment can be a beacon of hope for others. After presenting a sharper version of Off-White — loose suiting, hoodies and a steady stream of thigh-strapped mini bags — down his Insta-magnet rainbow runway which also doubled as a The Wizard of Oz metaphor, Abloh topped it off with a teary hug with his long-time pal Kanye.
4
Takashi Murakami was everywhere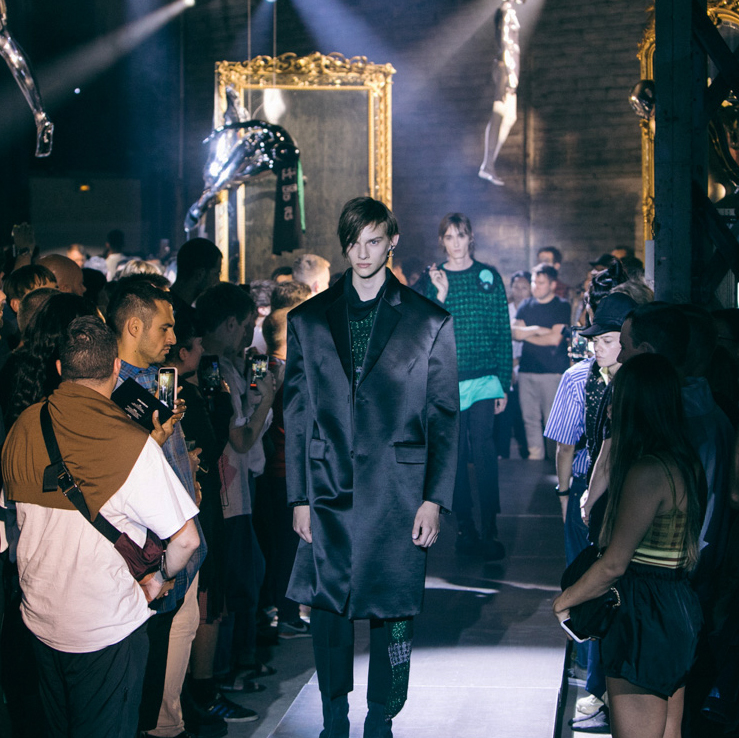 5
The homecoming of Raf Simons to Paris
After seasons of showing in New York to be close to the Calvin Klein HQ, Raf Simons announced his namesake label's return to its original PFW schedule. The designer opted for an off-piste venue, a rural warehouse turned into a techno club that's a 40-minute drive outside of Paris. No seats were laid out; everyone had to jostle with everyone for space — even the likes of Naomi Campbell, Kim Jones and A$AP Rocky. As for the clothing, Simons continued to explore the dark notions of vices — last season saw narcotic nuances, while this round explored youth's alcoholic tendencies. Silver cans wrapped in fabric resembled the plastic that cradles beer cans together, and garment details and earrings were inspired by ring-pulls.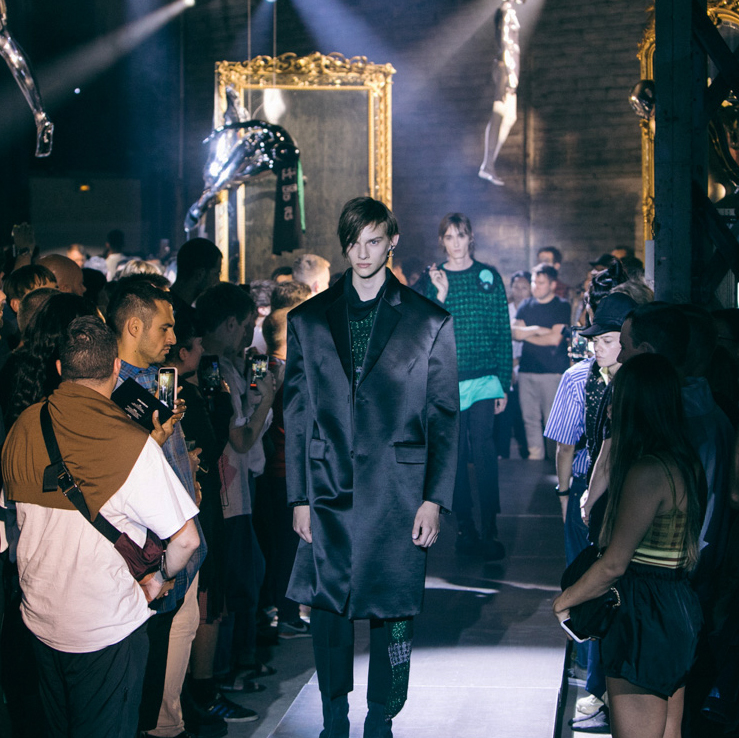 6
Alton Mason was the breakout model of the season
Twenty-year-old Alton Mason went from being a backup dancer for a performance with P. Diddy to an It-runway mainstay of all the major houses, from Fendi to Louis Vuitton. Away from the catwalks, the model exhibits a deft gender-neutral personal style that's aspirational to his 70k Insta-generation followers.
7
Maison Margiela launched a John Galliano podcast
As some would say, it's 2018; if your voice isn't on a podcast, do you even exist? Ahead of John Galliano's first Artisanal for men's show, Maison Margiela dropped a podcast titled The Memory of… With John Galliano. In his signature British drawl, Galliano waxed lyrical about his collection as dramatic drumming played in the background. It's worth 12 minutes 59 seconds of your day, even if you have no idea what he's talking about. Listen to it here.
8
Jacquemus menswear merch
Set in a surreally photogenic calanque in his native Marseille, Simon Porte de Jacquemus unveiled his very-first menswear range — summerwear inspired by ex-partner and rising videographer Gordon von Steiner — and also it seemed, his first merch in the form of a limited edition beach towel bearing the name of his collection Le Gadjo, which you can purchase here.
9
The new Berluti
New artistic director Kris Van Assche's official show debut for Berluti will only be held in January 2019, however, amid the pandemonium of fresh collections and shows, the French label revealed a brand new ultra-skinny logo emblazoned on its male human equivalent. We're sensing a Hedi Slimane-meets-Raf Simons oeuvre brewing in Berluti's atelier. We may be wrong, but we're counting down the six months nonetheless.
10
Prada and Fendi declared tiny man shorts are back in
Back-to-back, Prada and Fendi posited the relevancy of short-shorts in every gent's summer wardrobe next season. Miuccia Prada took a liking for barely-there buckled jorts (or denim shorts), while Silvia Venturini furthered the proposition with a more formal fabrication polished off with monogrammed accessorising.
11
Craig Green headlined Pitti Uomo
Never before had Craig Green shown beyond his English borders. But as a guest designer headlining Pitti Uomo in Florence, the London design renegade chose the Medici family's Boboli Gardens as his venue. It made perfect sense, as his technicolour walking sculptures looked very much at home within the grand collection of statues hidden behind a secret space.
12
A-Cold-Wall branched into performance art
Samuel Ross added depth and dimension to the rag streetwear A-Cold-Wall had become synonymous with, via a theatrical performance which required showgoers to put on the face mask, safety goggles and earplugs distributed at the entrance. In a possible metaphor of rebirth, a coven of dirt-covered beings ravenously tore apart a polystyrene monolith to reveal a red-covered naked man rising to shove the structure back. Watch the performance here.
13
Martine Rose stripped it all back to the bare necessities
Reserving St. Leonard's Square cul-de-sac, Martine Rose staged her street party in an intimate setting free of pretentious razzmatazz. Selected models were a cast of local boys, and residents of the neighbourhood were able to get a glimpse of the show through their windows. Rose's sartorial manifesto was designed as "a love letter to London" — looking like they could've been plucked off the set of the '90s raver kids back then.