Although remote working arrangements continue to reign supreme worldwide, we make a case for five #WFH-approved pairs of easygoing drawstring trousers that all men should still be wearing once they return to their corner office/cubicle/hot desk.
We like to pretend that it's come as a shock, but if anything, the Coronavirus pandemic has proven merely to be an accelerator for the inevitable — a complete breakdown of formal dress codes across the developed world.
Unsurprisingly, this transformation revolves almost entirely around leisurewear. (Earlier this week, The New York Times reported some US retailers had seen demand for clothing in this category spike by more than 75 percent.)
Here and there, you'll find pockets of resistance (e.g. the odd chamber of barristers or private banking house) but with many professionals — who were once borderline business-casual — now firmly ensconced at home, we're finally seeing the makings of a new 'uniform,' starting with a key piece: drawstring trousers, i.e. comfortable slacks often in breezy fabrics, cut with a forgiving elastic waistband.
Now the million-dollar question is: what shall become of this brave new frontier in fashion once the CoViD-19 crisis has abated?
(The products featured on Lifestyleasia.com have been independently selected by our editors. However, we may earn an affiliate commission when you buy through our retail links.)
Assuming you're one to hedge bets, you'll want something to channel the general malaise that has accompanied the last several months, and can also conceivably be worn in a post-pandemic society that regards dressing up as an act of celebration. ("Yes I'm wearing full-length pants. Why? Because somehow the world didn't end.") In English? You need drawstring trousers.
Sitting somewhere between sweatpants and tailoring, there are thousands of riffs on the basic design. This summer, here are five of our favourites.
(The products featured on Lifestyleasia.com have been independently selected by our editors. However, we may earn an affiliate commission when you buy through our retail links.)
Lardini 'Miami' drawstring trousers in mélange linen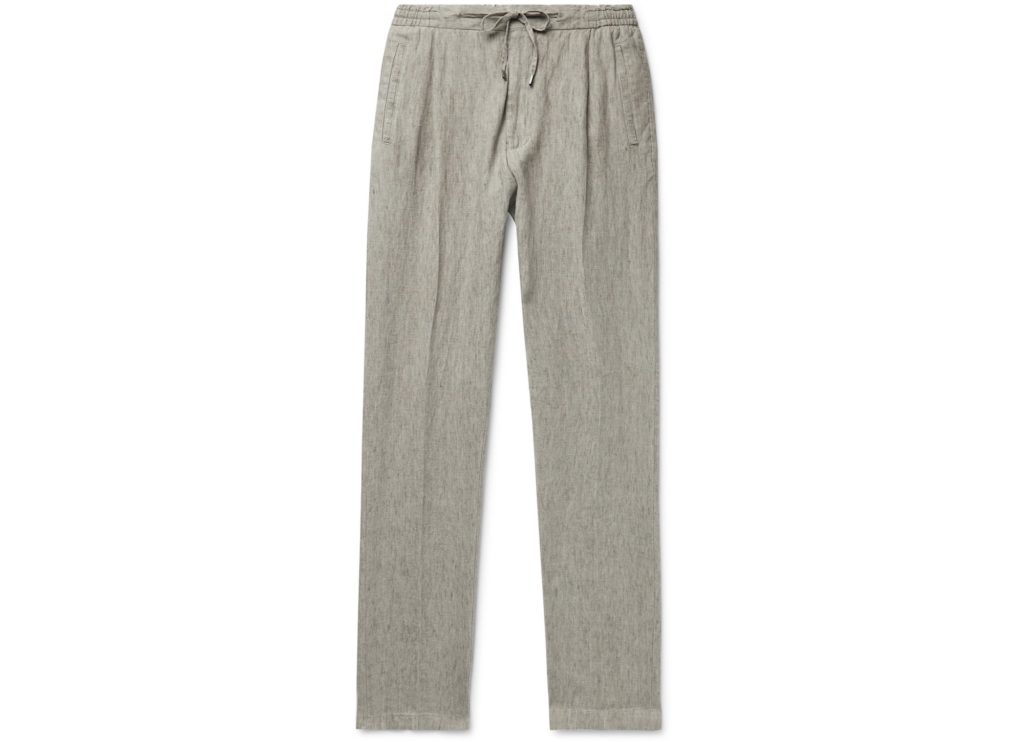 Cut from a slubby, elephant-gray linen which has had the yarns cross-dyed in order to achieve a mix of heathered neutral colours (a fabric treatment known as mélange), these 'Miami' trousers are just another example of why Lardini is renowned as an expert in the field of lightweight tailoring. Although the elasticated waistband features a pretty obvious set of drawstrings, the Miami's full pleats and almost tweed-like fabric give it a sartorial edge — something that's much harder to find when you're working with an athletic textile like terrycloth.
Approx. HK$2,522 from Mr Porter
Maison Kitsunè 'City' drawstring trousers
To us, quintessential Parisian style has always been about cribbing the best elements of various fashion genres; and in 2020, that means comfortable sportswear that isn't overdesigned. These 'City' trousers from music-slash-fashion incubator Maison Kitsuné fit the bill nicely: featuring a discrete drawstring (capable of being hidden through the ingenious usage of belt loops) and gently tapering leg. Dyed in a classic, easy-wearing shade of beige; pairing this with all sorts of streetwear and preppy garb is as easy as saying "Et voilà".
HK$888 from Farfetch
Document drawstring trousers (cotton/silk/linen)
Document is a promising independent brand coming out of Seoul, founded in 2014 by Korean designer Jongsoo Lee. Inspired by what he calls the "repetition of subtle differences", all of Lee's garments embody a relentlessly simple aesthetic — relying on peculiar fabrics and precise technique to convey a sense of personality. His drawstring trousers are perfectly instructive: breathing novelty into the average ho-hum chino with a robust blended fabric, double pleats and a leg opening which veers dangerously close to harem pant territory.
Approx. HK$2,132 from No Man Walks Alone
Man 1924 'Tomi' cotton drawstring suit trousers
A family business for over 90 years, Man 1924 is the irreverent, stylish, genre-defying label from messrs Carlos Castillo and Jorge Navares. Their 'Tomi' trousers are an essential pick for comfortable sartorialists: purchasable as one half of a garment-dyed suit, cast in a 'brick' shade that is as rich and earthy as the brand's Basque Country homestead. As you'd expect, the trimmings used in these pants are thoroughly exceptional (e.g. genuine horn buttons) while the colour adds an easy dose of summer charm for the warm days ahead.
Approx. HK$1,540 from Mr Porter
Informale 'T005' drawstring trousers in khaki linen
With Melbourne-based brand Informale, Steve Calder asks the question of what vintage and Riviera-inspired sportswear would look like if made to the highest standards of classic manufacturing still available in Australia today. The answer? Pretty great, as it turns out. Fashioned in much the same way as a full-blown pair of suit trousers, these Khaki T005s offer a high waist and wide leg that's ideal for a range of casual and slightly dressier outfits. In contrast to conventional suit trousers the hems don't even require refinishing– simply roll to your desired length, then press gently using a covered iron.
Approx. HK$2,481 from Informale