The wait is finally over: Prada has presented its anticipated first collection co-created by Raf Simons and Miuccia Prada through a digital presentation, followed by a live Q&A session.
It's been seven months since the surprise announcement that named Raf Simons as co-creative director at Prada — the fashion house Miuccia Prada inherited and helmed as sole creative head since 1978. Though restrictions from CoViD-19 have forced the designers to start their work together later than planned, the highly anticipated debut went ahead as scheduled on Day three of Milan's 'phy-gital' Fashion Week.
Presented in a pre-recorded runway sequence that was streamed live across all Prada channels on Thursday, the collection for the Spring/Summer 2021 season, named 'Dialogue,' illustrates the creative conversation between the new co-creative directors — a conversation that will continue on in this new partnership. "It's a beginning," says Prada, with Simons adding that "It's not literally two worlds sliding together. It's important that we keep the freedom of how we're working and transport our ways of working in different ways."
With a mutual interest in the idea of uniforms, it's natural that they've started off with this concept. Together, they've explored various interpretations of uniforms, from the Prada uniform to uniform as a visual representation of identity and shared values, and, even, a way of thinking. "The thing I've talked most about with Miuccia over these past months is uniforms. True metaphorical ones," said Simons. As a result, a sense of discipline and restrain runs through the collection. Whether it's the shell tops, the straight pants, overcoats in industrial re-nylon, or suits cut from fleece — each piece is constructed, using couture techniques, into pared-back silhouettes that are both refined and focused.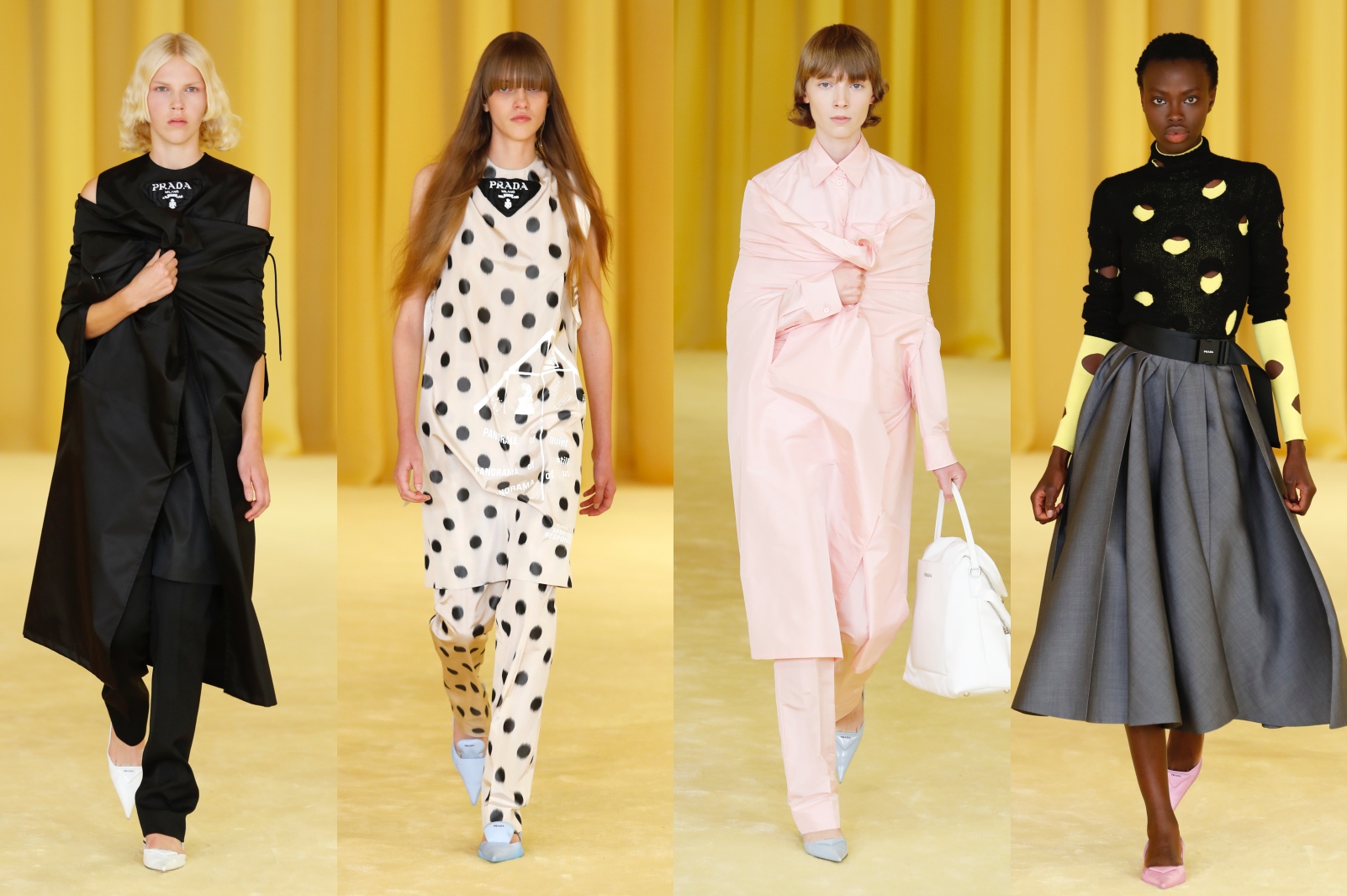 Reflections and restrictions that we continue to experience in this pandemic have, inevitably, made an influence too. After all, as Mrs. Prada explained, "Fashion is about reacting to reality." That explains the streamlined designs focusing on the essentials — a keyword atop everyone's 2020 priority list. Models are also seen grasping the wraps and coats by hand, a gesture that serves as a nod to protection (and also very possibly a tribute to Mrs. Prada, who is often spotted doing the same). Some of these pieces come with pockets, too, for added practicality that "speaks of living and life."
It's not a Raf Simons creation without an artist collaboration. The designer enlisted long-term collaborator, Belgian artist Peter de Potter (whose slogans and graphics frequent Simons' menswear), to come up with a design that explores ideas of thought and process, once again highlighting the concept of dialogue and exchange of ideas between designers. Ms. Prada, meanwhile, revisited a retro wallpaper print from her SS96 collection.
The exchange is unmissable across the collection. You'll see Simons' effortless hoodies worn over Mrs. Prada's sophisticated pleated midi skirts and kitten heels, whereas Mrs. Prada's feminine silhouettes would be painted with Simons' slogans and graphics. But while the respective influences were clear, so were the differences. After all, these two can't be more different, whether it's the generation, gender, personalities, even nationalities. The collection, as a result, felt a lot like a first encounter between two distinctive minds. But that's exactly what it is: It's the beginning of a new conversation with possibilities that stretch as far as the power of imagination. All we can do for now is to sit back and anticipate the ideas that will continue to unravel in this ongoing dialogue, seasons to come.
Watch the full show in the video below.