Step into the world of luxury and fashion on Selling Sunset season 6 with our captivating breakdown of the over-the-top fashion moments. Brace yourself for statement accessories, the perfect blend of haute couture and real estate, and a vibrant explosion of colours that will leave you inspired and awestruck.
Reality TV shows have long captivated audiences with their blend of drama, luxury, and jaw-dropping fashion. Among these glitzy productions, Selling Sunset has carved out a special place for itself. The popular real estate reality series not only showcases extravagant properties but also serves as a fashion runway for its glamorous cast. With the arrival of Selling Sunset season 6, viewers were treated to a spectacle of over-the-top fashion moments that left them gasping for more. From designer labels to daring ensembles, the sixth season pushed boundaries and raised the bar for fashion on reality TV shows.
Over-the-top fashion moments of Selling Sunset season 6
Defining fashion fearlessness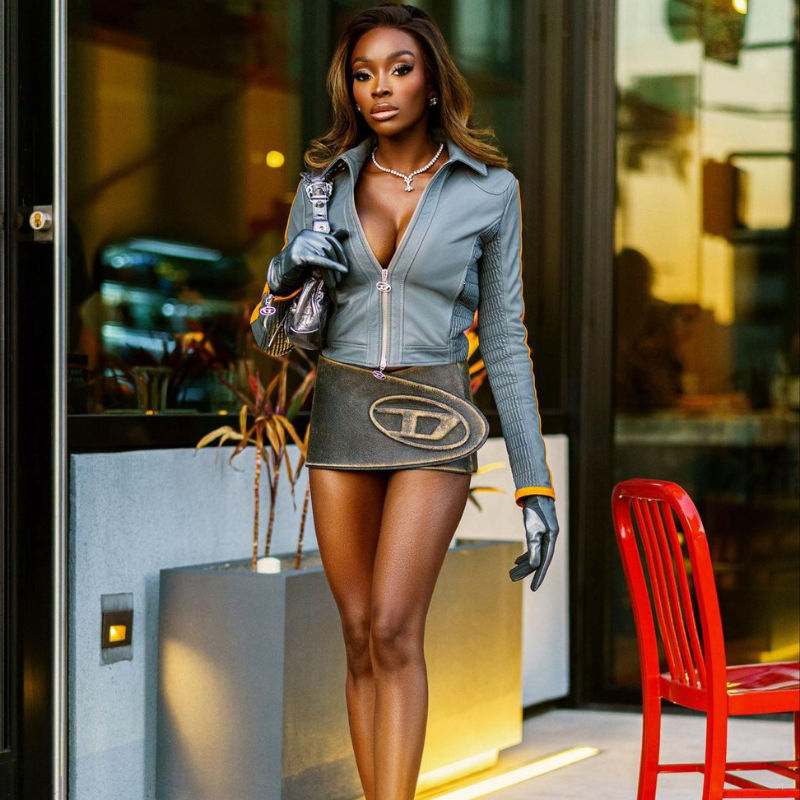 Chelsea Lazkani, a true fashion trailblazer on Selling Sunset season 6, left viewers mesmerised with her over-the-top fashion moments that defined luxury and audacity. One particular standout ensemble featured the striking Diesel B-Berny Belt Miniskirt, flawlessly paired with a captivating bomber jacket and chrome gloves, exuding a sense of confidence and edginess. Completing the ensemble were strappy rhinestone heels that added a touch of glamour, while a silver Balenciaga bag added a hint of opulence. To top it all off, Chelsea's hair boasted a voluminous blowout, perfectly framing her bold and fearless fashion choices.
Buy Balenciaga Neo Cagole Metallic Tote Bag here
Buy Diesel Berny Distressed Leather Mini Skirt here
Vibrant monochrome magic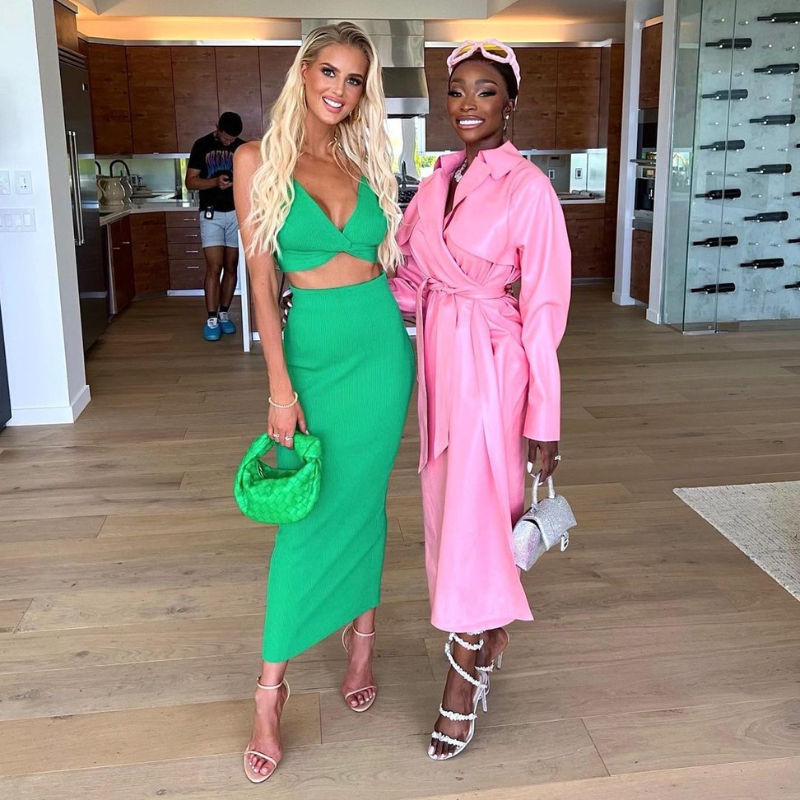 This season burst onto the screen with an explosion of vibrant colours of sleek monochrome looks, setting the tone for a fashion-forward and visually stunning season. Whether it was Emma's striking green ensemble or Chelsea's chic pink trench coat outfit, the fashion choices this season were a masterclass in balancing vibrancy and sophistication. As the cast members stepped into luxurious properties, they also stepped into a world where pops of colour and monochrome reigned supreme, leaving viewers captivated by their impeccable sense of style.
Embracing motherhood in style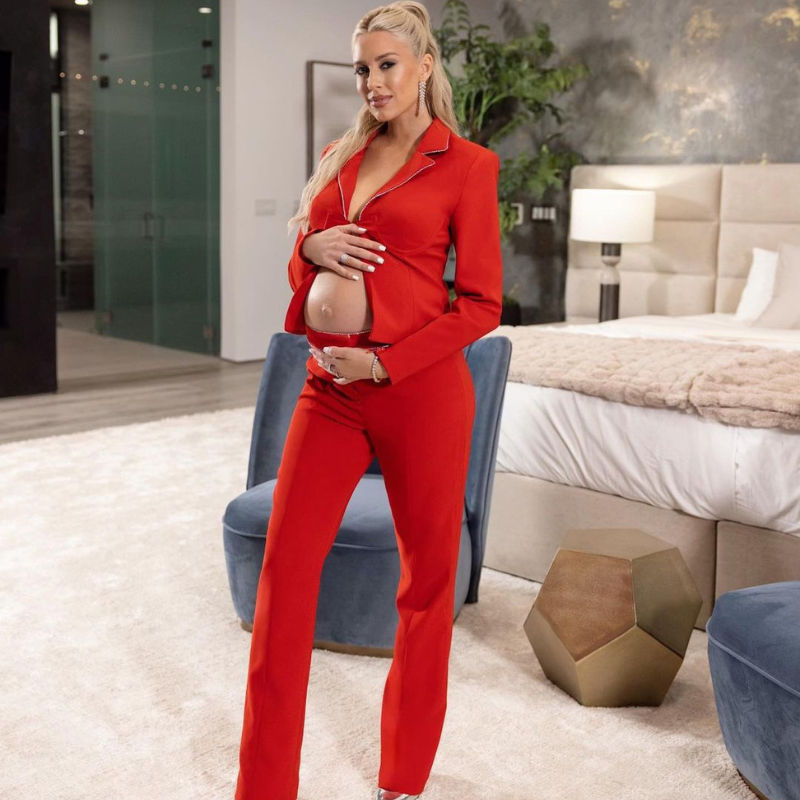 Heather, a true style icon, consistently impressed viewers with her impeccable fashion choices throughout her pregnancy on the show. Among her many stunning looks, one that stood out was her bright red monochrome power suit—a true embodiment of a Boss Girl Mamma. To elevate the ensemble, she paired it with chrome pumps that added a touch of sleekness and sophistication. The finishing touch was a pair of dazzling diamond earrings, which added a touch of elegance and sparkle. Heather's hairstyle, a chic half pony with loose waves, perfectly framed her face and accentuated her radiant beauty.
From subtle to sensational
View this post on Instagram
Throughout the seasons of Selling Sunset, viewers have witnessed a remarkable transformation in Mary Fitzgerald's fashion choices, and it's safe to say that her style has evolved for the better. From the early episodes to the latest season, Mary's wardrobe has undergone a stunning upgrade, leaving a lasting impression on fans. Gone are the days of simple ensembles. Mary now embraces bold and daring outfits that make a striking flair. Whether it's the intricate patterns, vibrant colours, or unique silhouettes, Mary's fashion game is on fire.
The perfect blend of elegance, edge, and boldness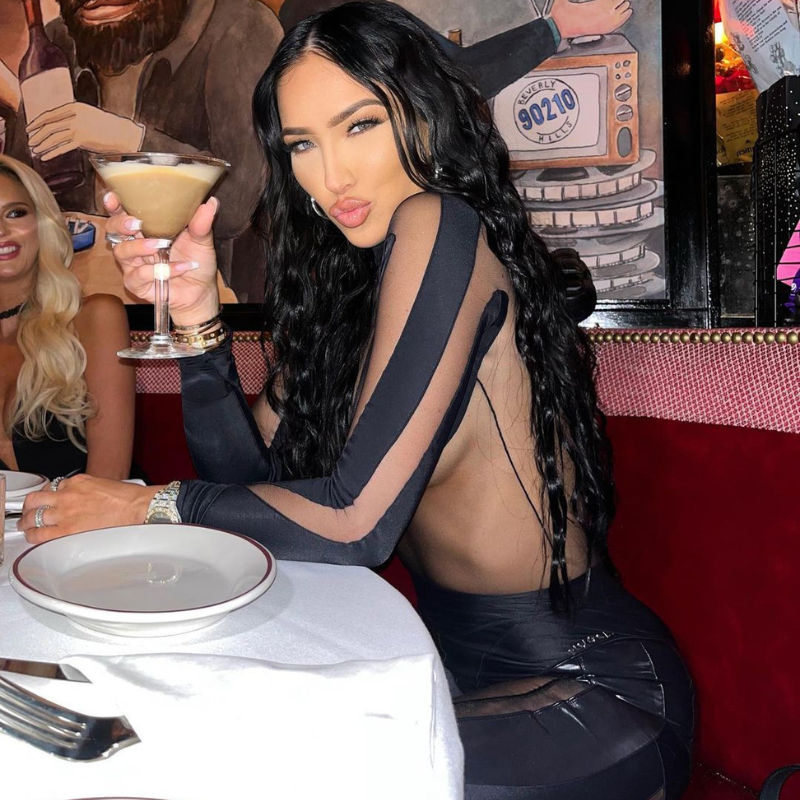 Bre, the newest agent to join The Oppenheim Group on Selling Sunset, has quickly become a fan favourite, and it's not just because of her impeccable real estate skills. Her unique sense of style has captivated viewers, making her a standout in the fashion department. Among her many memorable outfits, one that stole our hearts was her Mugler ensemble. The way she effortlessly styled the look was truly remarkable. With minimal makeup, she allowed her beauty to shine through, while her hair exuded wet beachy waves, adding a touch of effortless cool. Bre's ability to keep the accessories simple ensured that all eyes were on the extravagant outfit, allowing it to take centre stage.
Buy Mugler Sheer Panel Mini Dress here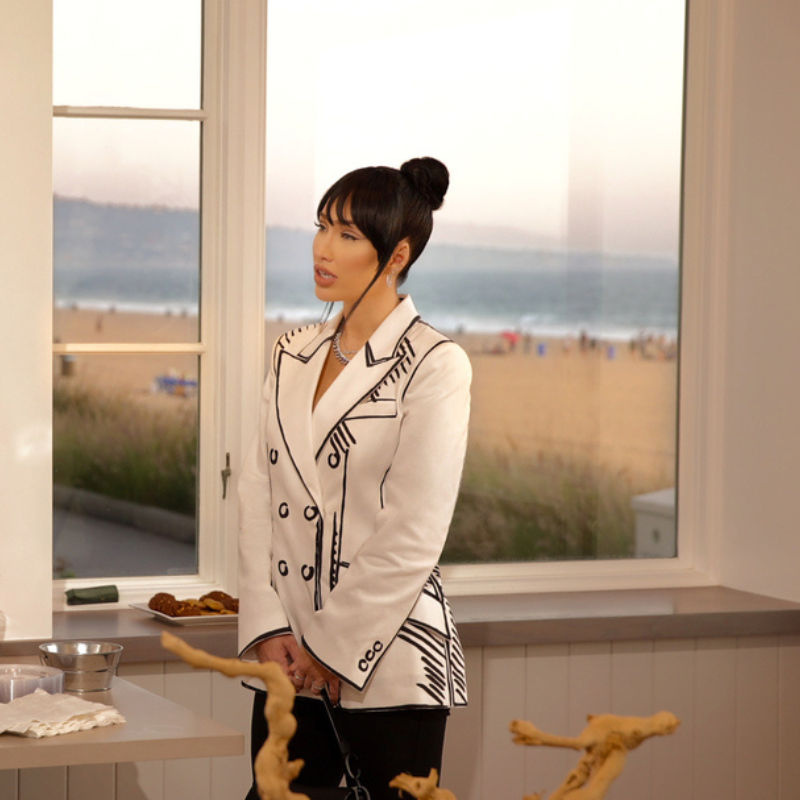 Sleek, sophisticated, and sparkling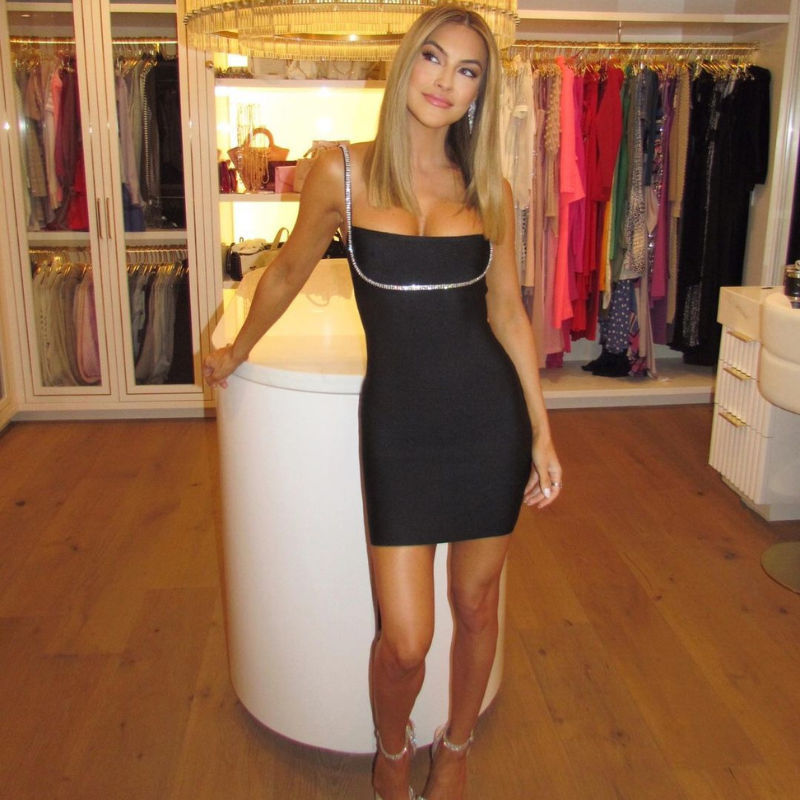 This season, Chrishell Stause truly raised the fashion bar, showcasing her A-game with every outfit. From daring cuts to sophisticated ensembles, she left us in awe of her impeccable style throughout the season. Among her many stunning looks, one stood out as our absolute favourite—a simple yet undeniably chic ensemble that exuded glamour. The perfect amount of glitz was brought to life as Chrishell effortlessly matched her heels with a mesmerising rhinestone strappy dress, creating a harmonious and eye-catchy look. Her sleek, open hairstyle added an element of sophistication, allowing the outfit to take centre stage. To complete the ensemble, Chrishell added a touch of bling with diamond earrings, adding a subtle yet luxurious sparkle.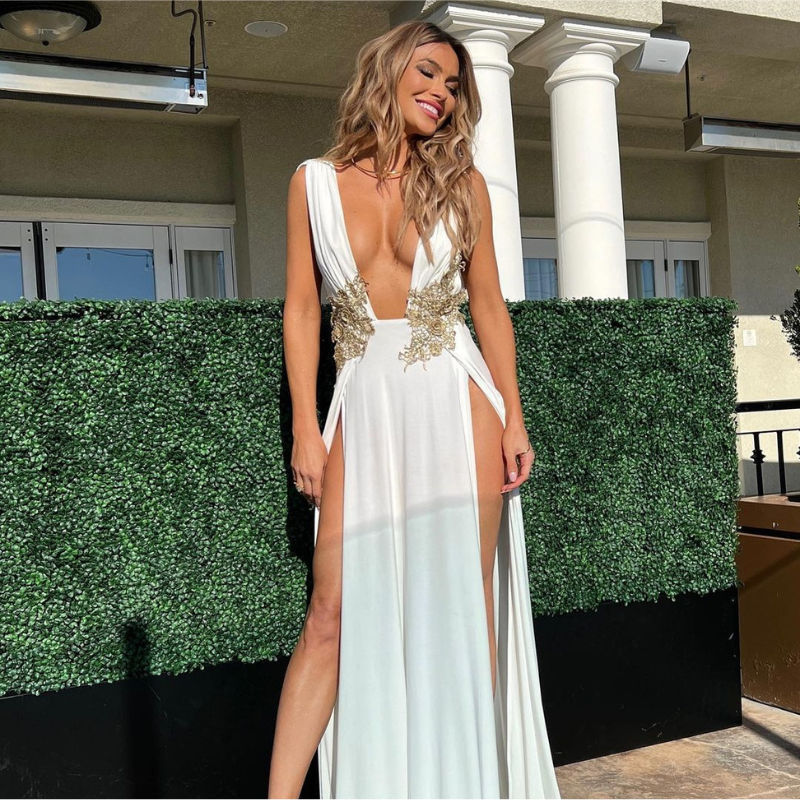 Accessorising with confidence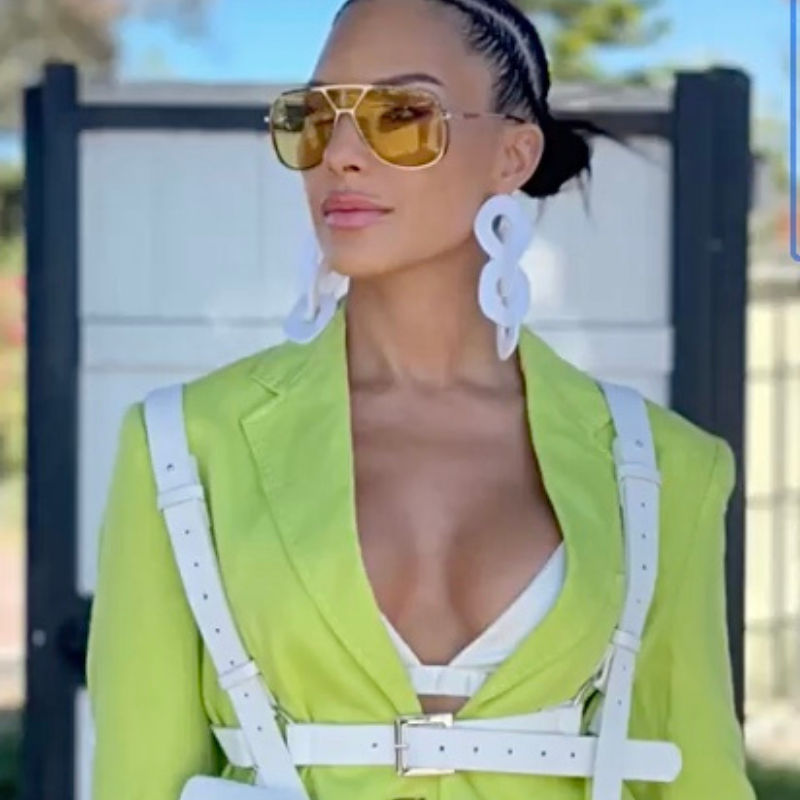 This season, Amanza Smith truly became a fashion sensation, captivating our hearts with her daring and diverse style choices. We couldn't help but admire her neon green power suit, a bold and electrifying ensemble that showcased her fashion-forward approach. Amanza elevated the look by accessorising it with a white harness belt, taking her outfit to the next level of edginess and sophistication. Going over the top, she added statement earrings and oversized sunglasses, exuding an air of confidence and glamour. Amanza's ability to effortlessly combine different elements and create a cohesive yet standout look is truly commendable.
From simplicity to glamour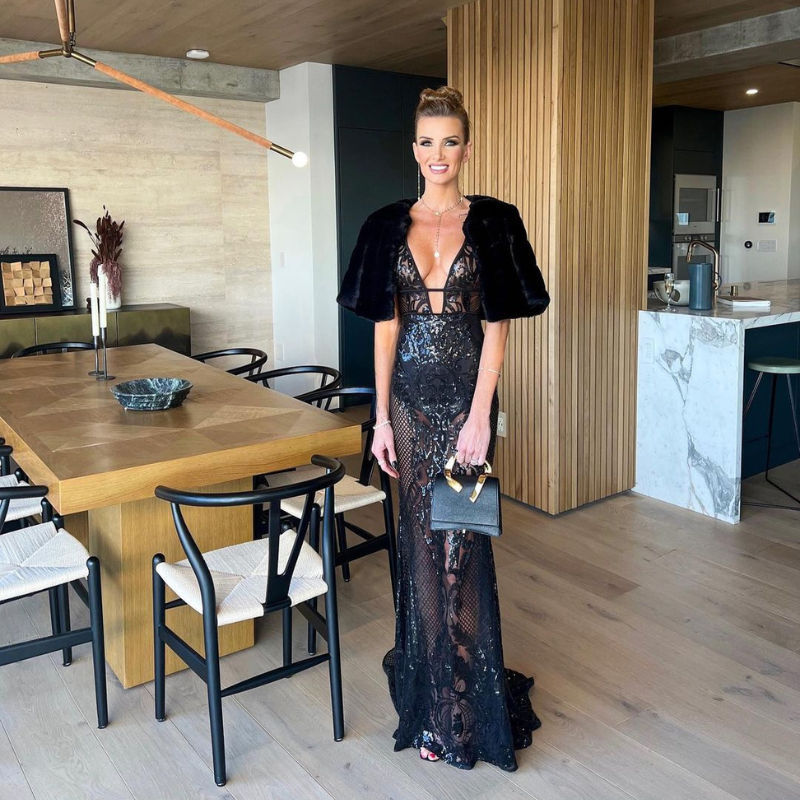 Nicole's fashion choices on the show have always been synonymous with simplicity. However, she managed to surprise us with one particular outfit that exuded unparalleled glamour. The sheer sequin details of the ensemble immediately caught our attention, creating a dazzling and captivating effect. To add an extra touch of sophistication, Nicole tastefully incorporated a cropped cape on her shoulder, striking the perfect balance between extravagance and refinement. In a true fashionista style, she skilfully toned down the rest of her look, allowing the stunning outfit to take centre stage. With a sleek bun, subtle nude lips, and smokey eyes, Nicole ensured that all eyes were on her outfit while maintaining an overall polished and sophisticated appearance.
Fashion extravaganza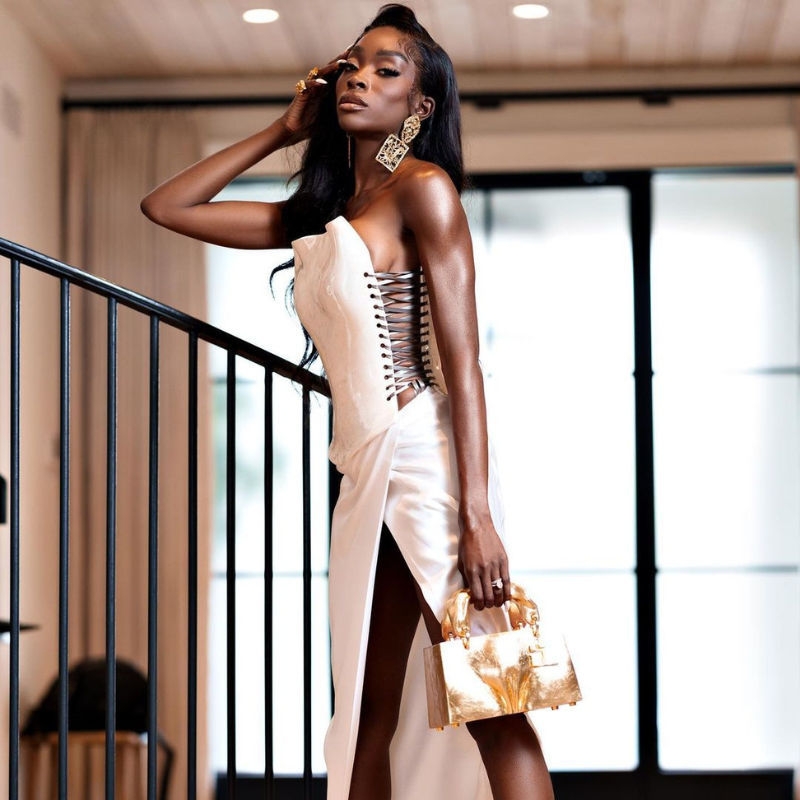 Chelsea has once again left us in awe with another show-stopping fashion moment on Selling Sunset's season 6. This time, she effortlessly commanded attention by donning a structured corset that accentuated her figure, paired with a stunning white slit skirt that added a touch of elegance and allure. The choice of lace-up heels elevated the ensemble all together. But it didn't stop there. Chelsea made sure to accessorise with a golden statement purse, completing the look with a touch of glamour and luxury.
Hero Image: Courtesy amanzasmith/Instagram; Featured Image: Courtesy chelsealazkani/Instagram
Frequently Asked Questions (FAQs)
Question: Is Christine in Selling Sunset season 6?
Answer: After five seasons on the popular real estate reality show Selling Sunset, Christine Quinn bid farewell to the Netflix series.
Question: Is there a Selling Sunset season 7?
Answer: Yes, there will be a Selling Sunset season 7.
Question: Is Chelsea on season 6 of Selling Sunset?
Answer: Yes, Chelsea Lazkani is there on season 6. Along with her, Chrishell Stause, Amanza Smith, Emma Hernan, and Heather Young returned to the sixth installment. Two new faces were also seen, namely, Nicole Young and Bre Tiesi.
Question: Is Selling Sunset available on Netflix?
Answer: Selling Sunset is exclusively streaming on Netflix. All six seasons, including the latest one, are currently accessible for viewing on the streaming service, provided you have a subscription.
Question: How can I watch Selling Sunset Season 6?
Answer: Selling Sunset is streaming on Netflix. You may subscribe to Netflix in order to watch the reality show.