In an Instagram era when every celebrity seems hell-bent on breaking the Internet with their outfits, who were the stars that actually succeeded?
Google gave us an idea with its 2020 'Year in Search' report which, among other intriguing things, summed up the celebrity outfits and red carpet looks that went viral in the past year. The results were based on those found in the United States, where celebrity culture is alive and well.
This fact surprises no one, but some of the famous faces who made the list certainly did. Take Noah Cyrus, Miley's younger sister, whose style mostly consists of crop tops and sweatpants. She racked up searches the one time she deviated from that combo at the CMT Awards, where she wore a bejewelled bikini, a pair of Jeffrey Campbell thigh-high boots, as well as embellished gloves and a cowgirl hat.
Her look was a nod to country music, which the awards were dedicated to, but it also included a couple of 2000s trends that have returned with a vengeance in the last few months: jewel-encrusted clothing and the thong.
Speaking of country music, Lil Nas X's hot pink cowboy outfit for the 2020 Grammy Awards was another show stealer this year. The Versace ensemble made especially for the Old Town Road rapper was a daring look , and naturally topped several best-dressed lists (including ours).
Billie Eilish's head-to-toe Gucci outfit at the same event was another winner. The oversized green and black monogrammed suit, which the singer matched with a Gucci mask, Gucci gloves, Gucci sunglasses and her neon green roots, was made all the more memorable because she took home five Grammys in it.
It also turns out that Jennifer Lopez still holds reign over the search engine. She made the list with her Versace outfit — not the jungle print dress this time, but a custom silver leather bodysuit she wore at her Super Bowl halftime performance.
Given that it was made with tens of thousands of sequins and Swarovski crystals, as well as 800 pieces of silver leather individually cut and stitched together by Versace seamstresses, we'd say J-Lo's catsuit was well worth the attention. Her Super Bowl co-performer, Shakira, was also shortlisted with her equally glittery Peter Dundas two-piece outfit, paired with Swarovski crystal-encrusted boots.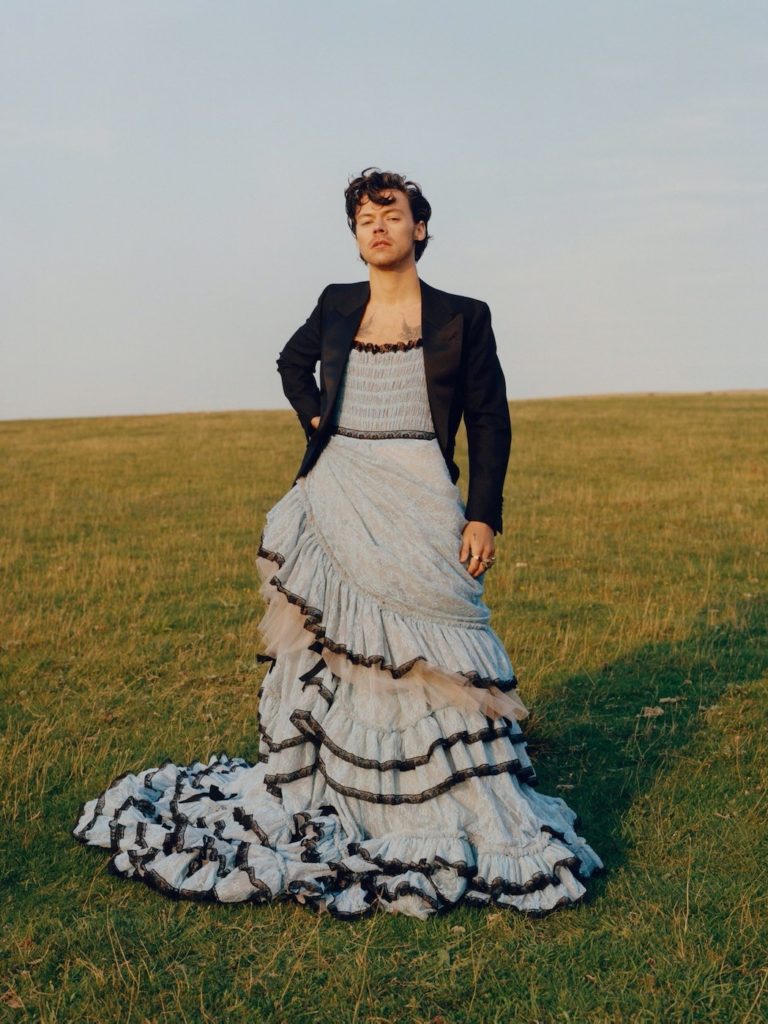 Google's list also made room for a couple of more recent entries, namely Travis Scott's Batman costume for Halloween (it came in brown; the rapper's fans roasted him for looking like a cockroach) and Harry Styles' December Vogue cover (the one he wore a Gucci dress for).
It's interesting to also note that Kim Kardashian, for whom the phrase 'break the Internet' was first coined, didn't make the cut despite her bold fashion choices this year (among them, a total latex look from Balmain and a vintage Alexander McQueen gown for the Oscars red carpet). Neither did any of her sisters, either. Perhaps this spells the beginning of the end of the Kardashian supremacy?
Header photo credit: Getty Images
This article was originally published on Lifestyle Asia Singapore.