Over a decade ago in 2007, when Beyoncé was topping the charts with her single, Irreplaceable; Steve Jobs unveiled the world's first iPhone, Louis Vuitton sent models down its Spring/Summer 2008 runway covered in a fashion accessory that would later dominate the entire world: a surgical mask.
You are right. Technically "surgical" isn't the right term, as they were made of delicate black lace that hardly filter out bacteria as effectively as the non-woven, polypropylene fabric used in real surgical masks. Also, unlike the austere appearance of its medical counterpart, her mask was stylishly embroidered with the Louis Vuitton monogram.
Still, it was surgical in spirit, which was what Marc Jacobs, Louis Vuitton's artistic director at the time, intended. What he definitely did not intend was for it to become the powerful symbol that it is today. In the midst of the CoViD-19 pandemic, the Louis Vuitton mask has resurfaced on Instagram, gleaming with new meaning.
Fashion has always been prescient, some said. Some saw the accessory as a source of inspiration, one of the few joys to be had in a pandemic. And, because it's Instagram, others have taken to selling leather rip-offs that seem impossible to breathe in — but then again, practicality hasn't always been a priority in fashion.
It certainly wasn't for Jacobs' Louis Vuitton SS08 collection. The dozen looks that opened the show were inspired by the heroes of today: nurses. Specifically, those in Richard Prince's Nurse Paintings series. You might recognise the American contemporary artist for his 2014 series of blown-up Instagram selfies taken by models and celebrities, which stirred controversy for Prince's blatant use of appropriation (among other things).
His Nurse Paintings were made with the same principles: Prince scanned covers of vintage, nurse-centric pulp romance novels and painted over them in acrylic. Under his treatment, the books' nurturing protagonists were transformed into temptresses, their gazes not unlike that of a 1950s femme fatale. And to add to their allure, the covers' busy backdrops were turned into sultry settings, composed of lush strokes in deep red and purple.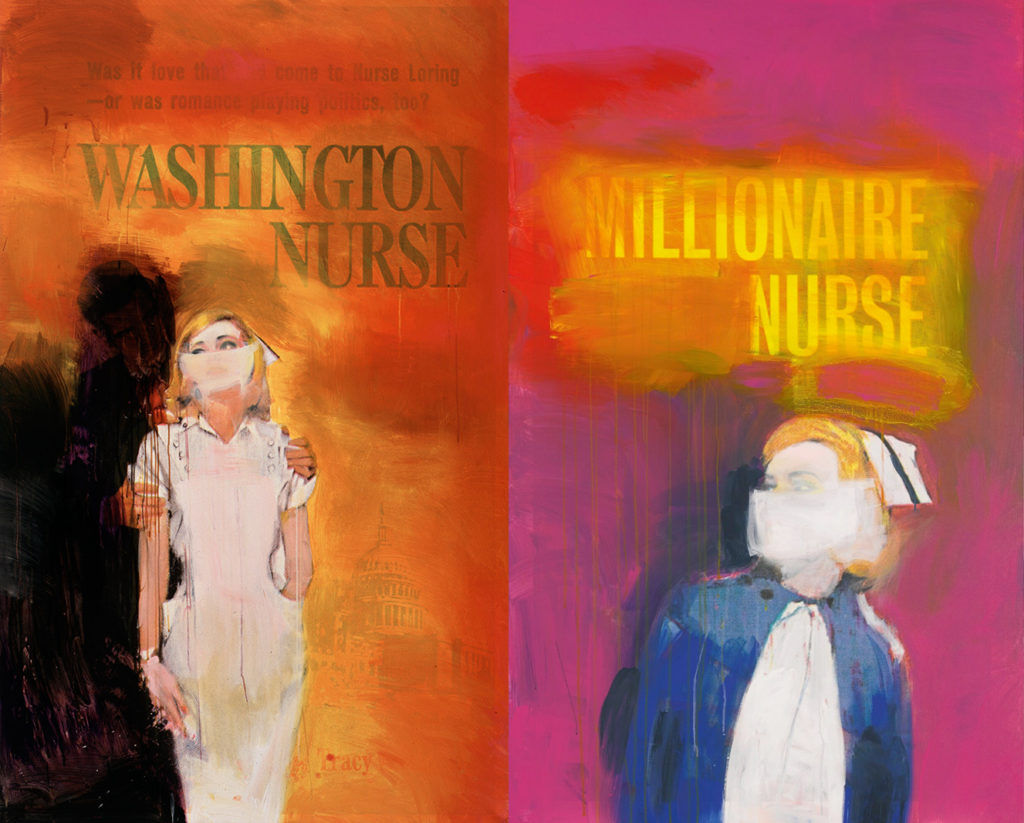 Their seductive power worked. Prince's paintings became a hit, fetching as high as US$9,685,000 (HK$750,717,288) at an auction. One of them was later used as an album cover for Sonic Youth, a rock band that Jacobs is friends with and is the reason the designer discovered Prince's series.
Thus, Louis Vuitton's "sexy nurses", as Vogue described them at the time, were born. Bringing the subjects of Prince's paintings to life, Jacobs dressed Campbell, Natalia Vodianova, Lara Stone and other top models of the aughts in his kinky take on the nurse uniform. Their legs were stockinged, their plastic coats were revealing, and their slip dresses that peeked out were as lurid as the hot red lipstick they wore. As for their iconic face masks, Jacobs' choice of lace, borrowed from lingerie, only added to the fetish factor.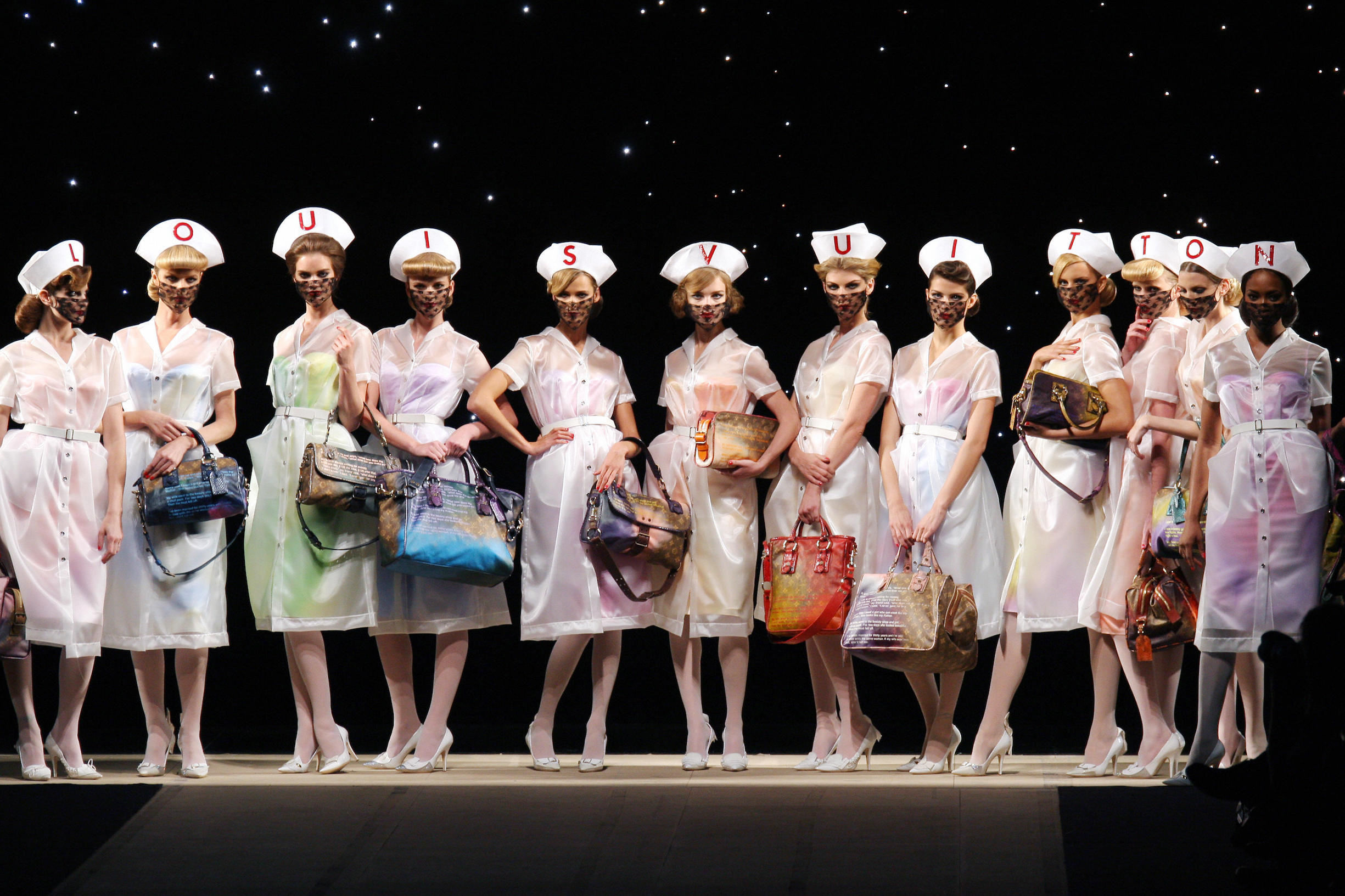 Today, those monogrammed masks are fetishised for an entirely different reason. Namely, our lingering lust for luxury, which Jacobs tapped into like a sartorial seer with his use of logomania. He is, after all, a master of it, having been the first designer to radically alter Louis Vuitton's century-old monogram with graffiti (see the Maison's collaboration with the artist Stephen Sprouse) and rainbow hues (ditto, with Takashi Murakami).
Even as the times call for severity, our love for designer goods has not waned — bonus if they're branded like the Louis Vuitton mask, as are the ones made by Off-White, Gucci and Marine Serre. That's regardless of their function, which most of these masks will fail to live up to with their flimsy fabrics. Much like Prince's nurses, what was once a symbol of practicality has been twisted into an object of desire. And while a designer mask would still cover our faces, it also unmasks our true priorities in the face of a pandemic.
This article first appeared on Lifestyle Asia Singapore.