As editors at Lifestyle Asia, we're privileged to get a first look at the most exciting new luxury goods daily. That's what you'll find in Weekly Obsessions: a running list of highly covetable items we're currently mad about — because if it's on our radar, it should definitely be on yours, too. From the fashion must-haves of the moment to lust-worthy watch releases, scroll through to see what our editors are obsessing over this week.
Altuzarra 'Espadrille' large fringed raffia tote
I'm always on the look out for a nice tote bag for my trips to the beach or pool during the summer season. One that is big enough to fit in everything I need, while also being stylish and water or sand-proof — an extremely important factor for any swim bag. Yet, I find that a lot of the high fashion summer totes on the market has a lot of added leather on them. I understand that leather details will give a more luxe appeal, but they sadly also make it super impractical, which is a big no-no.
I currently have my eyes on this Altuzarra's large 'Espadrille' tote (HK$5,645 from Net-a-porter), which has (as its name suggests) a braided jute base inspired by espadrille shoes, giving the bag structure to help protect the main body from damage. The rest of the bag is intricately woven from raffia, with added fringe on each side for an extra style factor. I like its delightful colour and also that its very roomy, so I can fit not only mine, but also all my son's (and my husband's) belongings in there… and perhaps extra room for some snacks too. — Cindie Chan, Style Editor
Jacques Marie Mage 'Fellini' sunglasses (noir, black & yellow)
Founded by French-born designer Jerome Jacques, Jacques Marie Mage is precisely the sort of brand which could only ever emerge from the inscrutable miasma of decades worth of Angeleno culture. Mage's designs are influenced by a vast array of subject matter (everything from Mick Jagger to the Napoleonic wars) sieved through an 'L.A. county circa 1970' filter. That approach makes for a distinctive look that is brash in its aesthetic details: using lots of bold geometric shapes and extravagant hardware in yellow gold.
Despite the slightly chintzy result — no bad thing — all of Mage's frames remain eminently wearable. My personal favourite is the 'Fellini' (HK$4,669), named for the great maestro of Italian cinema. The frames themselves are cut from an extremely thick black acetate that's polished to a high sheen and then emblazoned with arrowhead-style pins at the temples. In a pinch, these can be worn with tailoring, though seedier aspects such as the yellow tinted lens really achieve liftoff when set against a backdrop of leather riders or patchwork denim. — Randy Lai, Watches Editor
Dior Rose des Vents and Rose Céleste necklace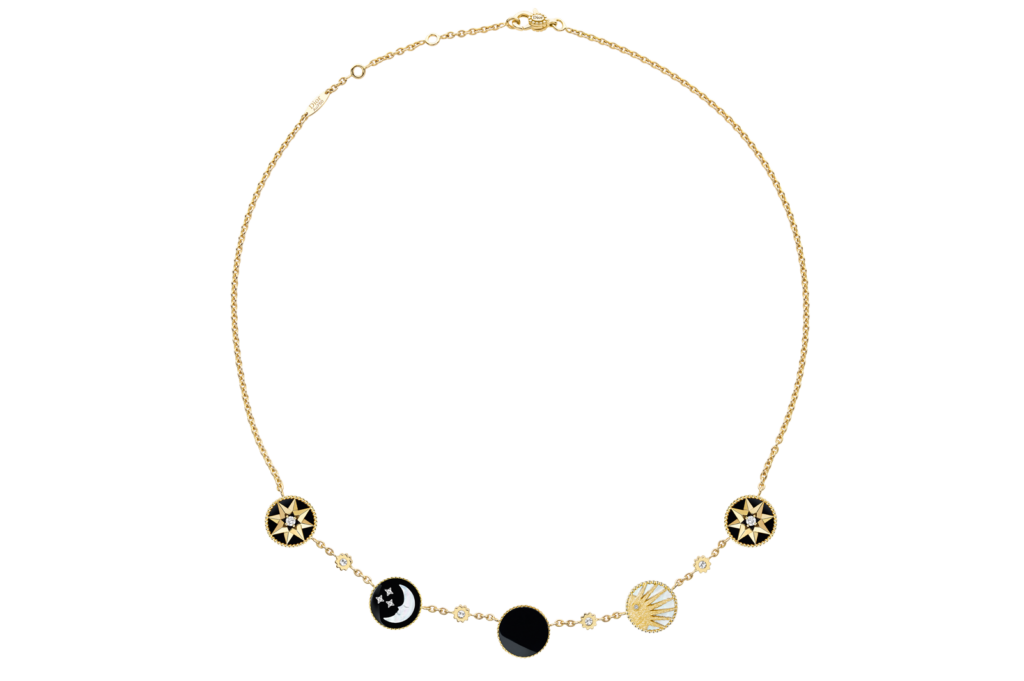 Anybody who has been hanging around me in the past three months will have caught me in my new-found quarantine hobby: Tarot cards. And with the state of the world the way it is, can you blame the scores of millennials who are also turning to divination in hopes to grasp a clearer picture of their lives?
As if I'm receiving some kind of spiritual confirmation, I've noticed Dior also shares my obsession with the occult, evidently revealed in its Rose des Vents jewellery collection that is inspired by Monsieur Dior's very own personal talisman, the wind rose (hence 'rose des vents'), also known as the eight-pointed star. I'm drawn to the simpler pieces that are perfect for everyday wear, such as this five-medallioned Rose des Vents and Rose Céleste necklace (HK$74,500), which pays homage to the sun and moon fashioned in black and white onyx and mother-of-pearl. The celestial bodies can also be flipped over to reveal its opposite counterpart.
In the Tarot, such coins and medallions (though usually pentacles, or five-pointed stars) denote abundance and stability. I'd like to think wearing a charm like this can also attract more of that into our lives (if the label of Dior strewn across your neck wasn't enough of a talisman already, that is). — Evelyn Lok, Deputy Editor