Bulgari fascinates with its new 'Magnifica' high jewellery collection, which was unveiled in a livestream on Bulgari's website and social media platforms on 21 June.
Filmed in one of Milan's most iconic locations, the Galleria Vittorio Emanuele II, Bulgari presents an ethereal rendition of Italian magnificence with a spellbinding concerto by legendary classical artist Andrea Bocelli offering his own unique interpretation in the Italian language of Beethoven's "Ode to Joy / Inno all Gioia". The performance is led by internationally acclaimed Italian orchestra conductor Beatrice Venezi.
The cinematography, realised through the lens of Italian emerging director Tommaso Ottomano, features an outstanding diverse casting of supermodels including Lily Aldridge, Vittoria Ceretti, He Cong, Blesnya Minher and Solange Smith. Infusing the Roman jeweller's bold and unapologetic attitude, the show creates a mutually reinforced intervention between splendour of fine jewellery and eternal architecture through scale and time manipulation.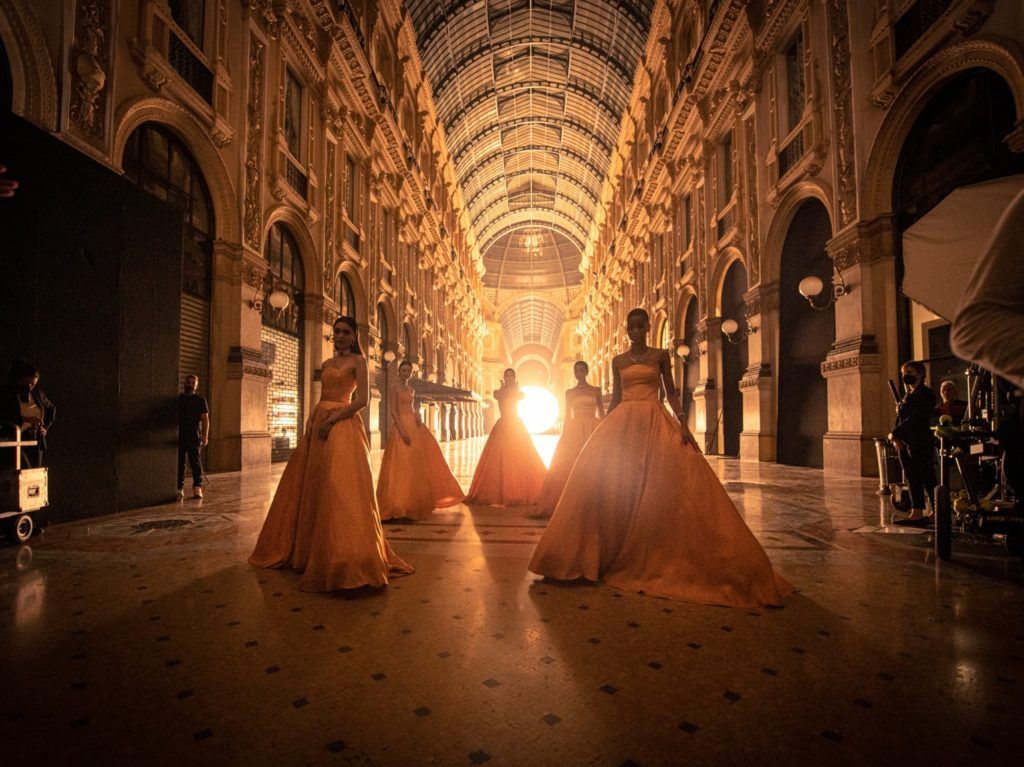 One Word: Magnifica
The new Magnifica High Jewellery collection is the most extraordinary combination ever of superlative gems, unrivalled craftsmanship and bold design — expressed as the pinnacle of excellence and beauty.
The jewels summon the message of joy, creativity and artistic perfection, composed in a repertoire of 350 masterpieces of high jewellery and watches, magnificently expressing Bulgari's Roman codes and 137 years of experience in appropriating the most extraordinary, and rare gemstones. Magnifica comprises 122 never seen before artworks, and is the most precious High Jewellery collection that Bulgari has ever created. The collection, mounted to an estimate worth of hundreds of millions of euros, is an ultimate tribute to beauty and to the upscale craftsmanship and expertise of the Italian maestria.
Its muses — audacious and fearless women — mirror the majesty of the eternal city, Rome. In the extravagant show, the supermodels showcase some of Magnifica High Jewellery most incredible, multi-millionaire creations. These include the Imperial Spinel necklace revealing a 131-21-carat spinel, the fourth largest known in the world, to the Mediterranean Queen necklace, comprising five outstanding oval cushion-cut Paraiba tourmalines, weighing about 500 carats, juxtaposed to cabochon emeralds and diamonds.
With the models as the perfect canvas, these mesmerising bijoux gleam gloriously — chronicling everlasting pieces of art splendidly created by skilled hands. The collection break new grounds in terms of versatility and transformability, being conceived to be worn in a variety of different ways — a modern concept of High Jewellery excellence.
Discover the Bvlgari Magnifica High Jewellery collection here.
(All images courtesy of Bvlgari)
See the original post here.