Pearl jewellery has always been an accessory for timeless statements. While late Queen Elizabeth II's love for pearls was quite well known, celebrities such as Harry Styles, Shawn Mendes, Gigi Hadid and Billie Eilish have recently pedalled the pearlcore trend forward. Adored for centuries, these precious stones have become the centrepiece of many high jewellery pieces. No wonder the most expensive pearl necklaces of all time continue to make headlines at renowned auctions.
What makes certain pearls so expensive
Whether belonging to an Indian Maharaja or hailing from the personal collection of Queen Marie Antoinette, every rare and expensive pearl necklace has a fascinating tale to tell. Besides, the uniqueness of its origin, a pearl's size, colour, lustre and form also play pivotal roles in determining its price.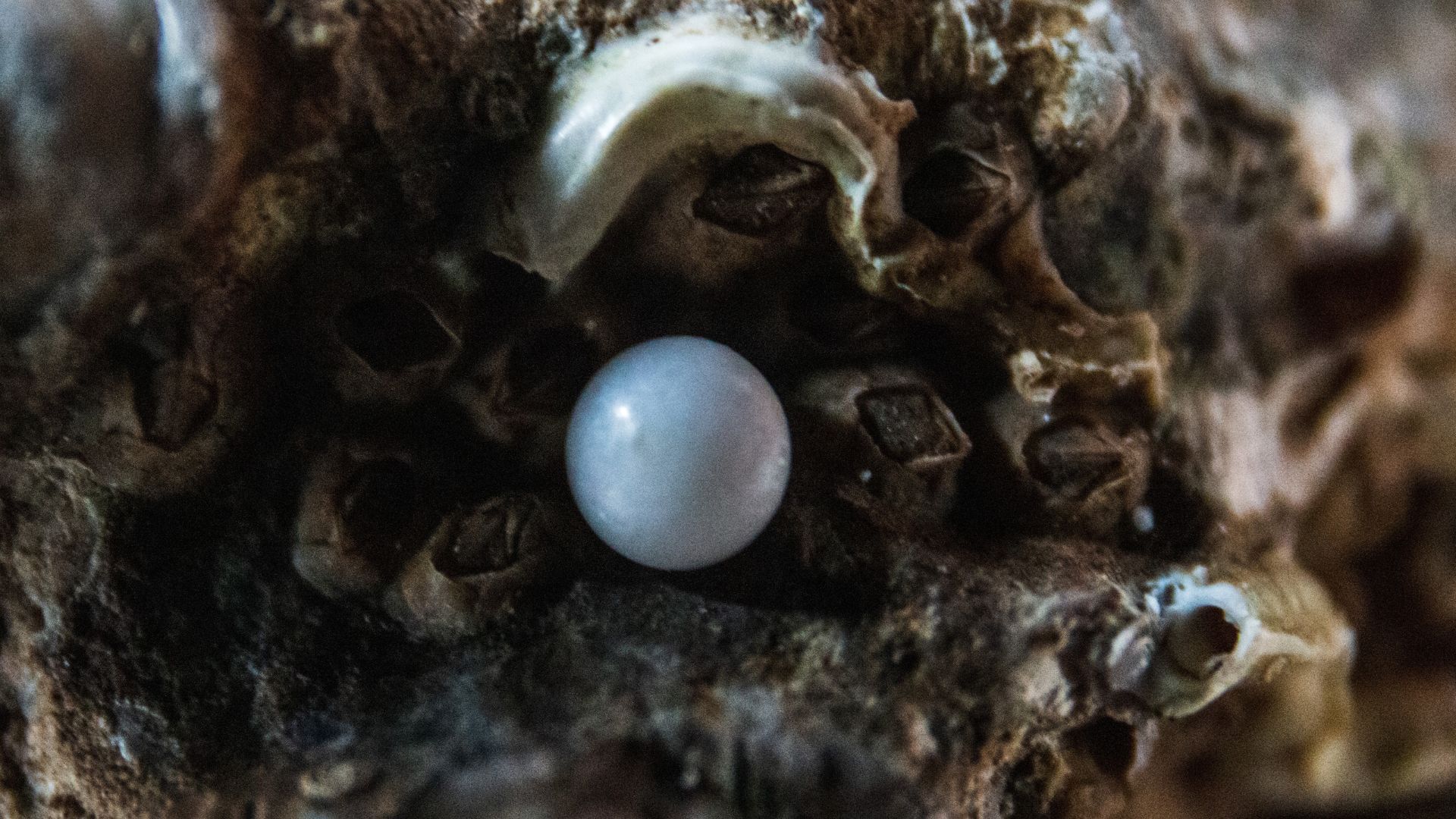 Out of every 10,000 to 15,000 wild oysters taken from the sea, only one or two yield a pearl. Such rarity contributes to the sky-high prices of natural pearls. Additionally, the bigger the size of the pearl, the more expensive it is. However, they are found in various shapes and are seldom perfectly round.
While most natural pearls in the world are either white or cream in colour, some appear in shades of black and gold. The greater the sheen of a pearl, the higher the price tag.
Combined with a touch of history, pearl necklaces and other rare pieces fetch a fortune at auction houses.
These are some of the most expensive pearl necklaces ever
Marie Antoinette's pearl and diamond pendant Price: USD 36.2 million
This pearl and diamond pendant is an emblem of royal grace and opulence. Belonging to the French empress, this giant natural pearl is a baroque-shaped beauty. Although Antoinette and her husband, King Louis XVI, met with a tragic end, this piece of high jewellery from the queen's famous collection has lived a glorious life.
The pendant was reportedly one of the few jewellery pieces sent off to Austria for safekeeping in 1791 when the monarchs prepared to flee from the Palace of the Tuileries. The jewels travelled from the palace to Brussels and Vienna where they were guarded by the queen's nephew, Emperor Francis II. In 1795, these assets were handed over to her only surviving heir, Marie-Thérèse de France, who later gave a portion of it to her niece, the Duchess of Parma. The Bourbon-Parma family held it for the next two centuries.
This timeless pendant comprises a diamond bow motif from which hangs one of the most expensive pearls in the world. The 18th-century statement piece was sold to an anonymous bidder at a Geneva auction in 2018. It was originally part of a three-strand pearl necklace that sold separately for around USD 2.3 million.
La Peregrina pearl necklace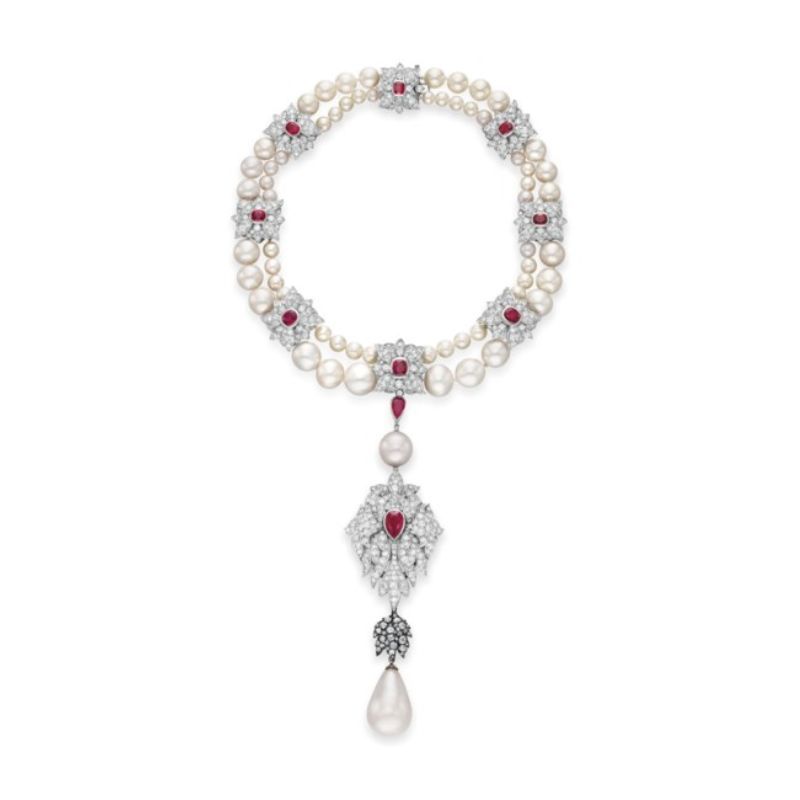 Price: USD 11.8 million
Considered one of the most famous pearls in the world, the La Peregrina belonged to the personal collection of Elizabeth Taylor. The incredible 50.56-carat pear-shaped natural pearl was crested into the iconic diamond necklace designed by Cartier. A complete show-stealer, it was a birthday gift to Taylor from her husband, Richard Burton and cost USD 37,000 in 1969.
The pearl's history is a longer one still. La Peregrina — which stands for 'the pilgrim' in Spanish — changed hands among Spanish rulers, including King Phillip II of Spain who got it for his wife, Queen Mary I of England. It was also owned by Joseph Napoléon Bonaparte, Napoléon Bonaparte's elder brother. When he was exiled in 1811, this giant pearl was one of the assets he took with him. It was willed to Napoléon III after his brother's death as part of the crown jewels. Later, the incredibly rare pearl was sold to the Duke of Abercorn in England from where it ultimately made its way to Taylor's collection.
The La Peregrina pearl pendant is suspended from a silver foliate base of old mine-cut and rose-cut diamonds. It hangs from "a circular-cut diamond flame motif set with a pear-shaped ruby, spaced by a detachable pear-shaped ruby," reads the description by Christie's. Another natural pearl connects the pendant and the rest of the two-strand necklace. The stunning piece comprises 56 natural pearls and four cultured pearls in total.
The necklace was sold at a New York auction in 2011. Before Marie Antoinette's pearl pendant dethroned this stunning piece in 2018, it held the record for the most expensive pearl sold at an auction for seven years.
The seven-strand festoon natural white pearl necklace
Price: USD 9.08 million
The spellbinding seven-strand pearl necklace is a sheer example of nature's marvel combined with exemplary craftsmanship. 614 natural saltwater pearls graduate from 5.1 to 17.05 mm to form this operatic piece. The strands measure between 53 and 88 cm in length.
These expensive pearls are off-round to button-shaped and have radiant cream to rose overtones. A dazzling platinum and white gold clasp with cushion-cut and old mine-cut diamond accents finish the entire necklace.
Believed to be produced by Pinctada radiata oysters, native to the Gulf of Persia, the origins and provenance of this piece are not well-defined. It was sold at Christie's Geneva Magnificent Jewels Sale in November 2013.
Emperor Yongzheng's (Yinzhen) ceremonial eastern pearl court necklace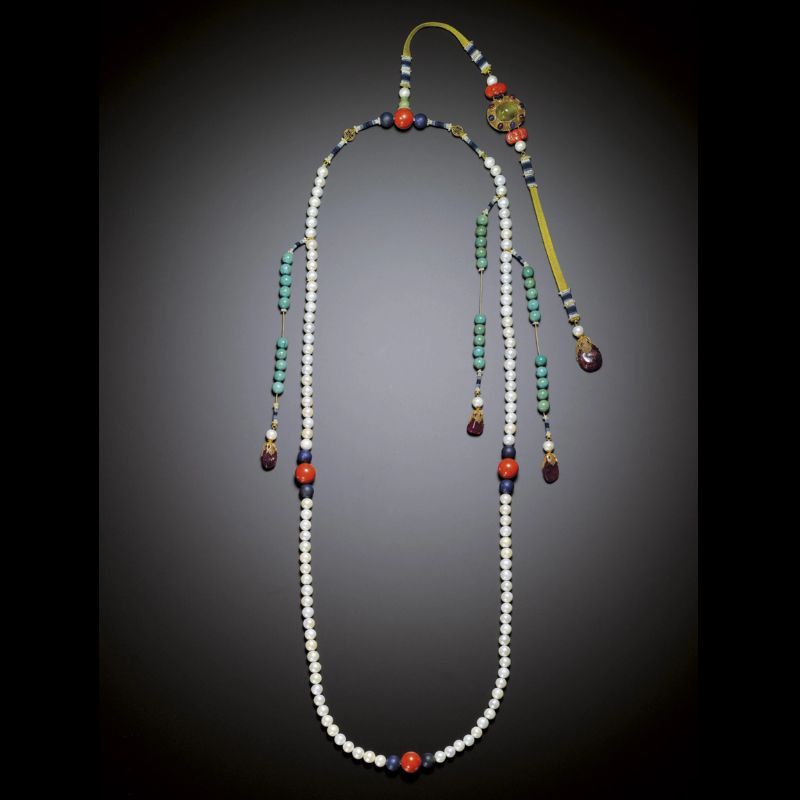 Price: USD 8.7 million
A fine specimen of exquisite Chinese crafts and artistry, this expensive pearl necklace belonged to the Qing dynasty. The ceremonial necklace, known as Chaozhou, was worn by Emperor Yongzheng between 1722 and 1735 as he ruled China from the Forbidden City.
Considered sacred in Buddhism, the making of such a necklace had its own strict rules. A string of 108 pearls, the sequence was to be intersected by a different coloured bead, called the fotou or Buddha's head, after every 27th bead. Three strands, called jinian, hung loosely on either side while a ceremonial thread was used to adjust it on the wearer. A magnificent symbol of royalty, this necklace uses natural freshwater pearls, quartz cabochons, spinel and sapphire cabochons, gold filagree coral bats and red tourmaline.
It went under the hammer at a 2010 Sotheby's Hong Kong auction.
Baroda pearl necklace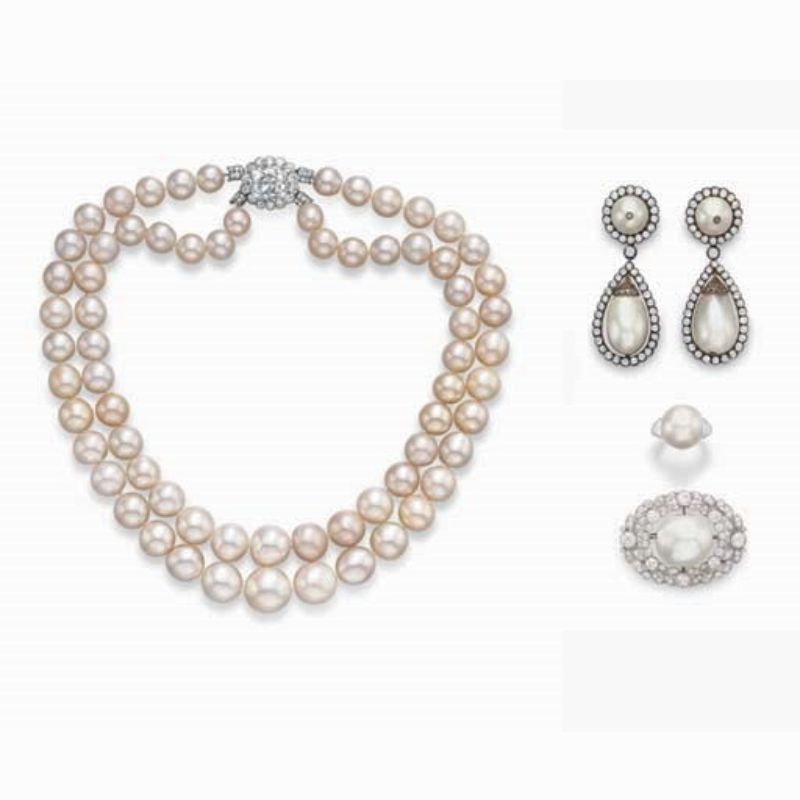 Price: USD 7.1 million
Originally commissioned by Maharajah Khande Rao Gaekwad of Baroda (modern-day Vadodara), India, this two-strand natural white pearl necklace features 68 round pearls of the same size and shape. Each pearl measures around 10 to 16 mm in diameter and is held together with a foliate Cartier diamond clasp weighing around 8.57 carats. It was part of an enormous seven-strand necklace, which had nearly 330 pearls.
Christie's auction house states, "Worn through the centuries and across generations by the Indian Maharajas of Baroda, this necklace has been documented endlessly as the epitome of elegance, extravagance and rarity, sentiments embodied by the powerful and endearing Gaekwars of Baroda."
The Baroda pearl necklace was sold at the 2007 auction along with a pair of diamond and pearl earrings, a brooch and a ring.
Cowdray pearl necklace Price: USD 5.3 million
Naturally occurring grey pearls are exceptionally rare, and hence, pieces made with them fetch enormous amounts. The single-strand necklace made of Cowdray pearl is one such splendid example. Initially owned by Lady Pearson, the Viscountess Cowdray, this Cartier jewellery piece flaunts 42 such expensive pearls, measuring 12.90 to 6.65 mm. They bear rosè and greenish overtones.
Two of these Cowdray pearls, measuring 11.52 – 12.42 mm and 11.92 -12.13 x 10.15 mm, were used to make a pair of matching earrings. They are set in a frame of single brilliant-cut diamonds, mounted in silver-topped gold and 8-carat yellow gold.
A gorgeous 43.5 cm long clasp featuring a rectangular mixed-cut diamond, mounted in platinum, holds the necklace in place. It first went under the hammer at a Christie's auction in the 2000s for USD 3.3 million before Sotheby's Hong Kong sold it for USD 5.3 million in 2015. Here, it earned it the title of the most expensive single-strand pearl necklace in the world.
Duchess of Windsor pearl necklace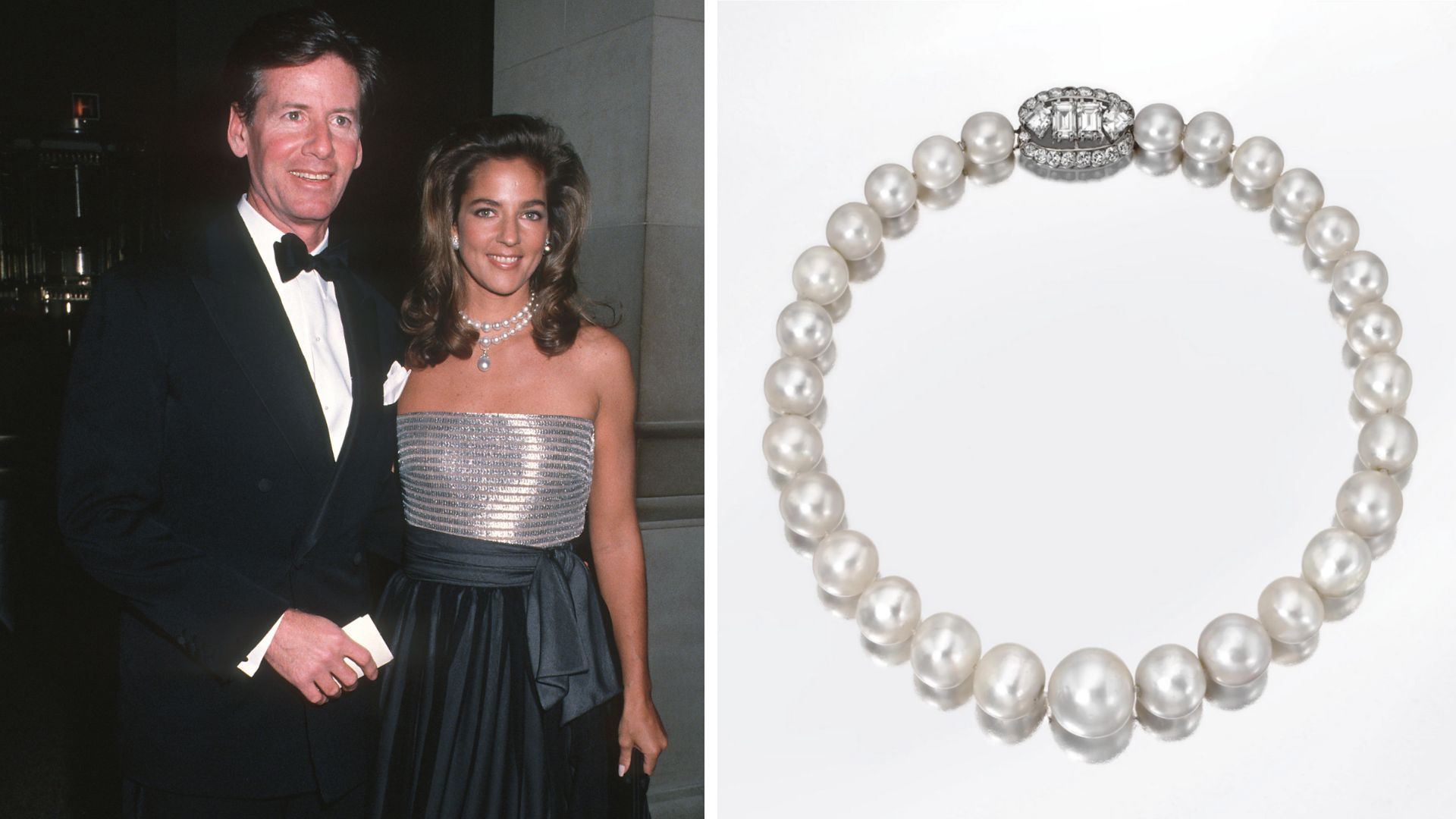 Price: USD 4.8 million
The stunning necklace is a tight string of expensive pearls with a royal connection and a celebrity stamp of approval. Once belonging to the Russian Dowager Empress Maria Feodorovna, the choker was sold to King George V in 1929, who gifted it to his wife, Queen Mary of England. It was eventually handed down to their son, the Duke of Windsor, who later became King Edward VIII.
When the new King abdicated the throne to marry the twice-divorced American socialite, Wallis Simpson, the pearl necklace found itself with the Duchess of Windsor. Thanks to such a romantic journey, when this stunning natural pearl necklace went under the hammer in 1987, it caught the attention of Calvin Klein, who lapped it up for USD 733,000.
A Cartier Paris design, the necklace is just 36 cm in length, including the clasp. It is composed of a single strand of 28 white and cream pearls ranging between 16.8 to 9.2 mm. The diamond clasp has two emerald-cut diamonds weighing about 2 carats and two fancy-shaped diamonds weighing nearly 1 carat. It is laced with 20 small round diamonds weighing 0.70 carats. In 1950, the Duke of Windsor commissioned Cartier to accentuate the necklace with a drop-shaped natural pearl pendant and make a pair of round natural pearl earrings for his wife.
Kelly Klein wore the pearls for over two decades and put them up for auction again in 2007 when they fetched the high price.
Pierre Cartier's pearl necklace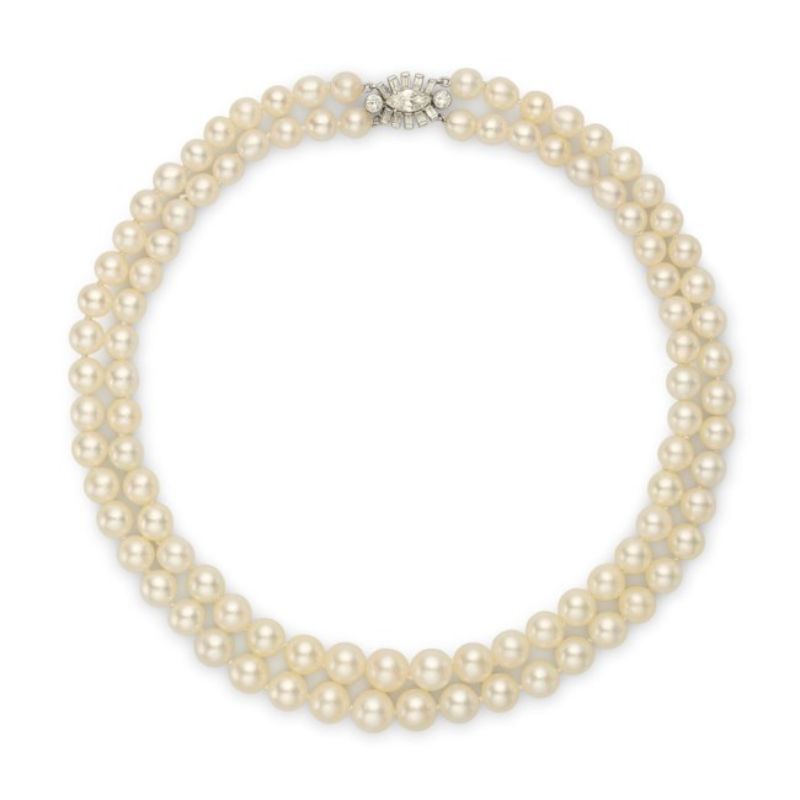 Price: USD 3.7 million
This two-strand natural pearl necklace is as exquisite as the name it bears. An immortal figure in the history of extravagant and expensive jewellery, Pierre Cartier himself designed this necklace featuring about 120 round pearls, measuring approximately 6.5-12.25 mm. Dazzling with a subtle pink and green lustre, this neckpiece is fitted with a 3 cttw diamond clasp.
When Cartier was looking for an ideal studio to showcase his collection, American millionaire and railroad tycoon Morton Plant made him a unique offer. Since Plant's new bride, "Masie" Mae Caldwell Manwaring insisted on possessing the neckpiece, her husband traded it for USD 100 along with their lavish mansion on Millionaire's Row in Fifth Avenue, New York.
After Masie's death in 1957, the necklace sold for over a million dollars at an auction but disappeared from the public eye. It resurfaced at the Christie's auction house in 2012 where it fetched the quoted price.
Marie Antoinette's pearl necklace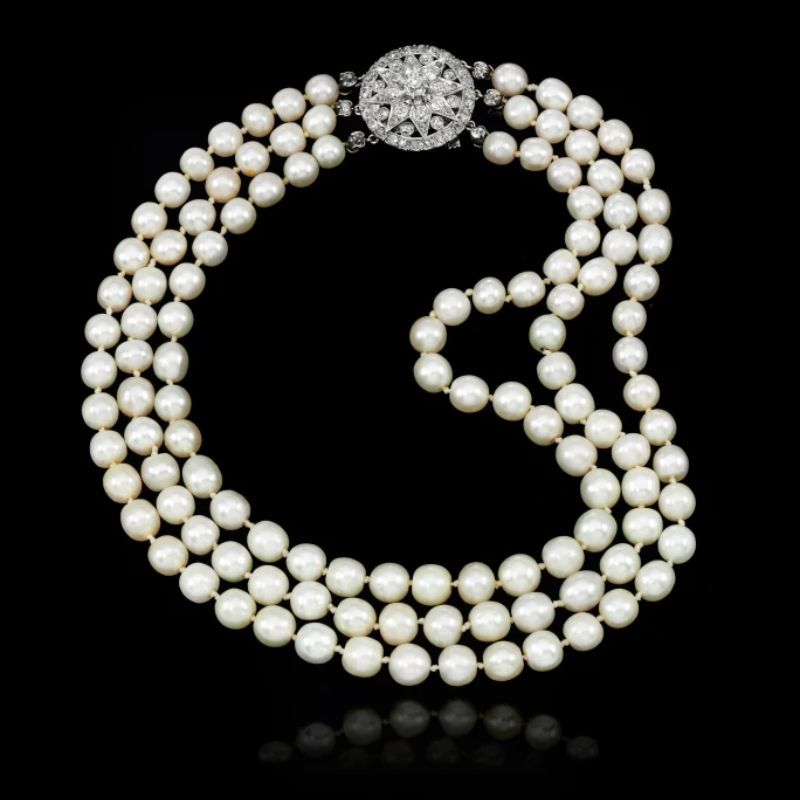 Price: USD 2.3 million
One of the few jewels which were taken out of the palace when the French king and queen escaped the revolutionaries, this pearl necklace was also a part of the auction that sold Antoinette's pearl and diamond pendant. Created for the 18th-century French aristocracy, the piece showcases the timeless versatility of pearls as it elegantly fit the likings of the 20th-century Bourbon-Parma women.
Sold at the record-setting 2018 Sotheby's auction, the necklace flaunts 119 off-round and button-shaped pearls measuring about 7.30-9.30 mm. Of these, 116 are natural saltwater pearls and three are freshwater products. However, they were initially strung in a longer three-row pearl necklace. These white and cream-coloured pearls have rosé and green overtones.
A circular diamond star-motif clasp, with a round, cushion and rose-cut diamond accents completes the piece. It also carries Austrian assay marks and bears the 750 stamp for 18-carat gold.
The Dodge pearl necklace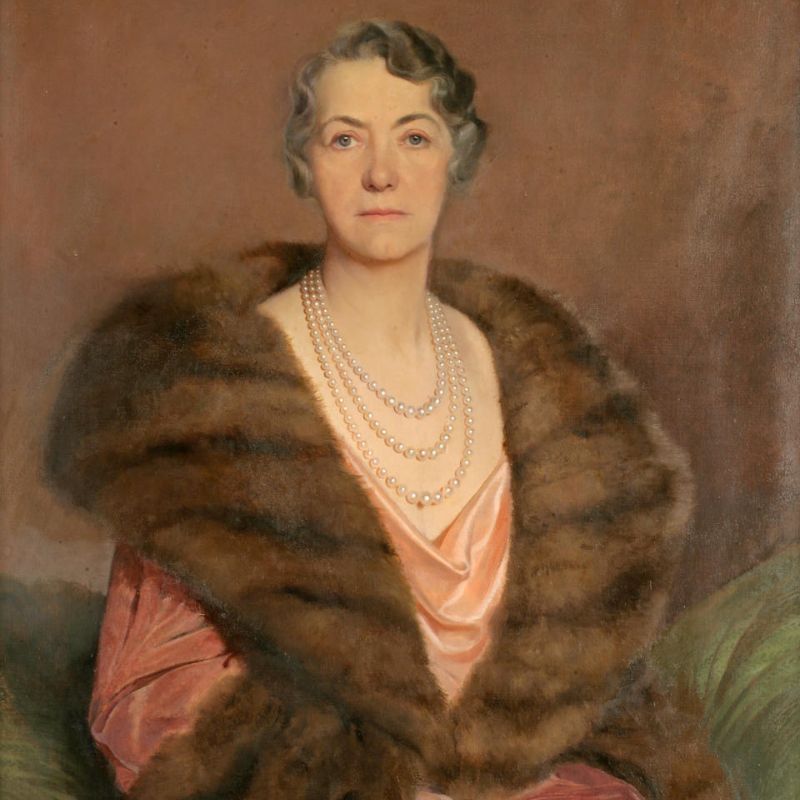 Price: USD 1.1 million
It is a splendid saltwater natural pearl necklace with an equally ravishing Art Deco-style diamond clasp. The three-strand necklace is composed of 224 pearls graduating between 10.25 to 4.2 mm. It has a clasp made with an old cushion-cut diamond weighing 1.95 carats. It is flanked by two Swiss-cut diamonds weighing 1.75 cttw each and is surrounded by a bed of round brilliant-cut diamonds with a combined weight of 3.75 carats. The entire structure is embedded in platinum. The piece has another clasp of a similar design, both of which are signed by Cartier.
Although the exact historical provenance is hard to trace, the origins of this necklace date back to the 18th century in the Russian Tsar's court. According to Christie's, Cartier purchased a lot of Imperial and aristocratic jewellery after the Russian Revolution of 1917. Some of the most coveted and expensive pieces belonging to Empress Catherine the Great were included in it. A third miniature enamel clasp of the necklace is reminiscent of the Russian Empress' pieces.
The Dodge pearl necklace gained immense fame when automobile billionaire Horace Elgin Dodge purchased them from Cartier in 1920 for around USD 825,000. He gifted it to his wife, Anna at their daughter's wedding. In 1968, Anna presented it to her granddaughter, Yvonne. Originally a five-strand necklace, Yvonne dismantled it and divided the strands among friends, and her three children received one strand each.
Much later, the three strands were reunited with the two diamond clasps and put up for a Bonhams auction in 2008. 10 years later, it went under the hammer at Christie's Magnificent Jewels Auction in 2018.
(Hero and feature image credit: Bonhams)
This story first appeared here.
Frequently Asked Questions (FAQs)
Question: Which is the most expensive pearl ever?
Answer: Discovered in 2016 and valued at USD 100 million, a giant pearl of 66 cm is considered the most expensive pearl in the world. This natural pearl was found off the Palawan Island coast in the Philippines and weighs 34 kg. It dethroned the Pearl of Lao Tze which was valued at USD 35 million.
Question: Which is the most famous pearl brand in the world?
Answer: Mikimoto Pearl Company is one of the most iconic and well-known pearl brands in the world. Others include Aurum, Tiffany & Co, Mejuri and Monica Vinader.