Inspired by the iconic divas of our time, Bulgari debuted a magnificent Divas' Dream collection featuring a series of luxurious jewels that not only act as a tribute to the house's famous lady patrons — including the likes of actresses Elizabeth Taylor and Sophia Loren — but also the historic heritage of Bulgari itself.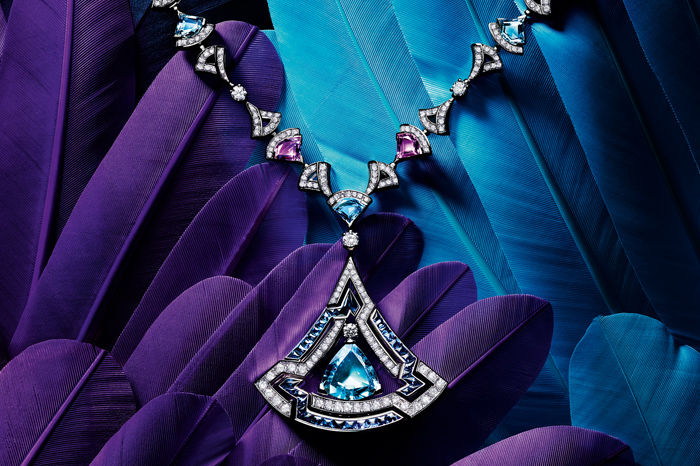 Instantly recognisable by its elegantly arching, fan-shaped silhouette, the signature motif of the Divas' Dream collection references the patterned mosaics of the imperial baths at Diocletian and Caracalla in Rome — Bulgari's home city — which has a history that dates back to 300 A.D. Together with the beautiful colour palette of emerald green, ocean blue and crisp white gold, these jewels evoke a strong sense of Italian femininity and glamour. To continue on its quest to honour the captivating beauty of Rome, and to celebrate multifaceted and alluring modern-day divas, Bulgari has released a series of new additions to the Divas' Dream collection earlier this year. These exquisite pieces evoke the signature sundry styles, colours and preciousness of the collection, but are enriched with an array of even more creative renditions, including shapes that echo the sensual lines of the female silhouette, and openwork designs that capture lightness and sophistication. The contemporary woman — whether she is graceful and refined, charismatic and edgy, or glamorous and vampish — is unapologetic and carefree in her self-expression, which is why these new creations features an assortment of new designs and styles: playful earrings, delicate pendants, and rings of white and pink gold. The gemstones, meanwhile, are carefully chosen, with a sophisticated combination of rich colours and precious stones including diamonds, aquamarine, pink tourmaline and rubelite, highlighting the varied spirits of the Bulgari woman.
The 2017 Divas' Dream jewellery collection is now available at Bulgari boutiques across Hong Kong. You may also head to the brand's official website for a glimpse of the collection.
Bulgari, Shop G3, G/F, Landmark Chater, +852 2523 8057