Tiffany & Co. may have long upheld the idea that diamonds are a girl's best friends, but now the American jeweller wants to make that the case for gentlemen, too.
Enter the The Charles Tiffany Setting, the very first line of men's engagement rings to be offered by Tiffany & Co. It's fittingly named after the luxury label's founder, Charles Lewis Tiffany, who introduced the world to the women's solitaire diamond engagement ring in 1886. Now, Tiffany & Co. is flipping traditions with its masculine counterpart.
Recalling the signet ring that has long been a staple of men's jewellery, the centrepiece of the Charles Tiffany Setting is a sparkling solitaire diamond — ethically sourced, as Tiffany & Co. can ensure with an unprecedented level of transparency. The gemstone comes in either round brilliant or emerald cuts, and weighs up to five carats. In other words, you can't miss it.
For now, The Charles Tiffany Setting is offered in platinum and titanium designs. The size of the round brilliant diamond is emphasised by a smooth, knife-edge band — the kind that has distinguished the iconic Tiffany Setting ring for women. As for the styles with emerald-cut diamonds, the shape of the gem is brought out by surrounding contours and the band's bevelled edges.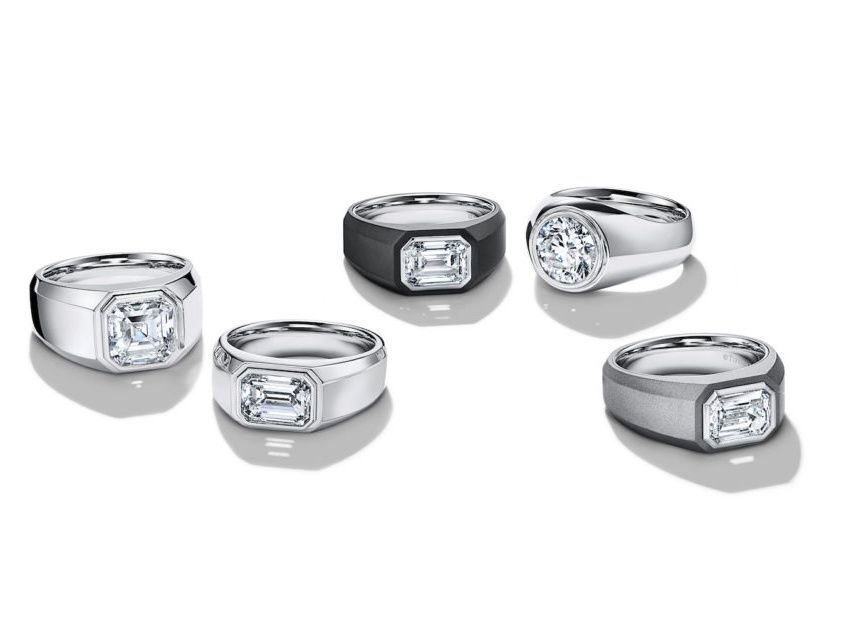 All of which makes for a bold departure from the traditional men's wedding band, which have always been plain in comparison to those worn by brides. Still, the The Charles Tiffany Setting collection didn't arrive merely out of Tiffany & Co.'s determination to change the status quo. It has already been shifting, what with the rise of men's interest in jewellery, fuelled in part by contemporary style icons like A$AP Rocky and Timothée Chalamet.
When it comes to adorning themselves with accessories, men now have more options than ever. That includes Tiffany & Co.'s first jewellery collection for men, launched in 2019. Similarly, luxury labels like Louis Vuitton and Dior have also unveiled jewellery lines dedicated to the other half of the population in the last few years.
It was only a matter of time before an engagement ring was designed just for them. The Charles Tiffany Setting, which marries striking details with a sense of classicism, will surely appeal to the modern man's tastes. And if the gentleman so wishes, he can purchase one for himself at any Tiffany & Co. flagship around the world starting from May.
See the original post here.
Images courtesy of Tiffany & Co.