The collections of Van Cleef & Arpels have often remained down to earth.
Not in artistry — the French jeweller there is ambitious — but rather in inspiration. Nature and its blooms have been interpreted time and again through the brand's delicate pieces, like the award-winning Frivole Secrète watch or the graceful Rose de Noël jewels. For the new high jewellery collection, though, Van Cleef & Arpels looked above and beyond.
The result is the Sous les Etoiles jewels (French for 'beneath the stars'). There are some 150 pieces in all, each one drawing from the cosmos, with all its sparkling constellations and soaring comets. In exploring the night sky, the Maison delved into sources old and new. Astronomie Populaire, a 19th-century French tome filled with wondrous illustrations of the galaxy, was one. The sublime photographs of deep space, shot by NASA, were another. "We discovered that there is an incredible diversity of colour in distant constellations, galaxies and dust clouds — it's an infinity of colours, reds, purples, greens and blues," said Nicolas Bos, CEO of Van Cleef & Arpels. "If you look at those pictures with the eyes of a jeweller, you see stones."
There are hundreds of them to be found in the transformable Halley necklace, which recreates the comet of the same name. Instead of a cosmic snowball, it's a pear-shaped Fancy Vivid Yellow diamond weighing 11.29 carats that leaves a tail of smaller diamonds in its wake. That lemon-hued gem can also be removed and worn as a ring.
Another stunner is the Ciel de Minuit necklace, an homage to the milky way. Plaques of lapis lazuli, each individually sculpted by hand, form the night sky of the necklace. Delicate diamonds and sapphires, meanwhile, sparkle like stars against it. Astronomy is closely followed by astrology, so it's no surprise that the Sous les Etoiles collection has some treasures that will make horoscope-reading mystics swoon, too. For example, the rubies in the Ison bracelet corresponds to the fiery nature of Aries. Each scarlet stone is placed with Van Cleef & Arpels' Mystery Setting, a technique that's almost a century old and shows no prongs or metal.
The Temple ring, shaped like a space ship and featuring a bullet-cut turquoise, is pretty unconventional — and perfect for Aquarius folks. And Tauruses will no doubt be drawn to the rich hues of the Iwamoto ring, another comet jewel that comprises a Sri Lankan sapphire weighing 26.41 carats and several emeralds. We would leave the Céphéide necklace to the larger-than-life personalities associated with the Sagittarius sign. Purple is their colour, after all, and you see it all over the statement piece, from the lilac chalcedony stones (almost 160 carats in all), to the haloes of two-tone tanzanites and mauve sapphires surrounding them. The necklace, which comes with a detachable clip, is named and modelled after giant stars that burn brighter than the Sun — a detail that would be appreciated by those ruled by Jupiter.
And perhaps your Scorpio friends will be enthralled by the Galaxie Secrète High Jewelry watch, which hides its dial beneath a hypnotic spiral of diamonds and sapphires in inky hues. The largest of the latter, an oval-cut Madagascar sapphire of 8.05 carats, only adds to the watch's mystery.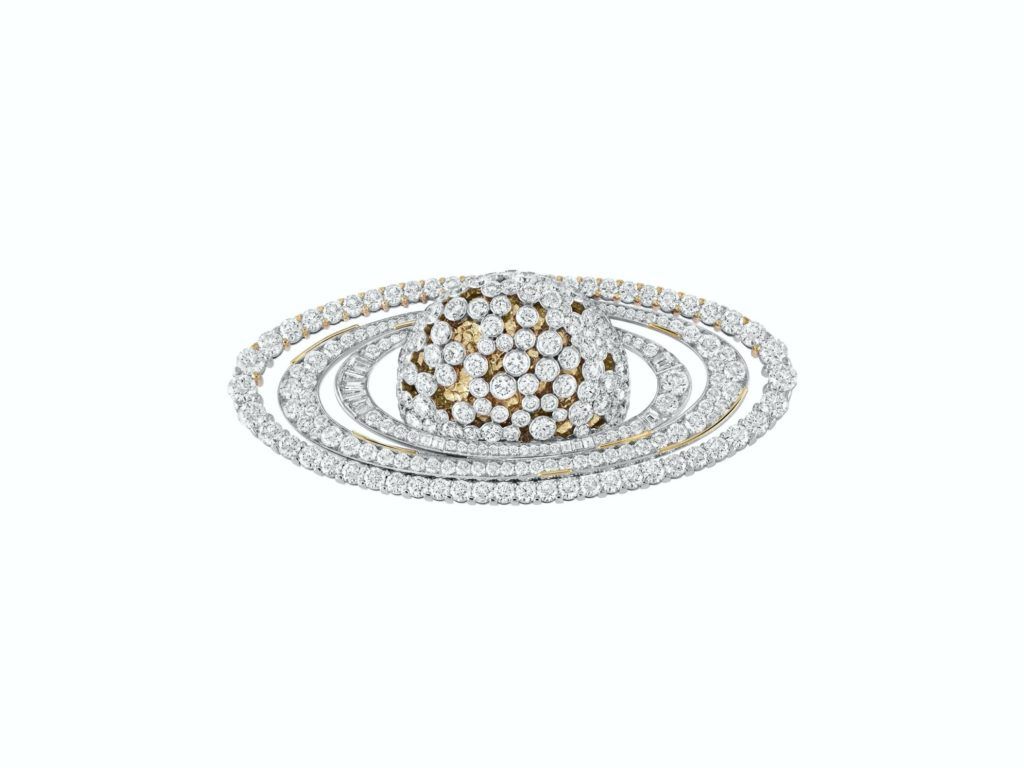 For more obvious zodiac links, see the Saturn clip, comprising a half-sphere of hammered gold amidst a "cloud" and rings of diamonds. There's also a series of pins graced by goddess-like figures that embody Neptune, Mercury and the Sun (the rulers of Pisces, Gemini and Virgo, and Leo signs, respectively).
Much of the Sous les Etoiles collection, like the celestial skies that they're inspired by, is open to your interpretation. But one thing we can all agree on is Van Cleef & Arpels' ability to elevate jewellery into an art form. These jewels, which altogether were four years in the making, boast an array of complex techniques, like the aforementioned Mystery Setting and the mechanism behind the Secrète watch. Even if you're not one to stargaze, the collection will nonetheless leave you in awe.
Header photo credit: Van Cleef & Arpels
See the original post here