1. The watch hands are so iconic; everyone calls them the Breguet Hands.
Out of the many iconic features of a Breguet timepiece, the hollow, eccentric "moon" tip watch hand is perhaps one of the most instantly recognisable of all. These slim, sleek hands were created by founder Abraham-Louis Breguet in 1783, and were proven to be a huge success for its simple and easy-to-read characteristics. Since then, watchmakers have commonly called them the "Breguet hands", and its design features are often found imitated by others across the world.
Pictured:Breguet 'Classique' 5140BB/29/9W6 in 18k white gold
2. The Reine De Naples collection was inspired by a wristwatch designed for Napoleon's sister Caroline, Queen of Naples.
While the Haute Horlogerie world has only recently started to explore mechanical watches for women, Breguet has already been doing so for centuries. One of the prime examples is a wristwatch that dates back to 1810, which was a special creation  for Napoleon's sister Caroline, Queen of Naples. Today, that same sense of femininity and refinement can be found in Breguet's Reine de Naples collection, which features a beautiful, egg-shaped silhouette inspired by the unique historical piece that was designed for a queen.
Pictured:Breguet 'Reine de Naples' 8928BR/5W/944/DD0D in 18k rose gold
3. Marie-Antoinette, Breguet's most faithful and iconic patron, longed for a Breguet watch even in prison.
As impressive as it is, the house's strong reputation — especially within Parisian high society and the French Court — was, in fact, firmly established long before the Queen of Naples' wristwatch was made, all thanks to Queen Marie-Antoinette of France. Not only did she own many of the master watchmaker's designs, she also enthusiastically recommended him to the entire kingdom and exalted guests. She also remained exceptionally loyal to the brand up until her very last days, and famously requested for "a simple Breguet watch" from her cell at the Temple prison in 1792, thus making her Breguet's keenest and finest admirer in all history.
Pictured:Breguet Marie-Antoinette 'Dentelle' GJE16BB20.8924R01 in 18-carat white gold
4. The iconic guilloché dial is a masterpiece.
What makes a Breguet watch so fascinating to behold? The answer can be found in the details. Around 1786, founder A.-L. Breguet began fitting his watches with engine-turned silver or gold dials of his own design. The so-called guilloché dial quickly became one of the unmistakable hallmarks of a Breguet watch. The dial's decorative patterns — which may include clou de Paris hobnailing, pavé de Paris cobbling, sunburst, barleycorn, waves, cross weave, checkerboard, flame and many more — is meticulously handcrafted using engine-turning lathes that are more than a century old and have the precision of a tenth of a millimetre. To achieve these intricate works of art, the craftsman is required to work line by line, crossing the dial again and again, eventually resulting in a finely textured, glare proofed matt surface that is not only decorative and unique, but also make the dial far easier to read.
Pictured:Breguet 'Le Réveil du Tsar' 5707BB/12/9V6 in 18-carat white gold
5. The tourbillon was invented (and patented) by Abraham-Louis Breguet in 1801.
Gifted with an analytical mind, A.-L. Breguet realised the negative effects of gravity on the regularity of horological movements when a watch is positioned vertically. To solve the problem, the watchmaker had the idea of compensating for the flaws by installing the entire escapement (meaning the balance and spring, the lever and the escape-wheel, which are all parts that are most sensitive to gravity) inside a mobile carriage that rotates inside the watch. This "régulateur à tourbillon" (a.k.a. the Tourbillon) was then patented in 1801; not only did it significantly improve the accuracy of pocket-chronometers, it also remains to be one of the greatest inventions in the history of watchmaking.
Pictured:Breguet 'Tradition' 7047PT/11/9ZU in rose gold, with fusee tourbillon.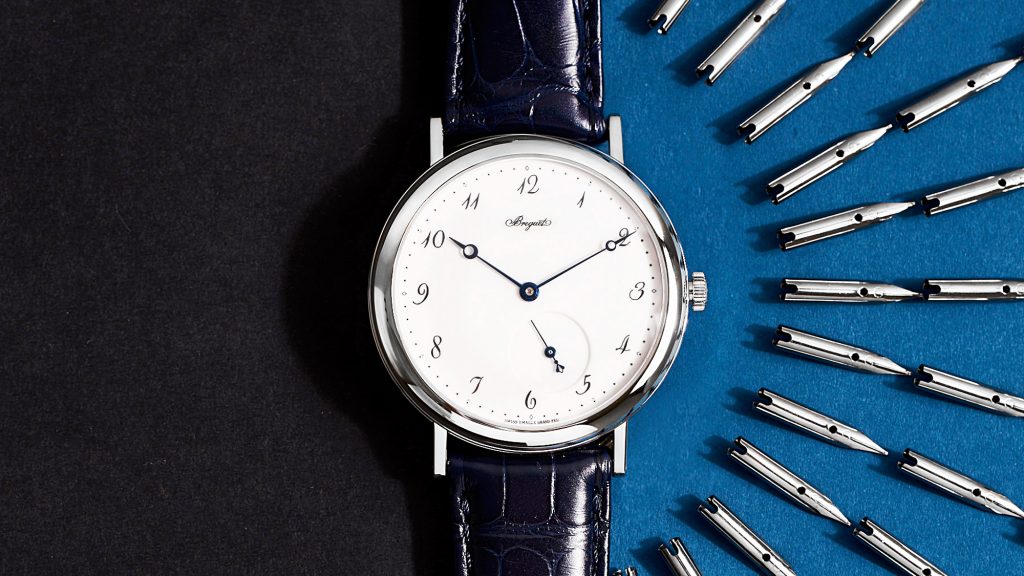 You've finished this slideshow
Shop all looks
Back to article
5 extraordinary things you never knew about Breguet
Presented by
Breguet
Whether or not you fancy yourself as an expert on luxury
watches
, you need to know a thing or two about
Breguet
 if you have even a passing interest in fine timepieces. Why? Founded by 
Abraham-Louis Breguet
 in Paris in 1775, it's not only one of the oldest luxury watchmakers in the world, but also one of Switzerland's most accomplished watch brands. Responsible for a number of innovations that forever changed the course of 
Haute Horlogerie
, these vital contributions have shaped the industry into what it is today, so it's always worth revisiting Breguet's storied history. To illustrate the brand's unique designs and innovations, we shot fun visuals featuring their iconic timepieces, so take a look as we guide you through five of the many extraordinary things that you should know — but probably didn't — about this legendary watchmaker.
Credits:
Text and styling: Cindie Chan
Photography: Kenneth Wu @ Lightseed Studio
Breguet, Shop G05 & 205, 1881 Heritage, 2A Canton Road, Tsim Sha Tsui, Kowloon, Hong Kong, +852 2518 9988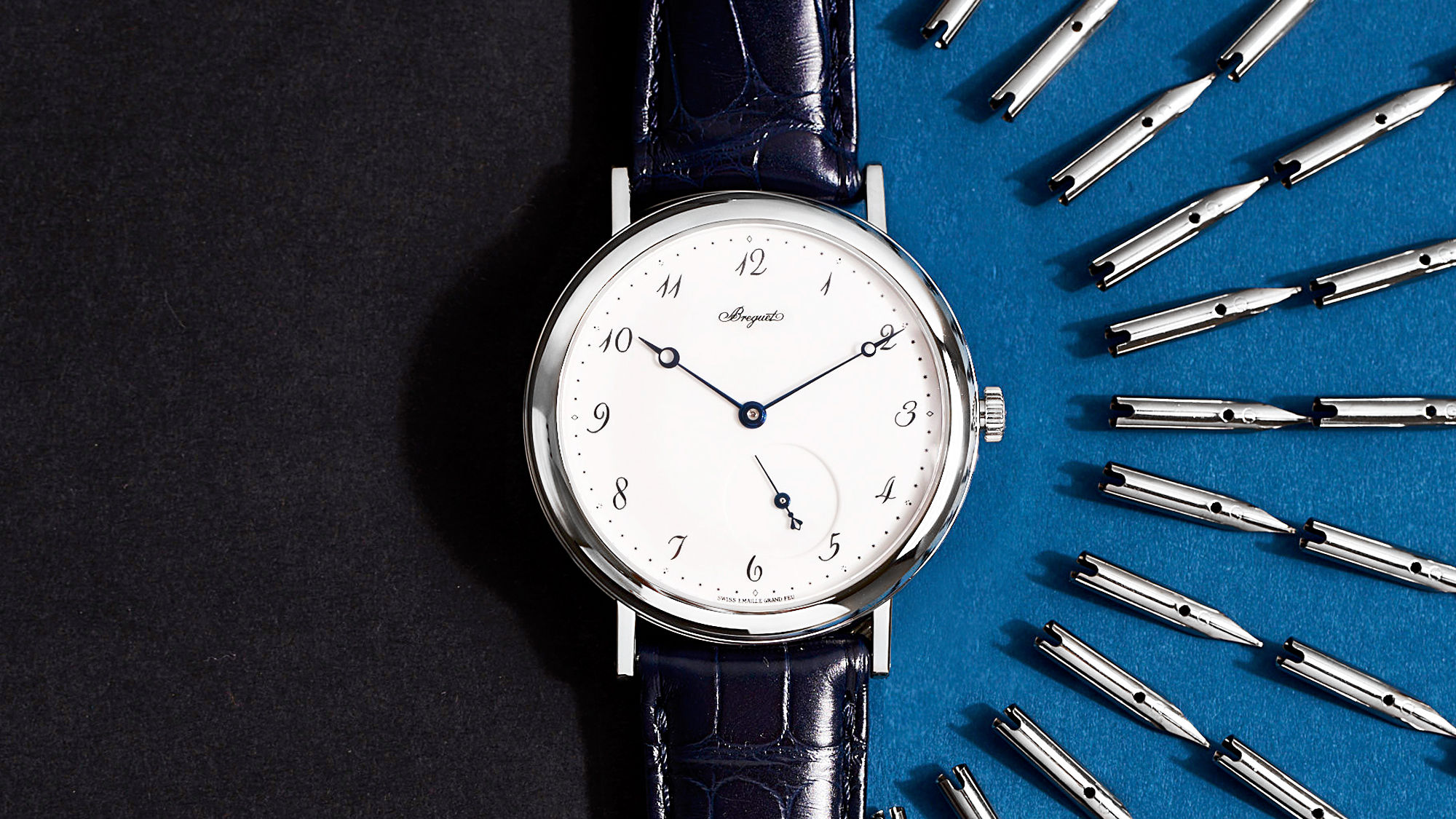 Watches Haute Horlogerie Luxury Watches Watchmaker swiss watches Breguet Tourbillon Abraham-Louis Breguet Marie-Antoinette Reine de Naples
Cindie Chan
Style Editor
Fashion blogger turned editor, Cindie has spent over seven years covering all things stylish in the digital world. When she's not busy poring over the latest covetable releases or attending the most talked-about fashion events in town, you'll find her enjoying some precious downtime with her newborn son and sweet dog Rosy.