Fresh off a streak of record-breaking sales in Geneva, Phillips (in association with Bacs & Russo) is set to bring horological spring fever back to Asia this month. Hong Kong Watch Auction: Six features a catalogue of 230 rare and unique timepieces — over 50 percent of which are vintage — with the latest round of auctions guaranteed to attract serious bidders from all over Asia. The timing couldn't be better, with Phillips likely to capitalise on the current insatiable appetite for vintage Rolex and Omega watches. Star lots aside, this spring sale is shaping up to be an eclectic offering, with some pieces estimated at as little as HK$12,000. Without further ado, here are five vintage watches worth paying attention to at Hong Kong Watch Auction: Six.
More information about Phillips' upcoming Hong Kong sales is available here.
1
Ref. 145.022 Omega Speedmaster
While the Speedmasters most likely to appreciate in value are those which Omega originally supplied to NASA, the model retains immense appeal in its various commemorative guises. This limited edition exemplar — number 163 in a run of 1,014 yellow-gold Speedmasters — was made to celebrate the Apollo XI moon mission, and is part of a storied lineage that counts astronauts and statesmen amongst its wearers. Pedigree notwithstanding, the present example of an Apollo XI Speedmaster is eminently wearable. The 42mm casing, fashioned from solid gold, is complemented by applied black markers and a burgundy bezel. Black, gold and burgundy — some combos are just meant to be.
2
Ref. 6452 Rolex GMT Master "Pussy Galore"
Although Rolex's star attraction (of late) has been its lineage of exotic dialled "Paul Newman" Daytonas, this one-of-a-kind GMT Master is sure to give the former a run for its money. The historic 6452 reference possesses several discontinued features that are highly prized amongst watch cognoscenti; notably, an unguarded crown and bakelite bezel — both considered design flaws which were subsequently "corrected" by Rolex for later generations of GMTs. The prototypical nature of this GMT Master would be enough to attract interest, but the current 6452 bears the greater and arguably rarer privilege of being configured for left-handed wearers (what watch nerds refer to as a "Destro" timepiece). With left-handed Rolex timepieces being infamously sparse, it's unsurprising that initial estimates price this vintage find at HK$640,000–$960,000.
3
Ref. 2438/1 Patek Philippe
During the "Golden Age" of haute horology — encompassing the time period between 1940 and 1970 — Patek Philippe launched six models of perpetual calendar wristwatches. The ref. 2497 was amongst the rarest of these, produced in a minute quantity of 100 pieces. That impressive context informs the reputation of the ref. 2438/1: a watch which Patek obsessives regard as the motherload. Aesthetically similar to the aforementioned 2497, the current perpetual calendar is one of only 65 ever manufactured; featuring a pink-gold dial which glistens like perfectly poached salmon. Moreover, it represents one of the few "Golden Age" Pateks ever produced that's capable of water resistance, a design feature that wasn't regularly contemplated until the launch of the Nautilus in 1976. Phillips boasts that this is "one of the most important wristwatches of the past century". That's putting it mildly.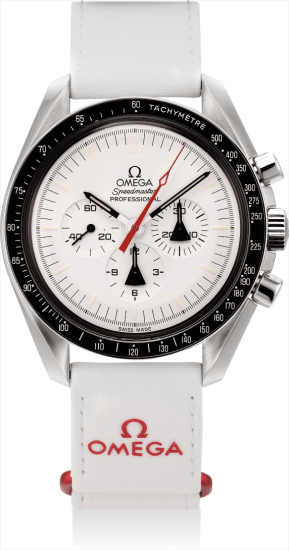 4
Omega Speedmaster "Alaska Project" 2008
Speedmasters are undoubtedly a highlight at this year's spring sale. While the most beloved production models tend to be vintage grails like the ref. 2998, there are some practically brand new models that are surprisingly affordable. This 42mm limited edition — once again celebrating Omega's historic partnership with NASA — pays tribute to the "Alaska Project", the now-infamous series of tests Omega commenced in 1970 for the purpose of developing space-qualified watches. The present timepiece is a meticulous reproduction of the first "Alaska Project" prototype, featuring an aluminium outer case; special sub-dial hands; and complete set of papers. Granted, it's not the period-authentic 1970s prototype, but at this price point (HK$15,000–$25,000) buyers are able to get a taste of history without breaking the bank.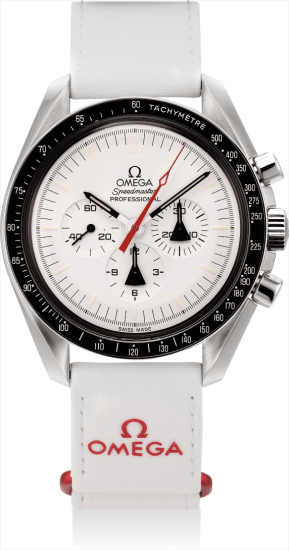 5
Ref. 6263 Rolex Oyster Cosmograph "Paul Newman Panda"
Ask any given Paul Newman Daytona enthusiast what the most desirable iteration of this totemic staple is; and they're likely to mention the Oyster Reference 6263. An essential part of the Paul Newman Daytona lineage, ref. 6263 models can be distinguished by their "panda" dials (an exotic tone-on-tone combo of cream and black) and the absence of conspicuous "Daytona" branding (usually written above the 6 o'clock position). Not one for penny pinchers, the ref. 6263's prestige is almost entirely predicated upon its handsome looks, while under the hood it is powered by a Valjoux 727 caliber that had previously been introduced in 1970. That said, it's among the most recognisable references in the Paul Newman Daytona family and pivotal to the acclaim that this legendary Rolex model enjoys today.