In spite of persistent CoViD-19 worries, impressive results in Geneva over the weekend have set expectations high for Phillips' second live sale of the season — scheduled to take place over a two-day period in Admiralty, starting next Friday. Here's what we're keeping an eye on.
Like any number of consumer goods industries in the global economy, luxury watches have been brutalised by the widespread economic shutdown that's gripped the world since February. Swiss brands in particular have been feeling the brunt of current events — with that country's cumulative watch exports dropping 82 percent in April.
However, as with every crisis, there are outliers; and if you happened to be in the room (well, figuratively speaking) at The Geneva Watch Auction: XI ('GWAXI') over the weekend you'd be hard pressed to detect even trace amounts of pessimism among the throng of collectors, specialists and proxy bidders.
Far from dampening buyers' enthusiasm, it appears CoViD-19 has had little, if any tempering effect on the global watch auctions — at least if performance data at this early juncture is any indication.
This morning, Phillips announced its newly-concluded Geneva sale had "achieved CHF30 million, selling 100 percent by lot to become our first non-thematic 'White Glove' sale." Reasons for this impressive result — beyond obvious developments like the appearance of four Patek Philippe watches, fresh from the personal collection of Jean-Claude Biver — are as inscrutable as they are numerous, contributing to a fresh surge of anticipation around Hong Kong Watch Auction: X ('HKWAX'), set to take place next week.
In the lead-up to what could very well turn into another 'white glove' event (the region's first since the Blackbird thematic auction in 2019), we've cherry-picked nine watches which we think embody the best possible spread of condition, rarity, value and of course, pure unadulterated good looks.
The Hong Kong Watch Auction: X will be held in two sessions between 10-11 July at JW Marriott Hong Kong. To register to bid (or place an advance offer), please visit Phillips online.
1
A. Lange & Söhne Tourbograph Pour le Mérite (Ref. 712.050)
First introduced as part of a limited edition in 2010, the Tourbograph 'Pour le Mérite' is one of a handful of extremely complicated wristwatches that pay tribute to F.A. Lange. Within the wider family of 'Pour le Mérite' tourbillons, it bears the distinction of being the first timepiece to fuse together a tourbillon, split-seconds chronograph and Lange's characteristic fusée-and-chain transmission. Unlike the already-small number of Tourbographs that have previously come to market, the present example is cased in 'honey gold' — a proprietary alloy intended by Lange to combine the hardness of platinum and warmth of yellow metal. To be offered with box and papers.
Estimate
HK$1,400,000–2,000,000
2
Richard Mille RM 11-03 'Jean Todt'
Decidedly a product of the modern era, Richard Mille's RM 11-03 'Jean Todt' was initially released in 2018, heralding the first time that the brand had employed forged carbon and blue quartz TPT. Like many of the brand's previous offerings, the RM 11-03 is a tonneau-shaped flyback chronograph made to commemorate a noted figure in motorsport — namely, Scuderia Ferrari CEO and former rally driver Mr. Jean Todt. Powered by the open-worked calibre RMAC3, the present example is in excellent overall condition, accompanied by a full set of accessories from Richard Mille Shanghai.
Estimate
HK$1,500,000–2,800,000
3
Rolex Cosmograph Daytona 'Darth Vader' (Ref. 16520)
Discontinued in 2000, the ref. 16520 Cosmograph is notable for being the first iteration of self-winding Daytona. Particularly desirable amongst chronograph lovers thanks to its usage of the historically significant Zenith 'El Primero' movement, most 16520s command formidable values on the secondary market. Though, even by the model's own lofty standards, the present example can be considered extremely rare. Throughout the 1990s, Rolex's application of the acrylic lacquer known as Zapon led to the development of a unique 'tropical' effect in certain Daytonas — most visible in the watch's three chronograph registers at three, six, and nine. The varnishing in the present example demonstrates an almost clay-coloured patina; and in conjunction with the black dial has earned it the 'Darth Vader' moniker among collectors. Classified as one of the better-preserved examples to have surfaced at auction, it is accompanied by its original Certificate of Guarantee, various product literature and presentation box.
Estimate
HK$400,000–$800,000
4
Patek Philippe (Ref. 5270/1R)
Released to massive fanfare in 2011, the ref. 5270 is renowned among watch lovers for being the first Patek Philippe to feature an in-house perpetual calendar/chronograph movement. Considered the successor to Patek's Lemania-derived 5970, its in-house credentials are made known by the presence of a 'PP' shield engraving in lieu of the traditional Geneva seal. The present example was part of the first batch of 5270s to be fitted with a bracelet — offered here in matching 18K pink gold.
Estimate
HK$625,000-$940,000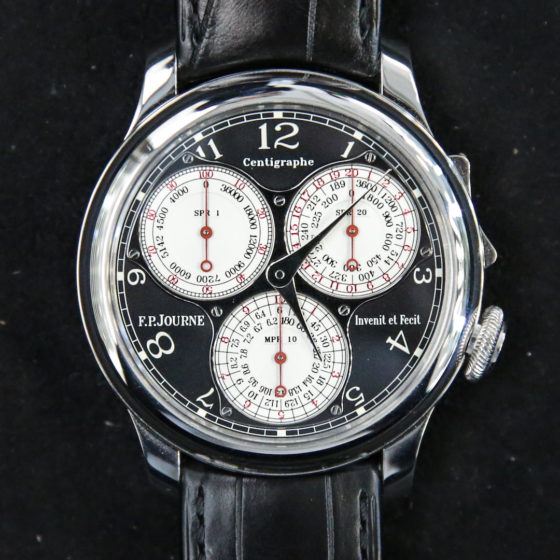 5
F.P. Journe Centigraphe Souverain 'Black Label'
Part of the second generation of independent watchmaker F.P. Journe's 'Centigraphe Souverain,' the present watch is a three-register chronograph that — rather unusually — allows wearers to measure time in 10-minute, 20-second and 100th-of-a-second intervals. The latter interval necessitates the motion of the chronograph hand at such high speeds that it also requires a mechanism to isolate it from the rest of the movement, whenever activated. Fitted in a platinum case with a lacquered black dial, the present Centigraphe is also categorised as a 'Black Label' release — available exclusively at F.P. Journe boutiques. To be sold with box and papers.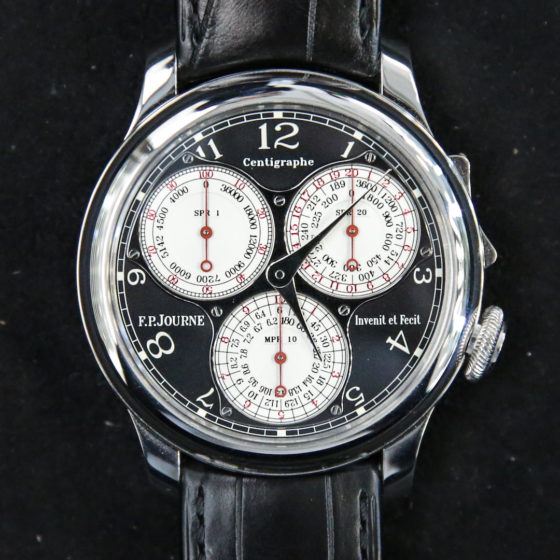 Estimate
HK$230,000–$390,000
6
Patek Philippe (Ref. 530)
For a window into the past and a museum-worthy showcase of heritage design, few models beat out the Ref. 530 — Patek Philippe's eminently desirable two-register chronograph, first released to the public in 1937. Considered 'oversized' by standards during the 1930s, throughout much of its life cycle the 530 proved to be something of an enigma: Only 140 examples were made, in a trio of yellow gold, pink gold and the hyper-rare stainless steel cases (themselves the product of master casemaker Croisier). The present example, manufactured in 1944, is extremely well-preserved: the dial is largely blemish-free, hallmarks remain sharp and intact; and the case evidences gradual, even oxidation. To be delivered with an archival extract.
Estimate
HK$780,000–$1,400,000
7
Patek Philippe (Ref. 2499/100)
Among scholars, the Ref. 2499 is a source of consistent delight: this perpetual calendar/chronograph was made in four series, with a substantial number of variations in casemaker, dial iteration and style of signature. The present example is a fourth series 2499 that can be dated to 1982, confirmed to be part of the generation featuring cases made in-house. Offered with its original Mk. 4 dial intact — something of a rarity for fourth series 2499s at auction — the present example is accompanied by an archival extract that confirms its relatively unblemished provenance.
Price
HK$3,500,000–$5,000,000
8
Patek Philippe 'Padellone', retailed by Gübelin (Ref. 3448/14)
Originally released during the Swinging Sixties, the 'Padellone' (as it has been nicknamed by enthusiasts) was Patek Philippe's radical vision of the perpetual calendar of the future — characterised by a stepped bezel, UFO-shaped case and an unusual bracelet design. The current example is considered extremely rare: It's one of only 14 known examples in white gold, fitted with the aforementioned integrated bracelet. To be sold with documentation from both Patek Philippe and the watch's original retailer Gübelin.
Estimate
HK$2,340,000–$3,900,000
9
Patek Philippe with 'salmon' dial (Ref. 5270P)
Part of Patek Philippe's most recent crop of new releases in the 5270 lineage, the present watch is the first known example of that reference to be produced with a 'salmon' pink dial. In recent years, watches with these vibrantly coloured dials have become a hot commodity amongst collectors, with the current model's desirability compounded by its inclusion of the chronograph and calendar complications and in-house certification. To be sold with box and papers.
Estimate
HK$1,100,000–$1,600,000