Cartier has just introduced a collection of Drive de Cartier watches for men, but to celebrate its launch, the brand isn't hosting a simple cocktail party or a flashy media event. Instead, they've put together a dynamic, weeklong event that offers you a chance to step inside the extremely stylish home of Cartier's ideal gentleman for a chance to experience to his impeccable lifestyle.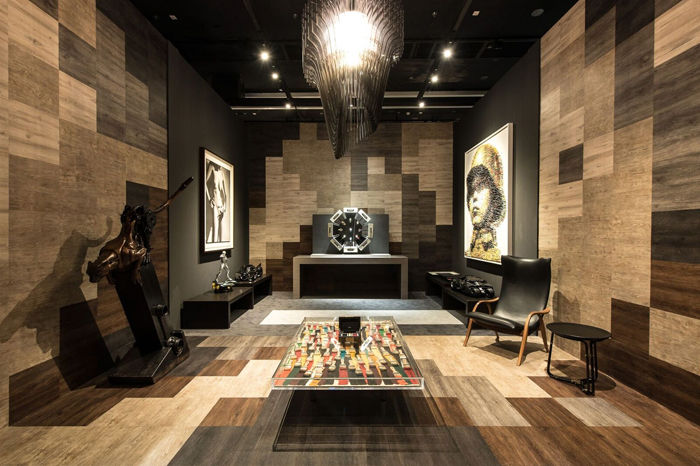 The venue, The Qube at PMQ, has been completely transformed into a series of rooms revealing different aspects of the gentleman's way of life. Upon arrival, visitors will first be welcomed into the lobby for a picture at the interactive photo wall before beginning the tour in a library filled with a fascinating mix of collectibles, such as contemporary art pieces from Opera Gallery and one-of-a-kind figurines that include Transformers, Batmobiles and vintage race cars. Next on the tour is an atelier featuring an impressive wall of television screens with sketches of the Drive de Cartier watch on display, while a working desk made from the wing of an airplane sits beautifully in the corner for all to admire. A gentleman knows how to take care of himself and look his best wherever he goes, so his dressing room here is complete with grooming essentials from Joyce Grooming as well as Technogym's high-tech gym equipment to keep the modern man in shape. A number of outfits put together by Mr. Porter are also on display, all specially styled to match with the Drive watches and their colourful leather straps. Fox & The Barber will also be conducting workshops to demonstrate the pleasures of old-school shave. The Armoury, meanwhile, will provide insight into classic Italian tailoring. The Drive man is also one who lives life to his fullest, so be prepared to be marvel at the chic and contemporary drawing room furnished with sofas, a bar, garden and a gentlemen's games area that includes a pool table, simulation car-racing machine and more. You can participate in an interactive version of arcade games on a giant screen using your mobile phone, hone your poker moves with top professional player Jan Tan, or challenge award-winning pool master Au Siu Wai with a game as you sharpen your cue skills. Placing focus on the Drive man's connoisseurship and his taste for the finer things in life, guests will also have a chance to taste the world's most exclusive coffee and chocolates, and take part in workshops on coffee blending, whiskey and craft beer tasting, and cocktail mixology. The Drive de Cartier launch event will be open to the public from 24 to 30 September 2016. Those who would like to experience this exquisite space should register for a time slot at whatdrivesyou.hk.
The Qube, PMQ, 35 Aberdeen Street, Central, whatdrivesyou.hk