The 35 year old Chinese-born designer, best known for her eponymous haute couture brand, joins the likes of Cory Richards and James Bay in embodying Vacheron's "never-ending quest for excellence" and is the inaugural face for this year's Égérie relaunch.
Launched a little under two summers ago, Vacheron Constantin's 'One of not many' campaign charts a different path to a lot of the personality-based marketing being churned out by luxury brands in 2020.
In keeping with Vacheron's core values, 'One of not many' ambassadors tend to be leading individuals drawn from a multitude of creative backgrounds — whether that's music, photography, or multidisciplinary design. As a rule, they aren't necessarily the most famous in their respective fields. Instead, the crucial factor is whether they embody the same "never-ending quest for excellence, global diversity, and a sense of innovation" that is central to Vacheron's extremely refined approach to watchmaking.
In that sense, couturier Yiqing Yin is a pretty spot-on choice for the brand. The Beijing-born French designer graduated from the prestigious École des Arts Décoratifs in 2009 and has gone on to upend the expectations of critics: exhibiting her creations across a variety of mediums including the Chaillot National Theatre, Paris Fashion Week (Haute Couture) and Venice Biennale. To date, she is the fifth personality to join Vacheron's 'One of not many' campaign and (more notably) is being positioned as the face of the revived Égérie — a collection which hasn't been seen since 2003.
Originally conceived as a simple tonneau (or a jewellery watch aimed at women), the revamped Égérie pieces are inspired by the fraternal universes of haute couture and haute horlogerie.
For this new campaign, Yiqing Yin can be seen sporting three models: each sharing an asymmetric crown, moonphase, 'tapestry' dial and diamonds. The iciest of these is made with a pavé setting, consisting of 802 round-cut stones that range delicately across the case, dial, and bezel.
For something a little less extravagant, the collection also includes steel and pink gold models, which confine their usage of diamonds to the bezel. In comparison to the pavé Égérie, these models only include 36 round-cut diamonds; and are to my mind, a clearer expression of the collection's fashionable tendencies.
Leaving aside a quartz-powered 30mm model, every Égérie is outfitted with Vacheron's calibre 1088/L. As you'd expect for a watch that's 99 percent about first impressions, this is a fairly conventional movement that derives some surprising aesthetic latitude from a large mainplate (decorated with Geneva stripes) and Vacheron's signature cross-shaped rotor.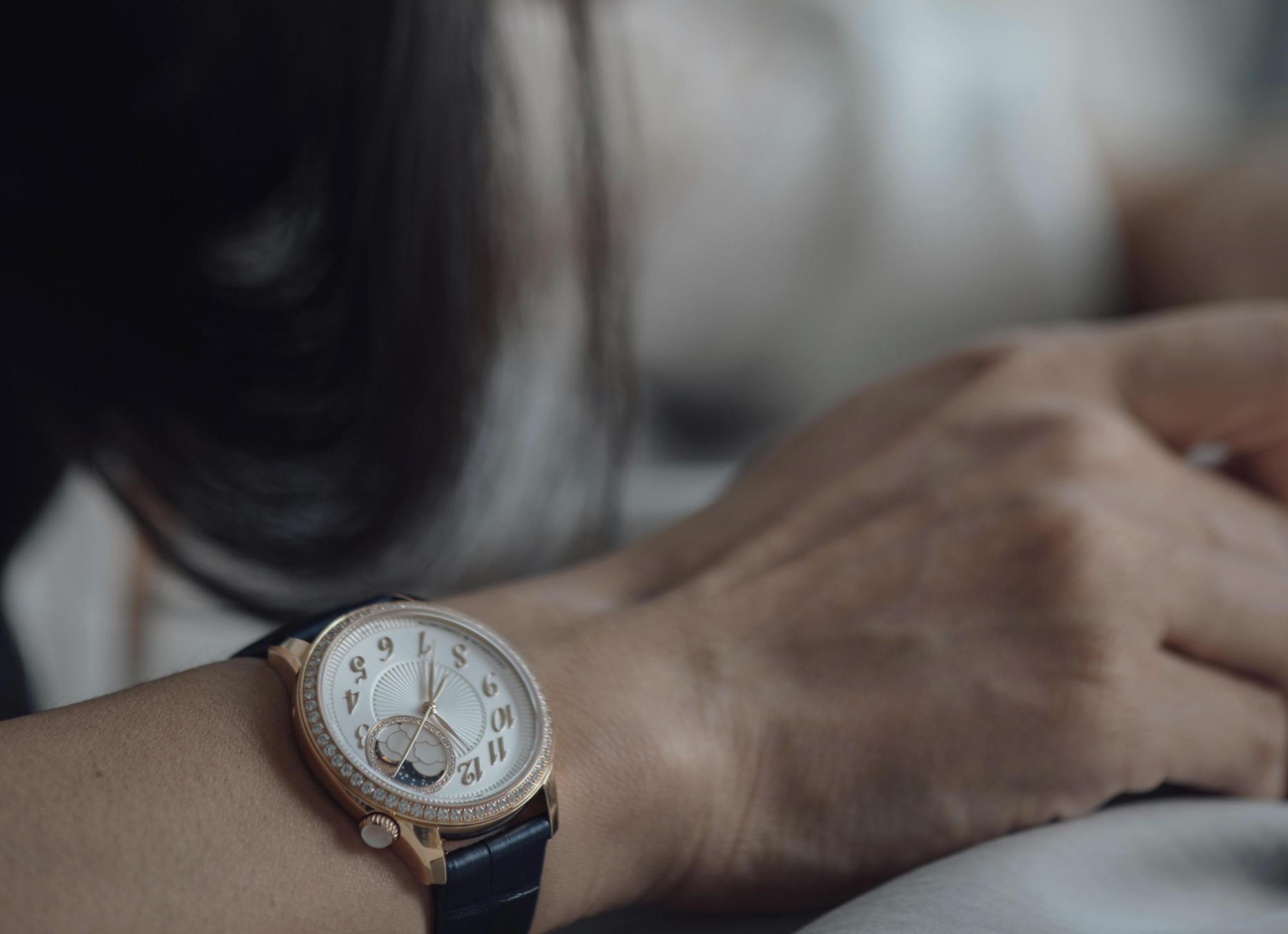 In the interest of full disclosure, I think it's more than a little convenient that the latest 'One of not many' spokesperson happens to hail (at least nominally) from what is, by most accounts, Vacheron's single biggest market.
Despite that, in the interest of not being cynical and boorish, I'll acknowledge that there's probably a good number of stylish young women for whom this might be, as the kids say, "a whole mood."
Ultimately, Yiqing Yin is a compelling addition to Vacheron's ever-growing stable of ambassadors, and given enough time, there's the not-remote possibility that she might collaborate with the brand on her own unique Égérie model. Will it be good as Cory Richard's Overseas prototype? I sure as hell don't have a crystal ball — but I'm excited to find out.
The new Vacheron Constantin Égérie collection is now available, starting at HK$145,000. To learn more, visit Vacheron Constantin online.