In our latest edition of History of Time, we shine a light on Grand Seiko — a name that has for many years inspired confusion in all but the most granular collectors. The first timepieces designated "Grand Seiko" arrived in 1960 — positioned as a premium mechanical alternative to the quartz watches for which Seiko-at-large would later become famous. In 2010, while still operating as a diffusion of the Seiko Watch Corporation ("Seiko Corp."), the line was given a much-needed revamp: available to international consumers for the first time through channels that didn't involve reselling or a trip to Japan. Since then, the brand has made successful inroads to overseas markets and in 2017 Seiko Chairman Shinji Hattori — great-grandson of the company's founder Kintaro Hattori — announced that, moving forward, it would operate as a separate entity from Seiko's core offering. The quality of the Grand Seiko product, combined with intelligent region-specific marketing has seen the brand's profile grow rapidly. In 2018 it became one of the 10 best-selling watchmakers in the United States (at the HK$40,000-$80,000 price point); and drew widespread acclaim for collaborating with we+ at Milan Design Week 2019.
So why do watch collectors — particularly those into vintage and historic timepieces — rate Grand Seiko so highly? Surely, if you have the cash to splash on luxury watches, why not stick with an established and recognisable Swiss brand? It's a perennial question for GS evangelists like Felix Scholz — one which the Time + Tide editor is happy to explicate upon. "In a lot of ways the Japanese learned from the Swiss and built upon those same values of quality finishing and fine mechanical craftsmanship. And in the case of Grand Seiko, they've really taken those principles and run with them", says Scholz. "They are — obsessed is too strong a word — really concerned with fine precision watchmaking, so accuracy is something they care about. They care about having a watch that will last for a long time, and they care about making watches that, simply put, look great — the level of finishing on the cases and dials is really quite high." To better understand this never-ending quest for precision, beauty and function — and to clear the air around the company's now-official independence from Seiko Corp. — here are 10 of our favourite moments from Grand Seiko history, bound to win you over faster than I can say "Spring Drive".
1
1960 - Seiko Corp. produces the first "Grand Seiko" wristwatch
The Seiko Corporation releases its inaugural "Grand Seiko" three-hander. A relatively simplistic time-only watch, it nonetheless satisfies the company's original brief: the creation of a wristwatch accurate to the standards of the Bureaux Officiels de Contrôle de la Marche des Montres (the historic forerunner to COSC). The proprietary calibre 3180 powering it is accurate to +12/-3 seconds per day and offers 45 hours of reserve power — an oddity in the era before silicon was commonplace.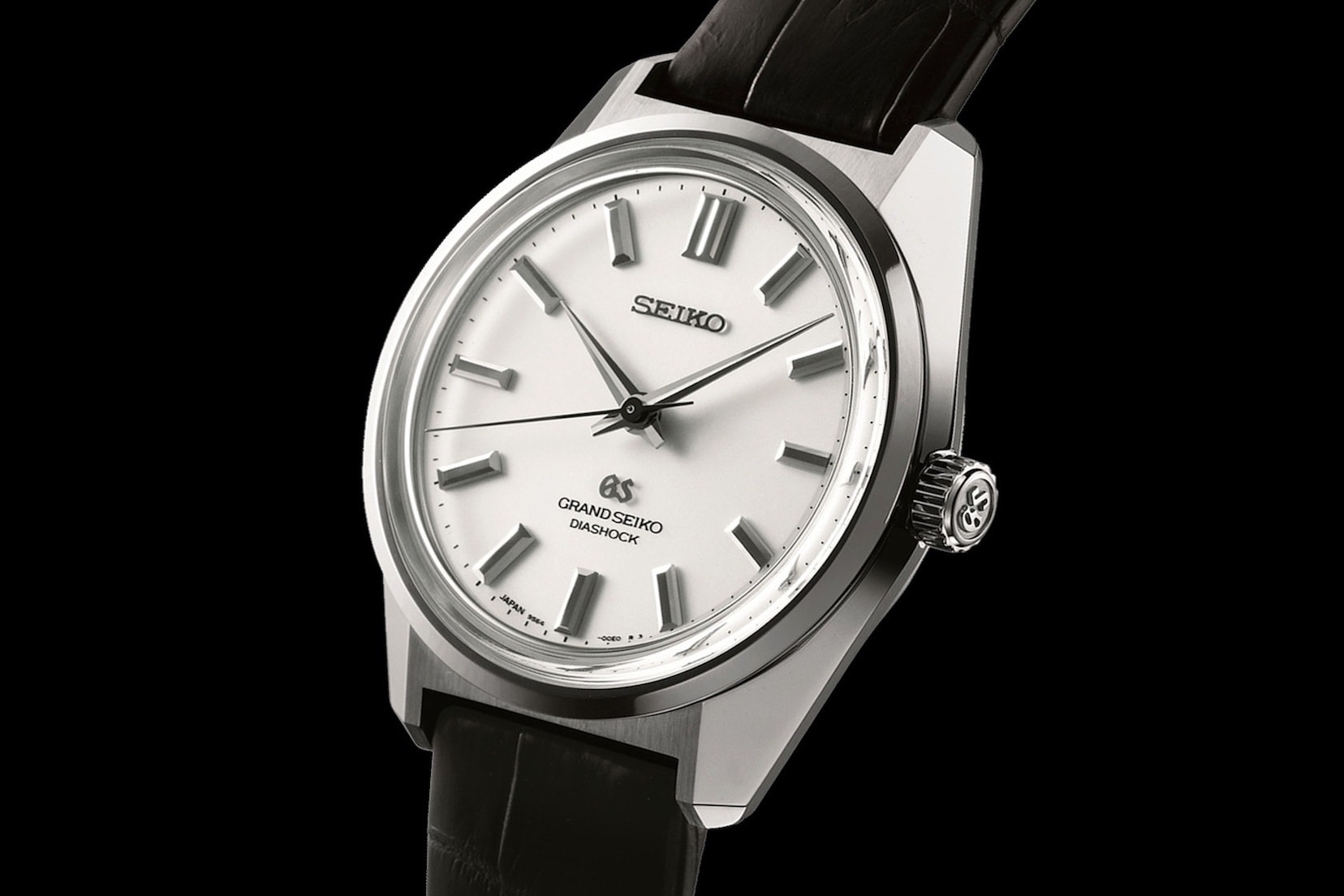 2
1964 - The "nine enduring elements" of the Grand Seiko design language are finalised
Seiko Corp. releases the 44GS — another time-only wristwatch which builds upon the success of the 1960 Grand Seiko (whilst incorporating shock absorption technology). Although considered advanced for the period, the 44GS achieves cult status thanks to the role it plays in crystallising Grand Seiko's "house style". Most of the nine essential design elements revolve around clever manipulation of light and reflection: most apparent in the hands and indexes of the 44GS. Both components are faceted and then diamond-polished by hand, lending the overall dial a clean and crisp appearance that is extremely light-sensitive. The 44GS also marks the first appearance of Zaratsu — a case finishing technique inspired by Sallaz polishing machines in use by Seiko circa 1950.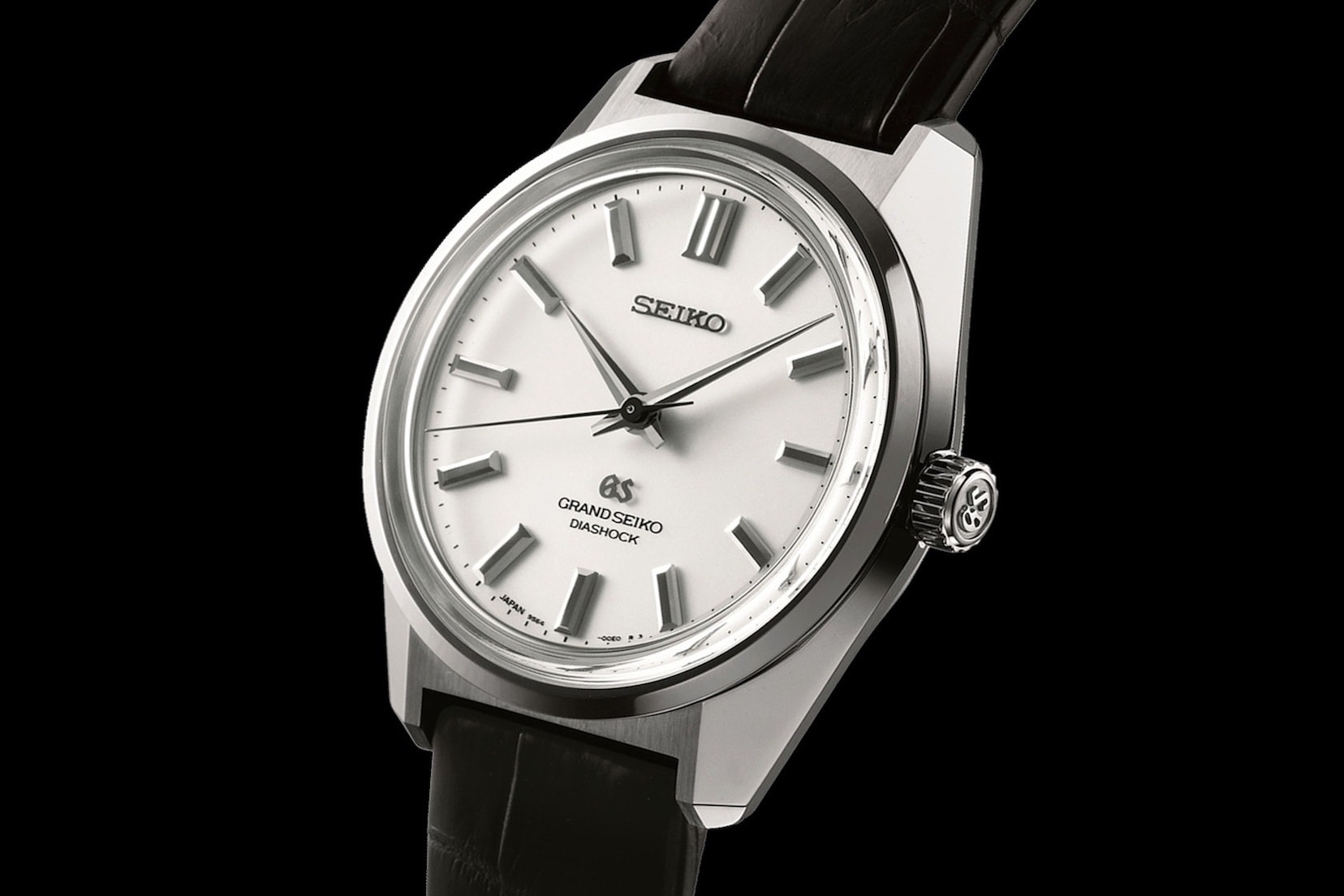 3
1969 - Two Grand Seiko movements, the calibre 61GS and 45GS, break the Swiss record for mean daily rate
Two years after winning 4th, 5th, 7th and 8th place consecutively at the Neuchâtel concours (the Swiss watch industry's premiere chronometer trial at that time), Grand Seiko watchmakers release the calibres 61GS and 45GS. Designated V.F.A. ("Very Fine Adjusted"), these movements — manufactured in internal competition between Seiko factories Suwa and Daini — demonstrate an unprecedented mean daily accuracy of -2/+2 seconds. At that time, the Swiss benchmark for daily accuracy is -1/+10 seconds. 
4
1988 - Grand Seiko's first ever quartz watch, the 95GS, makes its debut
Two decades after the release of the Seiko Astron — the watch often credited with igniting the "Quartz Crisis" — Grand Seiko get its own take on the infamous quartz wristwatch. The 95GS breaks almost all previous records set by Seiko and is accurate to ±10 seconds per year. This is achieved, in part, thanks to strict adherence to a policy of in-house manufacturing: quartz crystals are grown only at Seiko facilities; and balance wheels selected for use in the 95GS must demonstrate superior performance across dozens of different metrics (e.g. temperature resistance, shock absorption). 
5
1998 - The calibre 9S5 family, still in use today, begins production
The pivotal calibre 9S5 series begins production: initially composed of the 9S51 and 9S55, these are the first wholly new Grand Seiko movements to be developed in over two decades. Manufactured using alloys and technology deriving from Seiko Instruments' semiconductors, the base 9S calibre is the first to offer a 50-hour power reserve. This movement lays the groundwork for subsequent iterations of the 9S — notably the 9S85. The latter is dubbed "Hi-Beat" by Grand Seiko watchmakers, and (true to its name) vibrates at 36,000vph. The 9S85 remains in production until this day.
6
1999 - Following 22 years of RnD, Grand Seiko's "Spring Drive" enters production
The manual winding calibre 7R68 — powered by Grand Seiko's innovative Spring Drive technology — debuts following an unbroken 22-year development period. First proposed in 1977 by engineer Yoshikazu Akahane, the goal of the project is to create a movement powered by conventional mechanical systems that is able to offer quartz-like levels of accuracy. The mechanics are theoretically straightforward, but are nearly impossible to execute due to limitations in mainspring and quartz oscillator technology. The integration of electromagnetic components proves to be key: synchronising the speed at which the "glide wheel" rotates to intervals that are set by an integrated circuit and quartz crystal. (An interesting side effect of this technology — now a signature of Spring Drive — is how it causes the running seconds hand to "glide" whilst in motion.)
7
2004 - Seiko Instruments establishes the Shizuku-Ishi Watch Studio in Morioka
Under Seiko Instruments — spiritual successor to the Daini Seikosha factory — the Shizuku-Ishi Watch Studio is established in the northerly city of Morioka. It's in this tranquil landscape, dominated by the shadow of Mt. Iwate (an active composite volcano), that all mechanical Grand Seiko timepieces are crafted. Shizuku-Ishi is a fully integrated manufacture: even hairsprings — produced using a proprietary alloy called "Spron" — are made here; as are the gears & pallet forks that make their way into each 9S movement. The studio is home to such celebrated modern references as the SBJ213, SBGH243 and the "mechanical thin dress series" (inspired by nearby Mt. Iwate).
8
2008 - The Shinshu Watch Studio unveils the Credor Eichi I, one of the most expensive Seiko wristwatches ever made
Grand Seiko's Shinshu facility debuts the Credor Eichi I — a 35mm platinum wristwatch powered by the Spring Drive calibre 7R08. It is the product of a select group of individuals, known within the wider Shinshu manufacture collectively as the "Micro Artist Studio". Unlike much of Grand Seiko's core offering, Credor pieces are manufactured exclusively by the Micro Artist Studio. They embody the purest expression of fine Japanese watchmaking and spare no expense.
On its surface, the Eichi I appears to be an extremely simplistic design: it features three hands; a power reserve indicator; and the Credor signature. Closer inspection reveals an array of breathtaking revelations: hour indices are painted freehand; the numerals 2,4 and 7 (applied using painstakingly built-up layers of lacquer) hide in plain sight; and the dial itself is Noritake porcelain — the preferred supplier of the imperial household. The movement powering the Eichi I is similarly lavish: incorporating intricate double-sided anglage (a kind of hand-bevelling technique) across its bridges; and a barrel cut in the shape of the Shiojiri bellflower. All told, the combination of handwork, cutting-edge technology and rare Japanese materials brings the price of the Eichi I to US$52,500.
Only 75 pieces are currently in circulation — all of which were sold prior to delivery.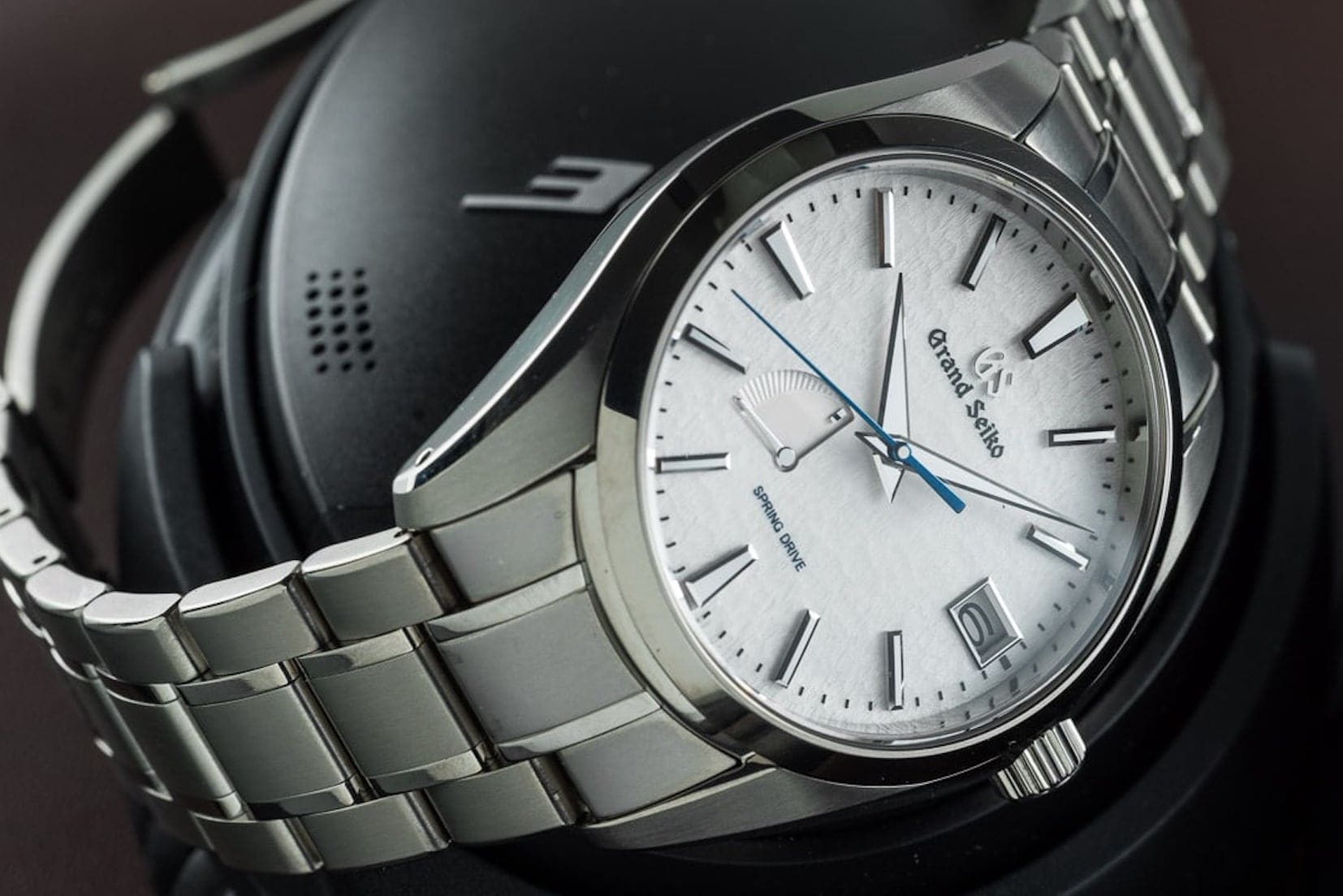 9
2010 - Grand Seiko gets a revamp and begins (limited) international distribution
In an unprecedented break with tradition, Seiko Corp. announces that it will begin distribution & sales of Grand Seiko in 20 international markets. For the first time in 40 years, collectors are able to buy cult-status timepieces (like the SBGA211 "Snowflake" pictured above) in countries as far afield as Saudi Arabia, Australia, the United States and Sweden. The plan to raise Grand Seiko's profile to the stature which it already enjoys in East Asia (notably Hong Kong, Singapore and Taiwan) will eventually result in Seiko Corp. concluding distribution agreements with over 60 retailers worldwide.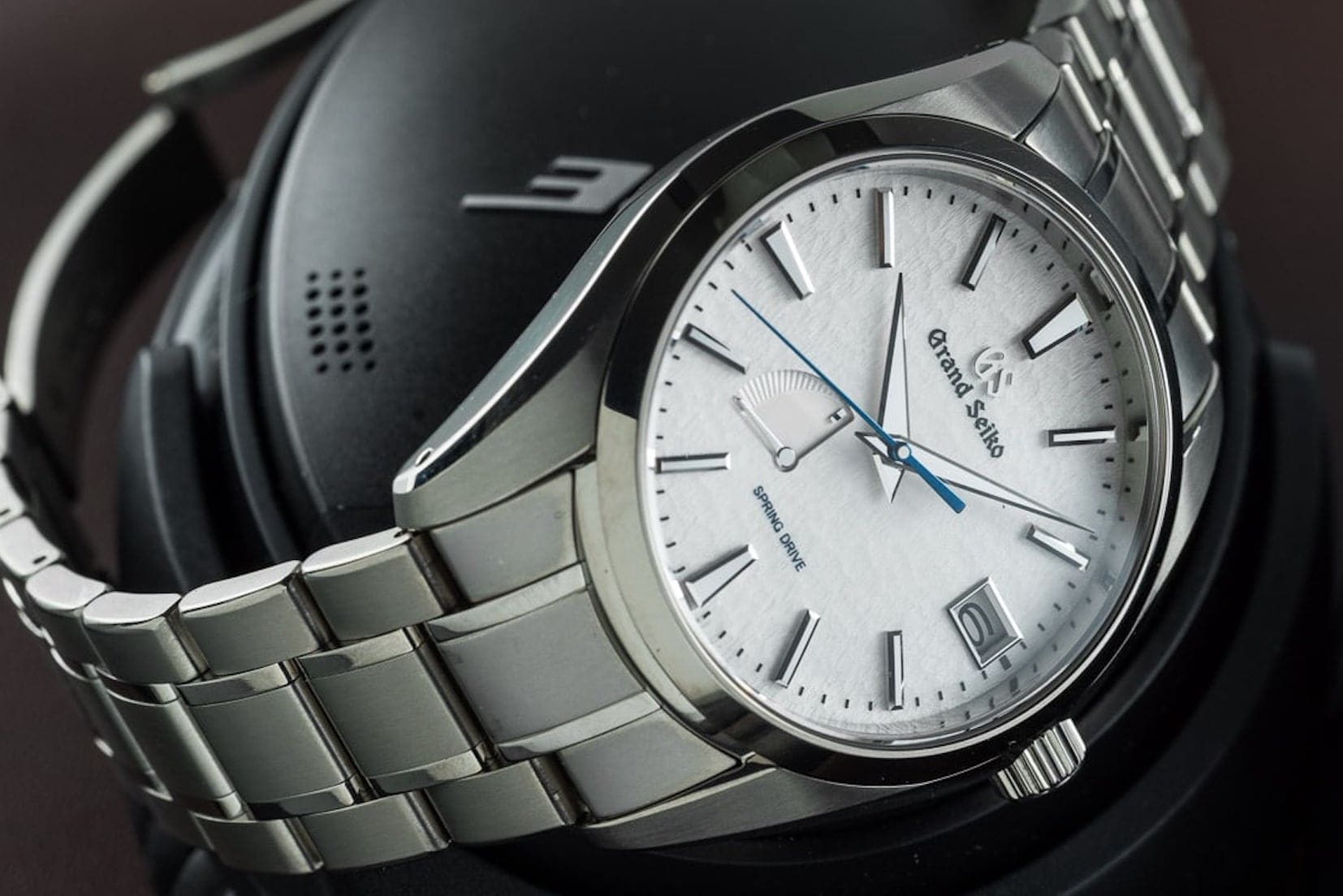 10
2016 - The Micro Artist Studio produces its first Grand Seiko, powered by a Spring Drive with an 8-day power reserve
The Micro Artist Studio (originally formed in 2010 to address the challenge of manufacturing the extremely high-end Credor collection) unveils its first Grand Seiko. Dubbed the SBGD001, this watch incorporates numerous design queues from important Grand Seikos throughout the ages: it features a Snowflake-esque dial (coated in diamond dust); Zaratsu-polished platinum case; and boxed sapphire crystal reminiscent of the 44GS. However, the most significant innovation is technical: true to its name, the Micro Artist Studio's new Spring Drive carries a whopping 8-day power reserve; and is accurate to +0.5 seconds per day.
11
2017 - Grand Seiko celebrates becoming an independent brand with three limited edition models
In order to further distinguish mainline Seiko from its high-end mechanical offerings, Grand Seiko becomes a fully independent brand in March 2017. As a result, all watches produced subsequently feature only one signature on the dial (Grand Seiko watches had previously included, somewhat redundantly, the Seiko logo at the 12 o'clock position). To commemorate this occasion, three limited editions based on the 1960 Grand Seiko are released — the SBGW251, SBGW252, SBGW253. Notwithstanding new movement technology and an enlarged 38mm case, these watches hew very closely to the spirit of the original.
Grand Seiko is available in Hong Kong at multiple locations including The Armoury, Oriental Watch Co. and Tic Tac Time. For a full list of stockists, visit Grand Seiko online.