In Wrist Watch — a column dedicated to 'watch spotting' in the wild — our resident horology writer Randy Lai chats to key individuals whose collections demonstrate some aspect of excellence (e.g. craft, rarity, historicity). This month, he meets up with Ms. Lung Lung Thun — an up-and-coming voice in Hong Kong's thriving community of high-end collectors and, in a refreshing departure from the norm, our first female guest.
When Lung Lung Thun first arrived in Hong Kong in 2016 to work in the financial sector, she was determined not to "fall down the rabbit hole" of watch collecting. A full year later, a chance encounter at AP House weakened her resolve — not unlike the precocious heroine of Alice in Wonderland, she soon fell into the hobby. Hard.

The 30-year-old financier, who manages her own securities brokerage, has had an enduring passion for watches since childhood. At home, she'd often flip through the pages of glossy society titles like Prestige in an effort to learn as much as she could about haute horlogerie. "My mom always encouraged me to read the articles about diamonds and bags," she recalls. "But those features never made me feel anything. To be honest, they were actually quite boring [laughs]."
After graduating from university some years later — and in an effort to ameliorate her own tastes with mainstream expectations — Thun would go on to purchase the Chanel J12: a now-ubiquitous ladies watch in black ceramic and titanium, first launched in 2000. "I was very satisfied with the purchase initially," says Thun. "But over time, I became increasingly aware of how vast the watch market was — and of how little I knew."
A spell of collecting marques like Hublot and Rolex followed, before Thun left her native Singapore to pursue opportunities in Hong Kong. Being a young woman in a client-facing setting — frequently surrounded by senior male colleagues — she was adamant for her choice in wrist-wear to not affect her professional credibility ("I never want to go into a meeting and have what I'm wearing overshadow the conversation," she says).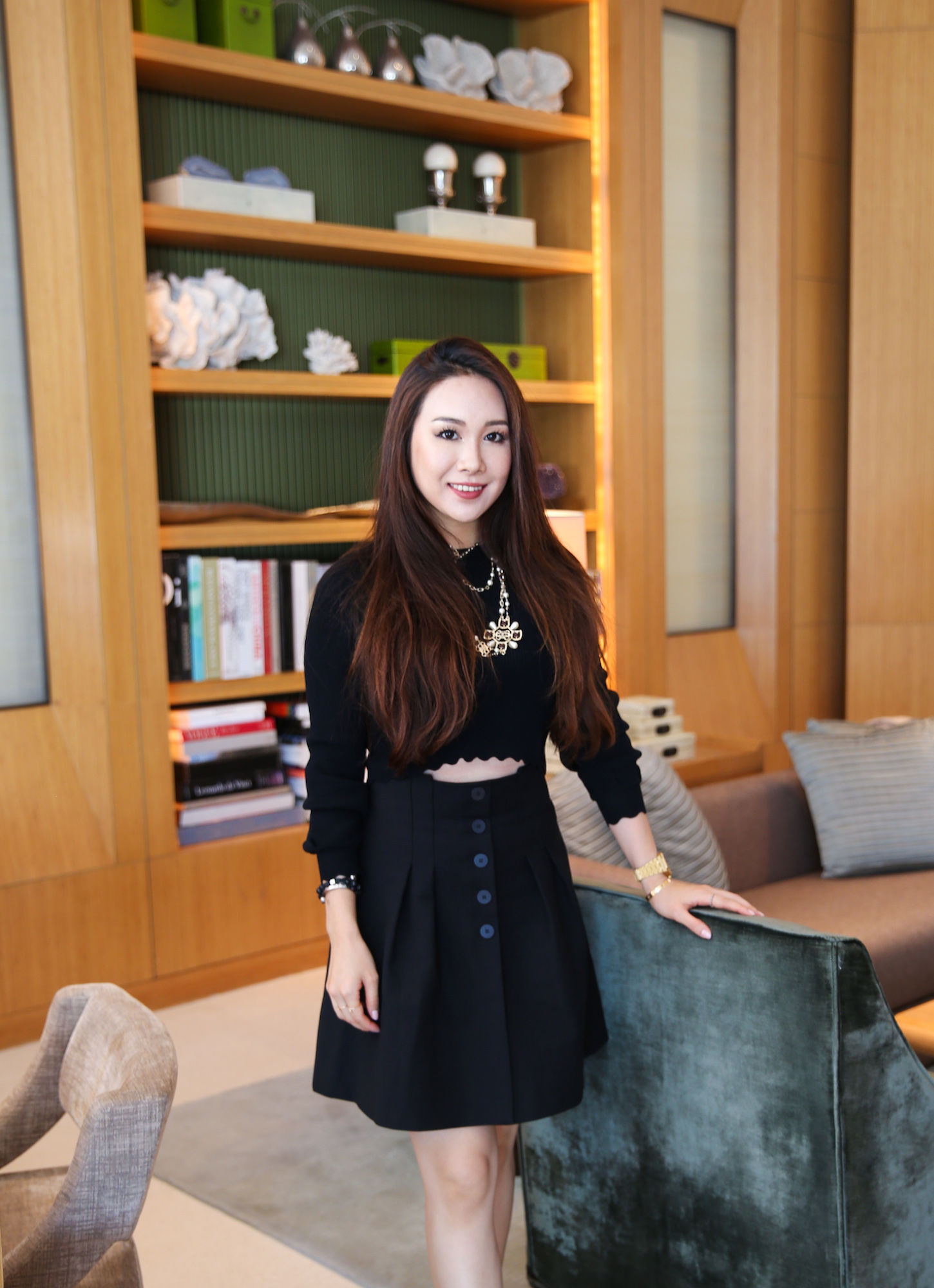 Still, by 2017 the collector's itch had returned with a vengeance, and in her off-hours Thun started traveling to Tsim Sha Tsui almost "every other week," in a bid to find pieces capable of satisfying her dual desire for serious horological cred and a relatively discreet aesthetic. After months of intense snooping, she settled on a vintage Royal Oak in yellow gold — an omen of the mutually enriching relationship she'd soon strike up with Audemars Piguet.
According to Thun, the brand's current output of watchmaking is "dynamic, respectful of heritage, and always with a twist." Of course, in her opinion, it certainly doesn't hurt that 'AP' is a byword in pop culture for unparalleled, uncompromising excellence. "A lot of [watch] collectors will bulls**t you and say 'Oh, I don't even care about brands.' If that were true, and all we wanted to do was check the time, we'd settle for phones."

On the topic of methodology, Thun is equally passionate; although I'm surprised to note that — for someone in such a quantitative profession — her work has "zero bearing" on her attitude towards collecting watches. "100 percent of the time, resale value never crosses my mind," she muses. "Once you cross that mental threshold, the whole process [of collecting] becomes much more enjoyable." Which begs the question: what is important to Thun when she makes her next purchase? "I want all of my pieces to encapsulate a specific moment in my life at the time I acquire them. I always need to feel something." Mission accomplished, we'd say.
A. Lange & Söhne Datograph in rose gold (ref. 403.031)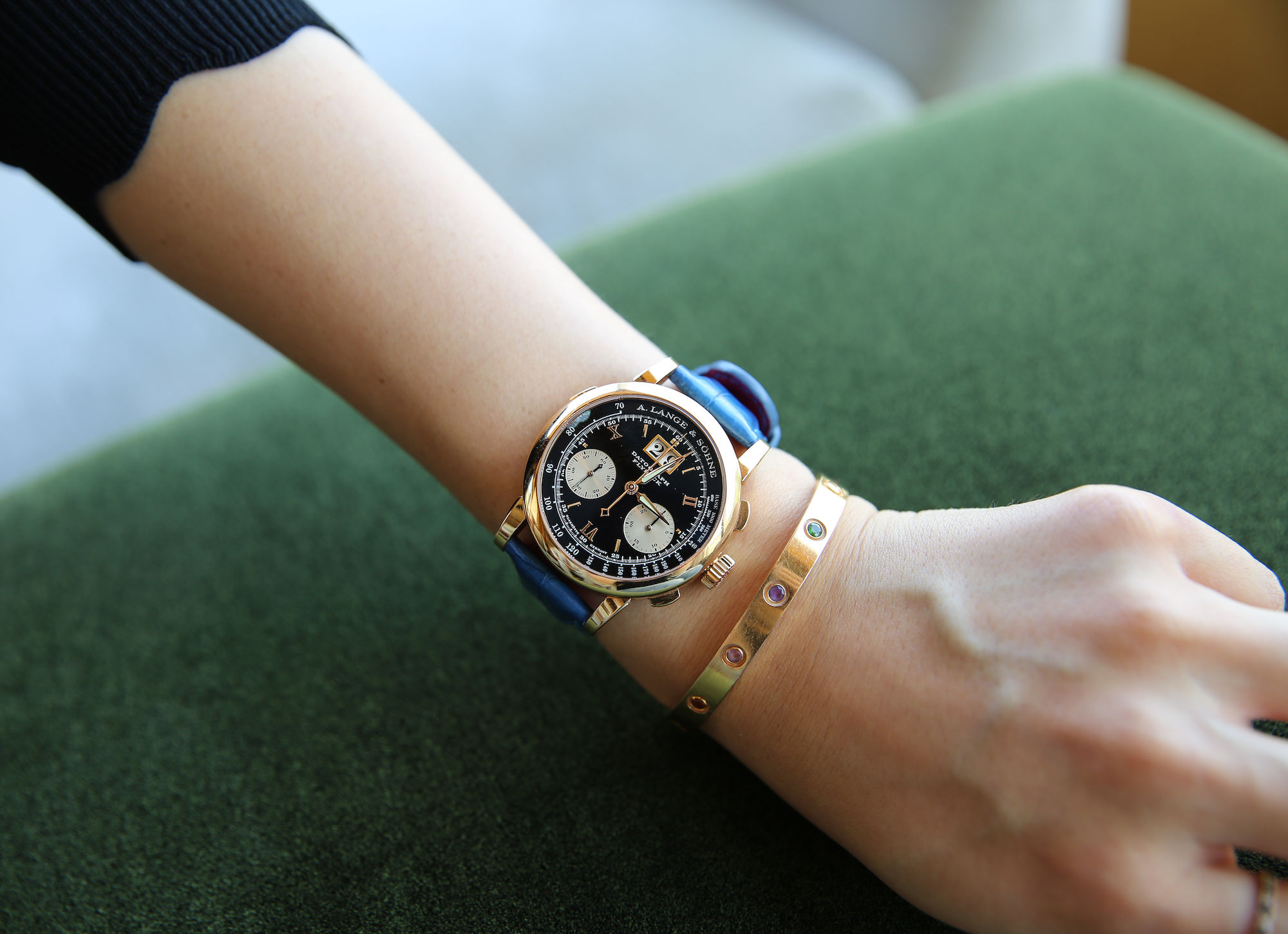 "This Datograph in precious metal signifies a very important moment in my life: when I started to get 'serious' about watch collecting. Prior to buying it, I knew absolutely nothing about A. Lange & Söhne — other than the fact that they have a boutique in the Prince's Building and nobody ever seems to go in there! My first brush with this was at a Phillips dinner. That evening, they had two displays: one for girls and another for guys. In all honesty, the girl's tray was horrendous: there were watches covered in fur, blanketed in diamonds, and it was obvious they'd been selected with the expectation that there would be no serious buyers. Then, as I was on my way to the bathroom, I had a passing look at the guy's tray — and locked eyes with this. There was just something about this that struck me as being very aesthetically pleasing. At the time I was still pretty intimidated, so I took a quick photo and told the Phillips team that I'd go and do some more research.

I started reading and very quickly it became apparent just how crazily sought-after the Datograph is in collecting circles. In particular, geeks call this reference the "Dufour-graph" [because the legendary independent watchmaker Philippe Dufour is known to wear one of these]. So to those who know, that's an instant seal of approval. As a rule of thumb, this reference was produced in very small numbers in yellow gold; so naturally, I thought the next best thing would be to buy rose. Phillips initially located one for me but the patina hadn't developed in a way that I enjoyed. After some snooping, I managed to find this example — which is just the right tinge of yellow. These days, whenever I'm trying a new chronograph (i.e. testing the pushers, looking at the registers) this is the gold standard against which I measure against. It's a watch which looks great now and will look even better in 50 years time."
A. Lange & Söhne Langematik Perpetual in platinum (ref. 310.025FE)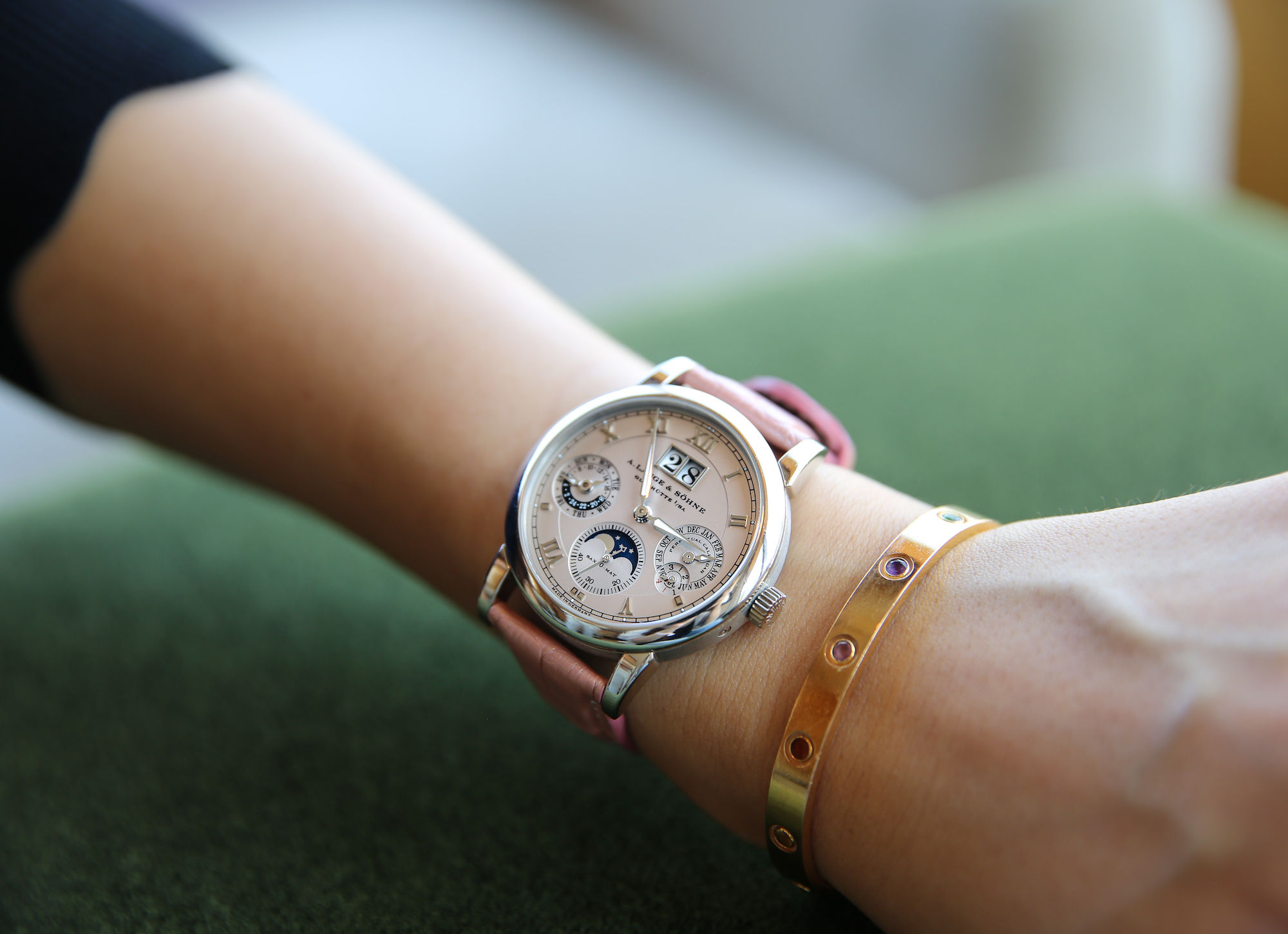 "Though it's considered an altogether rarer model, when you do see this Langematik Perpetual come up for public sale it's either in rose or white gold — very seldom in platinum. So in that sense, the platinum model represents an excellent value. The execution and finishing (particularly on the movement) are, to me, just stunning; and there's just something about the platinum used by Lange's watchmakers that makes it light enough for my personal tastes. That's in comparison to models like the platinum Daytona (ref. 116506), which I would happily wear but secretly struggle with the weight of. The Langematik Perpetual has a very feminine sort of elegance about it and, as with the Datograph, all of the proportions are pleasant to the naked eye.

There's an interesting story about this piece: the first time I viewed it, it was being offered next to a Patek Philippe 5070P. Obviously, everybody wrung their hands and said overly dramatic things like I'd "regret it" if I didn't buy the 5070 but at the end of the day, I feel that it's more important for you to have the confidence to buy what you like. Collecting shouldn't be about validation. That said, I've had the pleasure of speaking to a number of collectors who've owned both Lange and Patek; and you'd be surprised to find how many confess to preferring the former's finishing. In private, of course [laughs]."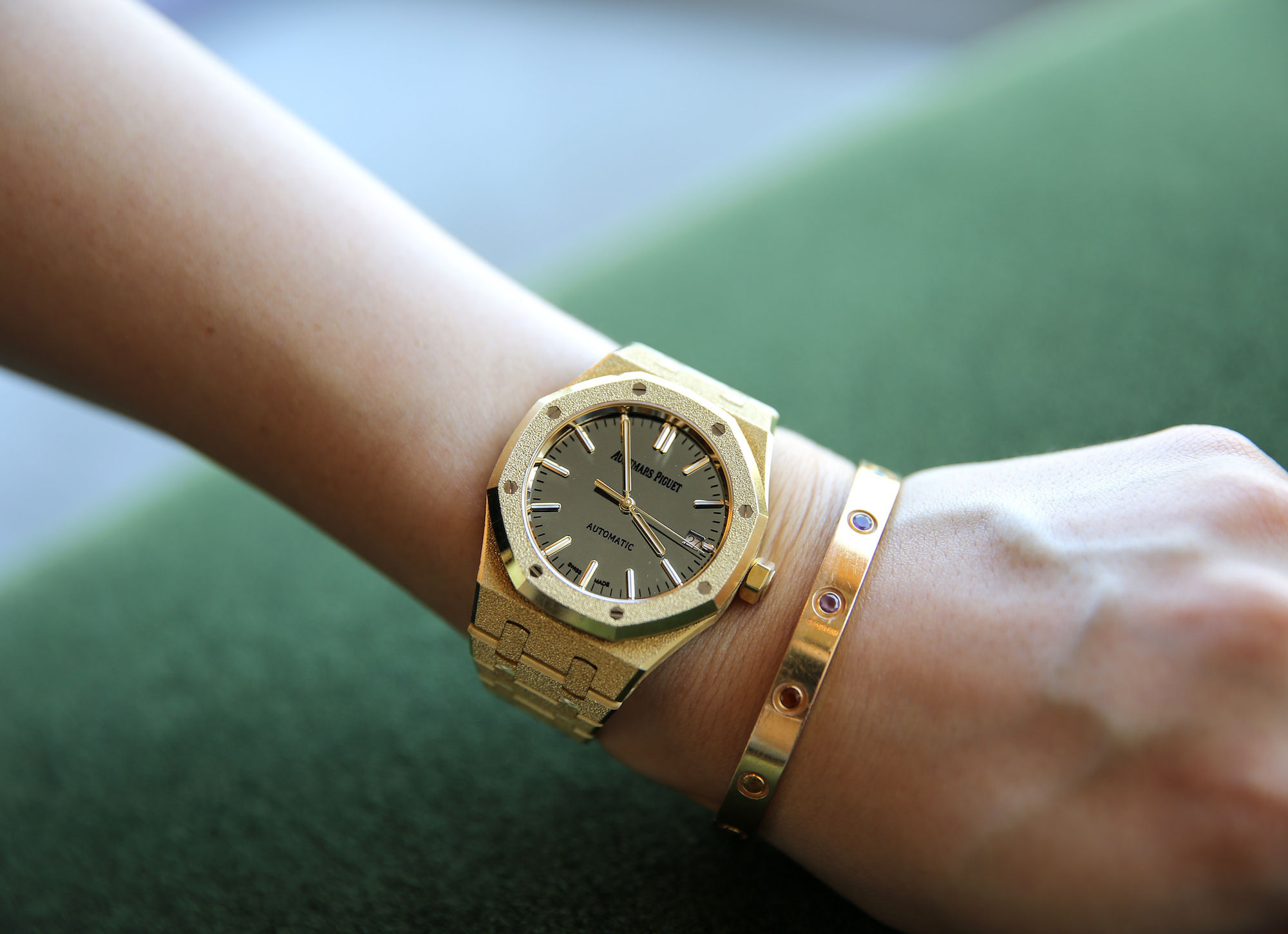 "In a surprise twist, Audemars Piguet actually offered this piece to me. That was pretty intriguing, because it said a lot about the sort of 'profile' they'd compiled together of me, as a collector. What I mean by that is if you look at a brand like Patek Philippe, you quickly become aware of the fact that a big chunk of their clientele is made up of traditionally prestigious professionals such as doctors, lawyers and bankers.

In AP's case, the identity of the brand's 'ideal' customer is a great deal more mysterious and — if you look at the way pieces are allocated around the world — it's clear the relevant criteria go far beyond just having enough money. In any case, I was impressed by the amount of initiative the brand showed in introducing this limited edition to me — so much so that I ordered it without seeing it first! Thankfully, it was as beautiful as what I'd pictured."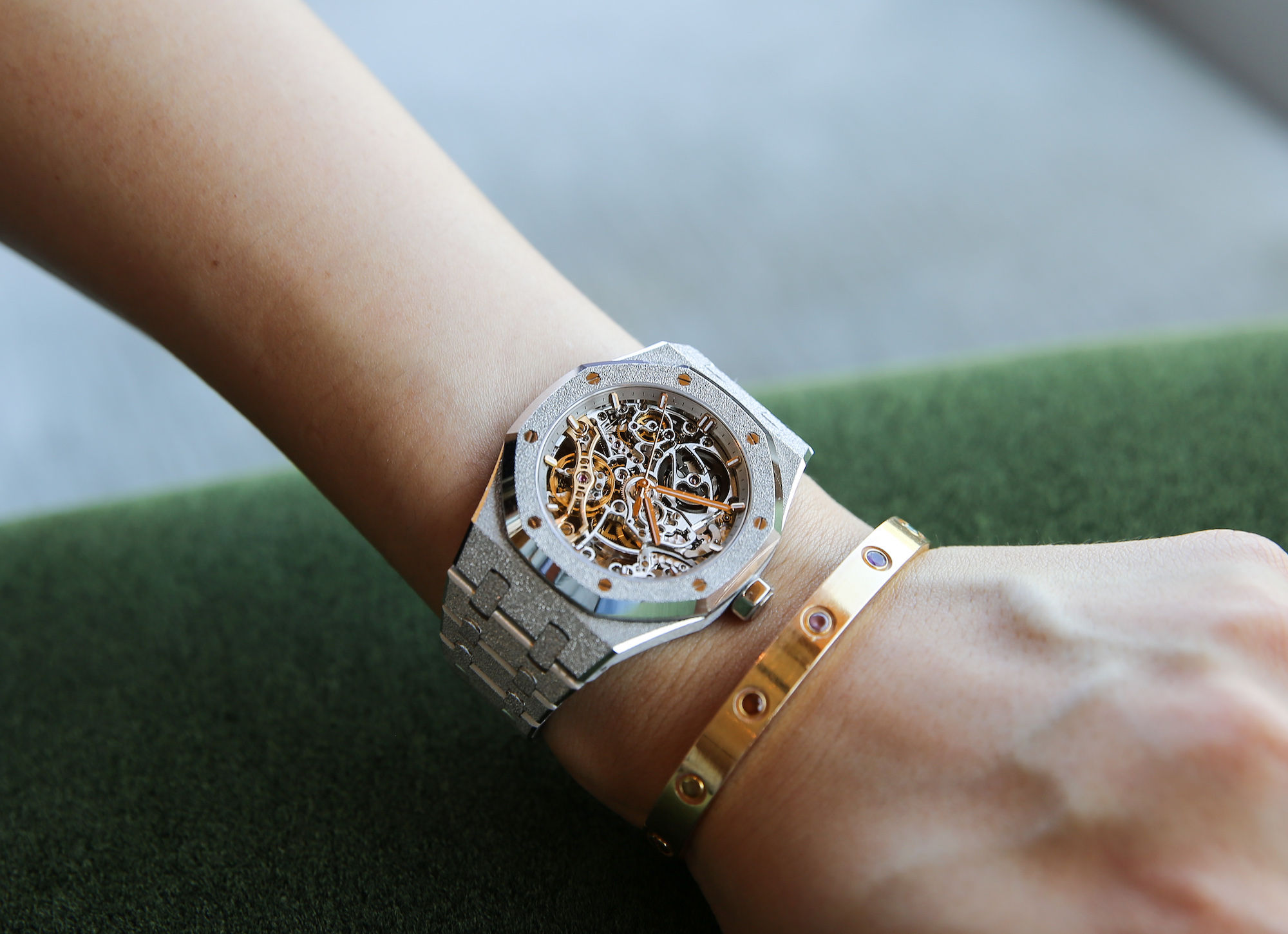 "This is an extremely important piece for me: the result of a trip I took to the Audemars Piguet manufacture in Le Brassus towards the end of 2018. At the time, I was still coming off the high of having bought the Carolina Bucci edition, so I was very conscious not to talk myself into buying anything whilst visiting Switzerland. I also tried not to get caught up in research — it was more about going with an open mind and absorbing everything from scratch. Seeing the whole watchmaking process was incredibly humbling: for many of the factory staff, you can see haute horlogerie is in their blood. Getting to observe them in their element helped me to appreciate just how much of the final product isn't marketing — there's a substantial amount of tangible, highly skilled work involved. I really feel you get a sense of this with the open-worked models.

This one technically isn't a limited edition, but the fact that there are only two watchmakers in the whole manufacture who have mastered openworking (coupled with an international demand) mean waiting times are challenging. In fact, this is much harder to acquire than the Bucci collaboration (which is limited to only 300 pieces). The twin balance wheels are intended to improve the movement's amplitude, creating a watch that's more reliable and precise in its timekeeping. But since this is a time-only watch, my main attraction to it revolves around how it demonstrates Audemars Piguet's daring material innovation. This reference was one of the first complicated, open-worked models which was designed bottom-up to be for women. Initially, the brand offered it in 37mm but it performed so well that it was eventually redesigned for male collectors [now available in 41mm]."
Audemars Piguet Royal Oak Moonphase Day-Date in yellow gold (ref. 25594BA)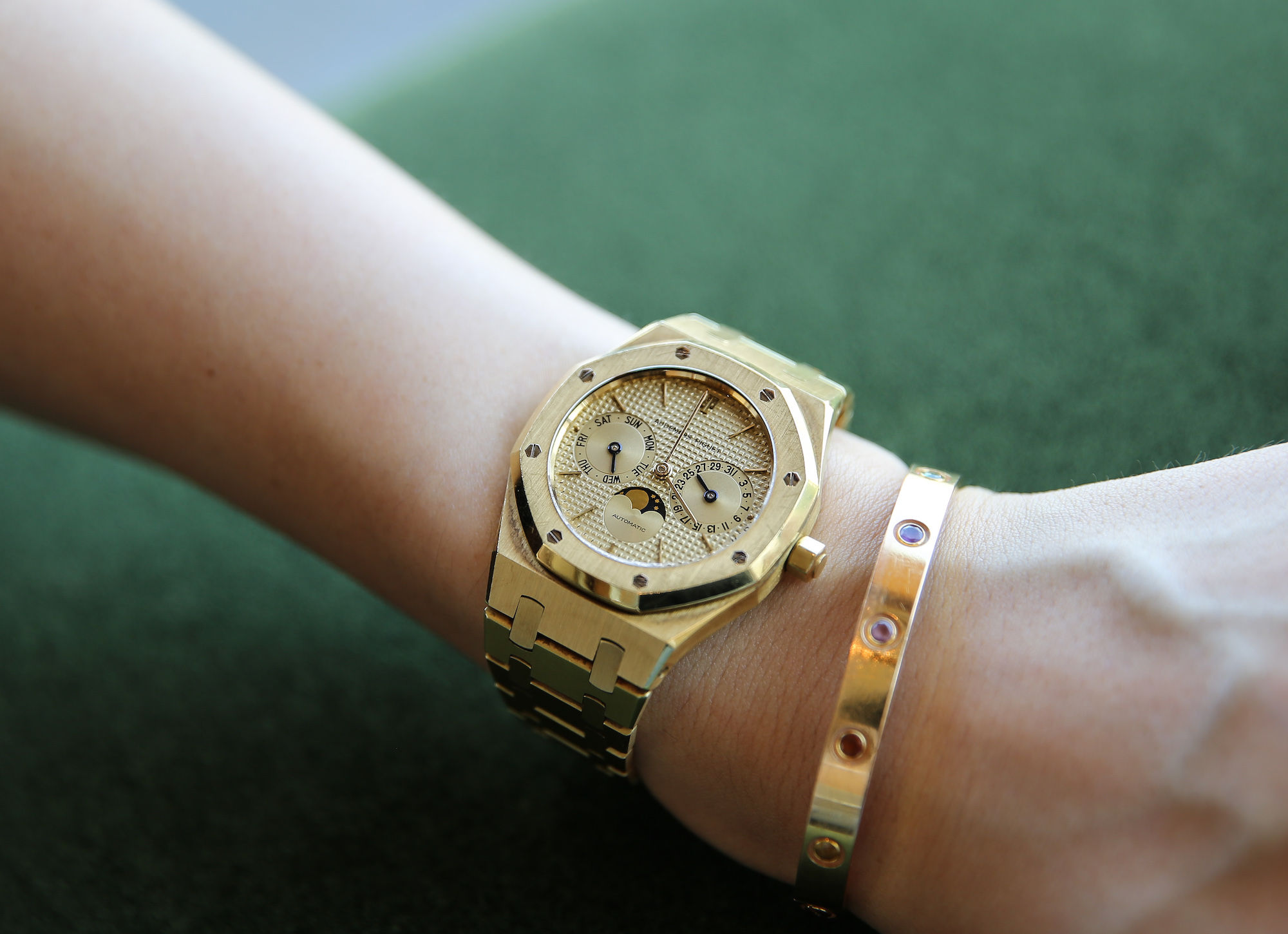 "To me, this watch embodies a romantic aesthetic which looks towards the past for inspiration: various details like the size and signature imbue it with the feeling of a time when people wore watches less as a means to flaunt wealth and more as an extension of their most authentic selves. The Day-Date Royal Oak entered production in the 1980s, though what I like about this particular example is that it's cased in yellow gold. Aside from my personal preference for that metal, it's distinct from the majority of museum-grade Royal Oak models — which were made in steel. And if you take a close look at the dial, you'll notice that the tapisserie [that iconic lozenge-shaped repeating pattern] is extremely tiny, but adds much-needed texture and a layered visual sensibility to the whole package. The other big draw is the font design: this Royal Oak was produced in a time when the typeface was still quite wide and short, something I really love about it.

Funny story: I intentionally picked this up at a secondhand store on the Kowloon side as a means of challenging myself. Being a younger lady with limited language skills (I don't really speak much Cantonese) I knew there was a chance those dealers mightn't take me seriously. But each week, I'd always go and see them and negotiate with them on price. It was a rewarding exercise which really emphasised the most enjoyable aspects of collecting watches in Hong Kong."
You can follow Thun on social media here. Alternatively, her podcast 'The Waiting List' (co-hosted by Alex Lau and Daniel Sum) is available to stream on Spotify and Anchor.
All images in this feature taken on-location at the Upper House Hong Kong, courtesy of Aydee Tie.