In Wrist Watch — a column dedicated to 'watch spotting' in the wild — resident horology enthusiast Randy Lai chats to key individuals whose collections exhibit some aspect of excellence (e.g. craft, rarity, historicity). To kick things off in 2020, he hit the ropes with Jeferson Oliveira — one of the few non-Thai fighters to compete in the WPMF and, as it turns out, a dab hand at watch collecting.
When members of the general public think about the typical prize fighter on the boxing or MMA circuit, they have a certain archetype in mind. The McGregors and Mayweathers of the world are an ostentatious bunch: laden with bombast, ego, and more than a few iced out Rollies. Then again, Jeferson Oliveira isn't your typical fighter. The Brazilian pro began his kickboxing career at age 19, going on to amass two national titles and a world championship in 2014. The latter was a particularly momentous victory for Oliveira — the fruit borne of five years spent in Thailand, studying and mastering the nuances of kickboxing at its source.
Despite all these successes, and a reputation for being one of the most effective coaches in Hong Kong, Oliveira remains enthusiastic and approachable. Those same qualities are evident in his appreciation for watches. Between bouts of sparring, we take a quick breather to look at Oliveira's collection. By all accounts, the award-winning fighter is well on his way to establishing an equally formidable reputation as a collector — every bit the match of 'serious' watch enthusiasts across the globe. Based on what I saw? That's spot-on. Check out some of the pieces below!
1
IWC Schaffhausen Mark XV
This IWC pilot's watch was my first timepiece. When I began collecting in late 2016, I wanted something that was capable of perfectly expressing who I am. After a great deal of research, I settled on this Mark XV — not just the perfect watch, but also the catalyst for my interest in complicated watchmaking.
I love how confident the aesthetic is: the brushed, slim case has a handsome timeless appeal that is easy to dress up or down; while the sword hands and applied markets play off light beautifully. The whole piece just has so much character, and a nice contrast between sturdiness and luxury.
2
Casio G-Shock
My life revolves around precision: whether I'm fighting or coaching, it's imperative that I know what the time is. This brings us to my Casio G-Shock reference GA2100, or 'the Fresh Prince' as I like to call it! It's a watch that is safe to wear when I'm working — I'm not scared of dropping it, getting it wet or sparring with it on.
The toughness of G-Shock needs no introduction. In addition to being quartz-powered (i.e. the timing is super-accurate) the watch has loads of functions, such as a chronograph and alarm, that are extremely useful for a fighter. The funky colour scheme — what Casio describes as "retro 90s" — brings me right back to my childhood, when I used to watch sitcoms like The Fresh Prince of Bel-Air. This particular reference was released in the second half of 2019 and is always a great conversation starter!
3
Carl F. Bucherer Patravi Autodate
I added this Bucherer to my collection not too long ago, and it's quickly become the watch that gets the most wrist time. I absolutely adore the design of the Patravi's integrated bracelet: it's so comfortable that, if it weren't for the watch's substantial heft, you probably wouldn't even notice it was there. The dial has multiple sections and a sunburst finish which makes it very attractive, and combined with the polished hands and applied markers this is a watch that shines in any light!  In addition, the transparent caseback is a nice touch — allowing people to view and be mesmerised by the hand-finished movement within. This is my go-to watch for any occasion. Holiday with the family? Press conference? A meeting with clients? This Patravi does it all.
4
OMEGA Speedmaster 'Reduced'
At the beginning of 2018, I was sent a offer to trade my vintage Tudor for this particular iteration of the iconic OMEGA Speedmaster. One of the best things about it is the colour: the blue dial exudes so many different, nuanced tones and is a total strap monster. The whole thing is just undeniably robust looking and slick. Another factor that makes me really attached is this Speedy's provenance: the previous owner explained it had been repaired and reassembled, after having been damaged in a car accident. The fact that the watch had been broken down and then put back together again was a vivid reminder of my own hardships, and how anybody can wear their scars proudly without losing their essence.
I'm sure no enthusiasts will be surprised to hear that this Speedy still does its job, keeps time perfectly and is in excellent working order. Plus, this is the second ever timepiece to elicit compliments from my wife!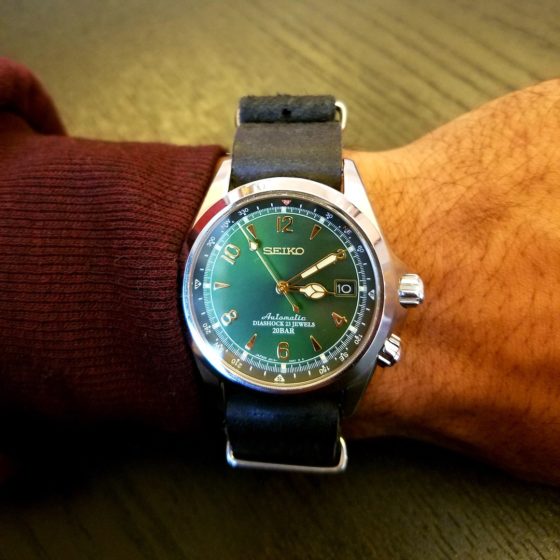 5
Seiko Alpinist green
This Seiko was a gift from a Japanese fan-turned-friend. When he was first starting out on his muaythai journey, he'd occasionally text me and ask a few questions. I've always had a personal rule to reply to every fight fan, so we got in touch. When we finally met up, he presented me with this watch because he knew of my interest in mechanical timepieces. Being a big Seiko enthusiast myself, it was a happy surprise to receive this Alpinist. The contrast between the green sunburst dial and gold markers is so tastefully done, whereas the inclusion of a compass is such a Seiko twist on adding a quirky (surprising useful) complication. Have I mentioned the green dial?
Nowadays, most popular watches that you see in the wild have either black, blue, or champagne-coloured dials. Green isn't the most popular choice in colour and I really dig this Seiko because of that. Additionally, the watch's robustness and wearability are big advantages — I'm always on the go and therefore favour timepieces that can keep up with the pace of my lifestyle.