Confined within the concrete jungle of Hong Kong, we all find ourselves in desperate need every now and then of a quick weekend escape off to a beautiful tropical destination — be it Phuket, Bali or Koh Samui. But with these popular locales seemingly overrun with tourists in recent years, it's not always easy to seek out that completely secluded beachfront retreat.
Enter Trisara, an award-winning villa resort set on the quiet northwestern shore of Phuket, and one such tucked-away paradise. With a Sanskrit name translating to 'Third Garden in Heaven', Trisara lies a level above other resorts in Phuket (both figuratively and literally) — set on a hill with awe-inspiring views over a private bay. It's here we found our head in the clouds on a recent two-day getaway. Location
It may be one of the most secluded oceanfront resorts in Phuket, but it's also one of the closest to the airport — and it's this that makes Trisara both attractive and accessible as a quick weekend retreat. After just a 15-minute drive from the airport — where Trisara's staff can also help to fast-track you through immigration — we found ourselves worlds away, settled amongst the lush foliage and garden paradise of Trisara's well-landscaped grounds.
Accommodation
An independently owned boutique resort, Trisara refreshingly foregoes the rampant design cues of bigger international chains and resort brands, exuding a distinct individuality and stylish design motifs, with each of 48 ocean-facing pool villas and private residences nestled into the hill amongst local flora and fauna. Upon entering our room, we were blown away by the sheer size of our Ocean Front Pool Villa, with a king-sized bed, grand, sweeping windows, high ceilings, and large sliding doors leading to a double-vanity bathroom, spacious bathtub and outdoor shower. Surrounded by a leafy canopy, we also enjoyed complete privacy from our spacious 70-square-metre deck comprising an infinity plunge pool, cosy sun loungers and a table and sitting area (which we took advantage of to turn into a makeshift home bar). Afternoons easily slipped away sipping G&Ts by the pool and watching the spectacular view of the sun dipping over the Andaman Sea, with the attentive staff thoughtfully refreshing our ice bucket throughout the day. Bonuses included the fully stocked mini bar, and thoughtful touches such as a little sandstone sculpture you can place outside your villa doors as a do-not-disturb sign. Spa & Activities
Although Trisara's tucked-away location means there's not much to do near the property (the closest town is about a 30-minute drive), the resort offers plenty of activities and entertainment to keep preoccupied during your stay. Private boats can be chartered to nearby islands, whereas onsite activities include a library, a 45-metre saltwater lap pool, morning yoga, and private cooking classes with Trisara's master Thai chefs. Complimentary water sports range from snorkeling to kayaking and stand-up paddle boarding. We found ourselves lazing away afternoons at Jara Spa, where a number of invigorating treatments draw inspiration from the 'five pillars' to nourish and heal. The traditional Thai massage is an instant fix for knots and kinks, while the Royal Trisara 6 Hands Massage is not to be missed — a Trisara-exclusive signature treatment whereby three therapists employ a combination of Swedish massage, acupressure and herbal compress for holistic healing.
Food & Drink
Trisara's warm hospitality extends to a handful of F&B outlets, headlined by the award-winning PRU Restaurant, specialising in fine dining European with local Thai influences. A true farm-to-table establishment, PRU utilises ingredients grown from the restaurant's own Pru Jampa farm, with the remainder sourced from local fishermen and farmers. Highlights such as coral grouper from the Andaman Sea and fish tail bamboo and wood sorrel fruit express the local terroir, coupled with refined technique and artistic presentation. For all-day dining and sunset cocktails, look no further than The Deck; while Seafood at Trisara is the resort's main venue specialising in local cuisine, where pristine ocean produce is highlighted in elevated Thai recipes. It is here we enjoyed a sumptuous dinner for two, starring stir-fried Phuket lobster, deep-fried local sea bass in a medley of aromatic herbs, and a rich and complex gam poo phad pong Thai crab curry with homemade curry paste.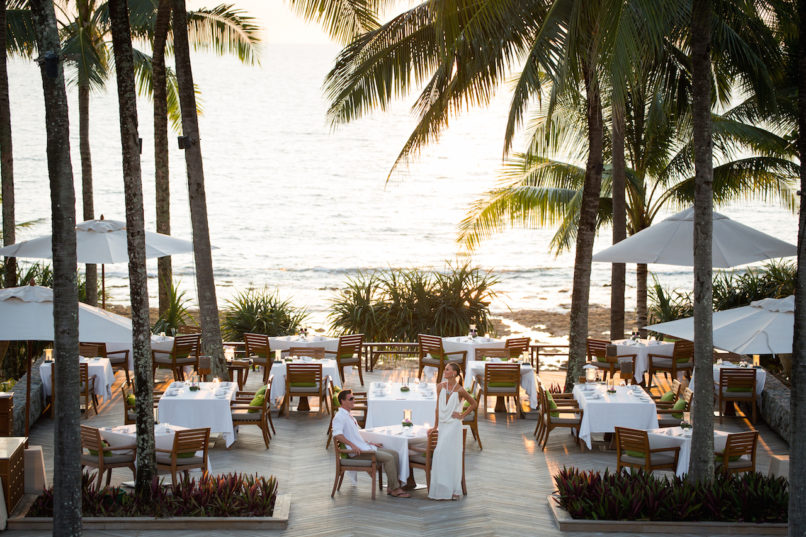 Verdict
With a level of luxury and seclusion unparalleled in Phuket, Trisara lives up to its reputation as a garden set amongst the heavens. Far away from the busy tourist hubs of the island, the tranquil resort combines everything you need for a blissful weekend away, from infinity pools to yoga salas, a rejuvenating spa and world-class Western and Thai cuisine. The next time you're planning a quick weekend getaway, this lush garden paradise should be at the top of your bucket list.
In celebration of Trisara's 15th anniversary, guests who book three nights or more for a stay before April 30, 2020, will receive a resort credit of US$1,119 (approx. HK$8,762) per stay. Email reservations@trisara.com for more info.
Trisara Phuket
Address
Choeng Thale, Thalang District, Phuket 83110, Thailand